Trying to find a list of the all-time best VR games across Quest, PC VR, Pico and PSVR? We've got you covered.
For years now at UploadVR we've kept regularly updated lists of the best virtual reality games on individual platforms, including Quest 2, PC VR, Pico 4 and PSVR 2. If you're looking for the best VR games on individual platforms though, see our lists below.
However, there's also enough content to compile those into a master list of the best VR games of all-time. For each game on the list below, we've noted which platforms you can play on and linked to more coverage if you want to go further down the rabbit hole on a particular developer or game. If you're looking to buy a headset, you can also check out our best VR headset guide for more information. While Pico 4 games are only available through the mobile app (iOS and Google Play) or the in-headset store, you'll find the titles in this list available on the Oculus Store for Quest and Rift, Steam and the PlayStation Store.
But enough talk, let's run down our list of the best VR games of all time!
---
The Best VR Games – Ranked
25. Unplugged - Air Guitar (PC VR, Pico, PSVR 2, Quest)
Unplugged - Air Guitar from Anotherway is a hugely innovative and entertaining rhythm game that we consider "Essential" to play in VR. It debuted in 2021 and uses Quest's hand tracking to deliver an empowering Guitar Hero-like experience. Hand tracking technology is now reliable enough to make an experience like Unplugged completely enjoyable, but you might still experience the odd hiccup every now and then. Still, with a killer setlist of classic rock tracks and great production value, Unplugged offers "totally unique experiences, previously thought unimaginable." It's also available on PC VR and PSVR 2 using controllers, but we don't recommend trying the experience that way if you already have a Quest headset.
Read more: Bringing Air Guitar To Life
Platforms: Quest Store / Steam Store / PlayStation Store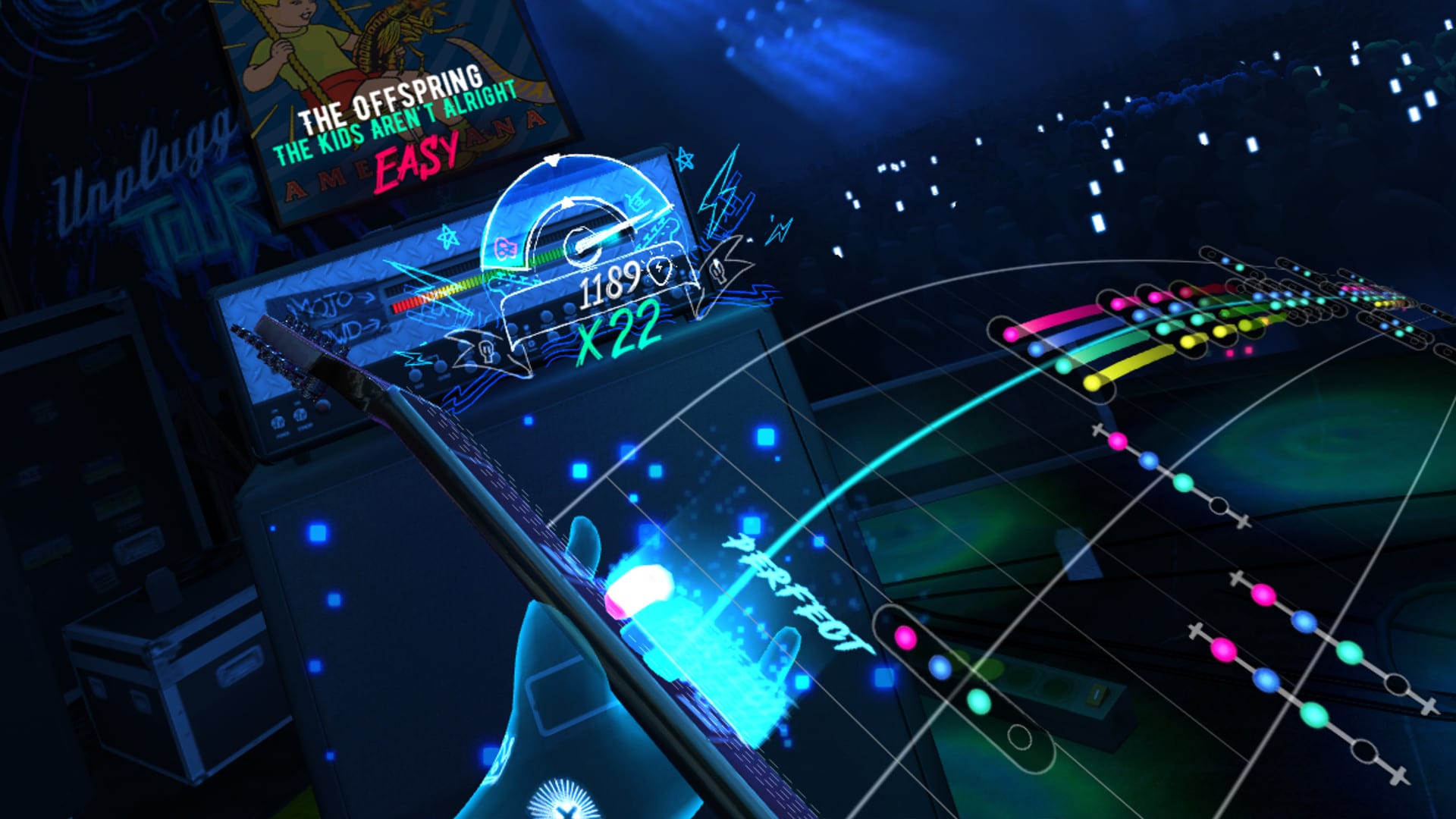 ---
24. A Fisherman's Tale (PC VR, Pico, PSVR, Quest)
A Fisherman's Tale from InnerspaceVR debuted in 2019 as a mind-bending puzzle game unlike anything else. It features a combination of "inventive, platform-driven gameplay, medium-rooted narrative and...arresting immersion" that sees you solve intricate, scale-based puzzles in which you work… with yourself. Its best puzzles utilize a miniature model of the lighthouse the game's set in. Lift the model's roof and there's a mini-you, imitating your every move. Throw in a poignant story about self-acceptance and you have a top rated VR game, one that's brief, sharp and stays with you longer than most multi-hour epics.
Read More: Another Fisherman's Tale
Platforms: Quest Store / Steam Store / PlayStation Store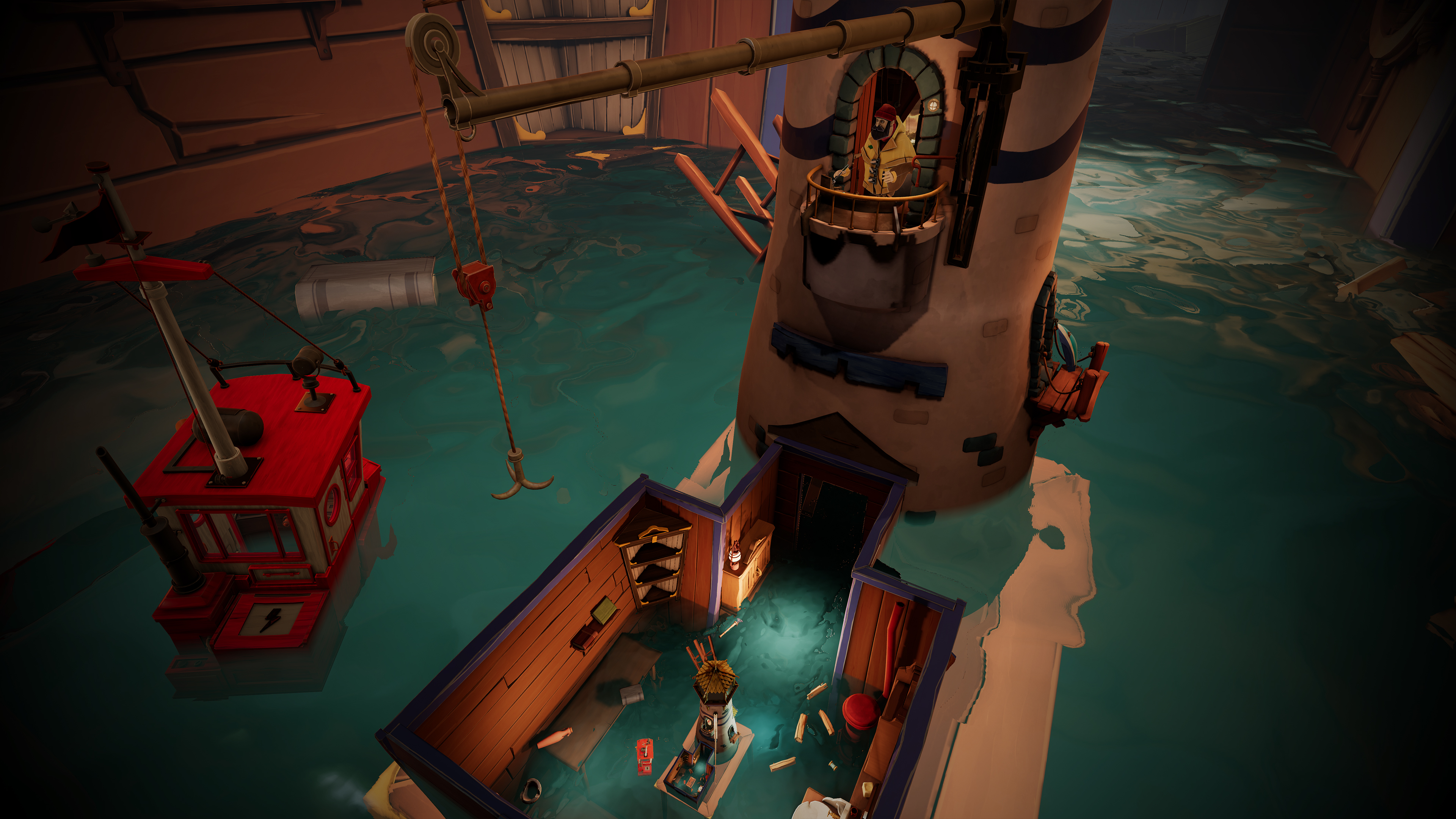 ---
23. What the Bat? (PC VR, PSVR 2, Quest)
What the Bat? from Triband was one of the best indie VR games in 2022, taking our VR Game of the Year award. A great introduction to VR for newcomers that could have you laughing within a few minutes, our "Recommended" review called it a "deceptively complex game that begs to be shown to friends and family members." Placing you into scenarios where you're given a pair of baseball bat hands, you're tasked with doing almost anything besides actually playing baseball.
Platforms: Quest Store / Steam Store / PlayStation Store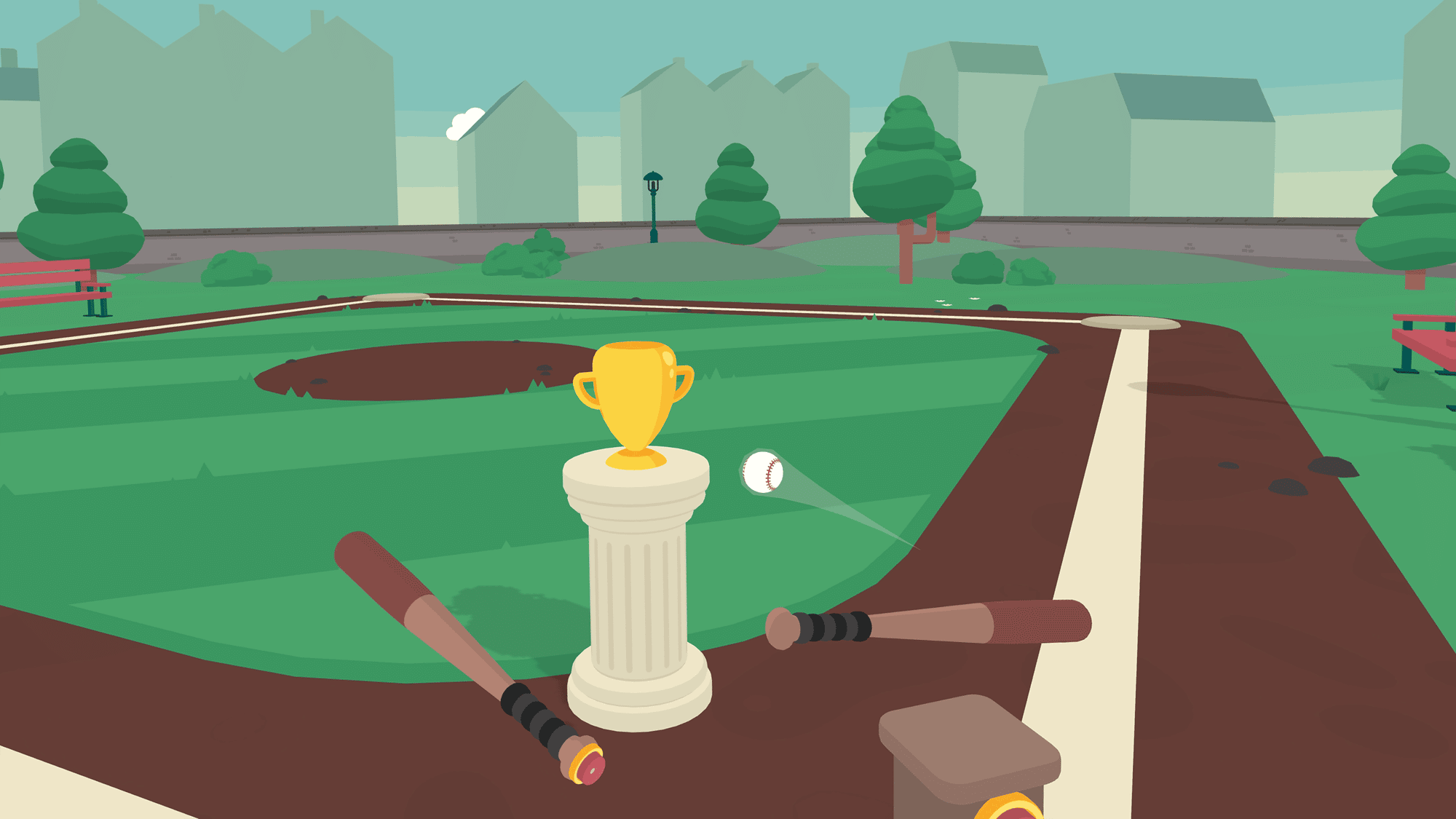 ---
22. Onward (PC VR, Quest)
There's something for everyone when it comes to VR shooters, from the Counter-Strike-inspired madness of Pavlov to the Fornite-aping antics of Population: One. But, for our money, the focus in Onward on realism still holds it above all others. Onward on Quest was "definitely going to make a lot of Quest users happy" with its debut on that platform in 2020 from Downpour Interactive. The wire-free gameplay really comes into its own in standalone, opening up new tactics like easily going prone. Onward can be hard to get to grips with, but absolutely rewarding to master.
Platforms: Quest Store / Steam Store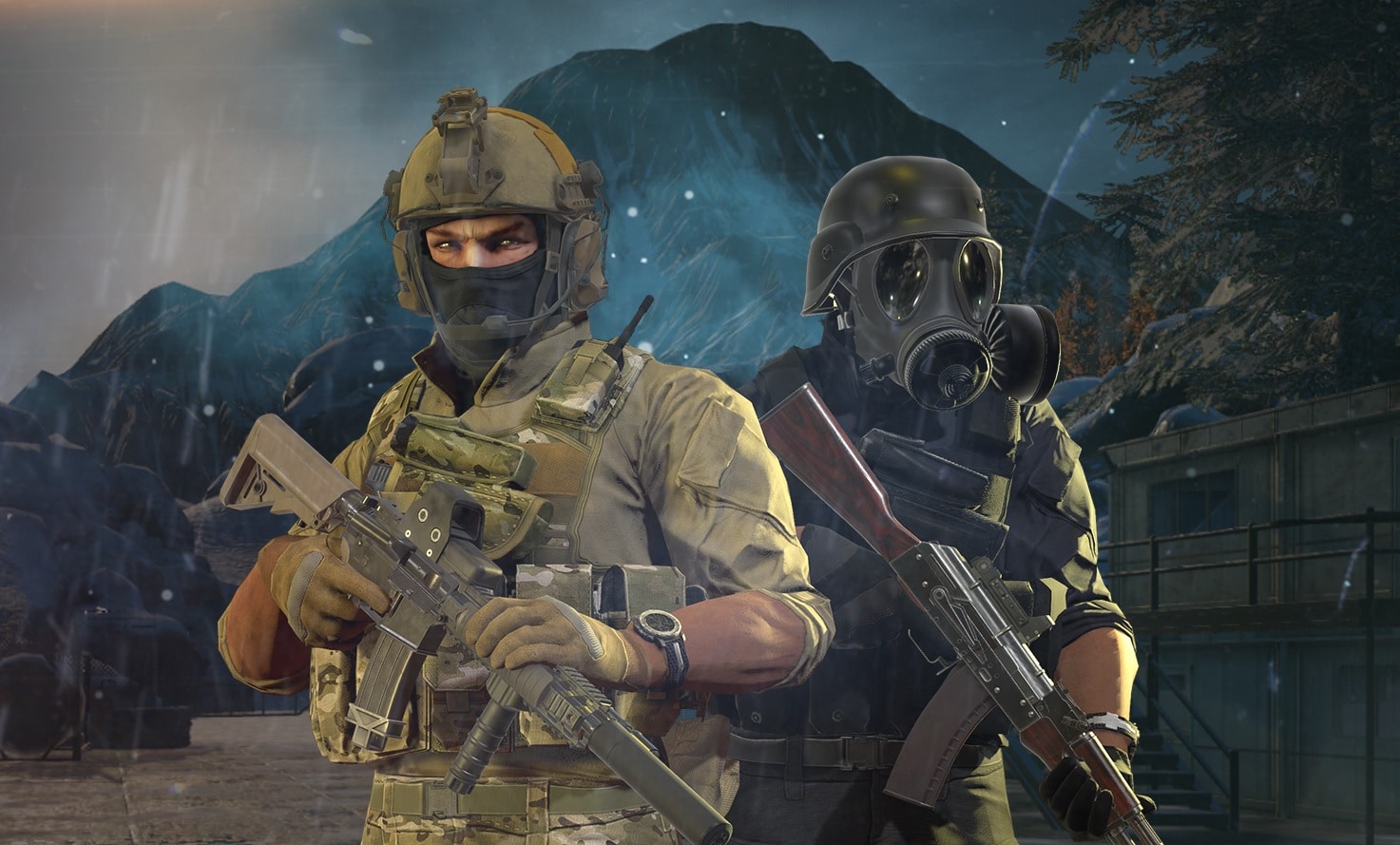 ---
21. Blood & Truth (PSVR)
The London Heist minigame in PlayStation VR Worlds remains one of the most polished and engaging story-driven VR games out there. Developer Sony London took its short tale of crime capers and in 2019 turned it "a fully-fledged narrative that features some of the best performances we've seen in VR yet." Every level in Blood & Truth brings new interactions and mechanics to explore. Its story might be somewhat cheesy, but its character models are unmatched and the stunning setpiece moments are often Uncharted-worthy. Don't let the Guy Ritchie accents fool you; Blood & Truth is one to take seriously and one of the best VR games.
Platforms: PlayStation Store
---
20. Iron Man VR (PSVR and Quest 2)
Originally a PSVR exclusive in 2020, Iron Man VR appeared on Quest 2 two years later. Developed by Camouflaj and Endeavor One, the standalone port features drastic improvements like minimal loading times, making this a "Recommended" experience. Playing as Tony Stark, Iron Man VR "captures the essence of the character in the same way that Insomniac and Rocksteady have done on flatscreen platforms with Spider-Man and Batman." On Quest 2, it delivers an engaging story-driven campaign, boosted by strong combat and satisfying traversal.
Read More: Iron Man VR Review (PSVR) / Iron Man VR Quest 2 Review
Platforms:  Quest Store / PlayStation Store
---
19. Eleven Table Tennis (PC VR, Pico 4, Quest)
If you want the most accurate, authentic representation of a sport in VR today, Eleven Table Tennis from For Fun Labs is easily your best bet. This simulation-level game first released on Steam in 2016 and has been updated continuously since then. Whether you're serving up hotshots or getting in desperate returns, Eleven's physics behave exactly the way you'd expect in real life, and tapping the ball with your controller starts to feel as natural as if it were a paddle. More than just a great game, Eleven is one of the rare VR experiences that feels like a genuine replacement for our reality. Yes, it's that good and one of the best VR games.
Platforms: Quest Store / Steam Store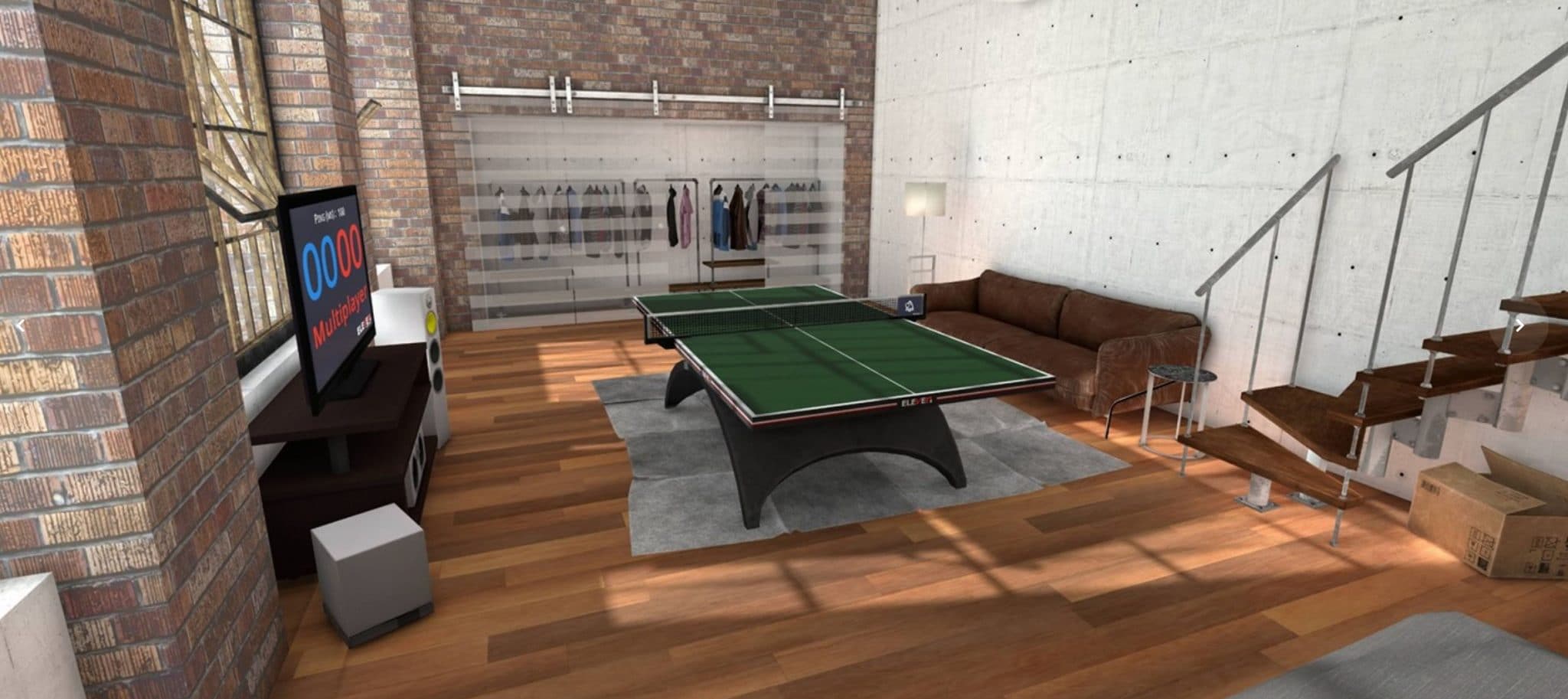 ---
18. Blade And Sorcery (PC VR, Quest 2)
If you're not hot on VR violence, Blade And Sorcery from Warpfrog is not the game for you. Released in 2018, it's a bloody mess of stabbing, slicing and electrifying and in our Blade and Sorcery: Nomad review on Quest, we called it "a messy, lethal playground with endlessly entertaining results that you simply couldn't get outside of VR." It's sandbox, physics-driven combat gives your character real heft, giving every blow a tactile sensation. Still in early access, there's a long way for Blade And Sorcery to go but unparalleled mod support turns it into a fan's dream, making it an essential pick for the best VR games.
Platforms: Quest Store / Steam Store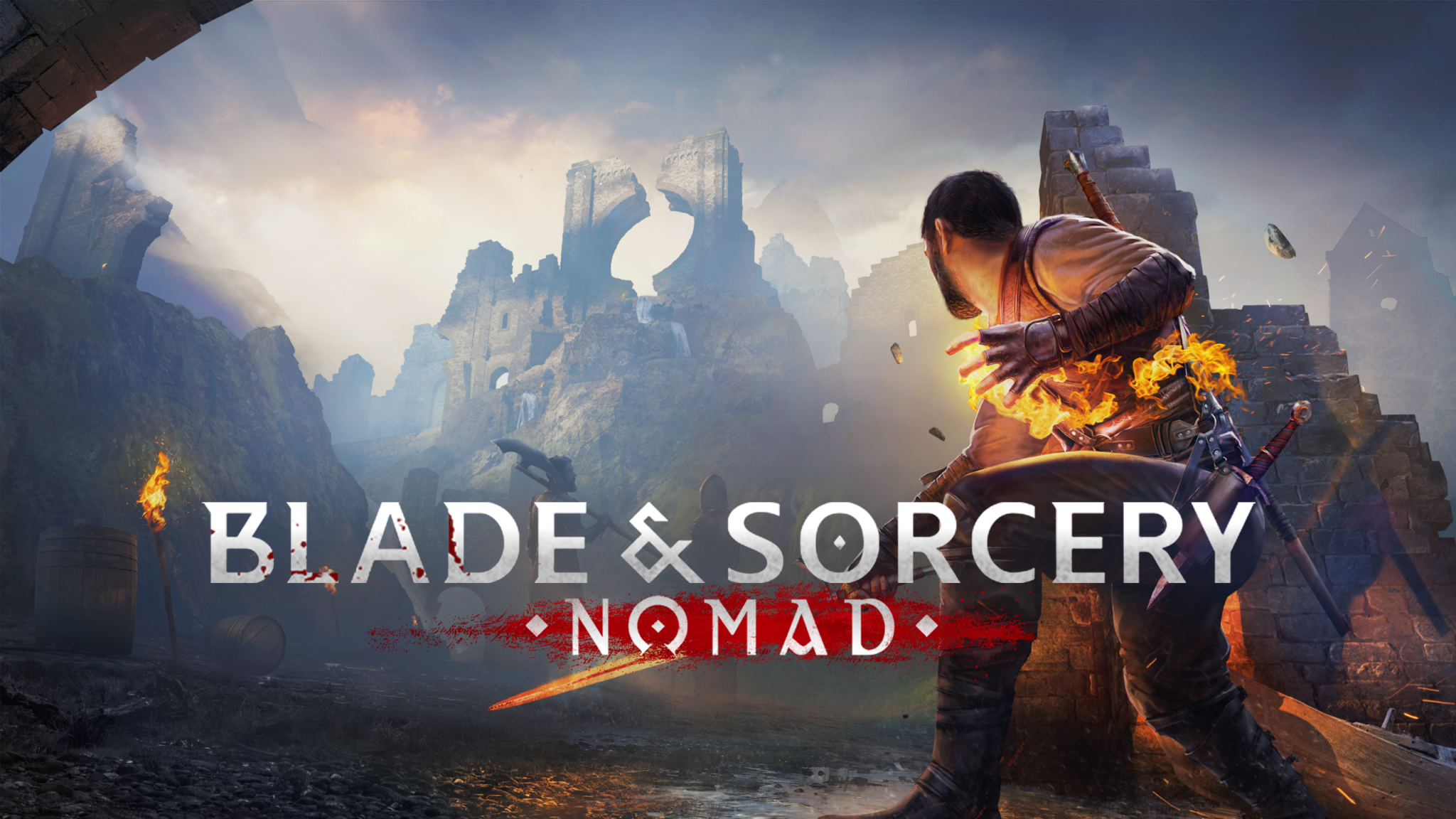 ---
17. Skyrim VR (PC VR, PSVR)
The Elder Scrolls V: Skyrim VR from Bethesda is, unsurprisingly, Skyrim in VR. Officially released in 2018, there are definitely some awkward quirks to this port of the ever-popular fantasy RPG. We believe that in many ways, Skyrim VR is "the ultimate version of one of the greatest RPGs of all-time" as you explore Tamriel like never before. With hundreds of hours worth of content, full autonomy to make the kind of character you want and an enormous world to explore, Skyrim VR is the closest we've come to fulfilling every adventurer's dreams. Mod support on PC makes this an unending fountain of brilliant fan-made content that can turn you into entirely new characters or experience whole other games that are just as good as the original. Skyrim VR is hard to top and remains one of the best VR games.
Read More: Best Mods
Platforms: Steam Store / PlayStation Store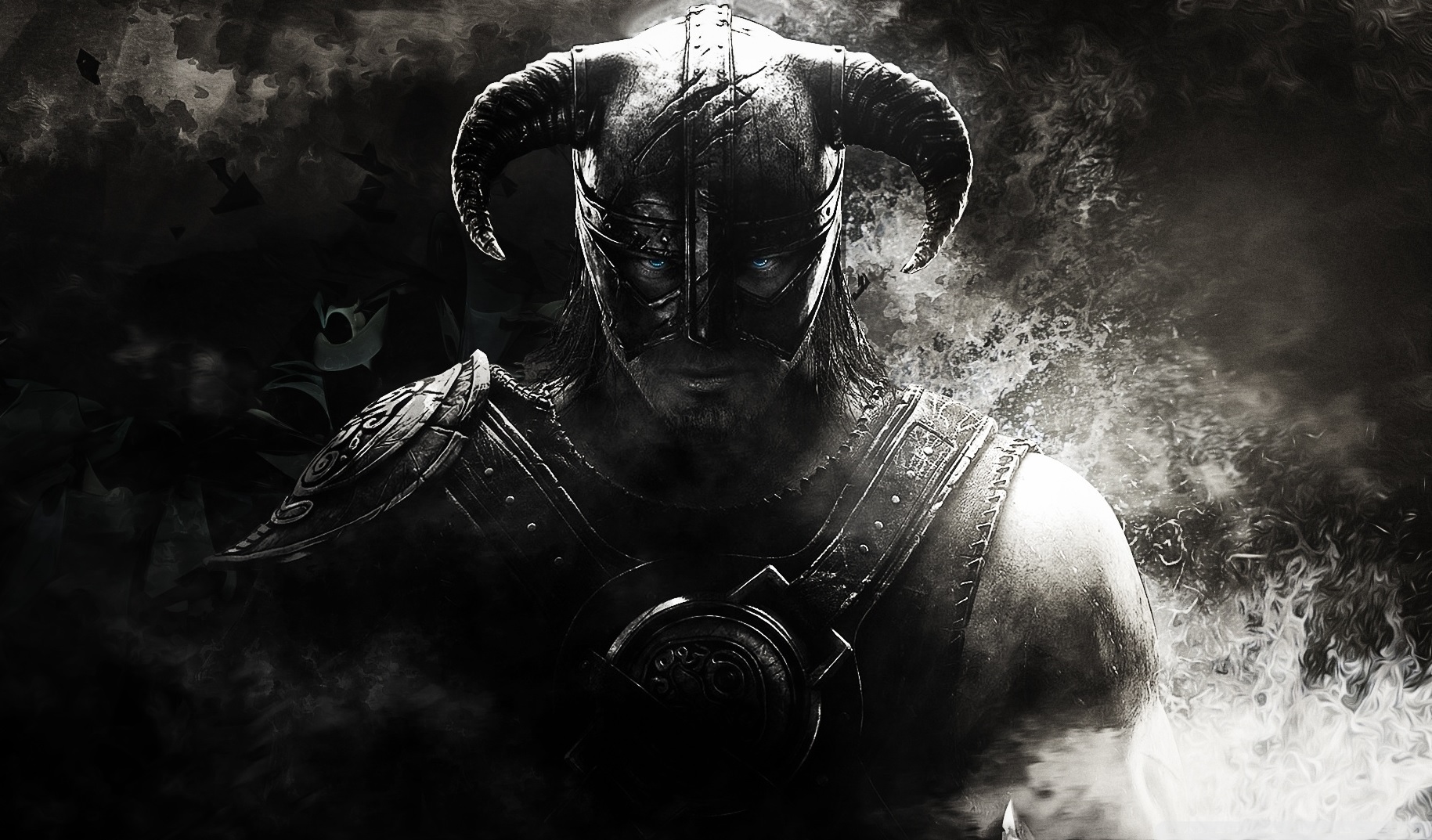 ---
16. Lone Echo (Rift)
Packed with strong production values, 2017's Lone Echo provides a "winning blend of intuitive movement, discovery-based gameplay and character-driven storytelling," using zero-gravity traversal and thoughtful character interactions to deliver a compelling campaign.
The game also spawned its own standalone multiplayer spin-off game, Echo VR, which was one of VR's most immediately fun and original multiplayer experiences. However, Echo VR and it's $10 Echo Combat expansion are shutting down in August 2023. However, the single player Lone Echo experience (and its sequel Lone Echo 2) remain untouched, with the former maintaining a place on this list as one of the best VR games available.
Read More: Echo VR Shutdown Summary / Lone Echo Review
Platforms: Lone Echo Rift Store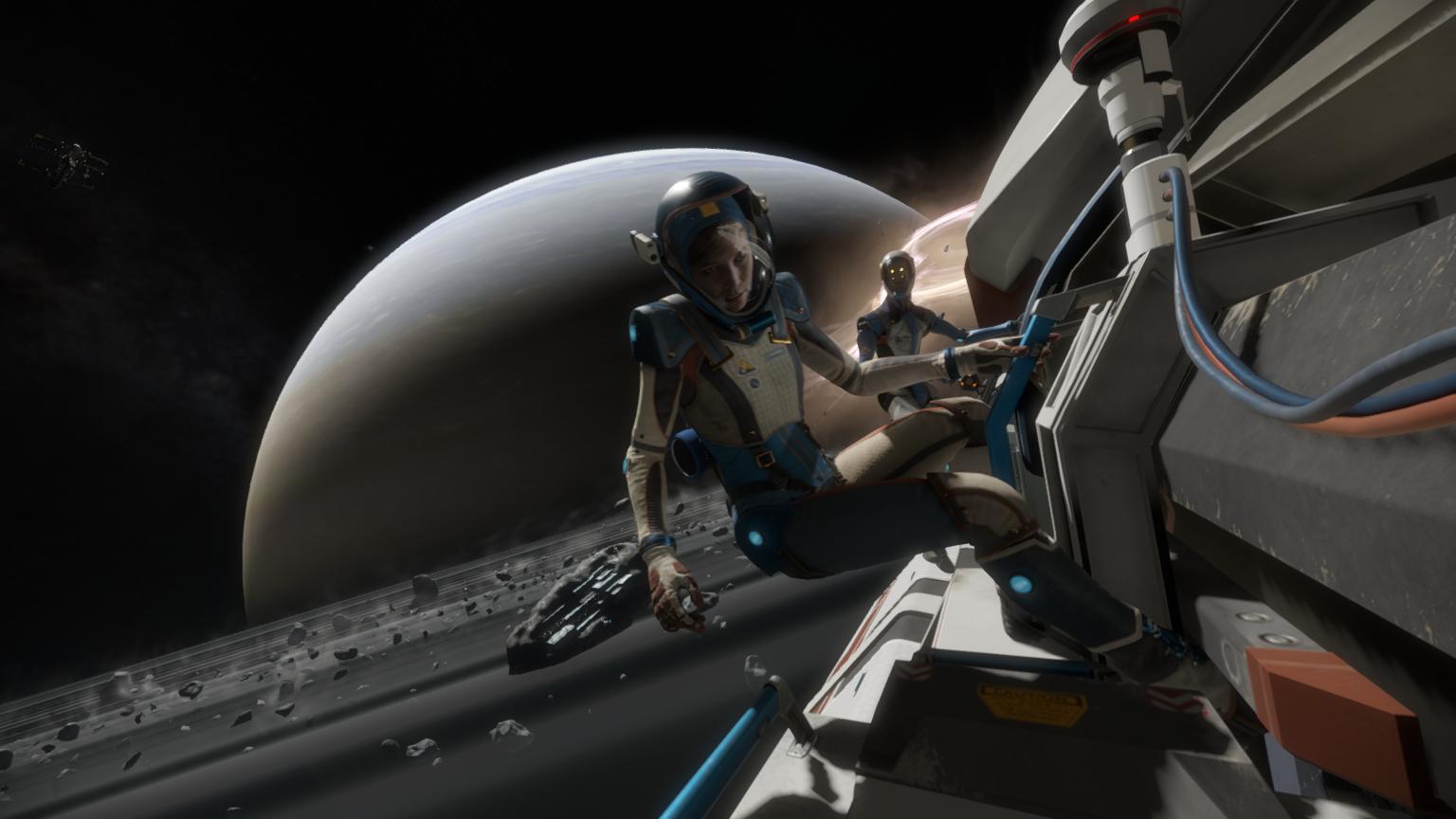 ---
15. No Man's Sky VR (PC VR, PSVR, PSVR 2)
No Man's Sky from Hello Games is a hugely ambitious premise that pays off. It offers an "essentially endless, infinite universe to explore and a sense of scale that's really hard to match in VR" with procedurally generated planets, unending oceans of space and multiplayer support. Hello Games put incredible effort into this VR update and has continued building on it with new updates. There are plenty of beautiful sights and sounds, but also a fairly punishing survival loop and resource-gathering grind to fight against. If that's up your street, No Man's Sky comes recommended. The PSVR port is toned down from PC and PSVR 2, but it's still one of the best VR games.
Platforms: Steam Store / PlayStation Store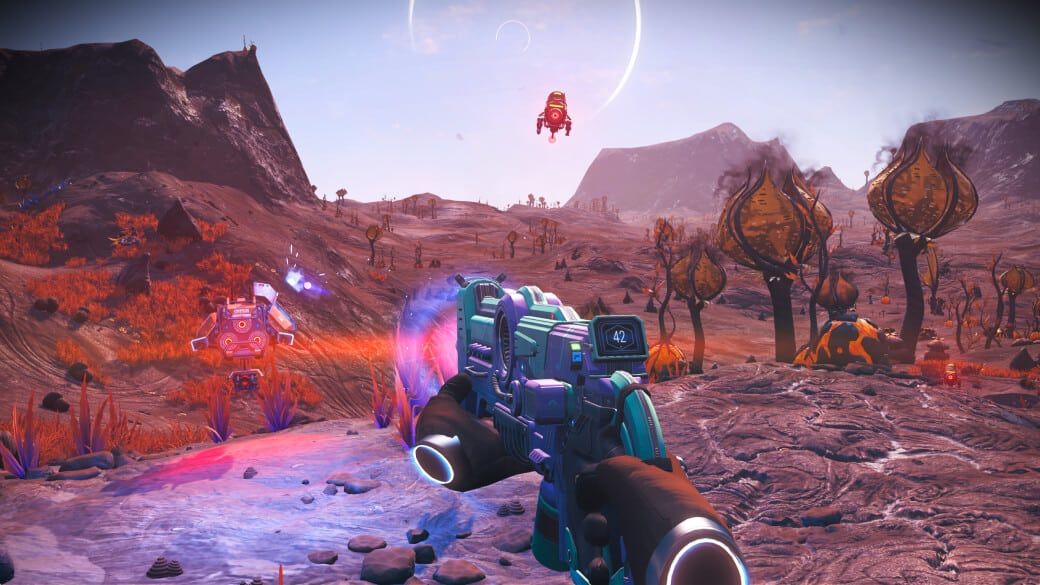 ---
14. Walkabout Mini Golf (PC VR, Pico, Quest, PSVR 2)
If you're looking for proof that mini golf works well in VR, then look no further than Walkabout Mini Golf. From its 2020 release onward, the developers of Walkabout created an experience that accurately represents mini golf, while also going far beyond what's physically possible with the game in real life. This ticks all the boxes – there's new courses every couple months and extensive multiplayer support.  Room codes let you find players across all VR platforms and guest passes allow you to share access to DLC courses like Myst, Upside Town, and Atlantis.
There's hidden balls to find on each hole and a night mode to unlock for more challenging play. The most engaged Walkabout players will even find themselves on "fox hunt" puzzling taking them across areas adjacent to the course, like across the full-size Labyrinth inspired by Jim Henson's movie or the vast Sahara desert surrounding Temple At Zerzura. There's a lot to explore, all grounded by pinpoint physics that are arguably better than the real thing – there's no small snags like you'll find on the surfaces of physical mini golf courses.
Read More: Guided Walkabout Course Tours
Platforms: Quest Store / Steam Store / PlayStation Store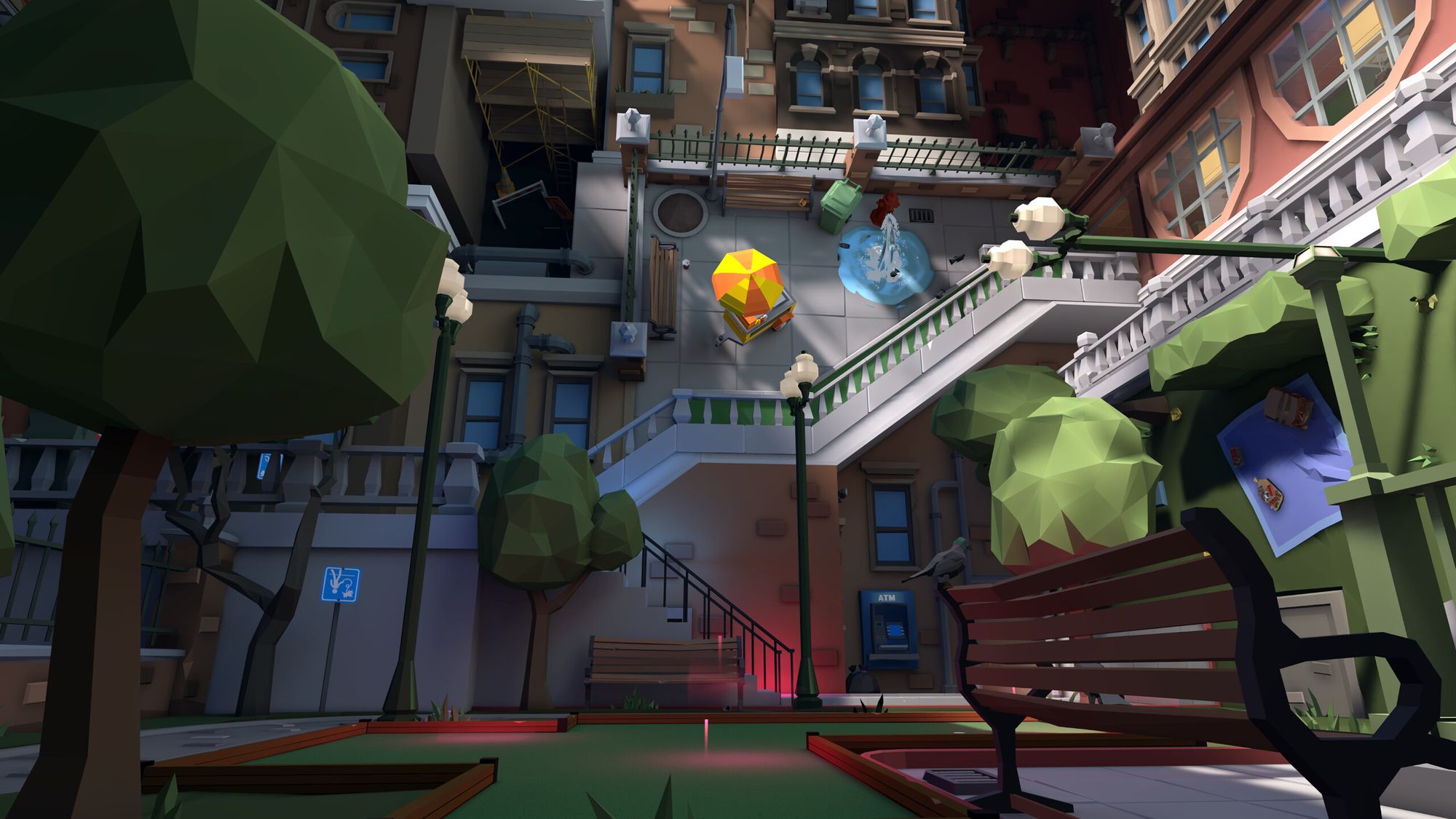 ---
13. Beat Saber (PC VR, PSVR, Quest – PSVR 2 planned)
Beat Saber from Beat Games remains the closest VR has gotten to a 'killer app.' The game left early access in 2019 and has been expanded continuously ever since, but one go is all you need to understand. This rhythm game with knock-off lightsabers is an utterly essential experience that remains "completely relevant to modern audiences, exemplifying sublime gameplay that puts intelligent VR design first."You slash notes in time with a beat, which sounds simple but there are few things more satisfying to do in VR. Plus, you'll be working up a sweat and instinctively dancing to the track. Many people will tell you Beat Saber is one of the best VR games, and they're absolutely right.
Read More: Custom Songs / Beat Saber Review
Platforms: Quest Store / Steam Store / PlayStation Store
---
12. Asgard's Wrath (Rift)
Asgard's Wrath from Sanzaru Games shows the potential of a VR RPG built from the ground up. Released in 2019, it might not match Skyrim VR in size and scale, but this top-rated experience offers "a captivating experience full of enchanting adventure from start to finish" that many hoped VR would offer when they first picked up a headset. It's as AAA as native VR gaming gets with a meaty, 30+ hour campaign filled with secrets and eye candy to gawk at, boosted by a refined menu and combat system. Asgard's Wrath really puts you into this gorgeous world of Norse mythology, featuring incredible moments of heart-pounding action, intense connection and profound growth that could only be achieved in a VR game.
Platforms: Rift Store
---
11. Resident Evil Village (PSVR 2)
Resident Evil Village by Capcom marks the franchise's third mainline entry to get VR support. A phenomenal PSVR 2 launch title and an amazing horror shooter, its VR release in 2023 features a fully-fledged campaign that we strongly recommended, believing it "reaches a scale of spectacle rarely seen in VR." Because it was originally designed for flatscreen platforms, some sequences are fairly intense for new VR users. Expect your head and field of view to be quickly repositioned without notice. Nonetheless, a well-paced campaign, gorgeous visuals and engaging gunplay makes Resident Evil Village one of VR's best games.
Read More: Capcom Q&A / Resident Evil Village VR Review
Platforms: PlayStation Store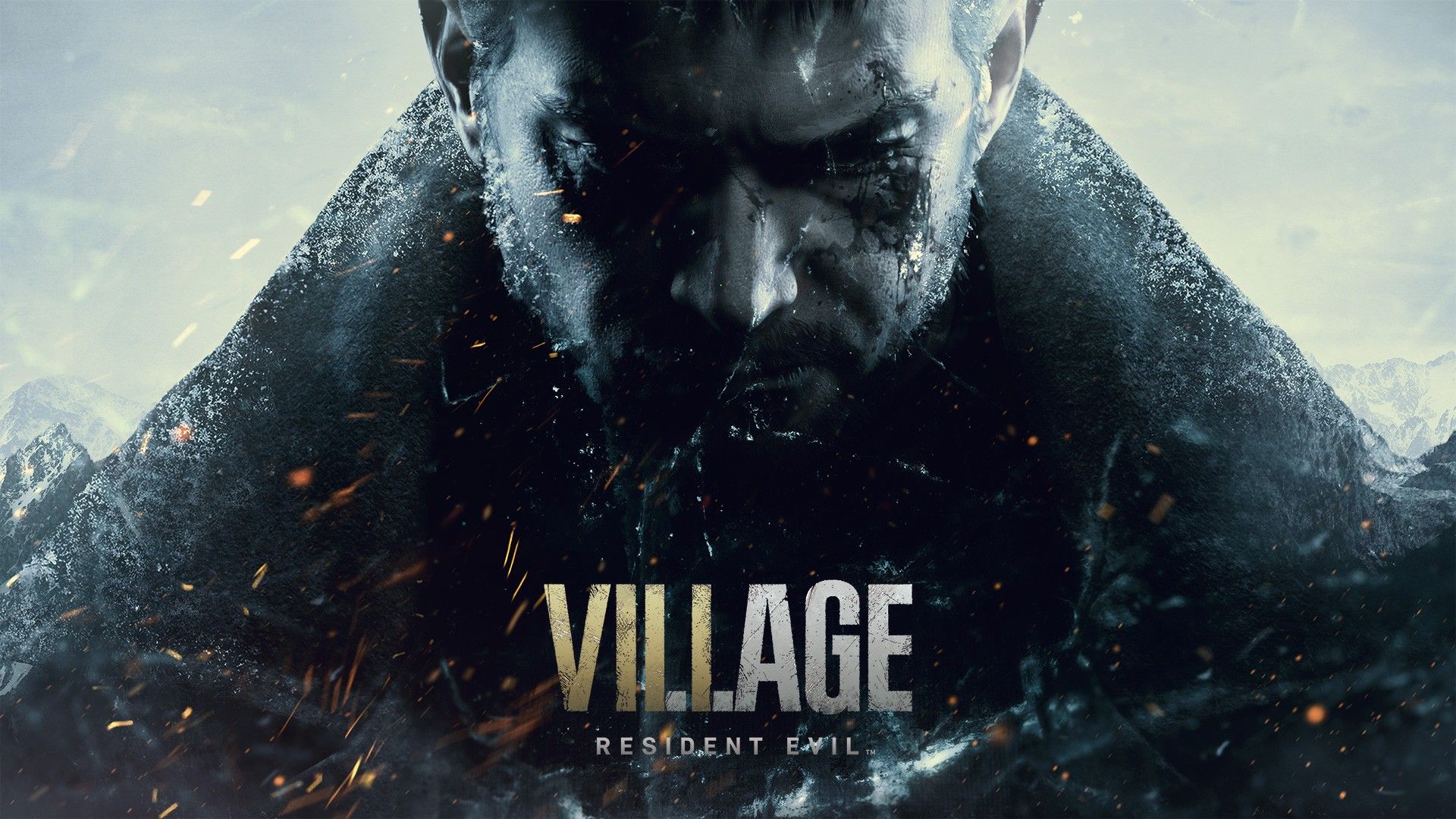 ---
10. Horizon Call of the Mountain (PSVR 2)
Horizon Call of the Mountain from Guerrilla Games and Firesprite kicked off a strong start for PSVR 2 in 2023. It's a game that "could only work in VR and simultaneously feels faithful to the Horizon franchise" and offers one of the most visually stunning and dense VR experiences available, rivaling Half-Life: Alyx. While the gameplay isn't necessarily revelatory for VR, it is nonetheless incredibly polished and a stunning experience to behold in-headset. For any PSVR 2 owner, Call of the Mountain is an essential experience.
Platforms: PlayStation Store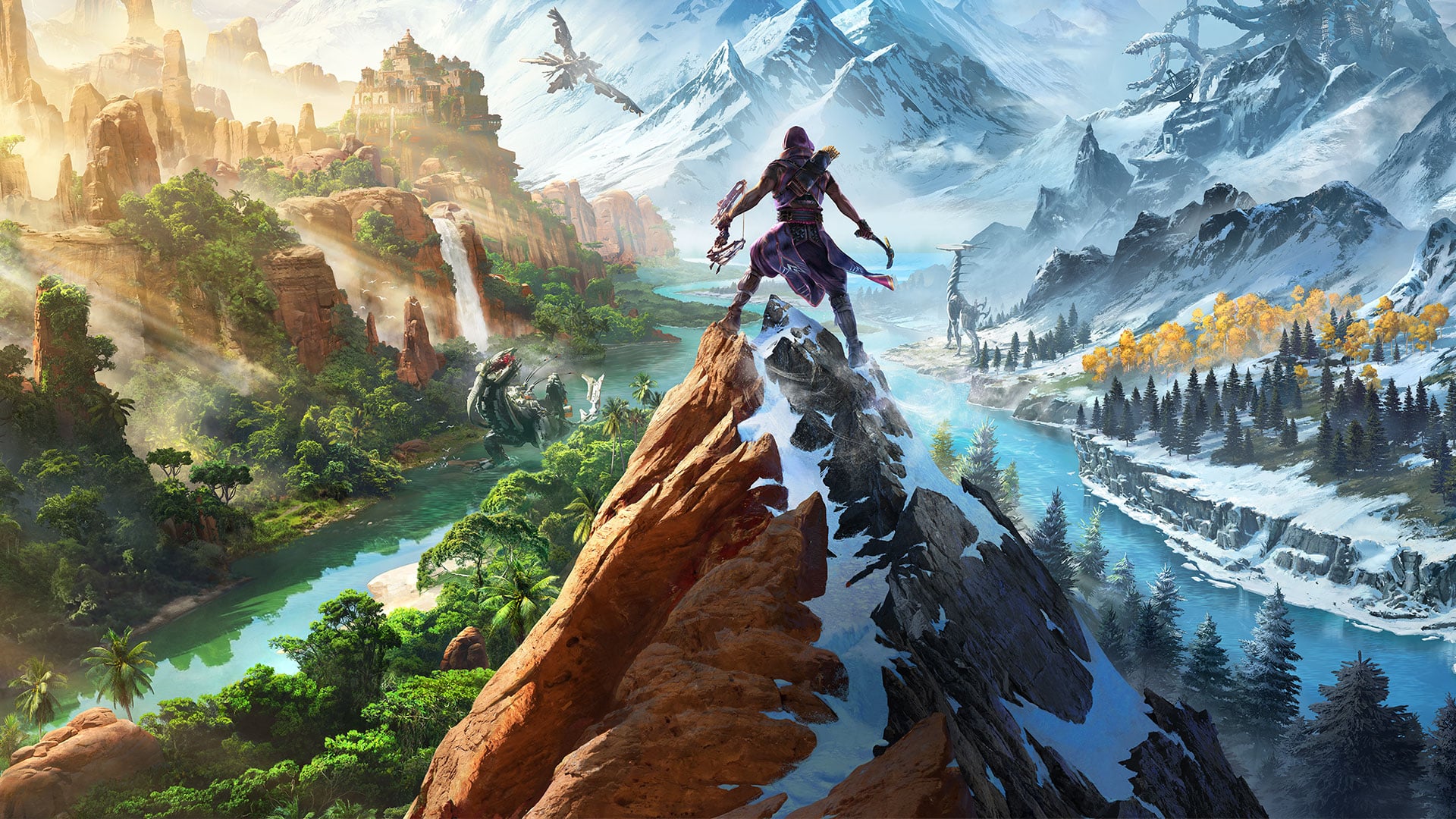 ---
9. Resident Evil 4 VR (Quest 2)
Resident Evil 7 and Village might be the flashier entries, but we believe Resident Evil 4 VR is "an incredible, if not definitive take on an all-time classic." Armature implemented VR at a meticulous level in 2021. The game's motion-controlled aiming, physical attacks and new interactions really route you in Leon's journey. This is still very much a 2D game port with plenty of virtual window watching and some bothersome quick time events, but Resident Evil 4 VR successfully captures the original's intensity in new ways.
Read More: Resident Evil 4 Remake VR Mode
Platforms: Quest Store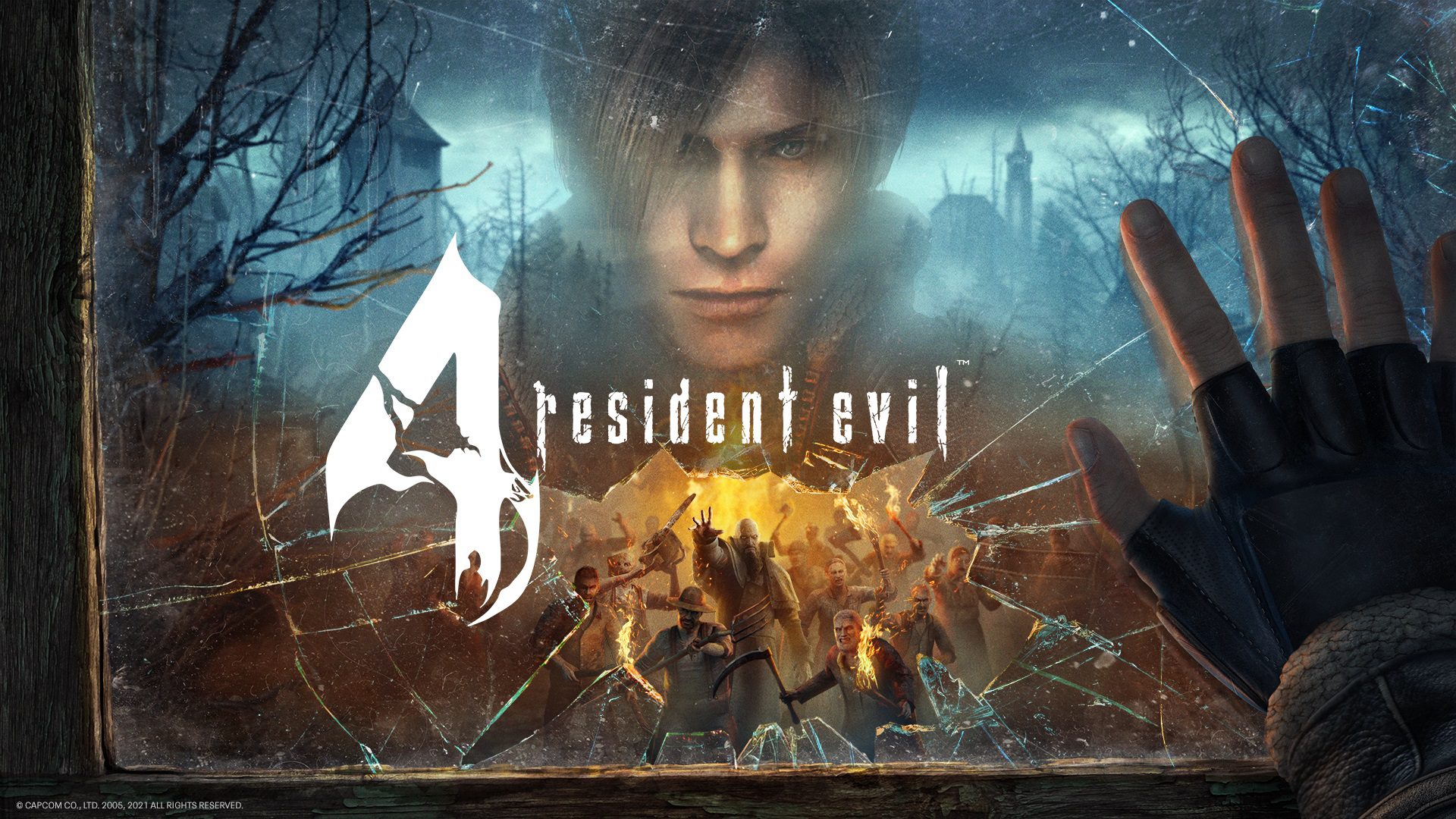 ---
8. Boneworks (PC VR)
If you want to see how far VR design has come since consumer VR's beginnings, check out 2019's Boneworks by Stress Level Zero. It might not have the most masterfully designed of shooter campaigns, but this highly rated physics-based combat sandbox is a true marvel to behold. Filled with "interactive wizardry, devilishly gratifying combat and stunning physical authenticity, even if that occasionally works against you. "This VR shooter lets you pick up every object and wield them as weapons, they all have physical presence in the world. It's laid the foundations for the future of VR gaming.
Read More: Boneworks Review / Bonelab Review
Platforms: Steam Store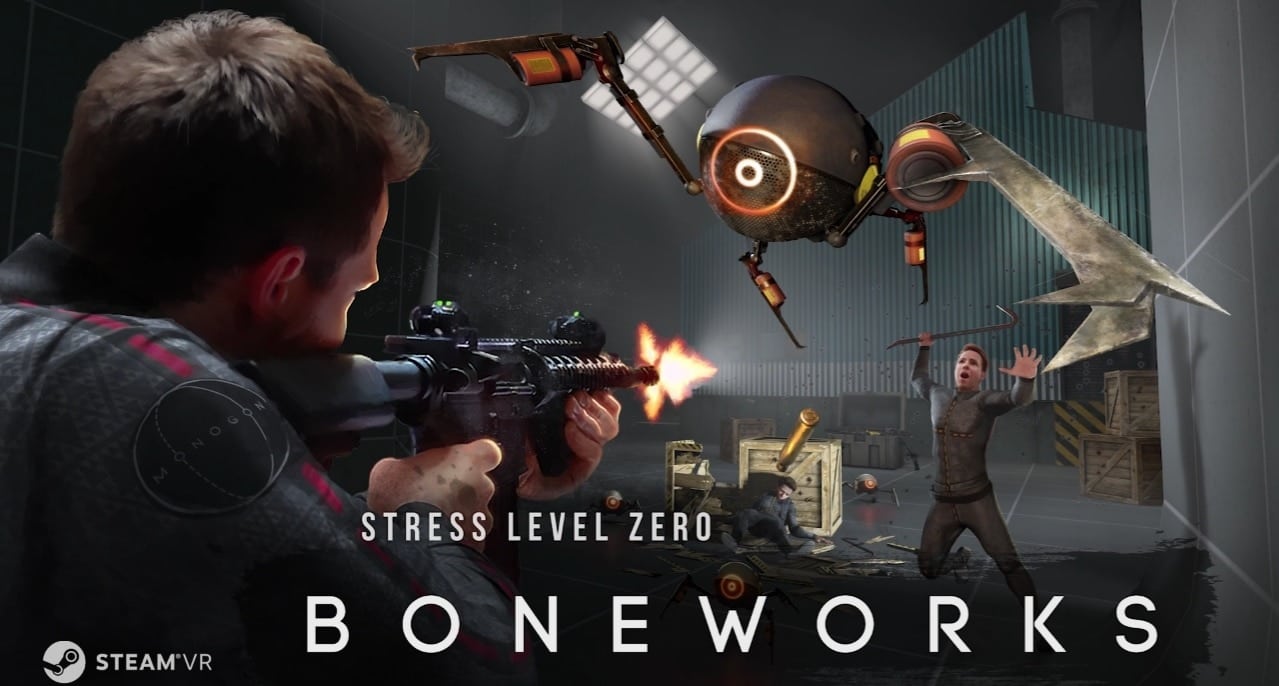 ---
7. Vertigo 2 (PC VR)
Rated "Essential" by UploadVR with its SteamVR release in 2023, Vertigo 2 is one of the best PC VR campaigns available and a masterclass in enthralling, VR-first game design. What's even more impressive is that it's largely put together by one solo developer – Zach Tsiakalis-Brown from Zulubo Productions.
It "pays homage Valve classics and others VR releases, but doesn't fall victim to imitating them," offering an impressive solo gaming experience in the same vein as Half-Life: Alyx. It's a shining example of the best PC VR has to offer in 2023. While it won't be coming to Quest, there's a chance PSVR 2 support might happen.
Read More: Vertigo 2 Review / Level Editor / Vertigo Remastered Review
Platforms: Steam Store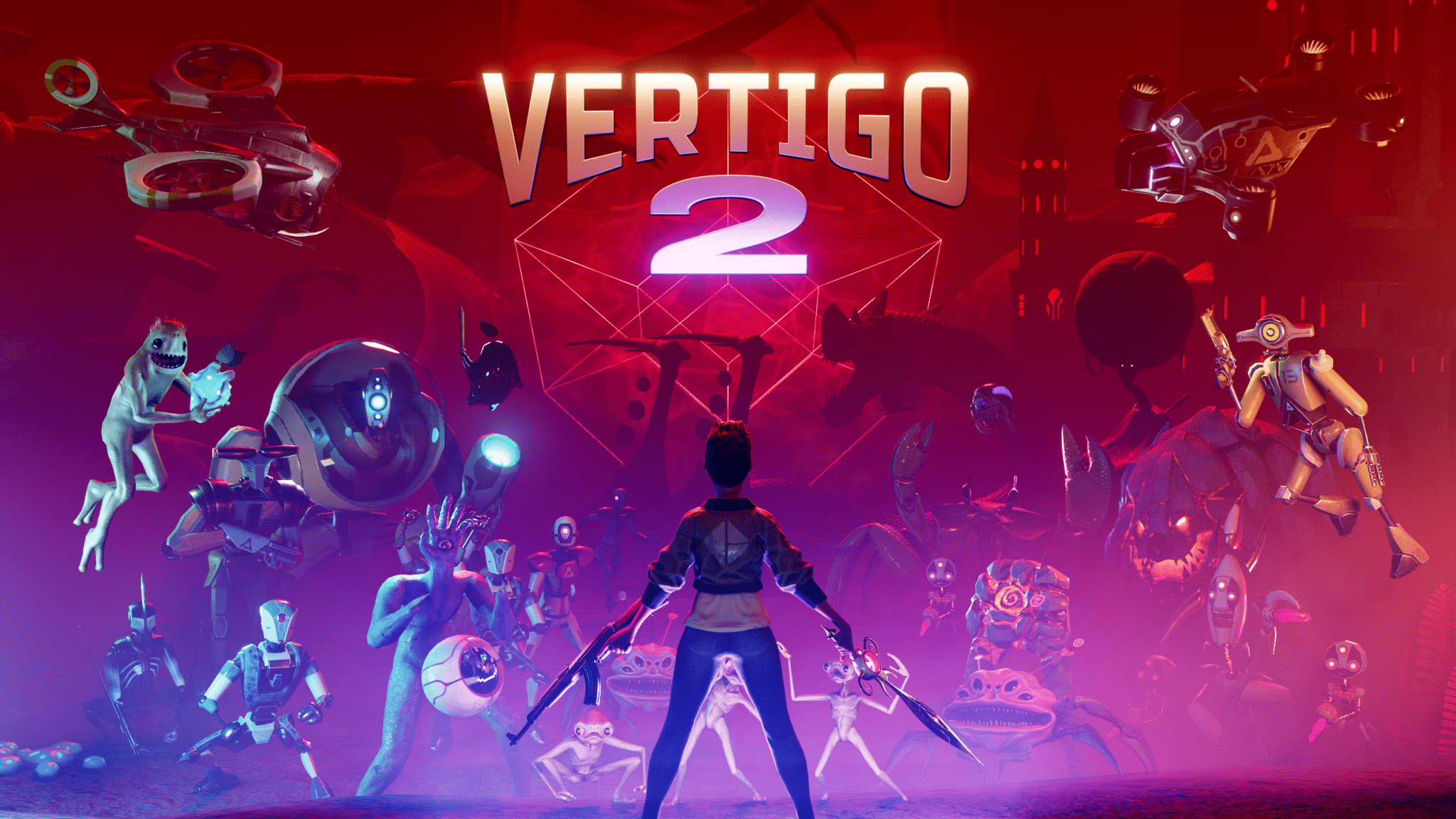 ---
6. Pistol Whip (PC VR, Pico 4, PSVR, PSVR 2, Quest)
Pistol Whip from Cloudhead Games first released in 2019 and its sharpshooting, sharp sounding, beat-based gameplay proves to be even more hypnotic than Beat Saber. On release, we noted that that the game "is neither fully a shooter nor completely a rhythm game yet it ticks off both boxes and does so exceptionally quickly in a stylish package."
In this neon-lit shooter, you stream down corridors, blasting bad guys to the rhythm of grizzly tunes, avoiding incoming fire and trying to rack up the best scores by playing on-beat. Whereas Beat Saber wants to make you a dancing Jedi master, Pistol Whip aims to teach you gun-fu with style, elegantly fusing the rhythmic and cinematic together into a pulsating, vibrant monster of its own.
Read More: Pistol Whip Review / Modding Tool
Platforms: Quest Store / Steam Store / PlayStation Store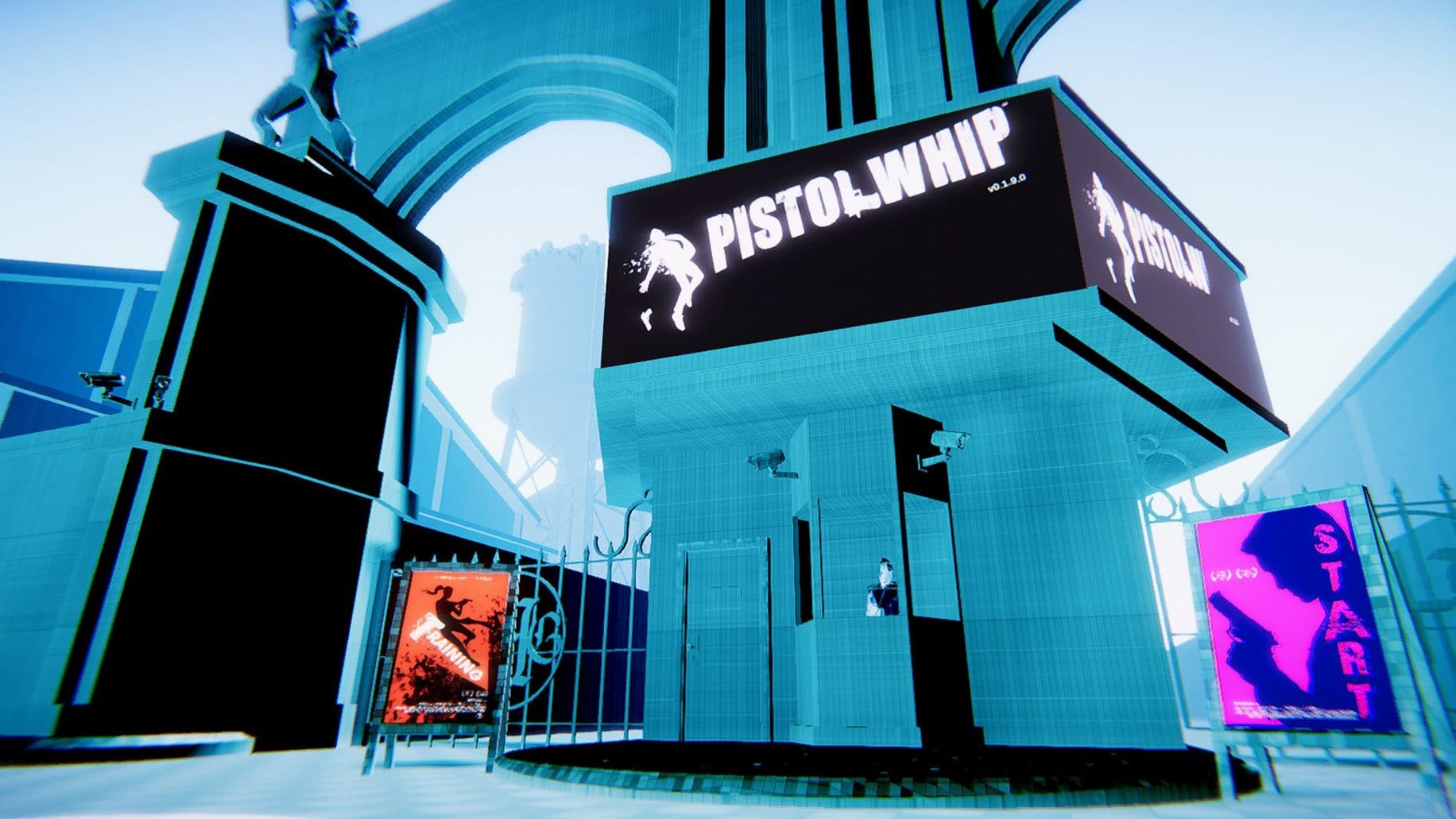 ---
5. Demeo (PC VR, Pico 4, PSVR 2, Quest)
Demeo isn't a perfect tabletop game, but it is an essential VR game. Resolution Games have provided a trove of consistent content updates since the game's release in 2021, resulting in first-rate four-player multiplayer VR that provides "a near-peerless social VR experience, polished to such a degree that it transforms the kinks of its systems into enjoyable, suspenseful quirks."
You pick a class and a campaign, then tackle enemies across randomly-generated dungeons and environments with your friends.  The game's punishing difficulty means sessions can last anywhere from a few minutes to multiple hours. Demeo is one of the best VR games, boosted further by cross-platform play across all versions, with Resolution Games still working on more content to come.
Read More: Demeo Hand Tracking / Demeo Battles / Mixed Reality Support / Reign of Madness Expansion
Platforms: Quest Store / Steam Store / PlayStation Store / PC Edition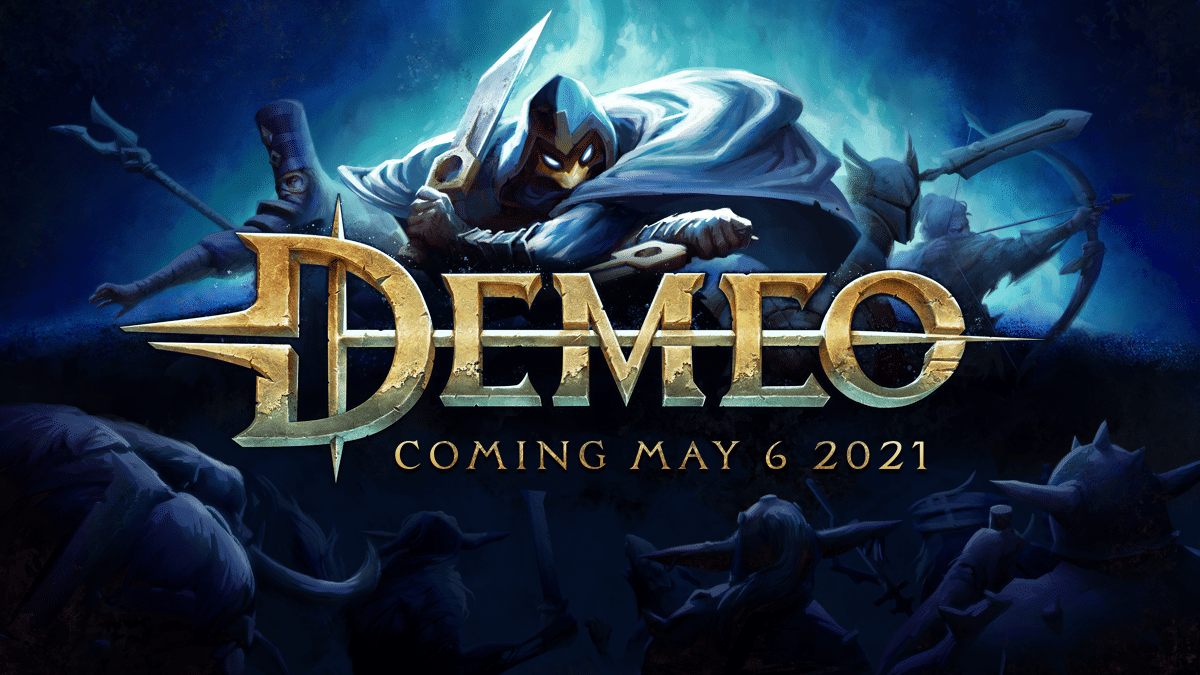 ---
4. Superhot VR (PC VR, Pico 4, PSVR, Quest)
Superhot VR from the Superhot Team is one of the most instantly rewarding VR games. It released for the Rift's Touch controllers in 2016, offering "a pure, distilled, injection of unadulterated adrenaline that will get your blood pumping." However, it achieved its full potential with wireless freedom on Quest in 2019.
In Superhot, time moves only when you do – when you're still, the world around you is too. When you raise your arm or duck your head, the world crawls to life. Every catch of a handgun or toss of a ninja star comes with an incredible strand of slick satisfaction you won't find anywhere else. Superhot VR is one of the medium's highest-selling games and, in our view, one of the very best VR games as well.
Read More: Making of / Superhot VR Review
Platforms: Quest Store / Steam Store / PlayStation Store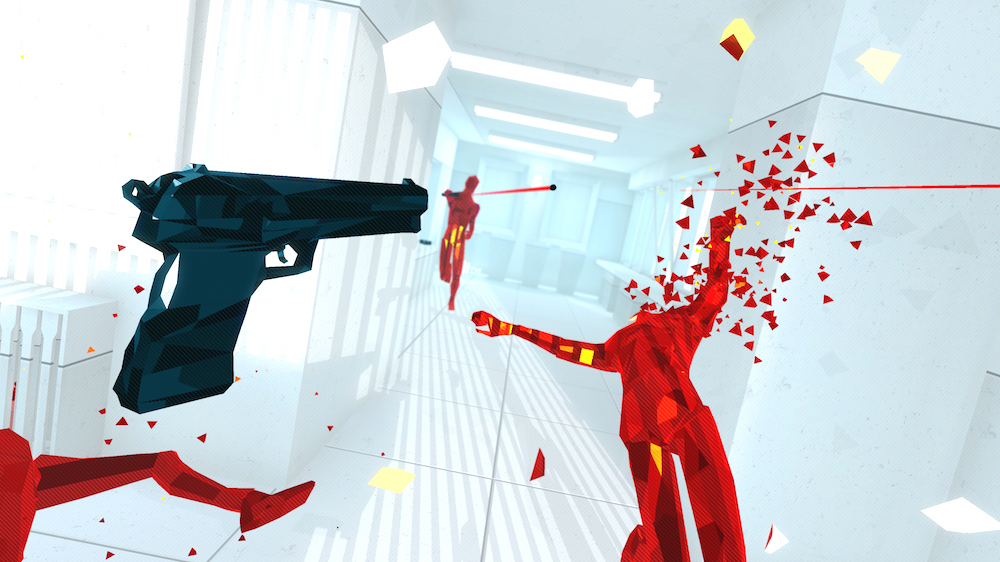 ---
3. Astro Bot Rescue Mission (PSVR)
Astro Bot Rescue Mission from Team Asobi was a highly-rated platforming triumph for PSVR in 2018, offering "further proof that third-person VR not only works but can be just as powerful as the best first-person experiences." A follow up to Sony Japan's Playroom VR compilation, every Astro Bot levels packs new ideas that range from endearingly novel to properly groundbreaking. It's an absolute joy to play from start to finish that never ceases to amaze you. Plus, there's power to the bond you form with Astro on this adventure, breaking down the barriers between players and characters in ways not often seen in gaming.
Platforms: PlayStation Store
---
2. The Walking Dead: Saints & Sinners (PC VR, PSVR, Quest)
The Walking Dead: Saints & Sinners from Skydance Interactive is a VR essential, delivering some of the best design and user-interaction you'll find in VR. Released in 2020, "it's a zombie apocalypse within your grasp – a living, breathing virtual ruin with player-driven highs that easily outshine its experimental lows." It sets the bar for VR zombie games using Boneworks-style, physics-based combat. The game will have you wrestling with undead hordes, packing its action into a full, meaty VR campaign that sees you trekking through the remains of New Orleans. Add in side-missions and the ability to kill zombies with a spoon, and you have one of the deepest native VR games on the market.
Read More: Saints & Sinners Review / Chapter 2: Retribution
Platforms: Quest Store / Steam Store / PlayStation Store
---
1. Half-Life: Alyx (PC VR)
It might not technically be Half-Life 3 but make no mistake, Half-Life: Alyx from Valve is a full-sized adventure worthy of the series' past releases. Giving it top marks in 2020, we believe that "what it does right, it almost always does the best." Playing as Alyx Vance, you fight through City 17 in a highly polished adventure fully designed for VR, relying on classic series elements and introducing plenty of new features. It's 10+ hours of immaculate, AAA-level VR shootouts, puzzles and narrative design, features some of the best firefights you can have inside a headset and offers truly memorable moments within. Half-Life: Alyx is arguably the best VR game yet, and we hope to see more from Valve.
Read More: Half-Life: Alyx Review / Best Mods
Platforms: Steam Store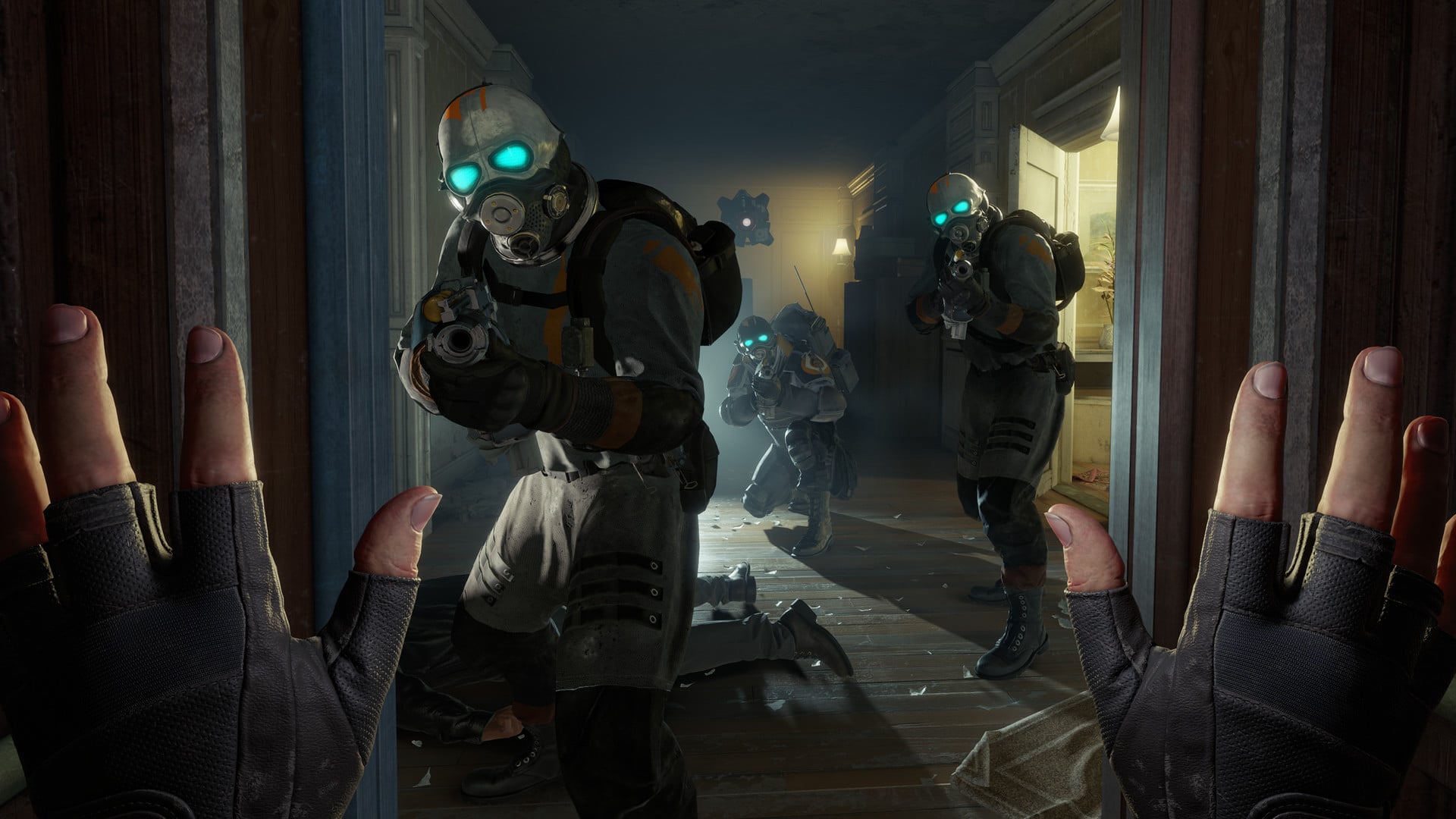 ---
Update - 04/24/23: Until You Fall, Zenith, A Township Tale, Wipeout, RE7 and Ultrawings 2 were removed from the list. Iron Man VR, Walkabout Mini Golf, What The Bat?, Resident Evil Village, Vertigo 2 and Horizon Call of the Mountain were added.  
Update - 02/09/22: Star Wars: Squadrons, Ghost Giant, Moss, The Room, Gorn and Walkabout were removed from the list. Zenith, Unplugged, Ultrawings 2, A Township Tale and Resident Evil 4 were added.
This post was originally published January 15, 2021. Former UploadVR Editor Jamie Feltham contributed to entries on this list.