Looking to get into VR, but not sure whether to get a Quest 2, PSVR 2, Pico 4 or something else? Here's our 2023 guide for the best VR headsets for different scenarios, breaking down the pros and cons of each.
[When you purchase items through links on our site, we may earn an affiliate commission from those sales.]
Best Overall VR Headset 2023: Meta Quest 2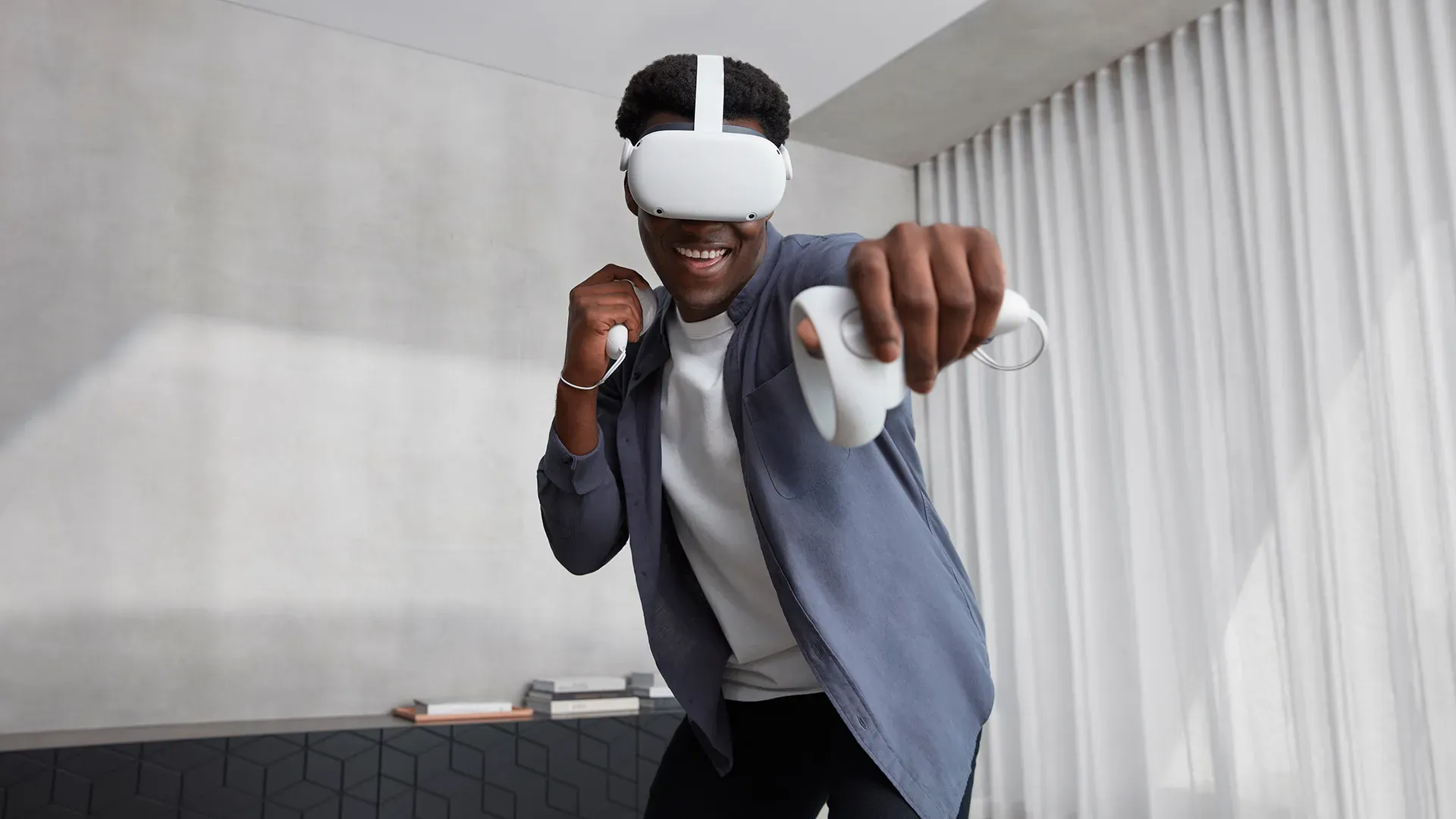 Meta Quest 2 is the most versatile VR headset available on the market and the easiest headset to recommend in 2023, whether you're a newcomer or a veteran.
For $399, you get a fully standalone headset that requires no other equipment, with a selection of some of the best experiences and games on any VR platform.
As a VR headset, Quest 2 comes with some huge benefits. It doesn't require a computer or a wired connection to any other device.  All the components are in the headset itself, which does make it a little more front-heavy than other headsets. (For longer play sessions, we've found the optional Elite Strap offers the most comfortable experience.)
However, this also means you can take it anywhere, use it anywhere and let anyone else try the headset in a matter of seconds. It has the least user friction of any headset available at the moment.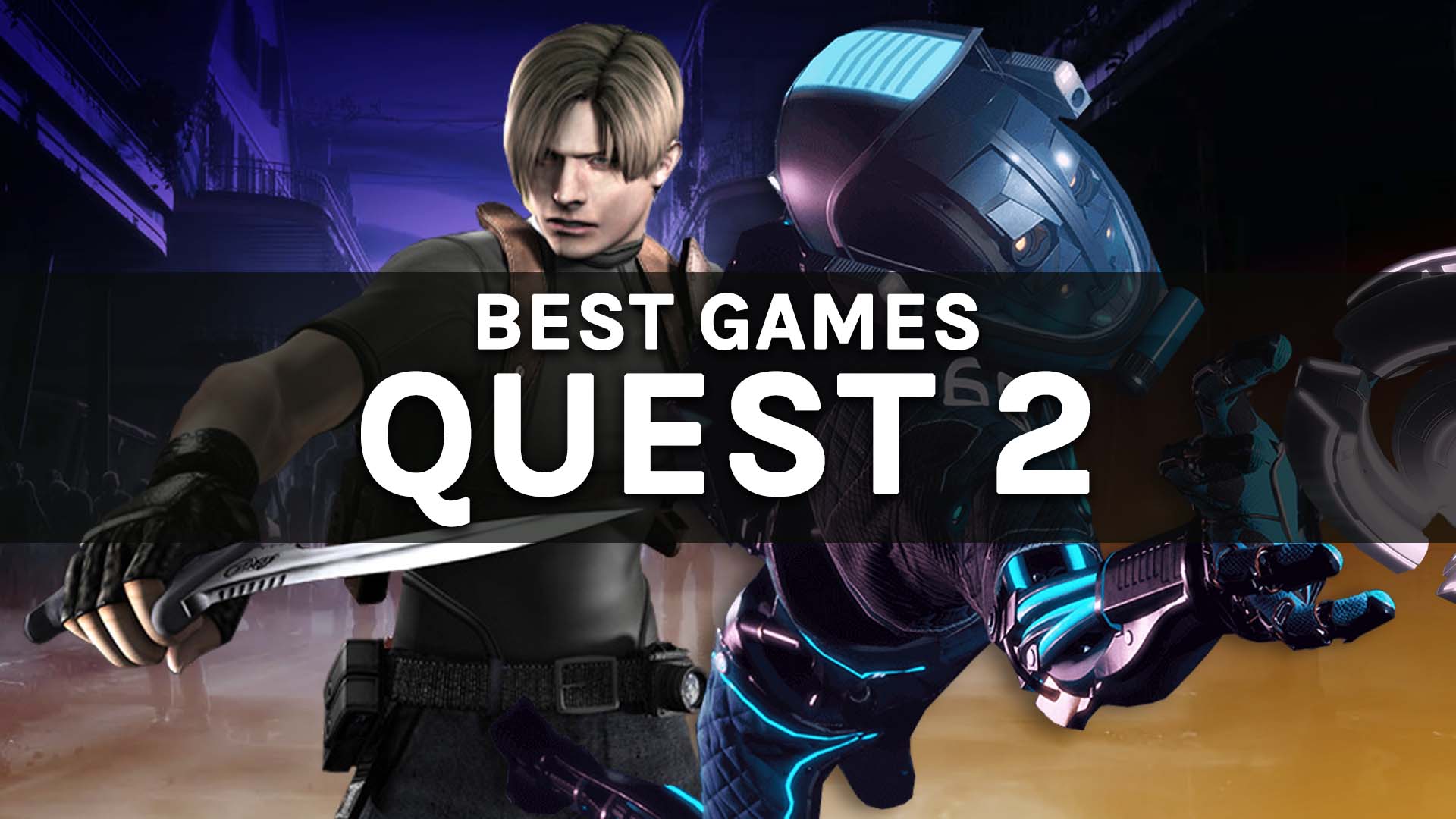 Most experiences on Quest 2 user two Touch controllers, which come included. However, you also have the option to use controller-free hand tracking, which uses the headset's cameras to track the position of your hands and display them in VR, allowing you to interact with VR content without controllers.
The library of Quest 2 content is expansive, featuring a wealth of different experiences across many genres, including indie and AAA releases. However, the standalone nature of the headset (which runs on similar hardware to a mobile phone) does mean that there is a limit to the content's scale and fidelity.
To remedy this, Quest 2 can also be connected as a PC VR headset to a VR-ready PC. This will allow you to enjoy visually-meatier, high fidelity PC VR experiences such as Vertigo 2 or Half-Life: Alyx, streamed from your computer to your headset via Oculus Link. There are two options to connect you PC to Quest 2 for Link: a wired connection via USB-C or a wireless connection over your local network via Air Link (provided your router can handle it).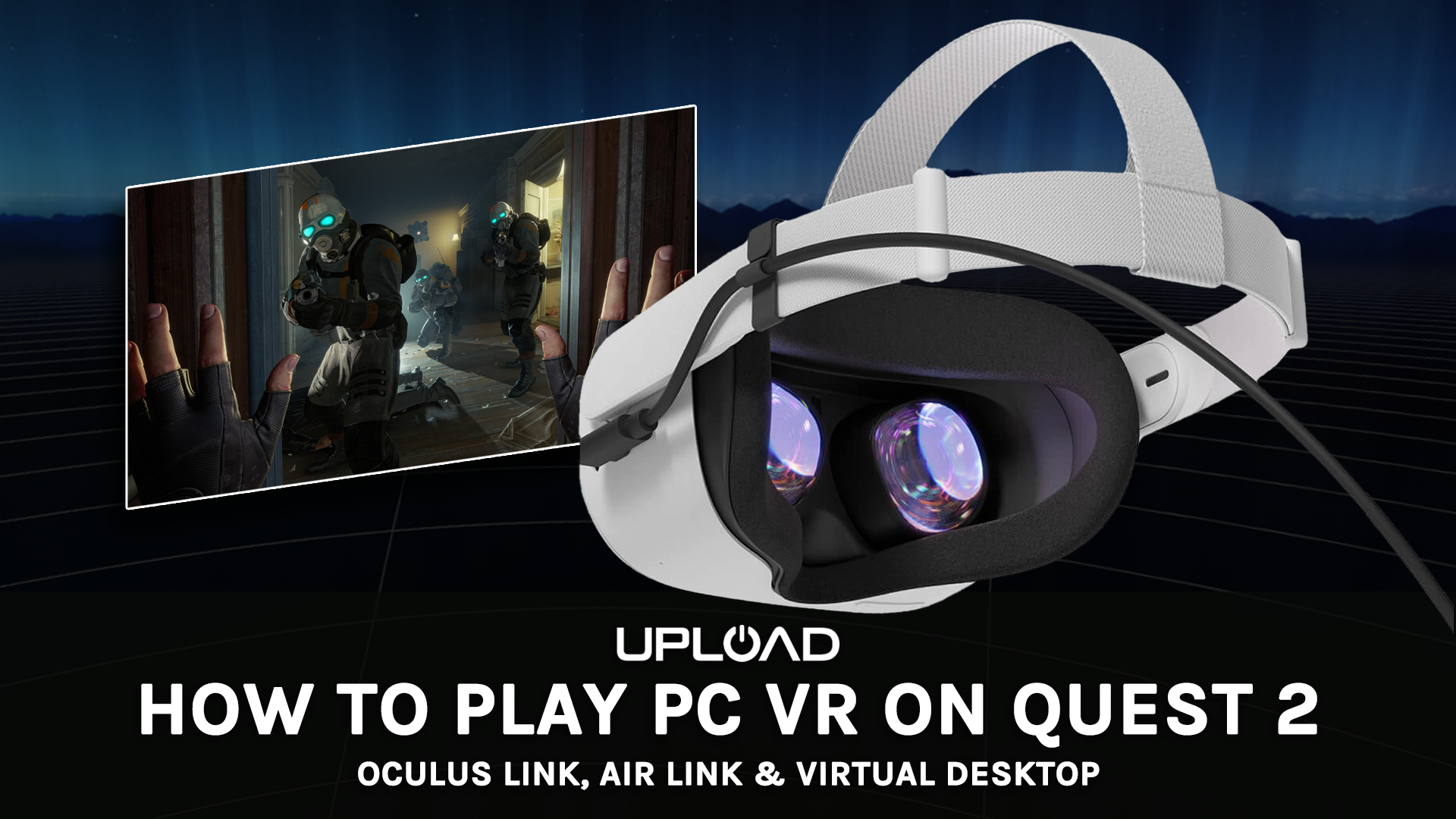 The one big trade-off with Quest 2 is that it is a product owned and produced by Meta, the company known for Facebook and Instagram and led by Mark Zuckerberg.  
When Quest 2 launched in 2020, it required mandatory log in via Facebook to use the device. However, that's no longer the case – you can now set up a Meta account for Quest 2, as an alternative to linking your Facebook profile. You can read more about this change here.
Provided you're okay with linking your Facebook profile or creating a Meta account to use a Quest 2, then it remains our choice for best overall VR headset for most consumers. This is especially true for those who are just dipping their toes into VR – it's not just the cheapest option, but also offers a premier standalone experience with the option to branch out into PC VR content as well.
Quest 2 is available on Amazon for $399.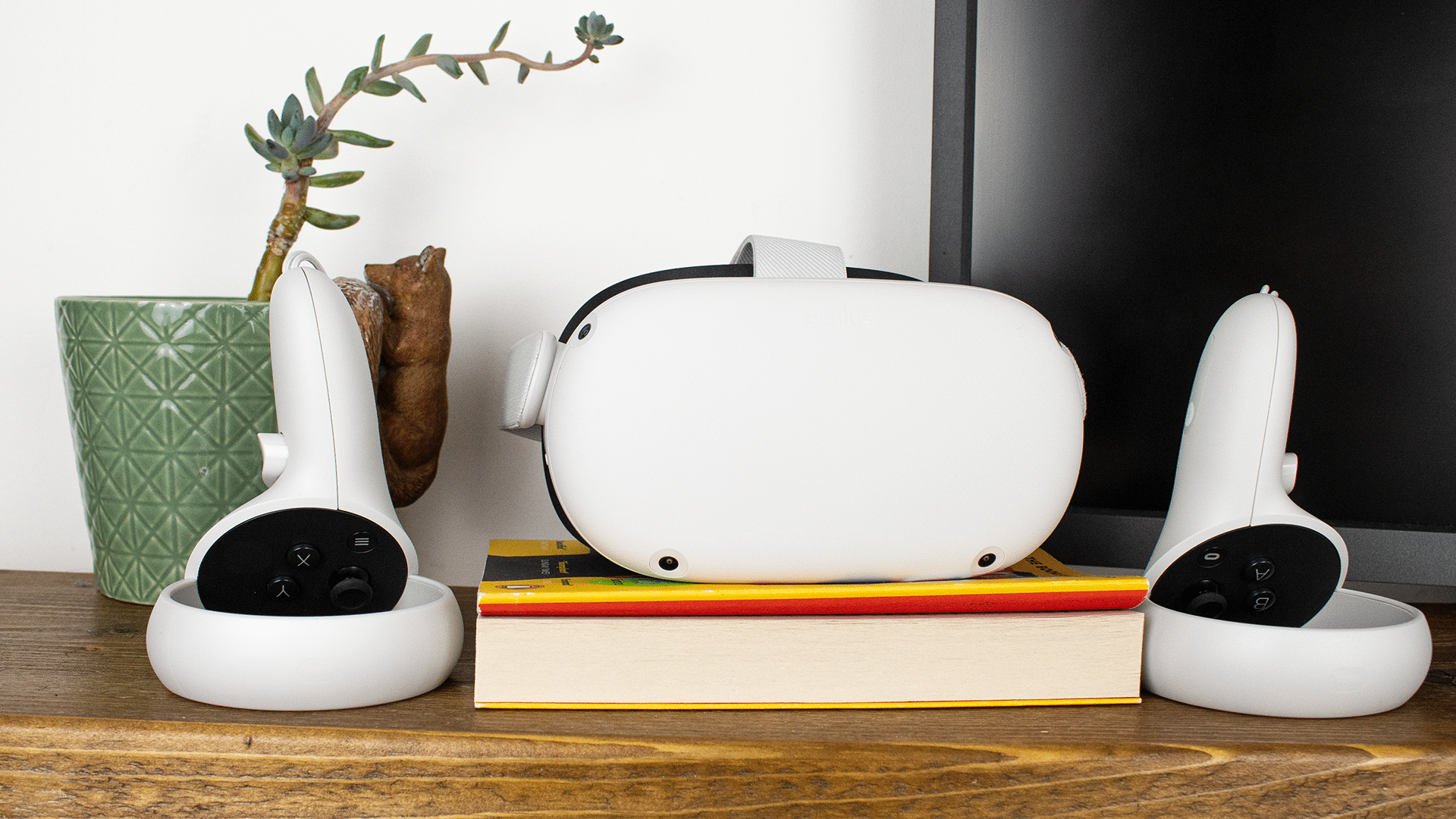 ---
Best PC VR Headset 2023 & Best Quest Alternative: Pico 4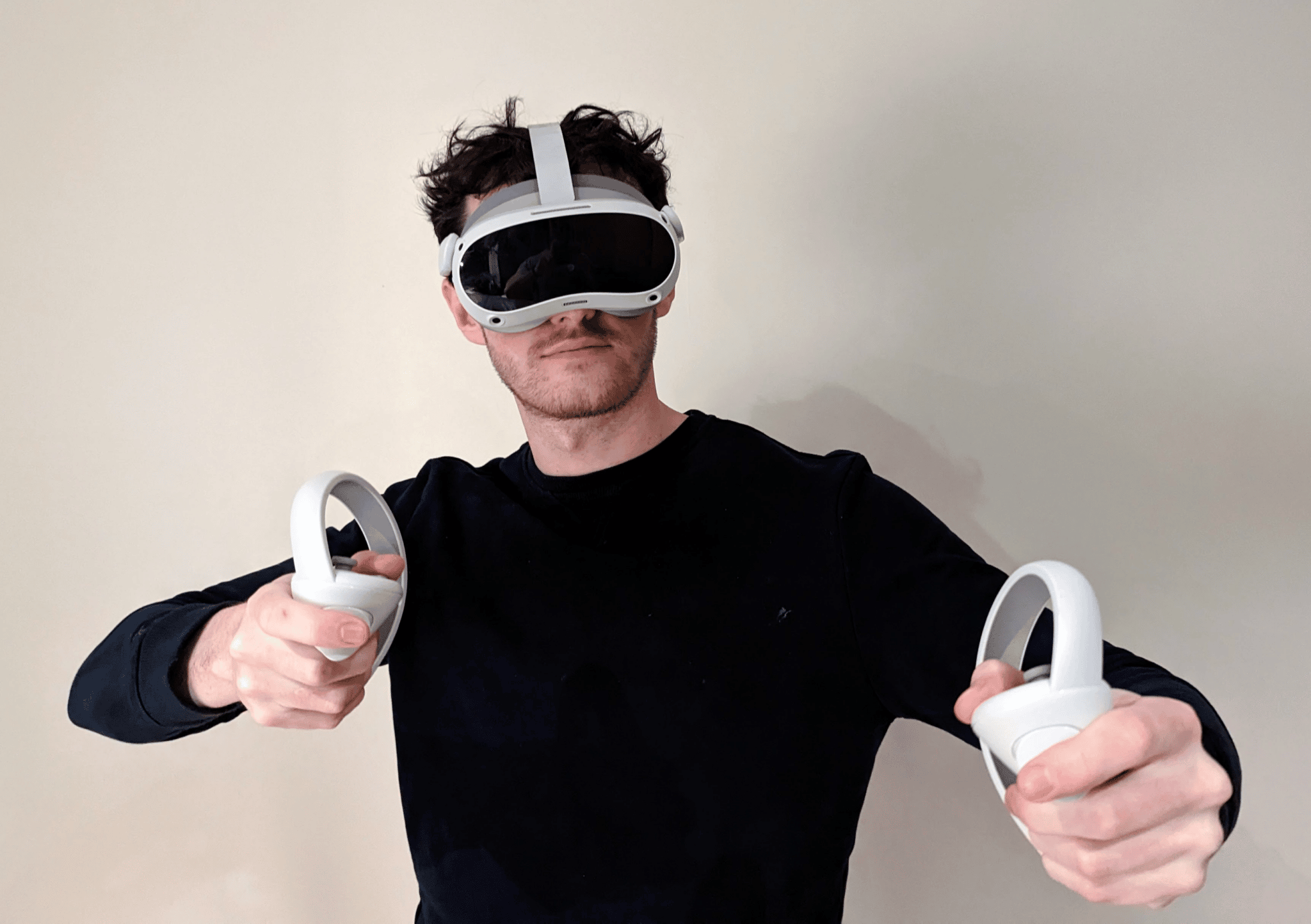 Quest 2 remains our pick for best overall VR headset, but some may prefer to steer clear of Meta devices all together. If that's the case, then Pico 4 stands out as a notable alternative, as well as the best PC VR headset choice as of this writing.
Pico 4 has a lot in common with Quest 2. Both headsets are standalone, meaning all the components are in the headset itself. They both operate without wires and requires no other equipment to work right out of the box. They both use the same chip (Snapdragon XR2 Gen 1) and they both also support PC VR content via a wired or wireless connection to a VR-ready PC.
Pico 4 also has some advantages over Quest 2. It's lighter (by about 40%) and offers better weight distribution, as the battery is located in the back of the head strap, making it an overall comfier headset. It has a larger field of view – 105 degrees vertical and horizontal, compared to roughly 96 degrees on Quest 2 – and features color passthrough that displays at a higher resolution.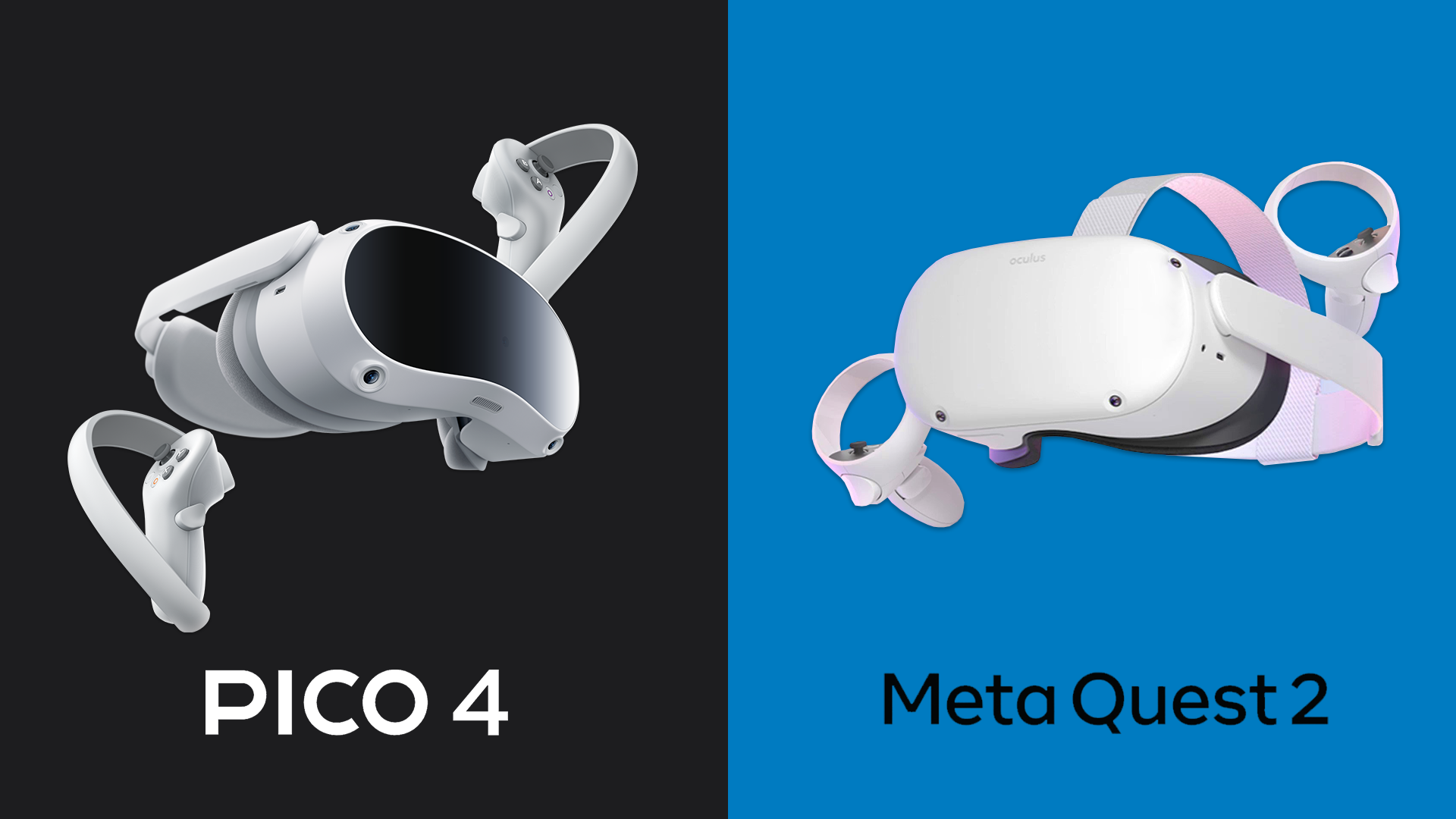 It's also slightly more expensive at €430 and not as readily available – Quest 2 is sold internationally, but Pico 4 is only available in Europe, Japan, South Korea and China. Customers elsewhere, including North Ameria or Australia and New Zealand, can't buy Pico 4 locally.
Pico 4's software also isn't as refined as Quest 2, which includes slightly worse overall tracking performance. The Pico content library features many titles also available on Quest, but is missing several prominent Meta-owned titles or exclusives such as Beat Saber, Population: One, Resident Evil 4 and Onward.
There's also a slight difference in performance compared to Quest 2 – while both headsets use the same chip, it has to push more pixels and geometry on Pico 4, meaning there are sometimes dips in performance across equivalent titles.
There's pros and cons to picking Pico 4 over Quest 2 – the latter may still be our overall recommendation, but if you're avoiding Meta then Pico 4 is your next best option.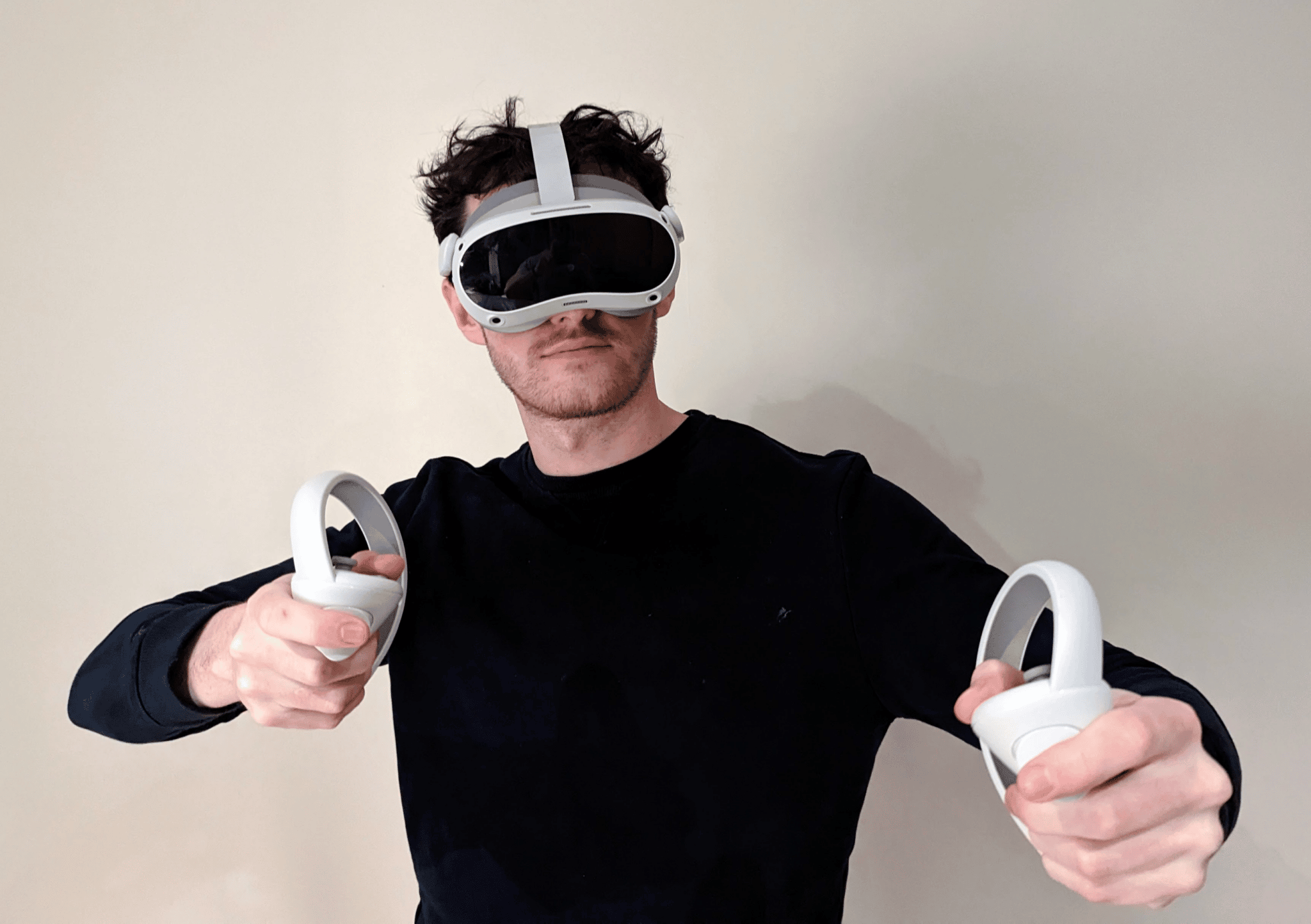 Why Consider Pico 4 For PC VR?
This might seem like a crazy pick for best PC VR headset given Pico 4 is first and foremost a standalone headset.
However, Pico 4's weight, clarity and field of view make it the best current PC VR headset. It's a standalone headset by nature, but it does have built-in support for wired and wireless PC VR streaming. The latter option isn't quite as good as Meta's Air Link solution for Quest, but third-party alternative Virtual Desktop is available on Pico and works just as well as it does on Quest.
Other dedicated PC VR headsets, such as the Valve Index, offer more reliable outside-in tracking, but are otherwise outdated and outclassed by Pico 4 in almost every other regard. Pico 4's pancake lenses, large field of view, fantastic optics and lightweight form factor make it an easy pick for best PC VR headset available today.
Best 'Next-Generation' VR 2023: PlayStation VR2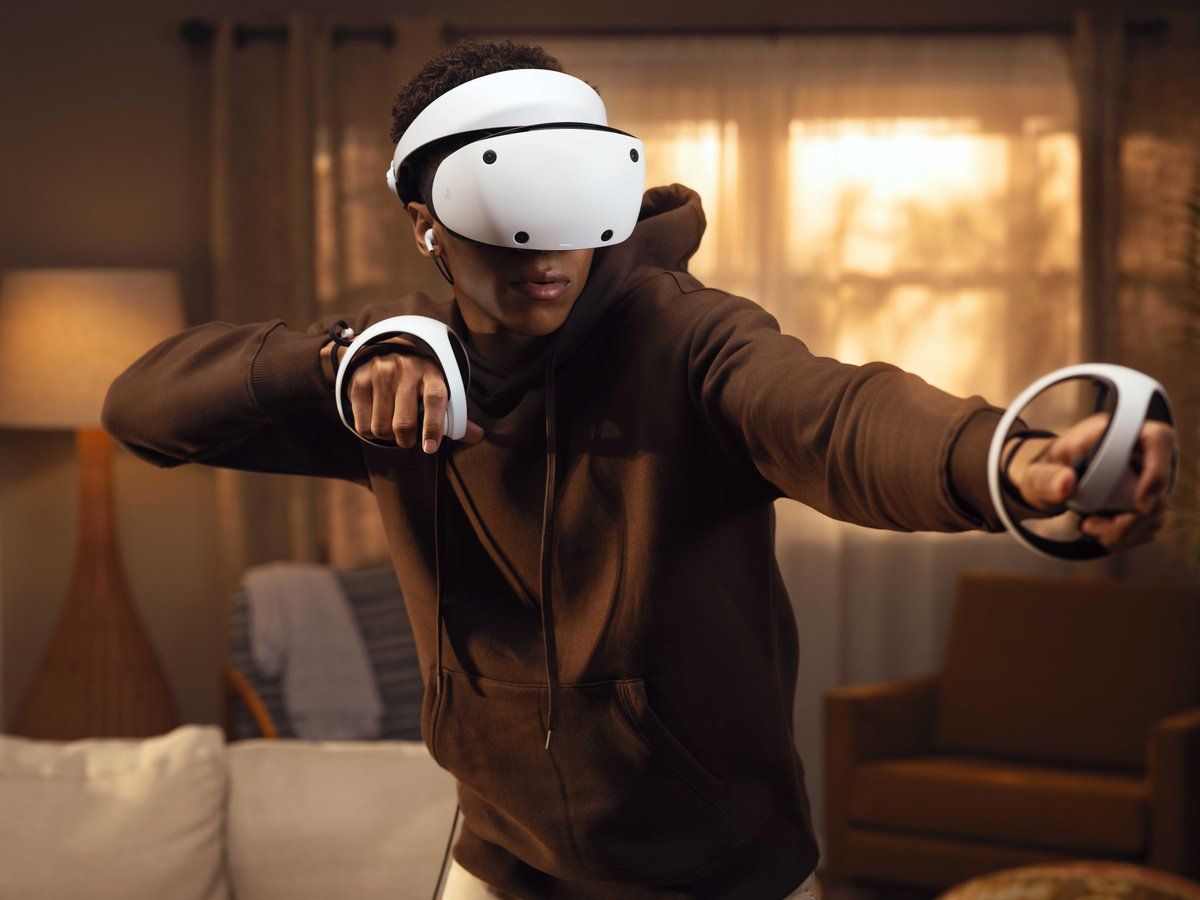 Another high profile headset available right now is Sony's PlayStation VR2. While Quest 2 is still our overall pick for best headset, there are a couple caveats to consider.
First, Meta is planning for a new VR headset in 2023 and while current indications suggest Quest 2 might still be sold alongside it as the entry level VR solution, a massively upgraded headset on the horizon may certainly change the purchasing calculus for some buyers.
Second, take into consideration whether you own a PS5 or might be in the market for one. The system is the premiere location for incredible gaming franchises including Spider-Man, Horizon, The Last Of Us, Resident Evil and more. Sony is just getting started with PSVR 2, but some of the new VR games in these franchises already wow. Overall, PSVR 2 is positioned as an incredible upgrade for PlayStation gamers.
Unlike Quest 2, PSVR 2 isn't a standalone headset. It requires a wired connection to a PlayStation 5 console to operate – without it, the PSVR 2 headset is useless and can't be connected to anything else (including a PC). However, the flip side to this trade-off is that, compared to Quest 2, the device and features offered by PSVR 2 are much more 'next generation'.
PSVR 2 is a comparatively newer headset (initially released in 2023, whereas Quest 2 debuted in 2020) at the beginning of its lifecycle, with support from Sony expected to continue alongside support for PS5. It has some great new features compared to Quest 2, including an OLED screen with HDR, a larger field of view, eye tracking, adaptive triggers, haptic feedback in both the controllers and headset, and more. It's also a lighter headset and features a Halo-style strap that sits against your forehead, which some users might find more comfortable for longer sessions.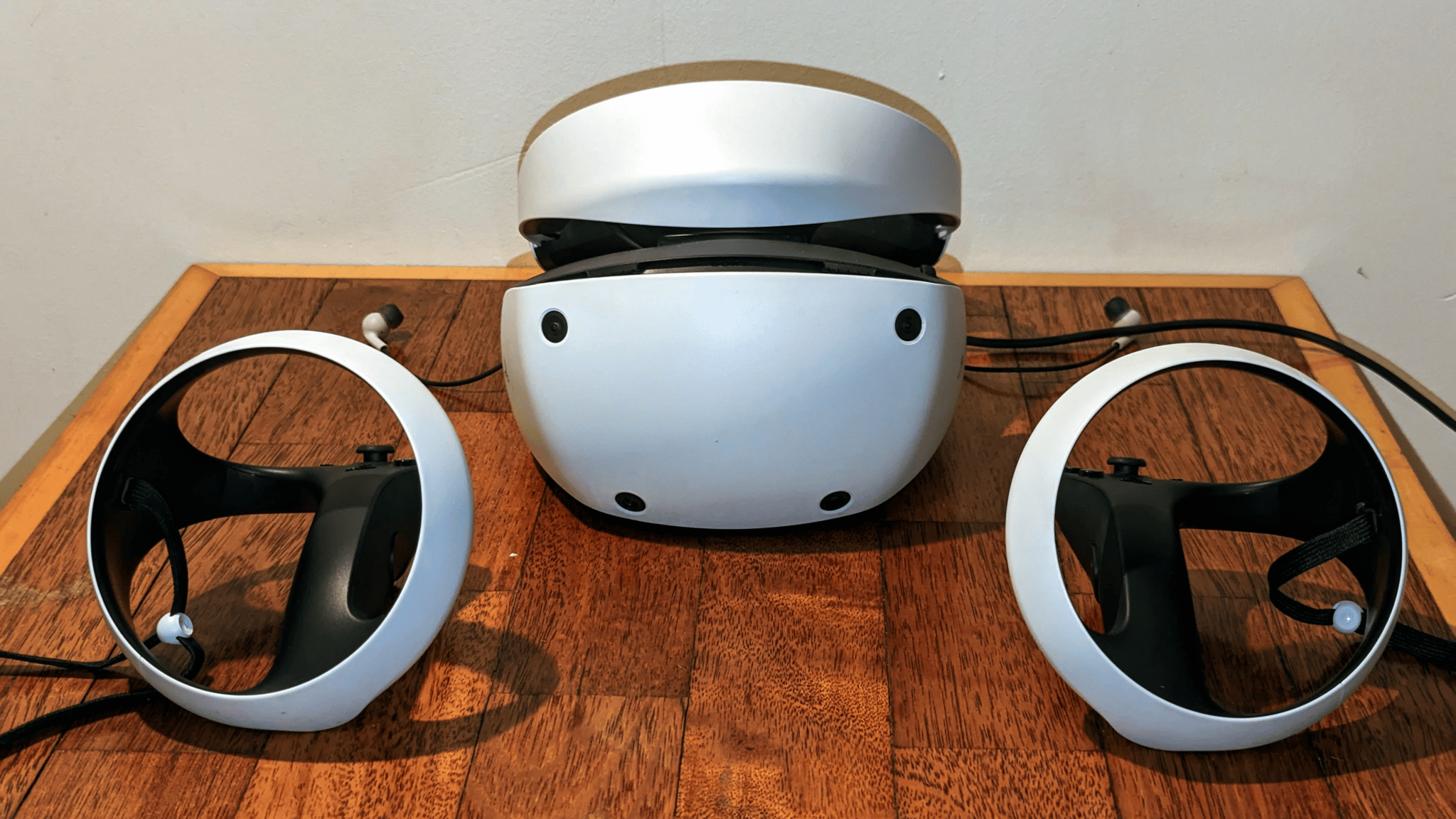 The trade-off for these shiny new features is that PSVR 2 needs to remain connected to your PS5 via an included 5-meter cord and USB-C connection. That said, it also means that PSVR 2 can offer experiences that are far more intensive and graphically-impressive than standalone headsets like Quest 2.
There are a few Quest-exclusive releases you'll be missing out on, but for the most part PSVR 2's library already includes many of the best releases from the Quest platform, with more coming each month. These also generally feature upgraded graphics on PSVR 2 compared to the standalone versions, and sometimes even feature improved performance.
However, it's PSVR 2's fantastic exclusives that are the shining gems of its launch library. This includes the flagship release, Horizon Call of the Mountain, and excellent VR support in Gran Turismo 7 and Resident Evil Village. We count those three titles as some of the best VR games of all-time, across all platforms.
PSVR 2 is definitely one of the more expensive headset options, coming in at $550 – and that's before you factor in the price of the PS5 console. However, if you've already got a PS5 and want a headset that offers "next-generation" consumer VR with some truly great exclusive, then PSVR 2 might be the best pick.
PlayStation VR2 is available direct from Sony for $549 and will be available to purchase in local retailers soon.
---
What about Meta Quest Pro?
There's a lot to be said about Meta Quest Pro. It isn't a variant of Quest 2, nor a successor, but the first in a new high-end product line targeting professionals, early adopters, developers and businesses. If you're new to VR and looking for the best overall VR experience, this isn't the headset for you.
So while it's a hard headset to directly recommend, it's also arguably the best "mixed reality" headset available for consumers right now.
What is mixed reality? Well, as of this writing developers are still very much figuring it out. Computer vision systems on VR headsets are improving rapidly enough to open up a new class of "mixed reality" headset which gives you an active view of your physical surroundings for longer lengths of time. The headset's color passthrough cameras are used to display a depth-corrected image of your surroundings as the headset's virtual environment.
The headset features pancake lenses, presenting a much slimmer form factor compared to other headsets. There's no facial interface on Quest Pro by default, meaning that you can still see the real world below you and in your peripheral vision.  
ℹ️
Quest Pro includes optional side blockers in the box, which magnetically attached to the side of the headset to block peripheral vision. However, to block the space below your eyes, you'll need to purchase Meta's optional $50 Full Light Blocker accessory.
Combining open periphery design with this burgeoning "mixed reality" support results in a device that can display virtual items, screens and objects across your real-world environment. It's not quite virtual reality or full augmented reality, but falls somewhere in between.
This can be used alongside software like Immersed or Horizon Workrooms to create a virtual workspace with multiple monitors, blending into your real environment. The headset also features new self-tracking controllers, a new snazzy charging dock and support for eye and facial expression tracking.
On paper, it's a neat headset and it remains the best option for anyone interested in mixed reality applications and use-cases. However, there are some drawbacks.
The quality of the mixed reality passthrough image is not the best – it's better than Quest 2, but still grainy and washed-out. The headset also lacks a depth sensor, which limits its mixed reality capabilities – instead of automatic room detection, you have to manually mark you walls, ceiling and furniture. Quest Pro's chip, the XR2+, is also essentially the same chip found in Quest 2 but with some minor upgrades, resulting in relatively equivalent performance.
The last – and most prominent – major drawback is price. Quest Pro is $1000, which is a permanently reduced price from the initial $1500 asking price at launch.
Quest Pro may be the best mixed reality headset right now, but there's also little-to-no competition for that title at a consumer level. Cutting-edge developers or adamant early adopters of mixed reality might enjoy Quest Pro, but everyone else is better off checking out the other options on this list – all available at a fraction of the price.
Meta Quest Pro is available on Amazon for $999.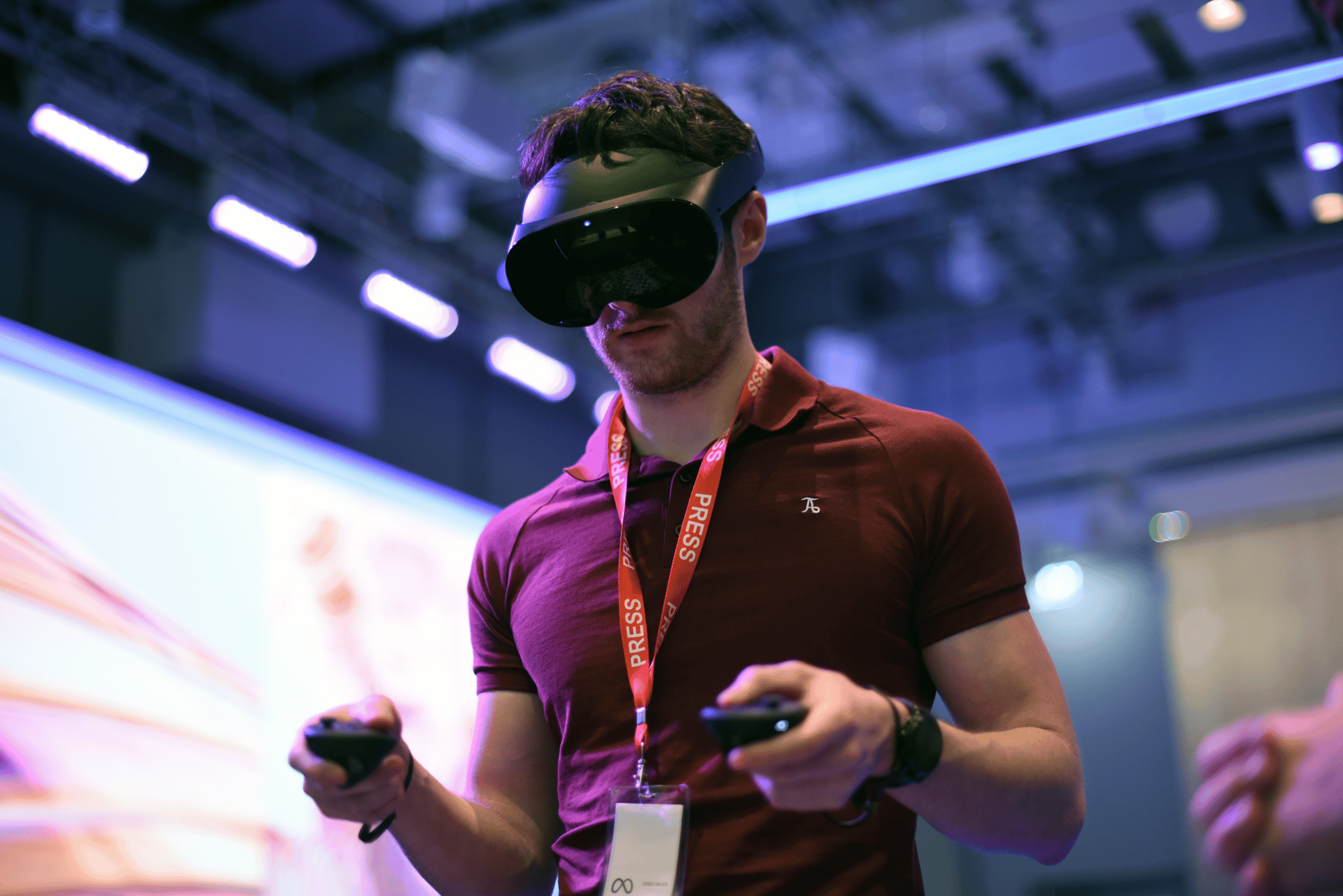 ---
Exclusivity & Depth Content Library Considerations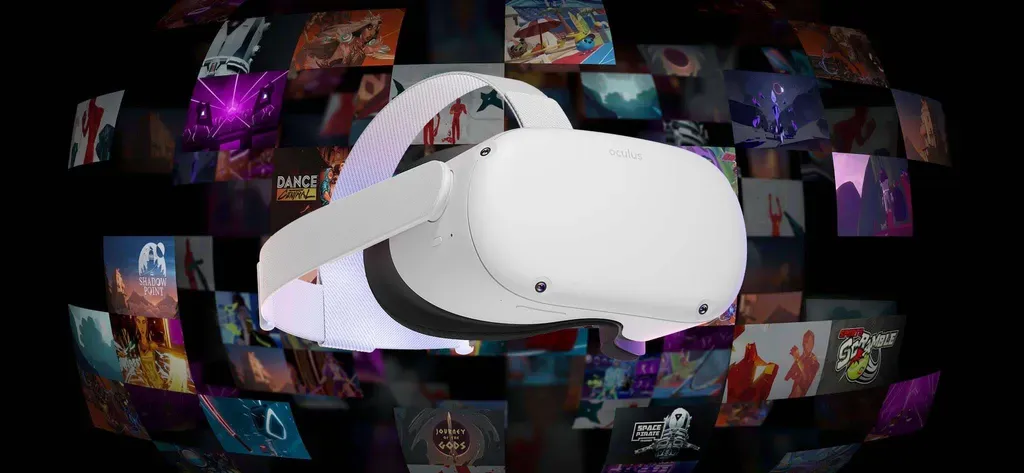 The PlayStation Store, Quest Store and Steam share many VR titles that are available across each storefront and different platforms. However, there are also titles that are available exclusively on one or two platforms and may never come to the others.
When it comes to the "best content library" for VR, and how that figures into purchasing a headset, you need to think about what kinds of games you want to play and how deep you want to get into them.
For instance, games like Microsoft Flight Simulator, Vertigo 2 and Half-Life: Alyx are incredible experiences on PC VR and a major reason to consider a headset that supports PC VR content. At the same time, a lot of the content developed for Quest over the last four years is now also readily available on PSVR 2, sometimes running with better performance and higher visual fidelity.
That said, while many of the best Quest releases are available on PSVR 2, not all of them are. There are still titles that have yet to be ported over – and may or may not ever make it, depending on the developer and the title's popularity. PSVR 2 also doesn't support backwards compatibility with the original PSVR. Some games support upgrades to new PSVR 2 versions, but other PSVR titles remain unavailable on the new headset.
So what it really comes down to are the exclusives, which are the big differentiators between the Quest and PSVR 2 content library. On Quest, you have exclusive titles like Resident Evil 4, Onward, Population: One, Iron Man VR (which, ironically, first released as an exclusive for the original PSVR) and more. Plus, Meta has acquired eight game studios that are currently working on new exclusive content for its headsets.
On the flip side, Sony has a few enticing exclusives to bring you over to PSVR 2. The most prominent is its next flagship VR title, Horizon Call of the Mountain, a VR spin-off of the popular flatscreen franchise. PSVR 2 also includes new VR support for Gran Turismo 7 and Resident Evil Village, meaning that both titles can be played fully in VR from start to finish. Those three experiences alone are absolutely fantastic, but we've no doubt that Sony has more exclusive experiences in the works. There's been a handful of smaller PSVR 2 exclusives as well, namely The Dark Pictures: Switchback VR and Before Your Eyes, both of which are great.