Major roadblocks stand in the way of PlayStation VR2 working as a SteamVR headset, but work is underway to make it happen.
I plugged PlayStation VR2 into a VirtualLink USB-C port on a PC with a 2080 NVIDIA graphics card. The connection delivered PSVR 2's cinematic mode, showing my Windows 11 desktop in front of me on a virtual 1080p monitor. My head's rotation was tracked so I could look left, right, up, down, and tilt my head. Listed as an SIE VRH generic monitor on the PC, it did not have positional tracking. So if I moved my head in other ways the virtual monitor appeared to move with me.
The creator of the iVRy tool, used by some original PlayStation VR owners to get it running on SteamVR, is exploring PSVR 2 solutions, writing to UploadVR that "making SteamVR drivers for unsupported hardware is my business, and there is a lot of demand for PSVR 2 on PC, so I am investing heavily to develop the driver."
On Wednesday, iVRy posted a screenshot of a PSVR 2 "VR" mode teasing some basic controls for a 3D display.
"I expect to at least be able to use it with Lighthouse tracking and Index controllers in the short term," a direct message from iVRy explained. "Which can already be done with PSVR1, with no tracking needed from the headset."
Don't get too excited, though, because there's one potentially show-stopping problem here.
"The majority of PC gamers do not have a PC that a PSVR 2 can be connected to," iVRy explained over direct message.
VirtualLink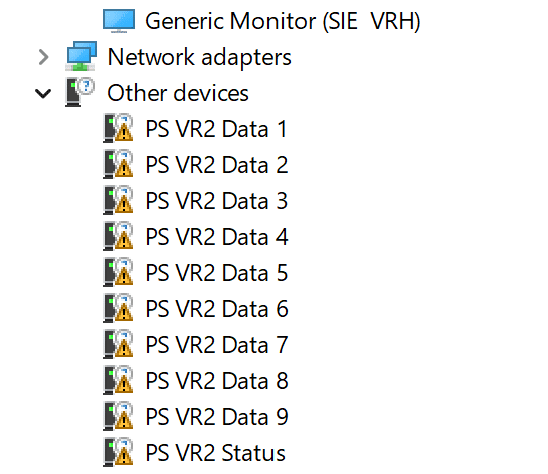 The latest SteamVR hardware survey shows just .06 percent of SteamVR users went through the effort of downloading unofficial tools to spend some time with SteamVR content in an original PlayStation VR headset.
The biggest roadblock to something with a wider applicable market than that for PSVR 2 on PC, according to iVRy, is the need for an adapter to convert the signals coming from PSVR 2's USB-C port into something digestible on a wider range of PCs.
iVRy says their testing shows PSVR 2's USB-C connection carries signals for VirtualLink ALT mode: DP HBR3 x 4 + USB 3.1 Gen 1.
"The PSVR2 requires this mode," iVRy wrote. "It will not power on without it."
There are some specific VirtualLink adapters available with one listed by Xtal priced at $350.
More also needs to be learned PlayStation VR2's tracking system before we can say more about the potential of using PSVR 2 for PC VR gaming. Open source efforts like Monado are working on computer vision-based hand and head tracking for VR headsets. Monado's inside-out head tracking is Linux-only with no apparent plans for a Windows driver. If PlayStation VR2's own camera-based tracking system isn't usable on PC, something like that would need access to PSVR 2's camera feeds in order to give PSVR 2 owners positional tracking at a lower hardware cost than solutions requiring SteamVR Tracking base stations. iVRy noted that getting PSVR 2's Sense Controllers working on PC may also require a USB bluetooth adapter.
To recap the path to PSVR 2 support on PC:
Yes, you can use a PSVR 2 headset in cinema mode as an untracked PC display using a VirtualLink connection on some PCs. But there's no obvious path to more general use of PSVR 2 on PC, and not enough is known about the headset's own inside-out positional tracking system to say whether it's possible it could be co-opted for use here instead of Lighthouse base stations.
But work continues.