One of the biggest post-launch features added to the Quest has been controller-free hand tracking. With more and more experiences implementing support, we've narrowed down the best Quest 2 hand-tracking games so far.
When the original Quest launched, the only input option was the included Touch controllers. However, Quest headsets now support controller-free hand tracking. This allows you to use your hands for navigation in the Quest UI, as well as an input method for games and apps that implement support. Even better, the recent Hand Tracking 2.0 software update has resulted in huge performance and reliability improvements in select games.
While it started out slow, more and more games are supporting hand tracking on Quest — with some using it as an exclusive input method. Here's our list of the best hand tracking experience available on Quest 2.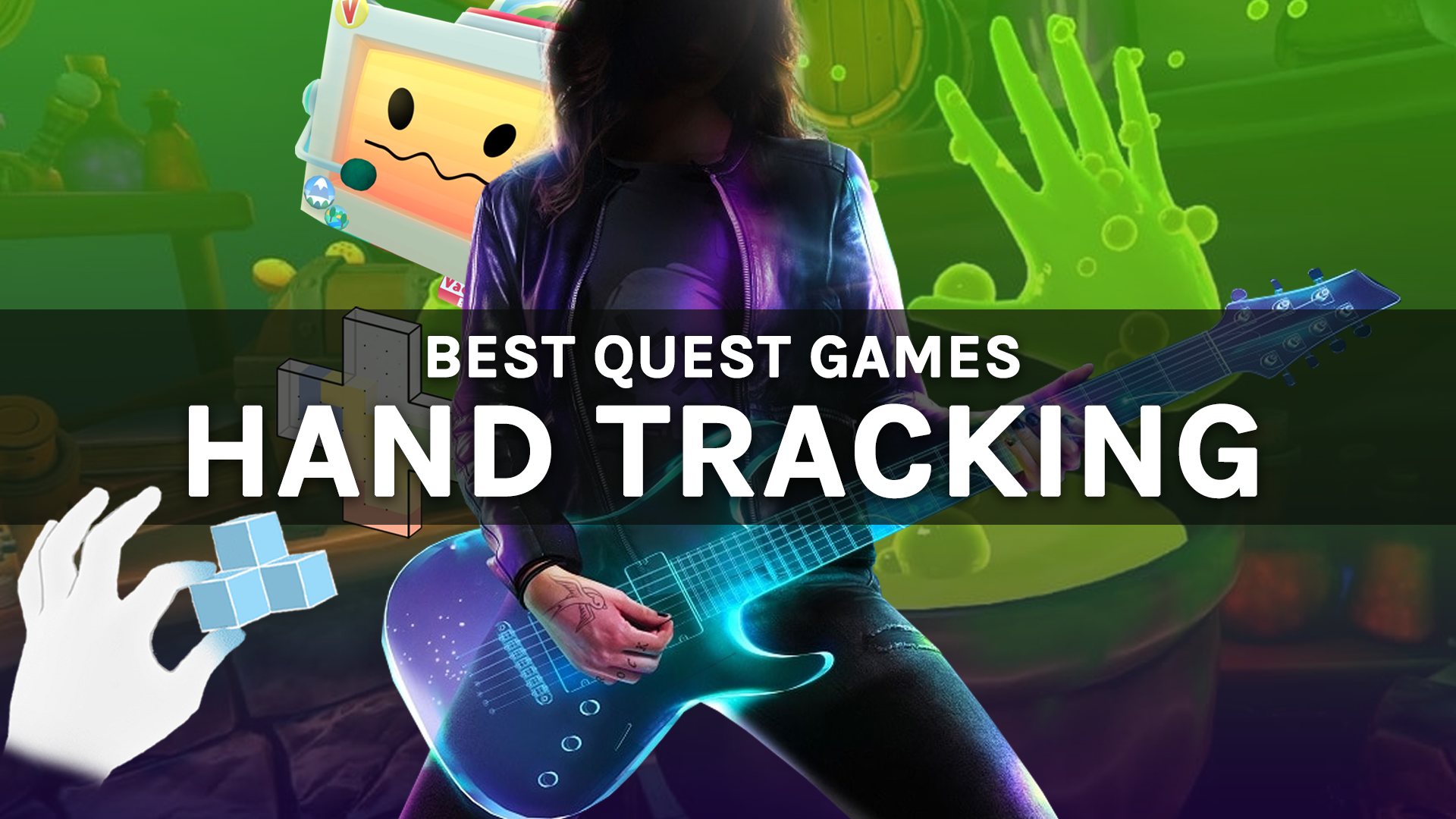 Honorable Mentions
First Steps with Hand Tracking
This alternate version of the introductory Quest experience is available through App Lab, and provides this same experience but altered to solely use hand tracking instead of controllers. You can read more here.
Tea for God
It's a little scrappy, but this experimental FPS uses roomscale navigation and design in an innovative way to keep you fully immersed. It does support hand tracking, but it's a little buggy. You can read more here.
Virtual Desktop
When using hand tracking, Virtual Desktop allows you to log into your PC on your Quest from anywhere with just your hands, no controllers needed. If you've sideloaded the alternate SideQuest version of the app, the feature even extends (in an experimental capacity) to control of PC-based VR games, where your hands act as emulated Touch controllers. You can read more about the feature and how it works here.
Best Quest Hand Tracking Games
10. Elixir
This game initially debuted at Oculus Connect 6, where attendees could try it out as a demo, after hand tracking was announced at the opening keynote. Once hand tracking moved out of beta and into full release, the game was made available to the public as a free download.
It's free and a good demo for what you can do with hand tracking, so you've got nothing to lose. You can read more here.
9. The Line
Similar to Gloomy Eyes, The Line is a short immersive experience that follows the story of Pedro, a miniature doll and newspaper delivery man. It only lasts about 15 minutes, but unlike Gloomy Eyes, you'll actually use your hands to interact with things in The Line. The animation is absolutely superb and the narrative is quite charming. It may be a small package, but it's definitely worth it.
Read more in our quick review.
8. The Curious Tale of the Stolen Pets
This wholesome VR title released towards the end of last year, but was one of the first games to officially support hand tracking in the Quest store a few months ago. Each level is a diorama-style world with layers of puzzles and collectibles. We had a few nitpicks in our review (written pre-hand tracking) but were still big fans of the game. Unlike some other games on this list, Curious Tale supports hand tracking as a input method for the entire game — it's not a dedicated or different mode specifically for hand tracking, so you'll be able to play the game start to finish without controllers if you like.
You can read our review of the game (written before hand tracking support was integrated) here, and watch an interview about hand tracking support with Curious Tale developer Kristoffer Benjaminsson from Fast Travel Games above.
7. Richie's Plank Experience
Even before hand tracking support, Richie's Plank Experience was known for producing some of the most immersive moments in VR — you've all seen that video of the guy jumping into the TV.
However, with the latest update for the Quest version of the game, the immersion just got upped even more with the addition of hand tracking support. While the support is only for the main plank sections of the game for now, it's still a fantastic and terrifying experience. The lack of controllers makes everything feel a little bit more real, just like you're standing on a plank suspended off the side of a skyscraper.
You can read more of our impressions here. That piece was written when the feature was still in beta, but hand tracking support has now been implemented into the public release of the game on Quest.
6. Horizon Workrooms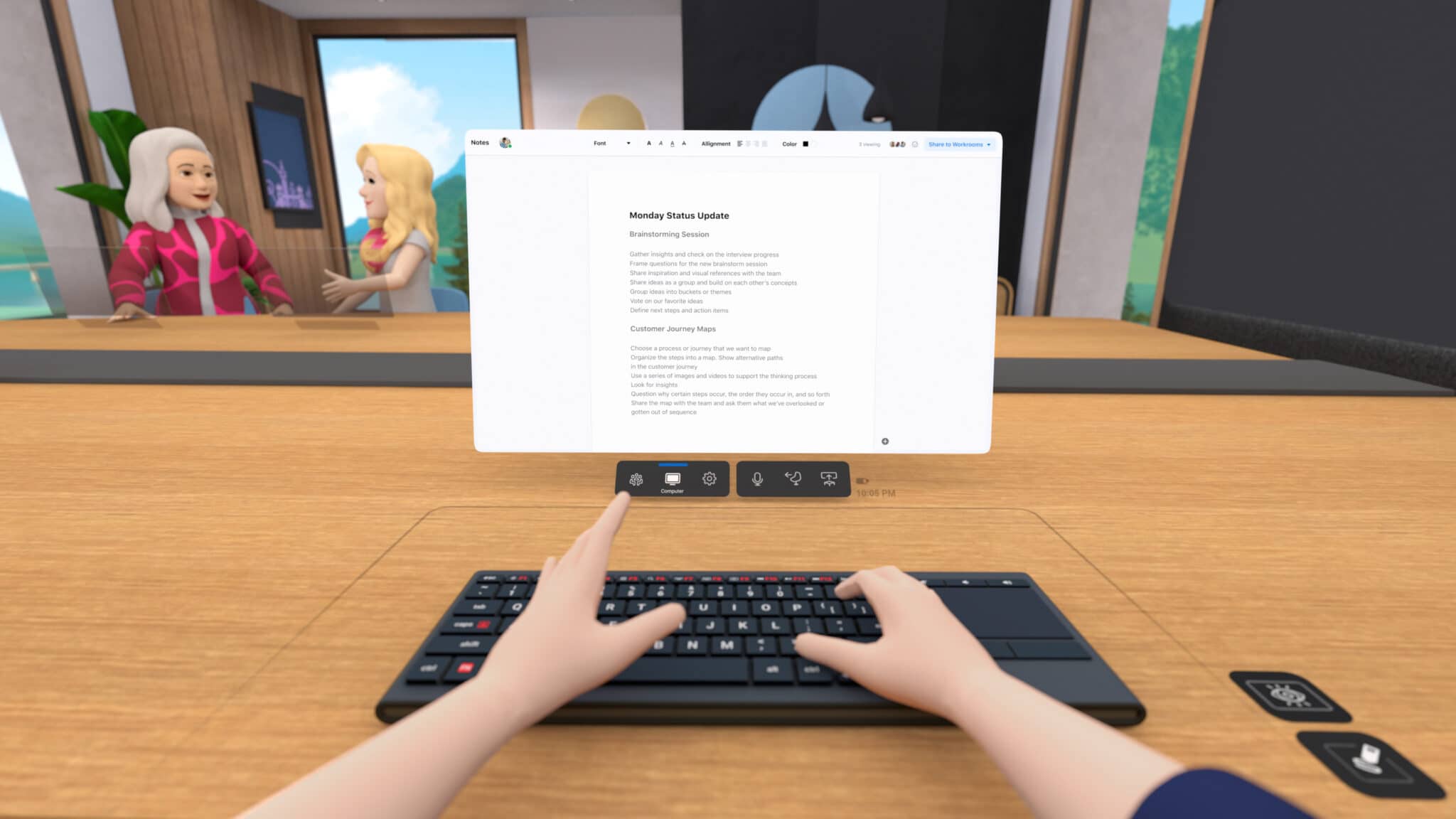 One of Meta's suite of social apps for Quest, Horizon Workrooms is a remote work application that allows you to use an Oculus Avatar to meet in a virtual boardroom with others. Not only does the game support hand tracking — which adds great expression and realism to everyone's interactions — but it also lets you bring your computer into VR and use the space like a virtual office. With supported tracked keyboards, you can use hand tracking to type in VR just as you would in real life. Or, if you prefer, Workrooms can even fade a passthrough cut-out on top of your desk, so you view your real-life keyboard and surroundings with ease.
It's a nifty use of hand tracking and probably the best remote work software we've tried on Quest so far. You can read more about Workrooms here.
6. Vacation Simulator
Vacation Simulator added hand tracking support pretty late in the game compared to some other titles, but it remains one of the most prominent and popular games on this list to have added support. The free Back to Job expansions also adds in several mechanics from the previous game, Job Simulator, so you should have plenty of content to keep you going.
5. Waltz of the Wizard
There's a lot of hand tracking experiences available on Quest, but one is particularly magical. Waltz of the Wizard's hand tracking support allows you to use your hands to cast spells and manipulate the environment around you in a multitude of different ways. Like any hand tracking experience, it's not perfect but it is still one of the most memorable experiences we've had with the technology yet.
You can read our full impressions here.
4. PianoVision
There's been a couple of education piano apps on Quest, but PianoVision is the best one yet.
PianoVision essentially lets you align a virtual piano to your real keyboard, and then uses passthrough to teach songs by displaying notes falling in sequence toward the keys. It uses hand tracking to achieve this, in combination with real-time responses to what you play through a connection with a MIDI-enabled keyboard. It's one of the most interesting pieces of VR-based music education software we've seen so far, presenting a fascinating glimpse at the potential benefits and avenues of using VR as an educational tool.
PianoVision is currently only available in Early Access, but you can sign up for access over on its website.
3. Hand Physics Lab
Hand Physics Lab started as a demo available to sideload via SideQuest with a limited amount of environments and interactions design to experiment with the then-new hand tracking support on Quest.
Now, Hand Physics Lab is available on the official Oculus Store for Quest, supports hand and controller input and presents many of those original interactions (and new ones) as part of a fully-fledged puzzle game campaign. It's a one-of-a-kind experimental playground that can be both immensely frustrating and satisfying. Recent updates have also improved the experience, thanks to implementation of Hand Tracking 2.0.
The Hand Physics Lab is available on the Oculus Store. You can read our review here.
2. Cubism
Cubism is a deceptively simple game. Its puzzles are easy to understand but perfectly challenging to finish. It's a slow and measured experience, which makes it the absolute perfect fit for hand tracking.
It's not that Cubism does anything revolutionary with its hand tracking implementation – all you're really doing is picking up and placing pieces of its 3D building block puzzles. But that's all that's needed to make an absolutely sublime hand tracking game that's easy to understand while also avoiding some of the friction found in other experiences on this list.
Not to mention that the game is one of the few (if only) hand tracking experiences to offer 120Hz support on Quest 2 as well. You can read our review of Cubism here (written before hand tracking support was added) and read our impressions of the hand tracking update here — while we were always impressed, hand tracking should perform even better now, thanks to implementation of Hand Tracking 2.0.
1. Unplugged
As a hand tracking game, Unplugged showcases a concept and use of the technology that is completely unmatched by anything else on this list.
Where other apps and games use hands in ways that replace controllers, Unplugged uses hand tracking to create an experience that isn't possible or supported with controllers.
This game has the DNA (and excellent soundtrack curation) of rhythm games like Guitar Hero and Rock Band but ditches the plastic peripherals for just your own two hands, allowing you to shred rock songs on an air guitar brought to life with virtual reality.
While the game was certainly playable at launch, it had some limitations linked to the level of hand tracking available at the time. But in May 2022, Anotherway added support for Hand Tracking 2.0 and the difference in reliability and performance is day and night. It's so much better, in fact, that all of the tracks have been re-mapped to be more complex, lifelike and challenging, thanks to the new capabilities of hand tracking software.
Unplugged uses hand tracking as a way to fulfill a fantasy and bring to life something that previously only existed in your imagination and in doing so surpasses any other hand tracking app on Quest by a country mile. You can read our updated 2022 review here.
---
What's your favourite hand tracking game or app available on Quest? Let us know in the comments.
This article was published in May 2021 and updated in October 2021 and May 2022 in light of new releases and updates.