Walkabout Mini Golf is an essential VR title that belongs in every library alongside the likes of Beat Saber. Whether you're new to Walkabout or a long-time player, here's our definitive review breaking down why it's one of VR's best multiplayer games.
There's magic on the greens of Walkabout Mini Golf.
Each course features only 18 holes, but studio Mighty Coconut developed a formula that makes it one of VR's most reliably breath-taking experiences that's both endlessly replayable and an absolutely essential multiplayer game.
Course & Hole Design

To begin, there's the courses themselves. Theme parks are the closest places comparable to Walkabout courses.
Ultimately, Mightly Coconut leans so far into VR-first design that in some ways its courses are better than even the best Disney theme park ever could be. There's no lines here, for example, and each hole hides a tiny easter egg, just waiting for you to find unspoiled by anyone else who has trodden those greens before.
Course design from Mighty Coconut starts with what the developers call the "Walkabout path", which is an obvious route through the holes bringing you from the beginning of the course to its end with eye-catching reveals along the way.
In the case of Jim Henson's Labyrinth add-on course, based on the 1980s movie starring David Bowie, designers built each hole based on a scene from the film. So, yes, you can putt through the Bog Of Eternal Stench, play through the Goblin City, and break your brain with gravity changes at the Escher staircase, but Mighty Coconut's skilled artists also went through the effort of designing a full-scale maze for you to get lost inside parallel to the course itself. For fans with a deep-seated love of the film, Walkabout's course is the closest anyone will get to playing inside a vast theme park inspired by the property.
Walkabout Mini Golf Review - The Facts

Platforms: Quest, Pico, PC VR, PSVR 2
Release Date: Out now, iOS coming summer 2023
Developer: Mighty Coconut
Price: $14.99 (DLCs $2.99 or $3.99 each)
Maybe Labyrinth isn't your thing, but Walkabout's creators have shown across its eight base courses, and now 10 DLC add-ons, that their creative process is both inspired and repeatable. They've worked out a proven pipeline moving ideas to sketches to eye-balling sight lines in VR with Gravity Sketch. Taking guidance from real world architecture while unconstrained by physical limits, Mighty Coconut now aims to release a new course every six weeks.
Creative direction at Mighty Coconut flows from studio head Lucas Martell, and artists at the company are now digging through our collective unconscious for stuff to reimagine with a Walkabout path punctuated with 18 holes of mini golf. Current releases include "Lost Cities" like Atlantis, Shangri-La, and El Dorado, as well as Jules Verne's 20,000 Leagues Under The Sea and even Cyan's classic PC puzzle game Myst sees its memorable island reimagined with a light mini golf twist. Yes, in Walkabout Mini Golf, you can stand in Myst's library with friends for the first time in 30 years or investigate the steampunk artifacts in Captain Nemo's opulent quarters on the Nautilus.
Before you even hit your first ball in this game, Mighty Coconut puts you in a beautiful place with satisfying sounds and calming music. Further, each course's holes are designed according to a unique "shape language" differentiating it from others. There's a remarkable lack of windmills, the classic mini golf obstacle, and then you play a course like Quixote Valley which is littered with them across a windy seaside villa that looks drawn straight from a Studio Ghibli film.
Walkabout's designers saved windmills for this hilly course only to deploy them in inventive ways, like actually keeping your ball on the green rather than letting it fly off a hillside. While you're sure to hate some courses due to occasionally cruel hole designs, every one of Walkabout's locales is a gorgeous place with an obvious path ahead inviting you on a journey.
Physics & Gameplay
Then you hit your first ball and realize the physics feel enough like the real thing that this simulation will bring you the same joy and frustration you experience hitting physical balls. Here, too, Walkabout outstrips traditional mini golf in some fundamental ways.
Walkabout Mini Golf Reivew - Comfort
Walkabout Mini Golf supports both teleport and artificial stick-based locomotion and you can change settings at any time. Snap turning and teleport is the default, and there's also a flight-mode that can be accessed without going to the menu. Your speed in both flight mode and with stick-based artificial ground movement is adjustable. The game can be played comfortably standing or seated with only one controller.
Your putter can't collide with the environment so you don't have to worry about your ball being too close to a barrier – you can just putt right through it. Further, your putter auto-extends to the green, so you can take your shot seated, standing, bending, or even laying down (yes, I've tried) with one arm hanging off the bed to swing. There are no hitches in the fabric of the greens either, so if you hit it right the ball should move more predictably than on many physical courses.
Sure, occasionally a ball might fly off in a weird direction which doesn't seem right but, overall, Walkabout Mini Golf is in the exact same sweet spot as its physical counterpart. In both, the difference between your ball flying off into the weeds and an occasional hole in one is you carefully positioning your feet, taking a couple practice swings, and calmly following through on your shot.
Pro tip: If you hold the grip button on your controller you can keep your ball in active play, useful for those occasional moments when your ball might have veered off the green but is slowly rolling back toward it.
Lost Balls, Hard Mode, Flying, & Fox Hunts
There's a hidden ball at every hole in each Walkabout course. When you find one, just pull the analog stick on the controller downward and you can vacuum it up into your collection.
Find these colorful designs as you play and, when you finish a round and get back to the welcome shack, you hear the balls roll out onto a tabletop where you can examine each up close and pick one for a future round.
If you find 10 hidden balls on a given course, or if you score below par, you unlock a "hard" version of the course with redesigned holes and new lighting. Long-time gamers might fondly remember getting to the end of Pokemon Gold or Silver only to discover the entire Kanto region from the original Red & Blue game is playable upon completion. Walkabout's designers create a similar feeling of delighted discovery anytime you unlock a course's hard version and you get to see it again in an entirely new light.
Some examples:
Quixote Valley shows you lightning reflecting off the night waters as stormy clouds roll in from the distance.
20,000 Leagues Under The Sea exchanges the darkness of the deep ocean and its giant squid attacking the Nautilus for the bright orange of a bubbling undersea volcano.
Atlantis glows as if it was suddenly set in black light.
Labyrinth gets redecorated for Jareth's masquerade ball.
Myst's puzzle-based holes become way harder to solve, and there's even new areas of the island to see.
On every hard course near the first hole there's now a clue leading you on a treasure hunt. Called "fox hunts", you can look at your wrist to study the next clue. Then you can search as you play or simply forget mini golf altogether and learn to fly. Just point your controller toward the sky, press the analog stick upward, and suddenly you and your friends are flying around the landscape in search of the next clue. Of course, you can simply press the trigger at any time to teleport back to where your ball is and keep the game moving.
If you find every clue, you unlock a specially-designed putter you can equip back at the welcome shack next to the balls.
Multiplayer & Guest Pass
Sure, Walkabout can be picked up solo and provide 20-30 minutes of satisfying singe-player play, but it is in Walkabout's multiplayer sessions that the game truly shines. Private rooms are shared via custom room names and, as such, I've never encountered a single troll or had a bad multiplayer experience in the game (there's "quick match" too). I've played multiplayer sessions in Walkabout extending from Quest 1 to PSVR 2, and it's not uncommon for someone to run out of battery because nobody wanted to stop.
Mighty Coconut even enabled a guest pass feature which allows anyone to enjoy a round in a DLC course that's only been purchased by one person in the group. You can't collect the hidden balls if you haven't bought the course, though, nor can you solve the fox hunt, but it's still a fantastic feature we wish would become more common in VR games.
Walkabout Mini Golf Review - Final Verdict
Walkabout's flexible blend of low stakes mini golf, beautiful environments on top of satisfying layers of discovery that can be picked up or dropped at any moment puts this game in a category of its own when it comes to multiplayer VR. Walkabout Mini Golf is the reason to keep your headset and controllers charged and it is, perhaps, VR's first piece of software that's so good it's worth scheduling time on your calendar to play it with friends, family, or even your coworkers.
Walkabout Mini Golf is one of VR's best games and essential to every headset's library.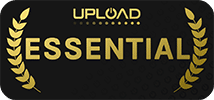 UploadVR focuses on a label system for reviews, rather than a numeric score. Our reviews fall into one of four categories: Essential, Recommended, Avoid and reviews that we leave unlabeled. You can read more about our review guidelines here.