Meta Quest 3 was revealed June 2023 and it'll ship fall 2023 starting at $500 from the companies formerly known as Facebook and Oculus.
Here's everything we know about Quest 3 so far.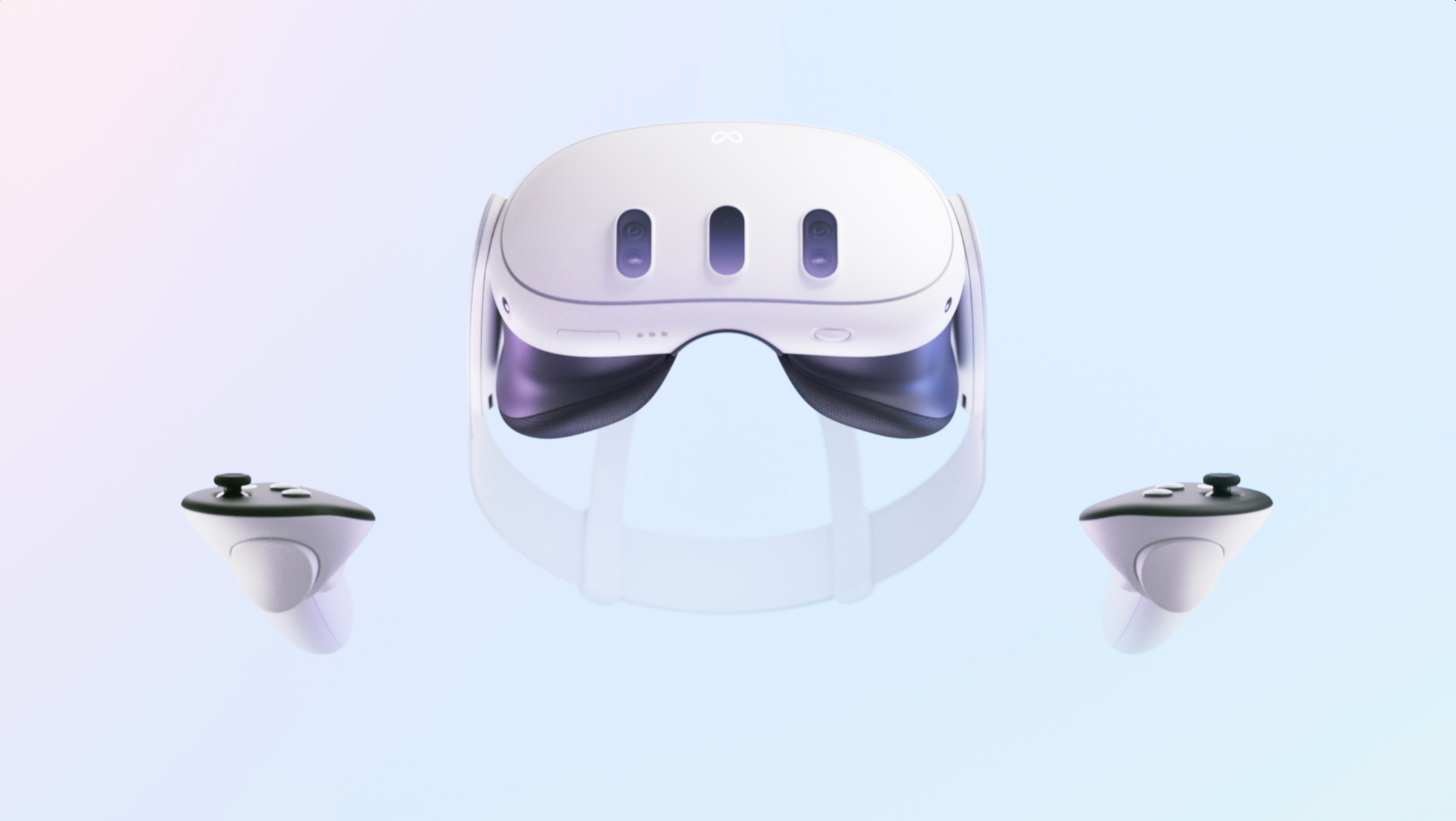 Meta formally unveiled Quest 3 earlier this year after months of hints. The announcement came just a few days before Apple revealed Vision Pro, its own entry into the headset market.
Quest 3 is a follow-up to Meta Quest 2 (aka Oculus Quest 2), first shipped in 2020, but now offering a slimmer visor, dramatically improved performance and a fine-tuned focus on mixed reality capabilities by way of new color passthrough cameras and a depth sensor.
The reveal in June gave us minimal specifics about the upcoming headset with Meta promising a full reveal and more details at this year's Meta Connect conference on September 27th.
In the meantime, here's our round up of everything we know about Quest 3 so far, from internals, design to planned content and more.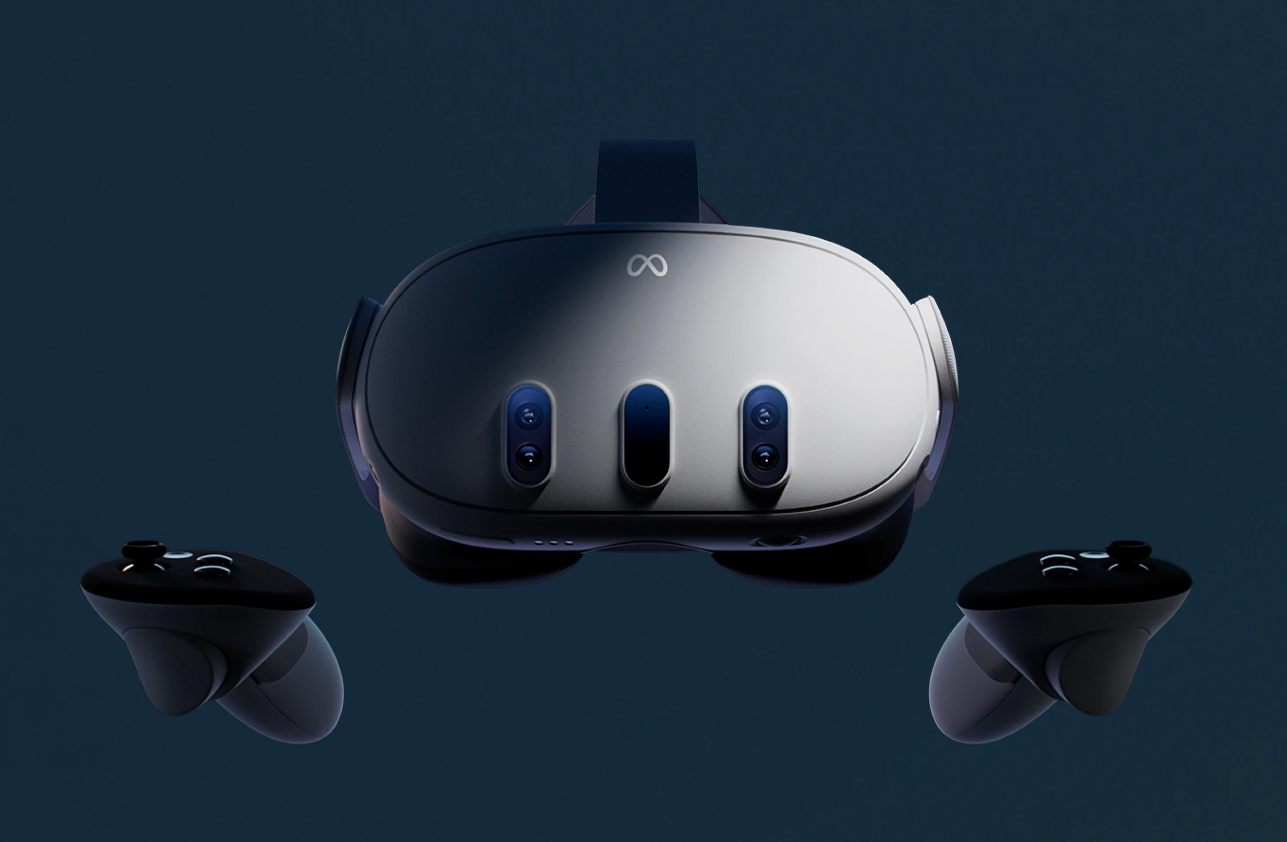 Price, Storage & Product Line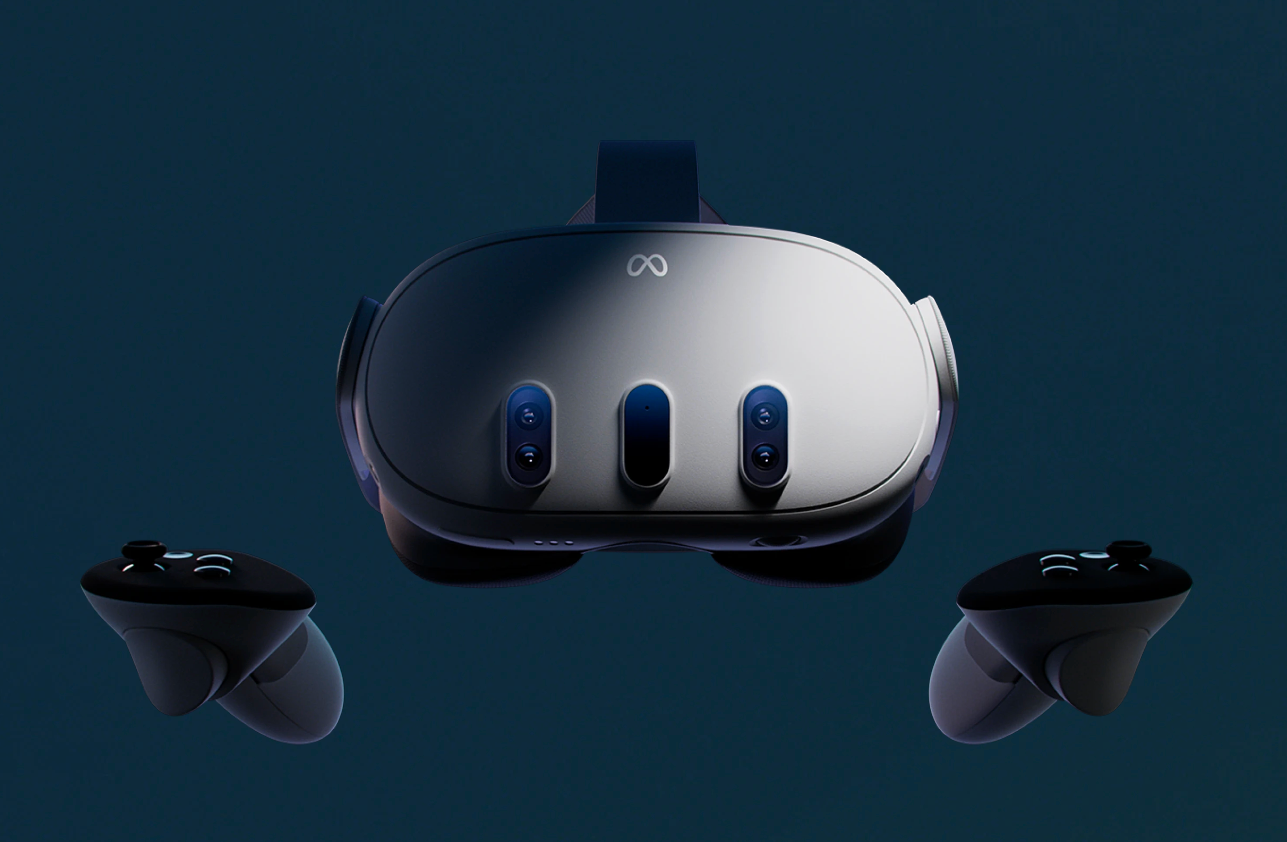 The Quest 3 base model will feature 128GB of storage space starting at $500.
The base model for Quest 2 debuted with 64GB of storage space at $300. A year after launch, Meta raised the base model's storage space to 128GB and then later raised the price to $400.
When Meta announced Quest 3, it noted that Quest 2 and Quest Pro would continue to be sold alongside the new headset, with the Quest 2 base model returning to its original $300 price. Meta also confirmed that an additional Quest 3 model with higher storage will be available, but has not provided details or pricing on that model yet.
Meta maintains Quest Pro will remain on the market and will be sold alongside Quest 3. However, its lifecycle might still be coming to an end – reports indicate that Meta isn't ordering new Quest Pro components. If so, production will stop once components run out and Quest Pro will be sold until stock runs out.
Design & Sensors
Quest 3 features a similar white plastic design to Quest 2, but in a slimmer form factor featuring new sensors and cameras. Meta claims Quest 3 has a "40% slimmer optic profile" than Quest 3, which is mainly due to the new lenses (more on those later).
Much like Quest 2, there's multiple tracking cameras placed the headset shell. New on the Quest 3 are three pill-shaped cutouts on the headset's front which house the brand new depth sensor and the dual 4-megapixel RGB cameras. These new cameras allow for a color passthrough view that has 10x more pixels than the black and white passthrough on Quest 2.
Quest 2 also featured a removable headstrap system that allowed the user to switch out the default fabric strap for Meta's high-end 'Elite Strap' or other third-party alternatives.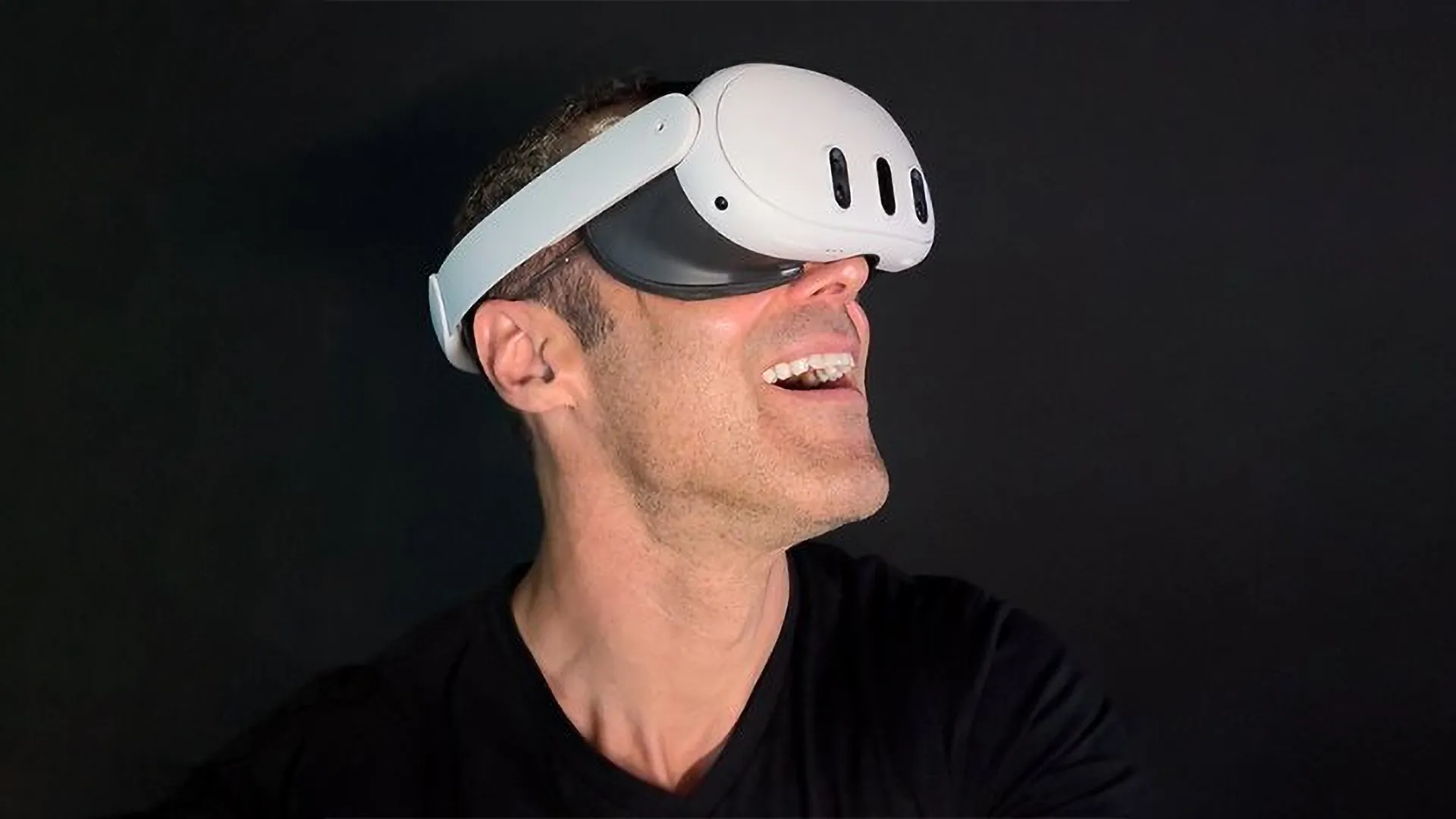 It's currently unknown whether Quest 3 will feature the same removable strap system. However, photos posted by Meta's Jason Rubin showed him using Quest 3 with an updated version of the Elite Strap, pictured above. This suggests that an updated Elite Strap will either be available as an option for select Quest 3 models or sold separately as an accessory like Quest 2.
Internal Components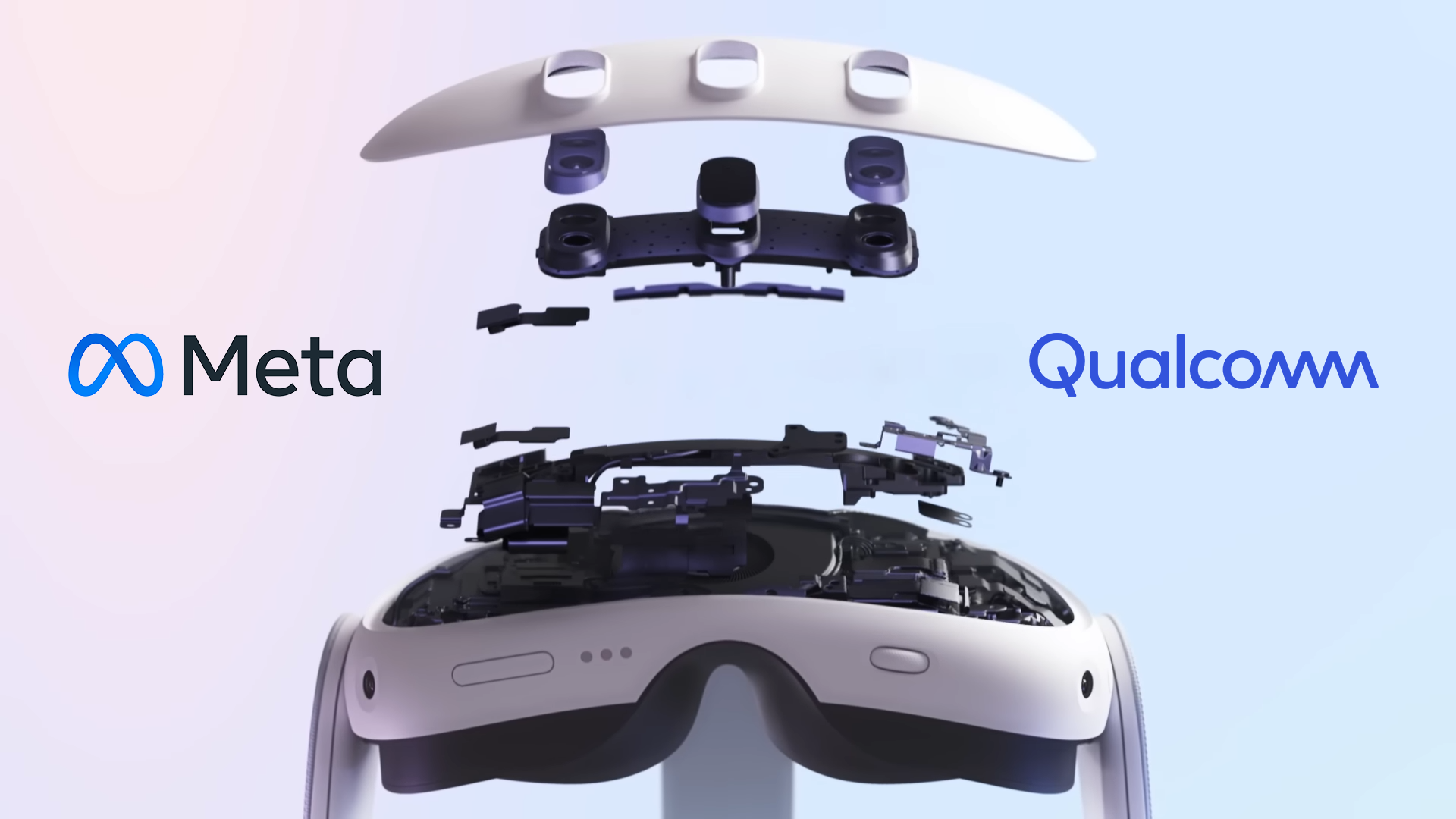 When Meta announced Quest 3 in June it said the headset included a "next-gen Snapdragon chipset" with with "more than twice the graphics performance" of Quest 2.
While Meta didn't provide a specific name or any further details on the chipset, other findings and reports indicate it will be the yet-to-be-announced Snapdragon XR2 Gen 2 from Qualcomm – a true successor to the Gen 1 chip used in Quest 2, Pico 4, Vive Focus 3 and other standalone headsets. Quest Pro, for example, used a XR2+ with some improvements over the earlier XR2 implementation. The chipset inside Quest 3 is expected to provide a much more dramatic upgrade in performance.
Lenses, Resolution & Refresh Rate
Quest 3 will use pancake lenses which enables a much slimmer design and, assuming they're the same as those used on Quest Pro, they'll offer superior visual clarity as well.
Oculus Go, Quest, Rift S, Quest 2 and even Sony's PlayStation VR2 headsets all use a bulkier fresnel lenses. Last year, Meta introduced its new pancake lenses in Quest Pro, which allow for smaller panels at a closer distance and an overall thinner headset visor.
On Quest Pro, pancake lenses also allowed for a slightly more expansive field of view than Quest 2. We might see a similar increase on Quest 3, given it uses the same lenses, but that will depend on Meta's specific implementation.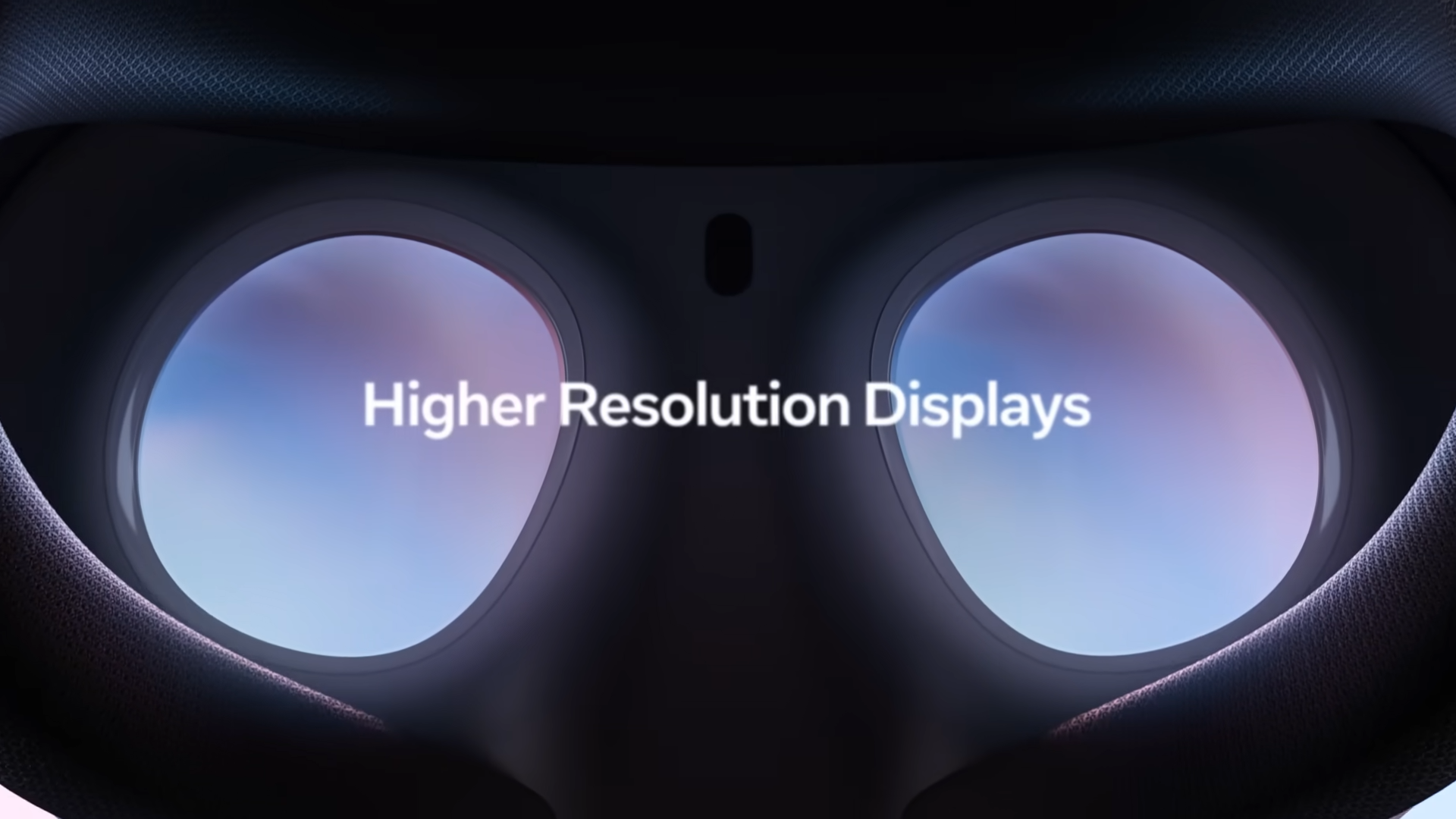 When Meta announced Quest 3, it said it would feature the company's "highest resolution display yet." In June, a Best Buy store page description for Quest 3 may have confirmed the actual resolution. The store page describes Quest 3 as having "a nearly 30% leap in resolution from Quest 2." When lined up with reports from Bloomberg's Mark Gurman and data mined from Quest firmware, that figure points toward an on-paper resolution of 2064×2208 per eye for Quest 3.
The store page also listed a refresh rate of 120Hz, which might be accurate given that the listed resolution details seems to match up with other data.

Leaked schematics and reports indicate the headset will feature a spacing dial on the bottom for stepless IPD adjustment. Unlike Quest 2 and Quest Pro, this should allow users to adjust IPD while wearing Quest 3, without removing the headset.  
Mixed Reality & Improved Color Passthrough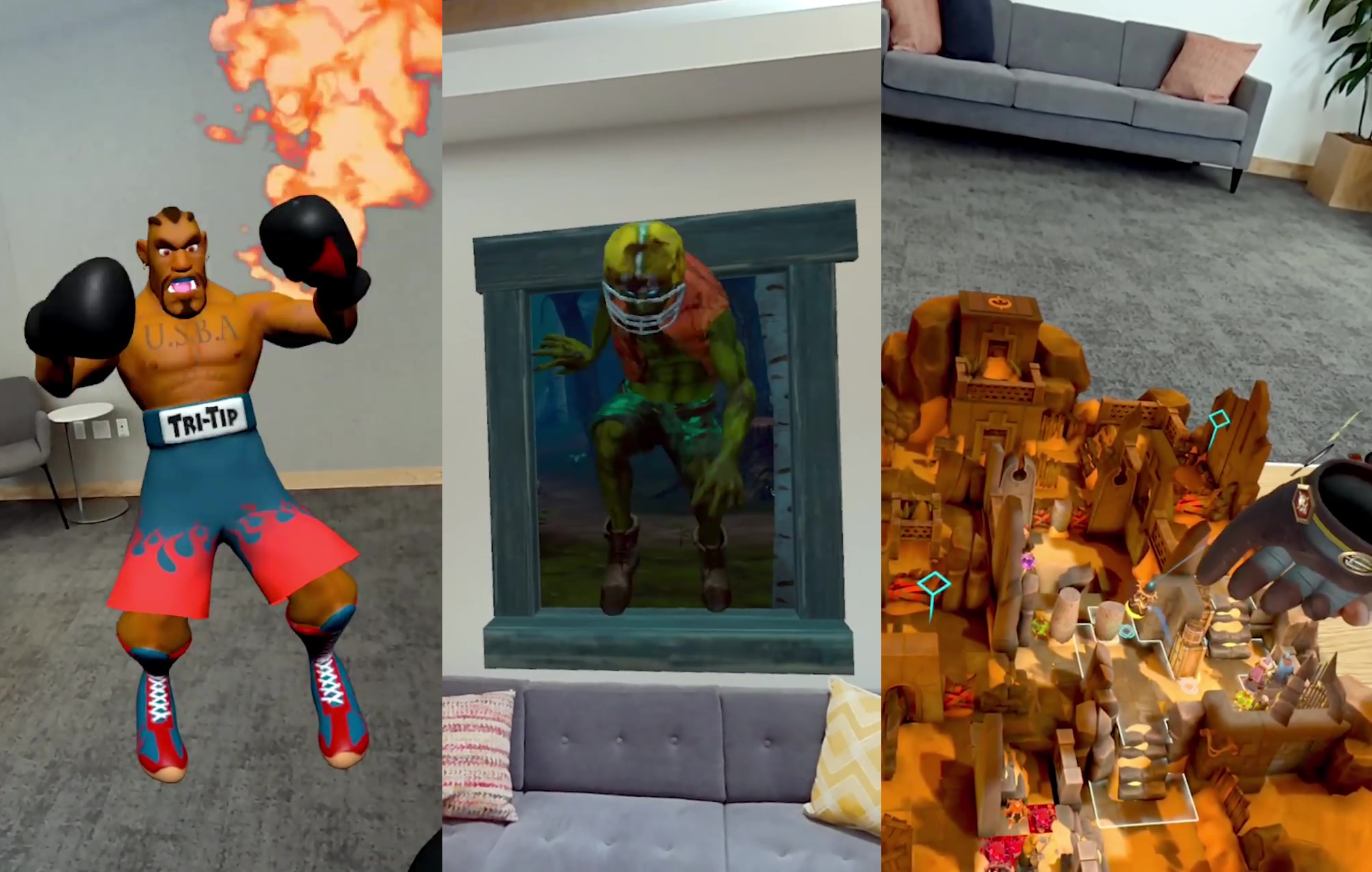 A big focus of Meta's marketing material for Quest 3 has been mixed reality. In fact, we've already got footage of mixed reality experiences running on Quest 3.
Powered by the headset's improved full-color passthrough, Quest 3 will let you "seamlessly blend your physical world with the virtual one." Meta says that the addition of a depth sensor will allow Quest 3 to grasp "a more accurate representation of your play space" while "intelligently understanding and responding to objects in your physical space."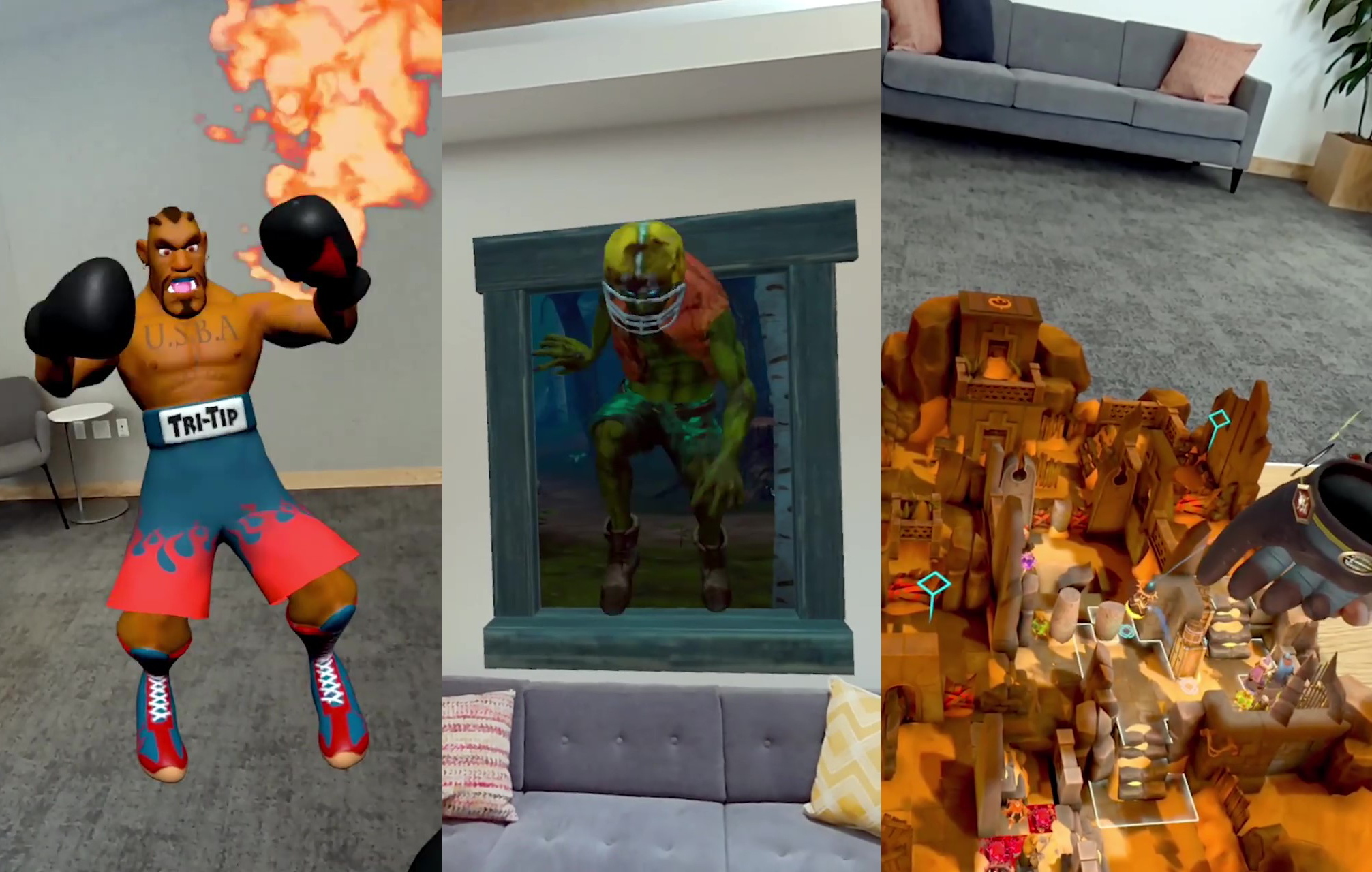 According to a hands-on from Bloomberg's Mark Gurman, the quality of the passthrough image on Quest 3 is "almost lifelike" and good enough to use your phone in passthrough mode from within VR.
Some of the footage also depicts environment relighting on Quest 3, which changes the colors and lightness of the real portions of a passthrough scene to match a virtual light source. You can see this in practice here, which features an aquarium window relighting the physical surroundings that it's placed in.
Environmental Awareness & Room Detection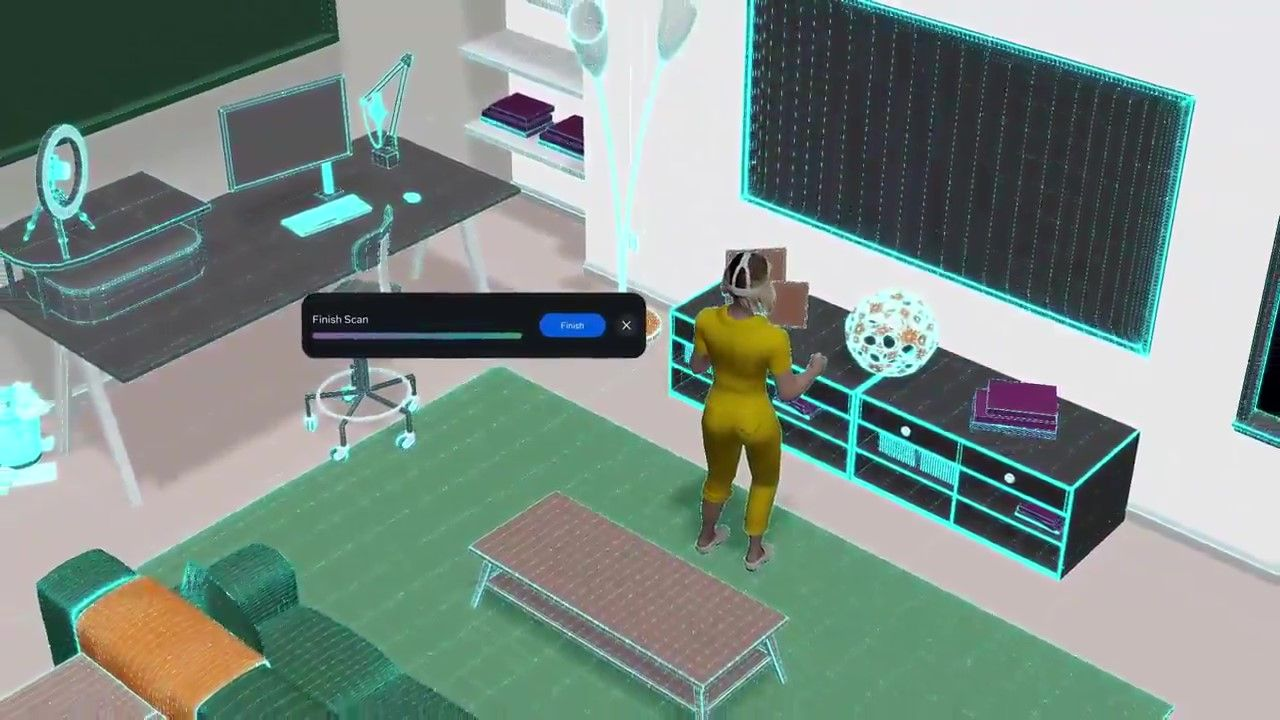 On Quest Pro and Quest 2, users have to manually mark out their environment (including walls and furniture) for mixed reality functionality.
Meta hasn't revealed any official specifics on how room understanding and environmental awareness will work on Quest 3. However, the inclusion of a depth sensor should enable a more seamless room setup process and according to reports from Mark Gurman, Quest 3 will be able to identify walls automatically.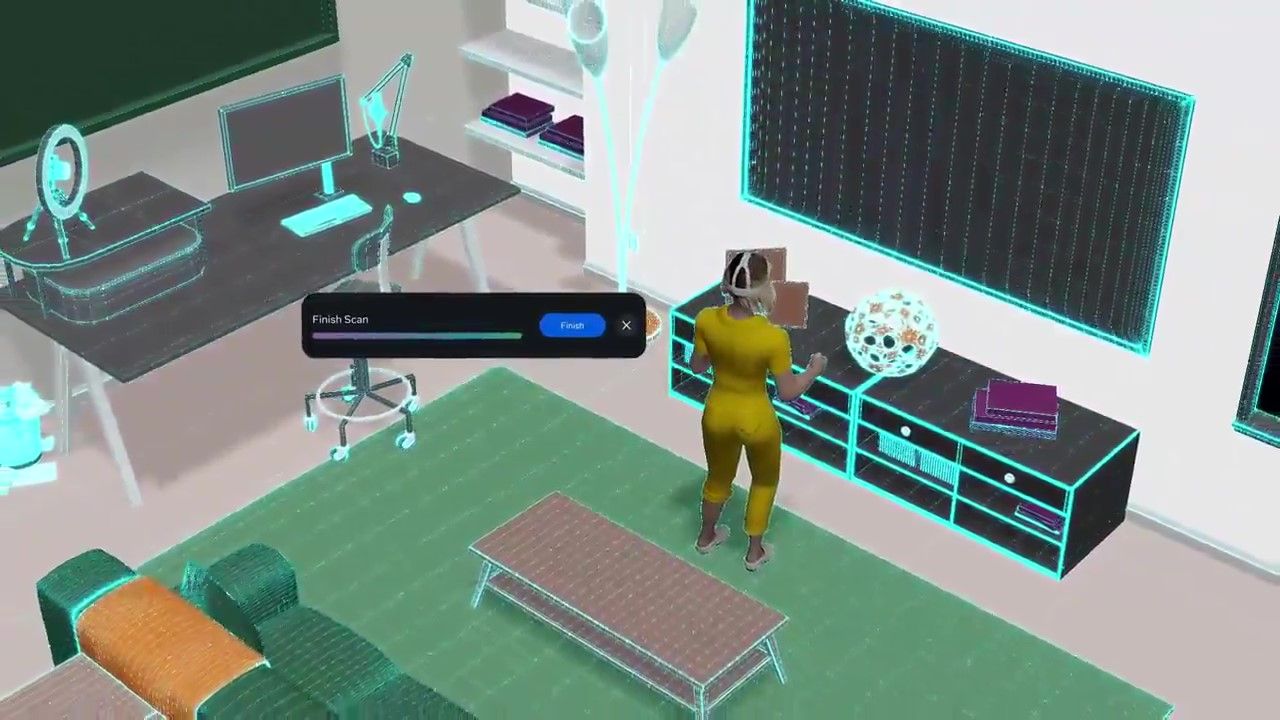 Leaked tutorial clips discovered in the Quest firmware depict automatic room scanning, with a user walking around their room and looking at walls and furniture to generate a mesh map of all the objects.
We've also seen some Quest 3 experiences using colocation, as featured in footage of a currently-unreleased mixed reality mode for Broken Edge, embedded above.
Colocation allows multiple users to see and interact with identical virtual objects, placed in the same positions around a physical space that they're sharing.
Battery Life & Official Charging Dock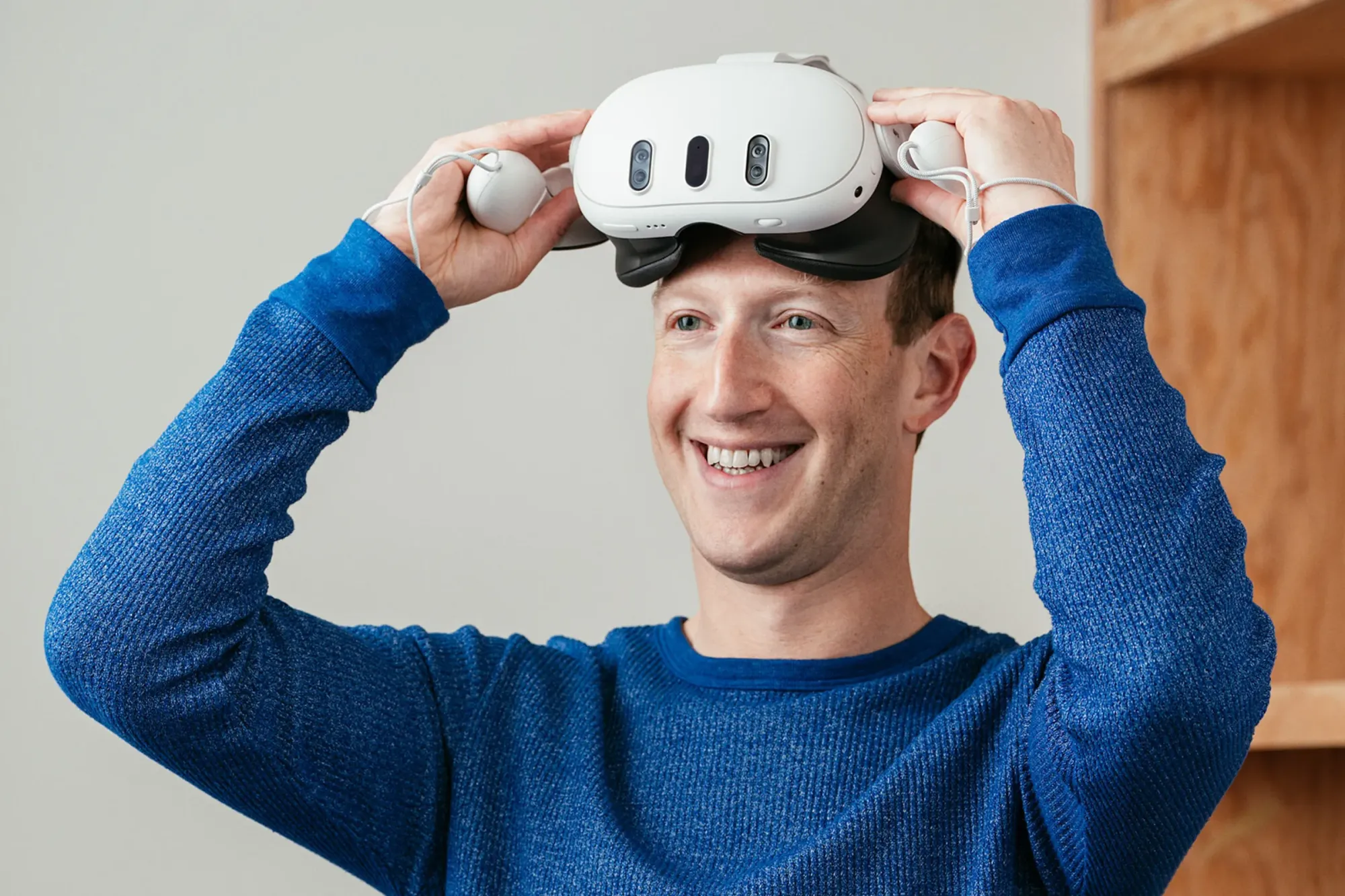 According to Meta CTO Andrew Bosworth, the battery life on Quest 3 will be "about the same" as Quest 2. However, he also gave the usual disclaimer noting that battery life will vary depending on your use case.
Meta also received FCC approval for a charging stand for the Quest 3 headset and Touch Plus controllers.
Touch Plus Controllers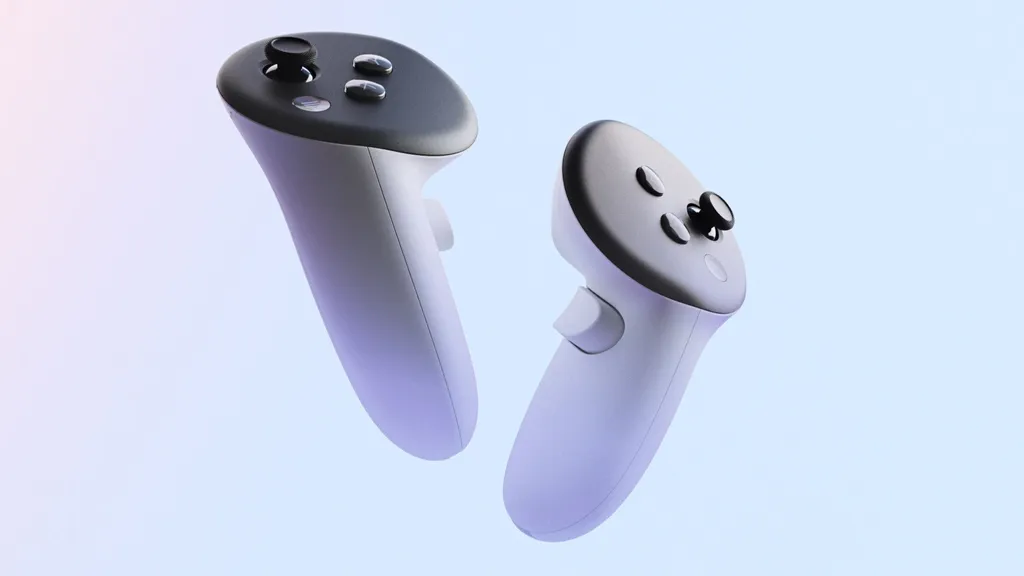 Quest 3 will feature new Touch Plus controllers, which ditch the tracking rings used in the Touch controllers in the original Quest and Quest 2 headsets.
The loss of bulky tracking rings will allow for more fine-tuned and intimate interactions, as the controllers can be used in closer proximity to each other than was possible with previous non-Pro iterations of Touch controllers.
The design is visually similar to the Touch Pro controllers shipped with Quest Pro. However, Touch Plus don't feature on-board tracking cameras. They instead use the same infrared LEDs used in Quest 2, now placed on the face of the controller instead of a ring.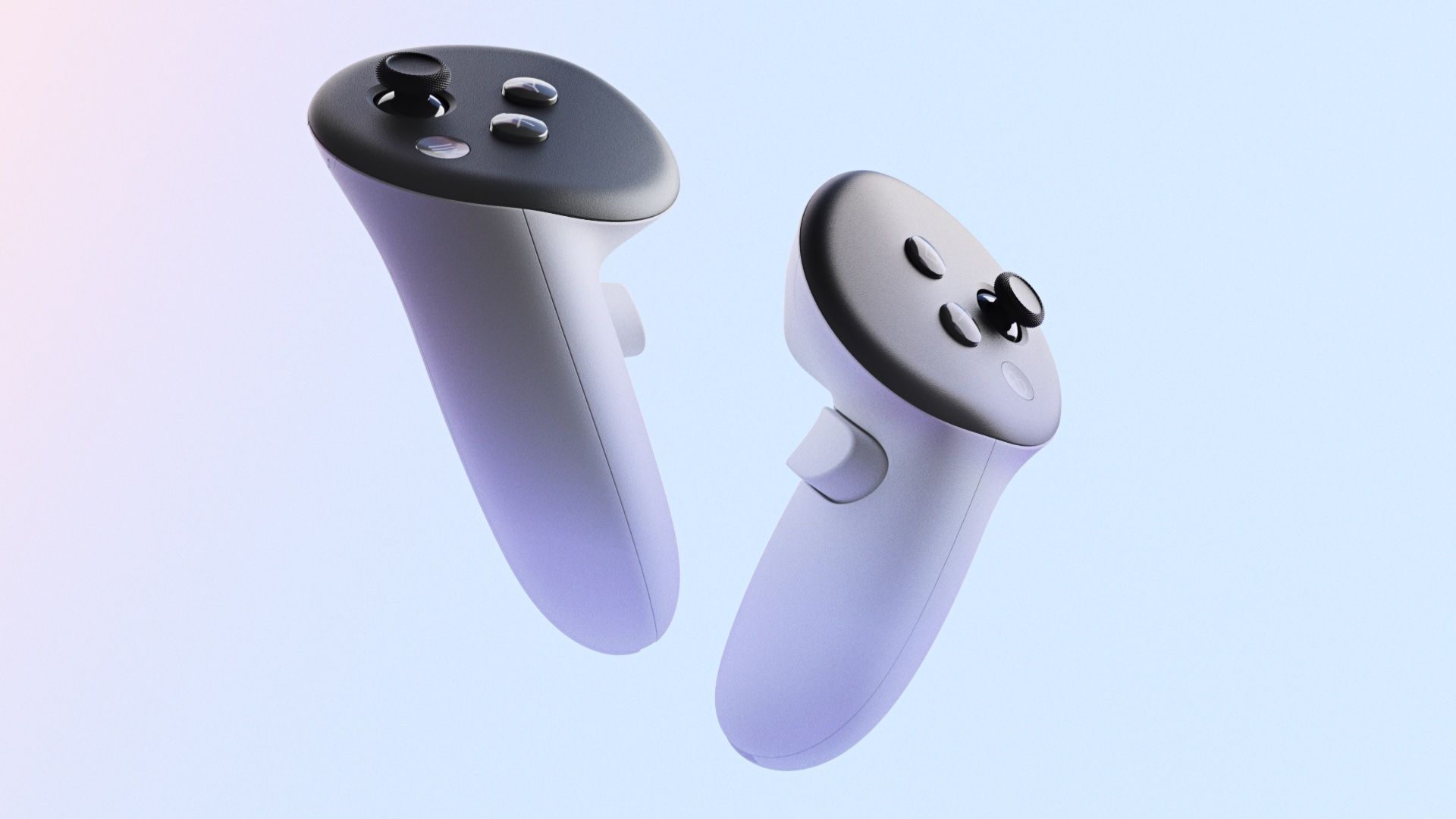 This does mean that the LEDs will be occluded from view of the headset's tracking cameras more often. However, Quest 3 will also continuously run its controller-free hand tracking while using controllers. The new system fuses hand tracking data with the LED tracking data as well as the accompanying accelerometers and gyroscopes. Beat Saber co-founder Jaroslav Beck quelled any fears about the tracking on Touch Plus being inferior, stating "It's good. Don't worry." on Twitter. A Meta employee also claimed that Touch Plus tracking is good enough to play Beat Saber on Expert+.
The FCC approved the Touch Plus controllers recently, ahead of Quest 3's launch in fall. The accompanying documents confirmed that the controllers use the same 2.4GHz wireless spectrum as previous controllers, and require a single AA battery each (unlike Touch Pro, which feature built-in rechargeable batteries).
Games & Planned Content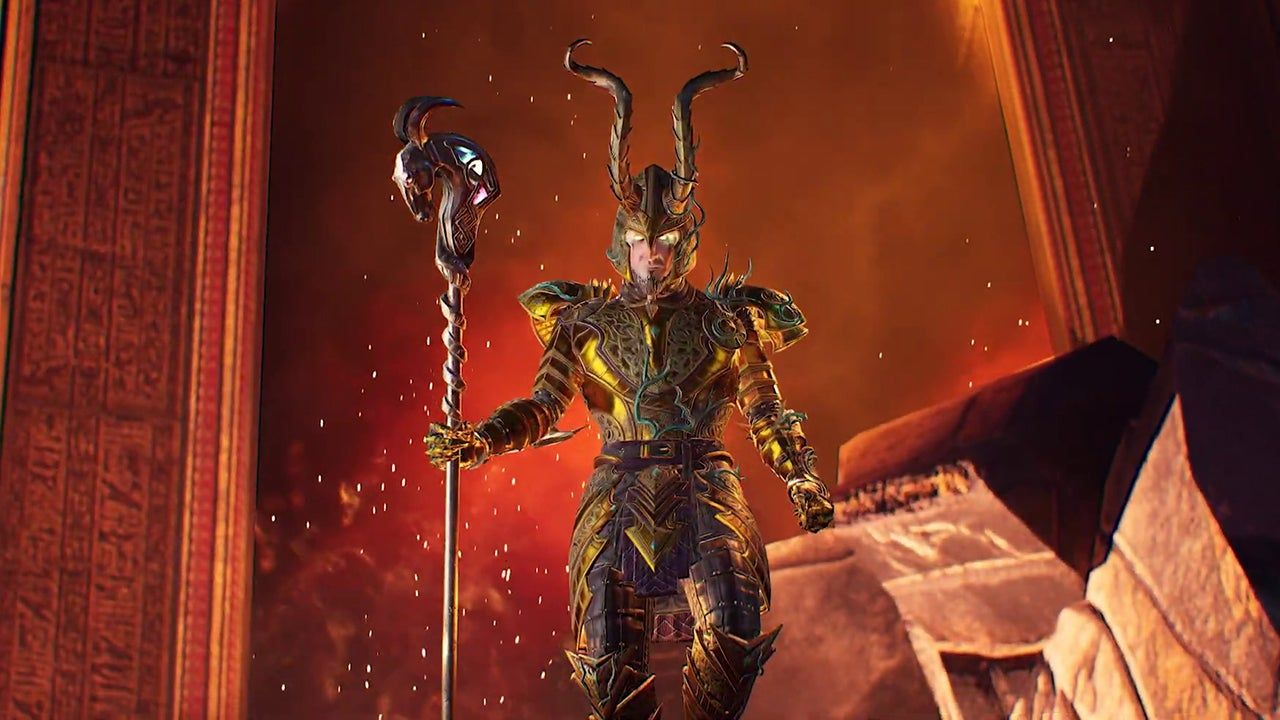 Quest 3 will be backwards compatible with the entire existing Quest catalog. Meta has yet to announce any Quest 3 exclusive titles.
When Meta released Quest 2, it took a full year before it released its first Quest 2-exclusive game, Resident Evil 4 VR, which dropped support for the original Oculus Quest.
Meta's biggest upcoming first-party game release is Asgard's Wrath 2, which promises an expansive campaign with over 6o hours of exploration.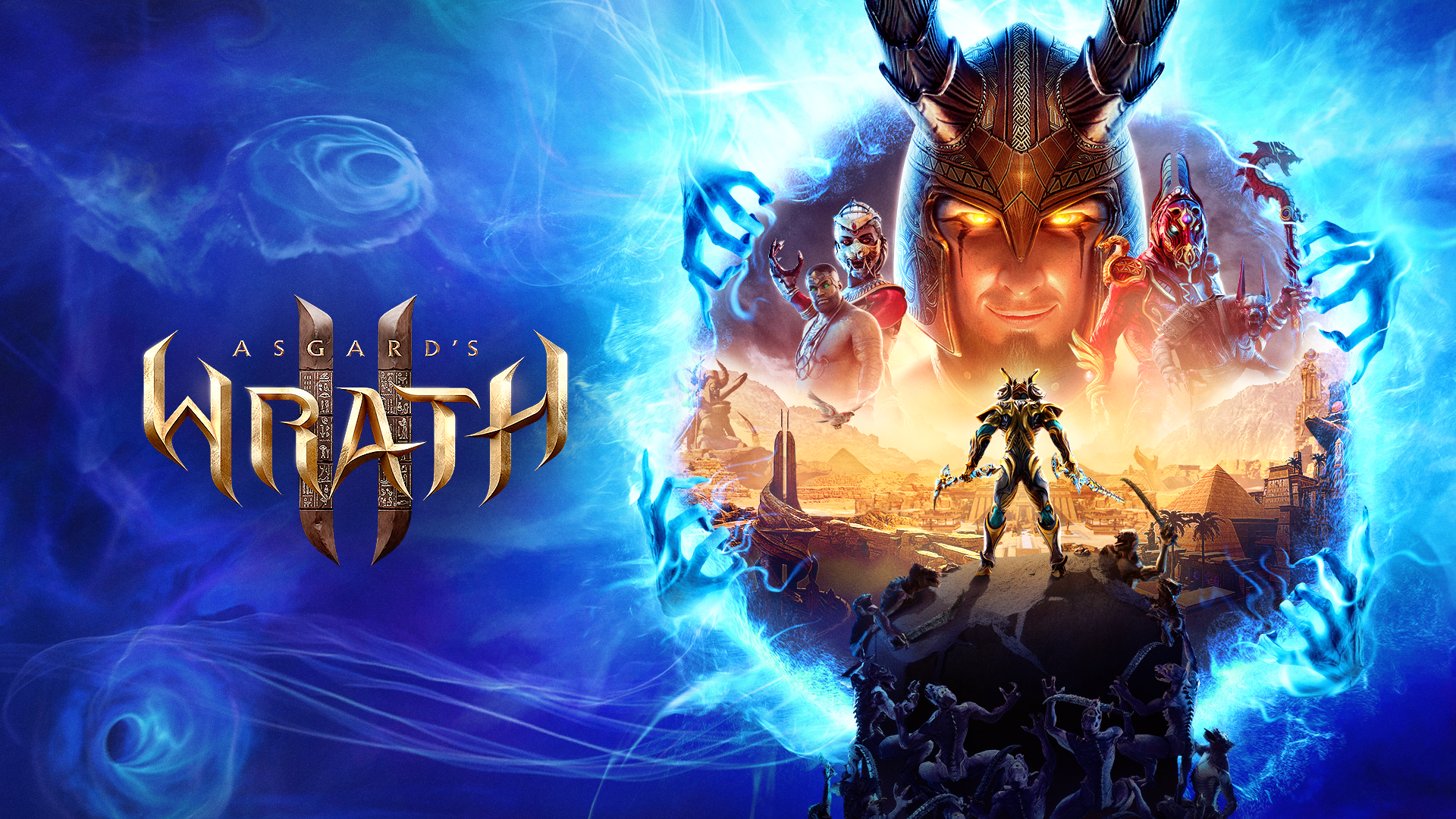 Asgard's Wrath 2 releases winter 2023 and while it will be available on Quest 2 and Quest Pro, Meta says that Quest 3's "advanced processor and higher resolution will provide an even better look and feel within Asgard's Wrath 2."
The Walking Dead: Saints & Sinners – Chapter 1 will receive an "enhanced version" on Quest 3 this fall. Likewise, Pavlov Shack will run at a higher refresh rate on the new headset.
Soul Assembly confirmed in June that it's co-op zombie wave shooter Drop Dead: The Cabin is receiving a mixed reality mode for Quest 3 and Pro later this year. Likewise, Espire 2 is receiving new mixed reality missions designed for Quest 3, while footage from Meta showcased a yet-to-be-announced mixed reality mode in Broken Edge.
Games with existing mixed reality functionality, such as Demeo, should transfer seamlessly to Quest 3 and greatly benefit from the system-wide upgrades to passthrough and mixed reality image quality.
Otherwise, Quest 3 will support all announced and upcoming games for the Quest platform – you can check out a list of everything on the way here:
---
That's everything we know about Quest 3 – for now! Keep an eye out for updates and more details from Meta next month at Meta Connect.