Meta just officially announced Quest 3 is shipping this fall, starting at $500 for the 128GB model.
The company revealed the headset's design and key features this morning. It has a "40% slimmer optic profile", Meta's "highest resolution display yet" and a "next-gen Snapdragon chipset" with "more than twice the graphics performance."
Meta confirmed Quest 3 will be sold alongside Quest 2 and Quest Pro, not yet replacing either.
Meta says it will offer an additional higher storage option for Quest 3, but did not share pricing or storage details for that model.
Thinner Design With Pancake Lenses
Oculus Go, Quest, Rift S, and Quest 2 all used the same fresnel lenses, but last year Meta introduced its new pancake lenses in Quest Pro. Pancake lenses support smaller panels at a closer distance, and thus a slimmer visor.
Quest 3 uses pancake lenses as well, enabling its much thinner design compared to Quest 2. Pancake lenses also offer superior visual clarity. For Quest Pro, Meta claimed 25% better sharpness in the center and 50% better at the edges.
Quest Pro also has a slightly wider field of view than Quest 2, so this may be the case for Quest 3 as well given the same lenses. However, this would depend on other currently unknown factors.
Room-Aware Mixed Reality
Quest 3 also features "high-res" color passthrough mixed reality, thanks to dual 4 megapixel RGB cameras. Meta says this delivers 10 times more pixels in passthrough than Quest 2.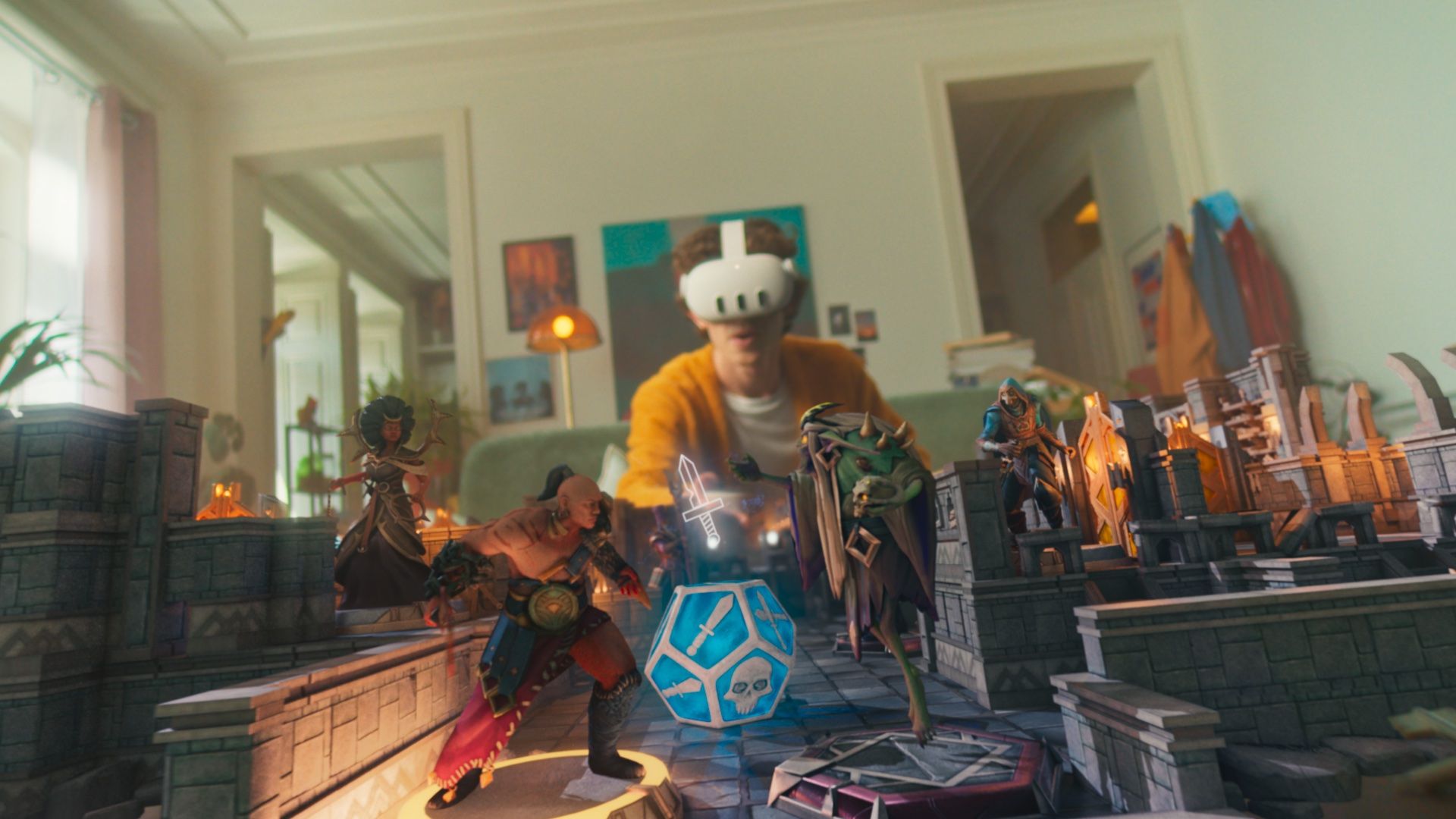 The headset also includes a depth sensor for "a more accurate representation of your play space." Meta says this "lets you seamlessly blend your physical world with the virtual one" and will "go beyond today's mixed reality by intelligently understanding and responding to objects in your physical space."
Touch Plus Controllers
The new Touch Plus controllers, pictured below, ditch the tracking rings from Quest 2. Meta says this is "thanks to advances in tracking technology" and makes the controllers "feel like a more natural extension of your hands and take up less space."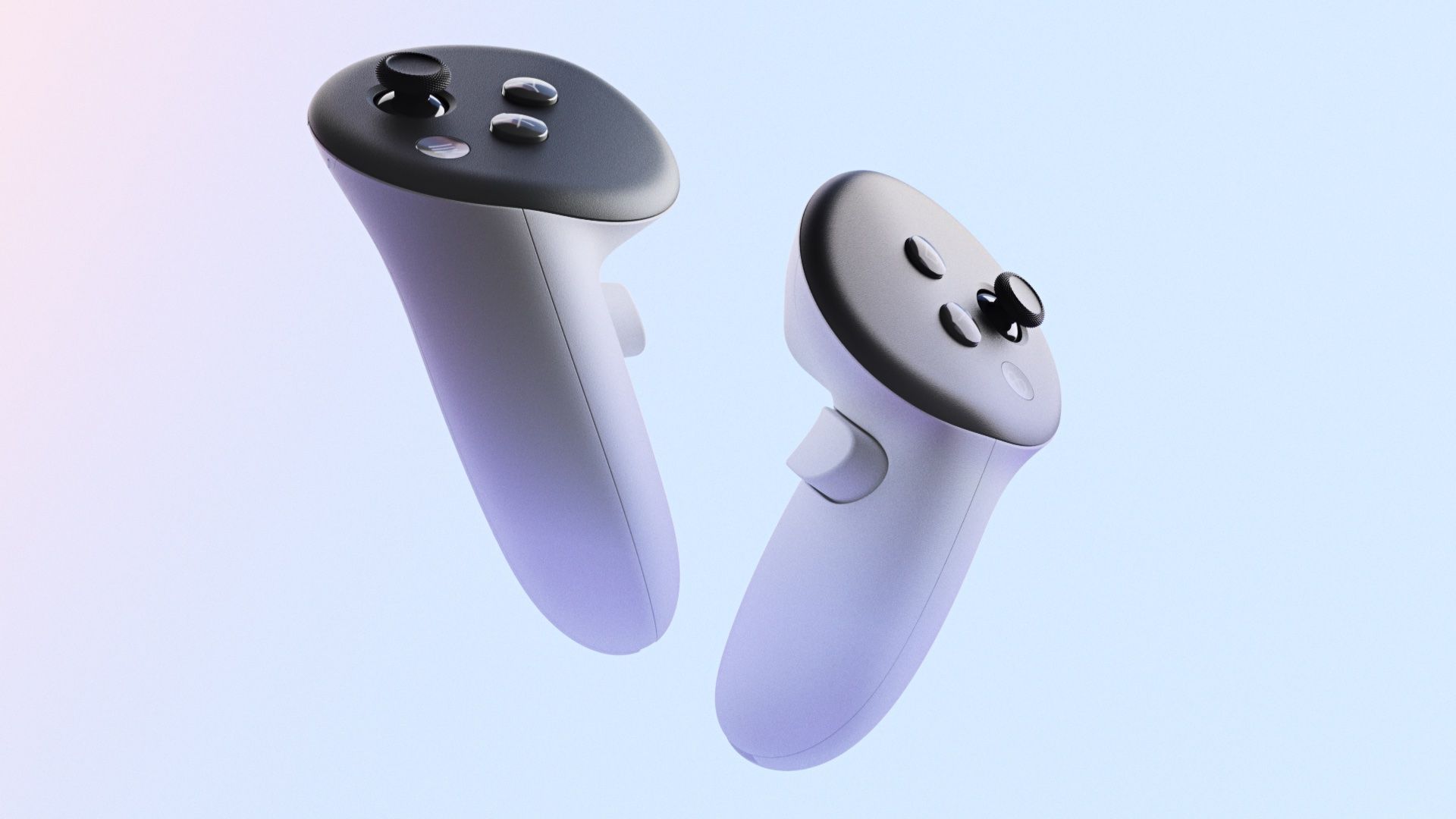 They also feature TruTouch haptics, the 3-point HD haptic feedback system used in the Touch Pro controllers bundled with Quest Pro.
Competition With Apple
While Meta revealed Quest 3 today, it says it will have "lots more to share" about the headset at Meta Connect on September 27.
Mark Zuckerberg may have decided to reveal Quest 3 today, rather than hold off until closer to launch, because of Apple's impending announcement.
Bloomberg, The Information, supply chain analyst Ming-Chi Kuo and others all claim Apple will finally reveal the ultra premium AR/VR headset it has been working on for many years now, reportedly branded Reality Pro.
Apple's device will reportedly have much higher specs, but Meta may be hoping Quest 3 delivers far greater value at a fraction of the price. Reality Pro will reportedly be priced around $3000, while Quest 3 is expected to cost around $500.
UploadVR's Ian Hamilton accepted Apple's invitation to attend the keynote in person on Monday. For a summary of all the rumored specs & details so far, see our roundup here: