Reports indicate Apple is working on a standalone headset with VR and AR capabilities to be released this year, with a reveal set for next month.
Bloomberg, The Information, supply chain analyst Ming-Chi Kuo and others have reported on the existence of Apple's unannounced headset for years now. The latest reports indicate Apple is prepping to announce the headset next month at WWDC23, with release set for later in the year.
The standalone headset market is currently dominated by Meta's $399 Quest 2. Reports suggest Apple's headset – likely named Apple Reality Pro – will be a much higher priced premium product, aimed at delivering both virtual reality and mixed reality experiences.
It will reportedly feature color passthrough cameras, high resolution displays and a MacBook-tier processor, all packaged in a slim and lightweight design with a wired external battery pack.
Here's everything we've heard so far about Apple's headset.
Slim & Relatively Light Design
All reports point to a slim and relatively lightweight design for Apple's headset.
In December 2021, Apple supply chain analyst Ming-Chi Kuo claimed this first generation model will weigh around 300-400 grams (revised from previous claims of a 100-200g weight target), while a future second generation could be "significantly lighter."
According to reports from The Information and Bloomberg, The headset will reportedly be powered by an external tethered battery pack. This is reportedly "roughly the size of two iPhone Pro Maxes stacked on top of each other" and will  be worn either on the waist or in the user's pocket. This external battery would avoid the need for a bulky (and heavy) rear battery on the headset itself, reducing the headset's overall weight. The battery life is reportedly around 2 hours.
The Information claimed in a January 2023 report that the headset "will be composed of aluminum and glass, while also using carbon fiber to reduce its size and weight."  This will reportedly make Apple's headset lighter and thinner than Meta Quest Pro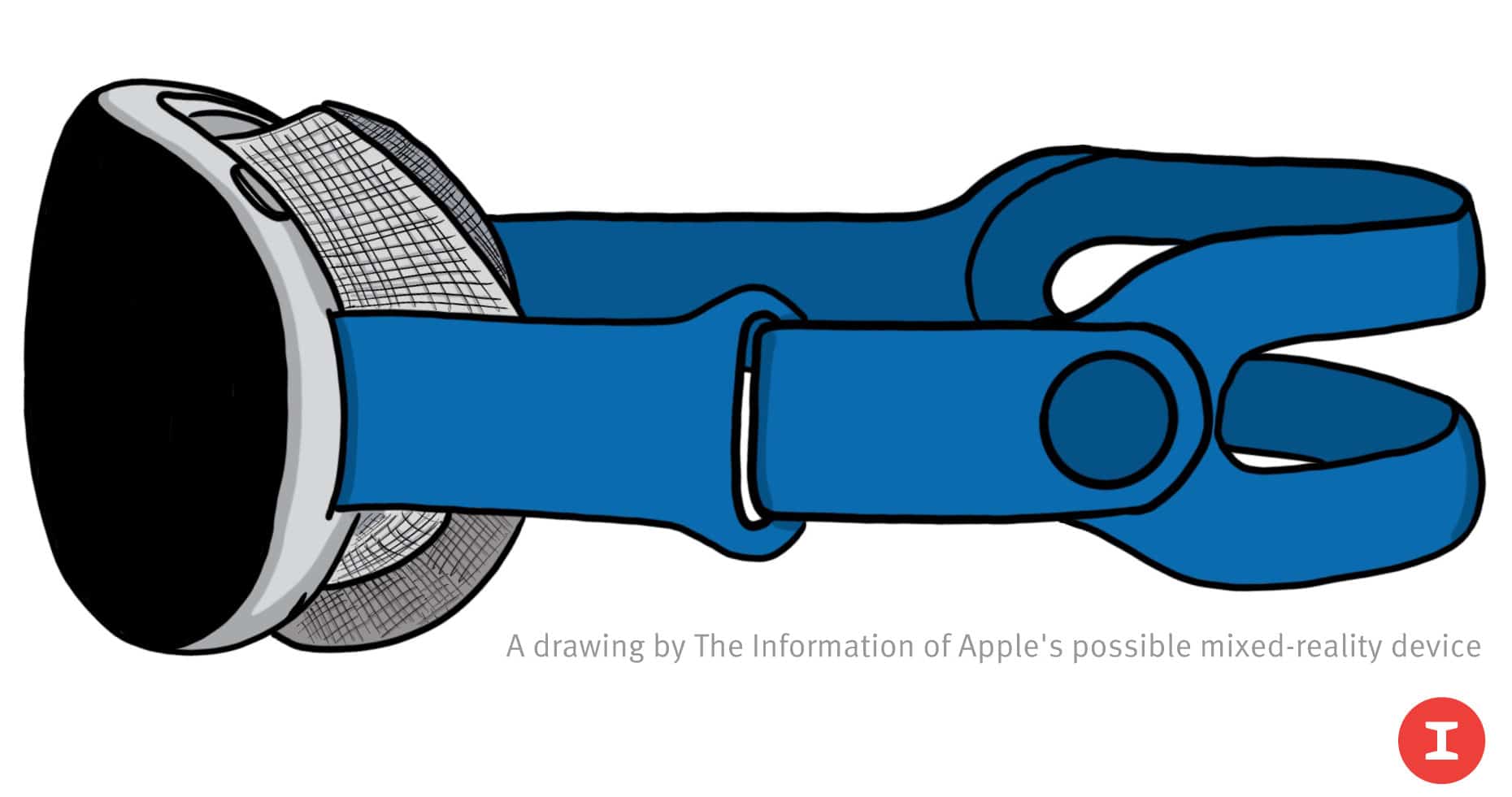 In a February 2021 report from The Information, the outlet claimed to have viewed images of a late-stage prototype that showed a "sleek, curved visor attached to the face by a mesh material and swappable headbands," drawing the impression above.
Much like Quest 2 and Quest Pro, Apple's headset will reportedly feature small speakers built into the head strap.
How This Compares: Quest 2 weighs just over 500 grams, featuring a battery built into the front headset visor itself. Quest Pro weighs 722g, featuring a rigid strap and a rear battery mounted in the back of the strap behind the head.
High Quality Mixed Reality
A report from The Information in late 2019 claimed Apple's headset will "offer a hybrid of AR and VR capabilities" with cameras "mounted on the outside of the device, allowing people to see and interact with their physical surroundings."
In February 2021 The Information claimed the device has more than a dozen cameras, including eye tracking cameras. Recent reports indicate that the headset should include a LiDAR depth sensor to scan your environment for room meshing and convincing mixed reality.
Bloomberg reports that the headset will include a 'Digital Crown', similar to the dial on the side of the Apple Watch. Users will be able to physically turn the dial to switch between VR and AR passthrough mode on the headset.
How This Compares: Quest 2 can only show a grainy black & white view of the real world with no automatic scene understanding. Meta launched the higher-end Meta Quest Pro headset last year, which features color cameras and mixed reality support. However, Quest Pro does not include a depth sensor and, as of this writing, cannot automatically scan your room to create a 3D mesh – it requires manual room setup by marking out your walls, ceiling and furniture with controllers. Neither Quest 2 nor Quest Pro include a physical button or dial to switch to passthrough mode.
High Resolution OLED Microdisplays
A January 2023 report from The Information and November 2021 claims from supply chain analyst Ming-Chi Kuo indicate the headset will feature dual 4K OLED microdisplays.
OLED microdisplays provide the true blacks and infinite contrast of regular OLED displays but are much smaller, enabling very compact headset designs. However, microdisplays are significantly more expensive.
The microdisplays will reportedly be paired with with 120 degree field of view lenses, featuring small motors for fully automatic IPD adjustment, powered by eye tracking.
How This Compares: Quest 2 uses LCD panels with a resolution of 1.8K×1.9K per eye. Quest Pro uses QD-LCD panels with Mini LED, featuring less than 2K pixels per eye, a 106 degree field of view, and guided manual IPD adjustment.
External Display
The headset will also reportedly feature an external display on the front, essentially passing through the view from the eye tracking cameras so others in the room can see your face.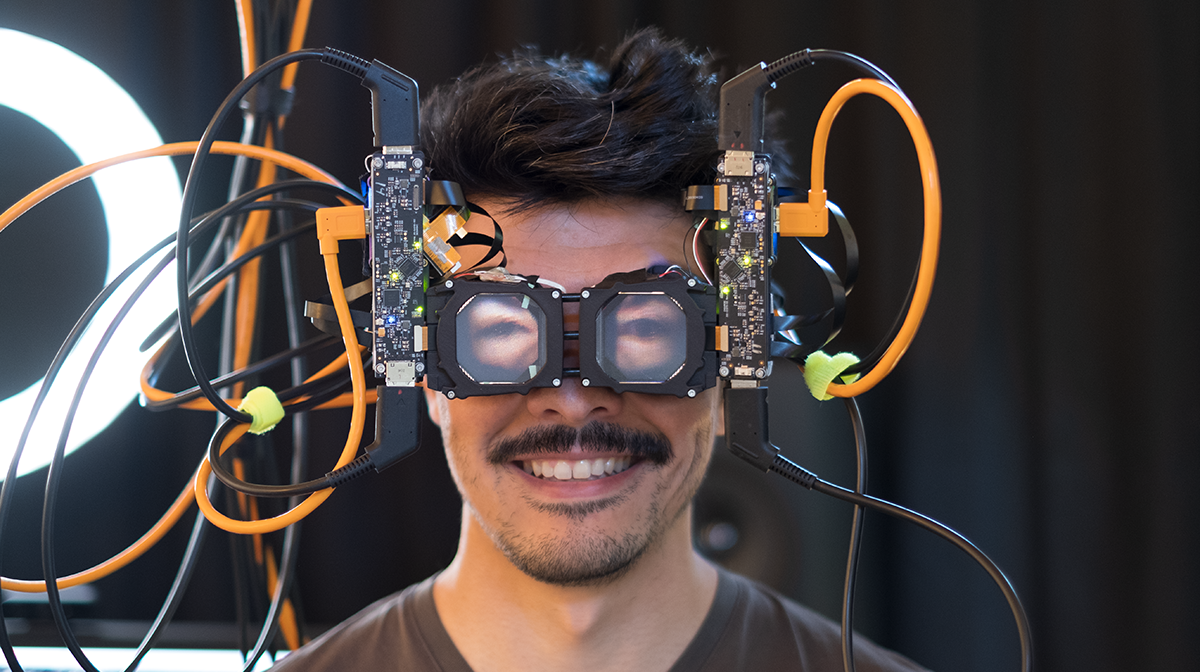 While Apple would be the first to ship this feature in a consumer headset, Meta previously presented research prototypes of a similar concept, as pictured above, which it called 'Reverse Passthrough'.
xrOS: A New Operating System
There's significant evidence and multiple reports indicating Apple's headset will run on a custom-built operating system called xrOS.
According to Bloomberg, xrOS will include support for "a trove of software and services" on the headset, including "millions" of iPad apps via the App Store. Apple is reportedly optimizing these first party iPad apps specifically for xrOS, but will "look similar" to the iPad counterparts.
These reports go as far back as 2017, when Bloomberg reported Apple was working on a new operating system dubbed "rOS" (reality operating system). Apple job listings from December 2021 sought a 'AR/VR Frameworks Engineer' to develop "an entirely new application paradigm" for "software that is deeply integrated into our operating systems."
In 2022, iOS Developer Rens Verhoeven spotted a new platform "com.apple.platform.realityos" in the App Store app upload logs in 2021. Likewise, "award-winning git repository surgeon" Nicolás Álvare spotted Apple committing code referencing 'RealityOS' in 2022.
Reports from Bloomberg found that an Apple-linked company filed to trademark the terms 'Reality One', 'Reality Pro', and 'Reality Processor' last year. Meanwhile, Parker Ortolani from The Verge recently spotted a New Zealand trademark filing for 'xrOS'.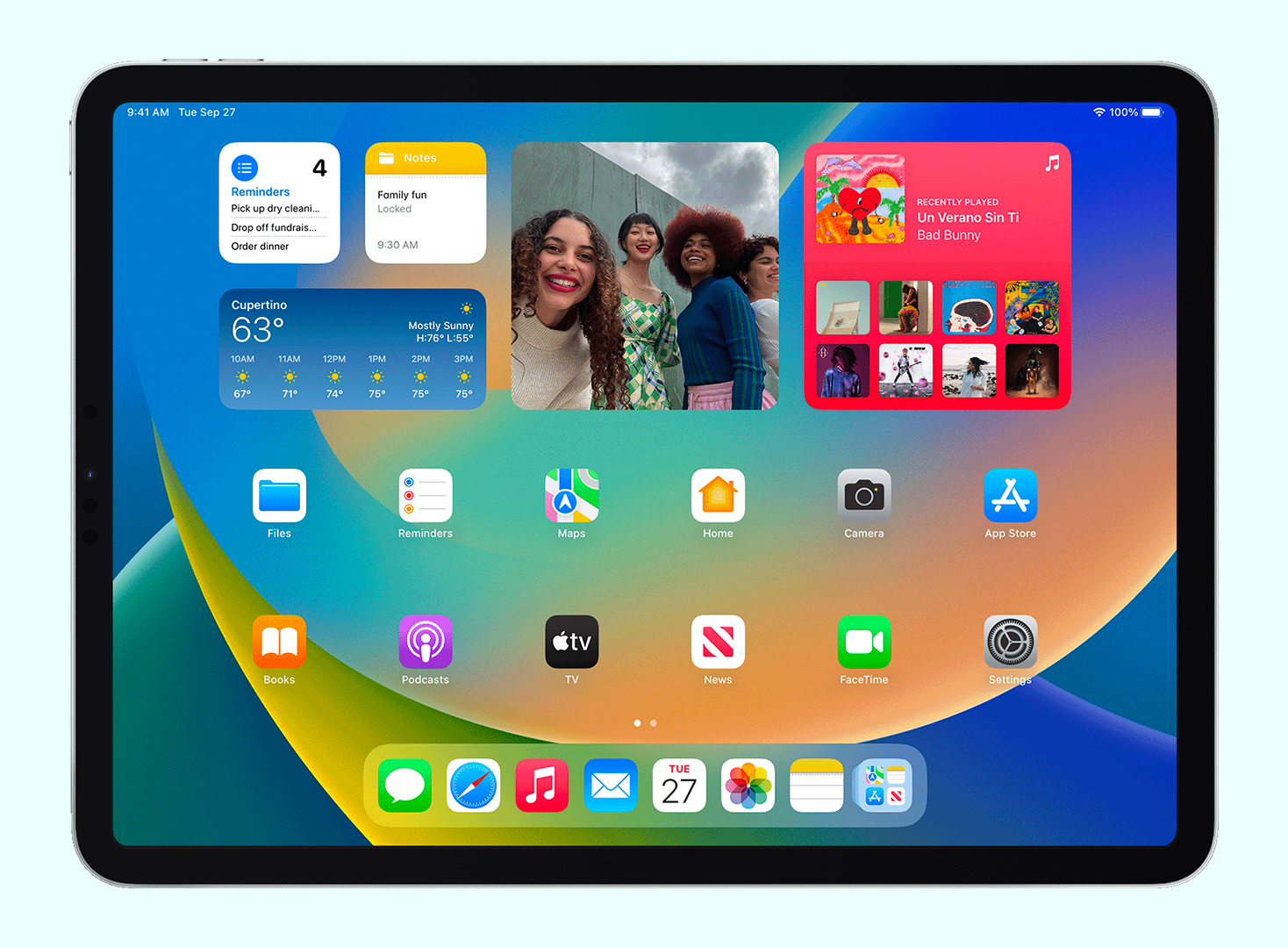 The headset's home interface will reportedly look similar to that of the iPad (pictured above) and should support multiple 2D apps running at the same time.
xrOS will also reportedly feature an in-air virtual keyboard, with the option to connect an actual physical keyboard via Bluetooth. Likewise, users will reportedly be able to connect the second generation AirPods Pro via an ultra-low latency audio mode.
How This Compares: Quest 2, Quest Pro Vive Focus 3, Pico Neo 3 Pro and Pico 4 all use heavily modified versions of Google's Android, an operating system not originally designed for low latency VR and AR.
MacBook Level Performance & 'Reality Processor'
In January 2023, The Information reported the headset will use Apple's in-house M2 chip as the primary processor. The M2 is part of the second generation of Apple's in-house PC processors (following the M1), a line intended to transition its Mac products from the x86 architecture that has dominated PCs for decades to the more power efficient ARM architecture used in smartphones & tablets.
Alongside the primary M2 chip, the headset will also reportedly use a secondary image signal processor for fusing camera inputs for passthrough view. A third chip would act as a "fast conduit" between the chips, which together might be combined together and marketed under the 'Reality Processor' label that Apple filed a trademark for recently.  
How This Compares: Quest 2, Vive Focus 3, and Pico  4 all use Snapdragon XR2, a variant of Qualcomm's early 2020 flagship smartphone chip. Apple's M1 chip is roughly twice as powerful as the XR2.
Apple's headset reportedly uses the M2, but an M-series chip should outperform all other current standalone VR headsets and potentially narrow the performance gap between mobile and PC-based VR.
Finger Pinch Interaction System
While previous reports and patents pointed toward Apple's headset using a "thimble-like device to be worn on a person's finger," more recent reports indicate that the headset will support eye tracking, face tracking, hand tracking and leg tracking.
According to Bloomberg, the headset will reportedly use that eye tracking and hand tracking technology in tandem to create a system that "allows the wearer to control the device by looking at an on-screen item – whether it's a button, app icon or list entry – to select it."
Once a user selects an item with their gaze, they can "pinch their thumb and index finger together to activate the task – without the need to hold anything." The eye tracking cameras will also reportedly be used to unlock the device and make Apple Pay payments with iris scanning.
How This Compares: Quest 2 and PC VR headsets use gaming focused tracked controllers, which resemble an Xbox or PlayStation controller split into halves for each hand. Quest Pro does support eye and face tracking. While other standalone VR headset support controller-free hand tracking as an input method, none of them combine hand tracking and eye tracking together into one input method that works in tandem.
Content
Bloomberg reports that Apple's headset will support "millions" of iPad apps, optimized specifically for xrOS. This includes Apple's Safari, Calendar, Contacts, Files, Home, Mail, Maps, Messages, Notes, Photos, Reminders, Music, News, Stocks and Weather apps.
Apple is also reportedly working on a version of its Freeform collaboration app, where users can draw on a virtual whiteboard together, alongside a VR meditation app, a VR version of Fitness+ with an instructor in VR and a VR version of Apple Books.
According to a 2022 report from Bloomberg, Apple is working on a VR client for FaceTime with Memoji avatars driven by face tracking.However, a more recent report from Bloomberg suggests that the headset's FaceTime client would be able to "realistically render a user's face and full body in virtual reality." Because of the immense processing power required, this will reportedly be limited to one-one-one chats, with sessions featuring multiple users relying on Memojis instead.
Reports also indicate that "immersive video watching" will be integral to Apple's headset, and that Apple is in discussion with "half a dozen" media companies, including Disney and Dolby, about developing VR content for its headset.
In 2020, Apple acquired 3D VR streaming company NextVR, which it will reportedly leverage in a VR service that lets users watch sports "in an immersive way." In 2022, The New York Times reported that Apple had enlisted Hollywood directors such as Jon Favreau, to create immersive VR content for the headset.
Gaming will reportedly also be a "central piece" of the headset's content offering, which is "a reversal from Apple's stance earlier in the product's development." Users will also reportedly be able to extend a Mac's display into the headset.
How This Compares: Quest users can collaborate together in virtual workspaces with whiteboards in Horizon Workrooms. Workrooms and other applications also allow Quest users to bring their computer monitor and keyboard into VR for remote work capabilities. Meta has presented compelling research on realistic avatars in VR, but has yet to ship the technology in a consumer product. The Quest platforms offers a best-in-class selection of VR gaming, but immersive video content remains a bourgeoning area of the platform's overall selection.
Price?
While earlier reports listed more varied price ranges, recent reports from multiple sources suggest Apple is now discussing a price around the $3000 mark.
Bloomberg also reported in January that Apple expects to sell around 1 million headsets in the first year, but is not planning on making a profit from this first version of the headset.
In July 2022, supply chain analyst Ming-Chi Kuo claimed Apple plans to release a "more affordable" headset in 2025. A January 2023 report from The Information indicated that this headset would be a cheaper alternative that would cost "around the price of the iPhone" (between $800 and $1600) and would use lower resolution displays, fewer cameras, a slower processor and cheaper materials. Trademark filings and reports from Bloomberg suggest this headset could be called the Reality One.
How This Compares: A price tag of $3000 would put Apple's headset at a significantly higher price point than anything else on the market. The next equivalent headset is Quest Pro, which launched for $1499 but has since been permanently reduced to $999.