With Quest 3 and Apple Vision Pro on the horizon, developers that have invested the better part of a decade honing their expertise were left to promote themselves at Europe's largest gaming event last month.
Heading into Gamescom 2023, I suspected that this year might be about on par with 2022 in terms of VR content on offer. That turned out to be mostly true – between my colleague Henry and I, we tried a large number of virtual reality experiences.
However, the differences in VR presence between this year and last wasn't what was on offer, but where it was on offer. Gamescom is split into two areas – the consumer-facing halls that are open to the public and the closed off business-to-business halls to which entry is restricted to trade staff, exhibitors, media and the like.
In 2022, Gamescom had a sizable VR presence in the public-facing halls, with a giant Pico booth offering demos of games like After the Fall and a decent-sized public booth nearby from Resolution Games, offering demoes of their then-new free-to-play multiplayer title Ultimechs on Pico and Quest headsets.
This year, there was relatively little public-facing VR or AR-focused experiences and booths. Neither Meta nor Pico had any presence in the public halls this year. Resolution didn't return to the show floor for 2023, but at the very least they did have a large banner advertising Demeo Battles and Racket Club outside the West entrance to the Koelnmesse, pictured below. A nice touch – but a shame there wasn't the opportunity to demo either game on the show floor. Demos of 1v1 Battles matches would have been an especially great shout ahead of the game's November launch.
Sony also had no public presence – VR or otherwise – at Gamescom this year. While PSVR 2's launch lineup of Resident Evil Village VR, Horizon Call of the Mountain and Gran Turismo 7 was admittedly decent, it has been slim pickings for PSVR 2 since – just look at the lack of new VR announcements at last week's PlayStation State of Play. Capcom's upcoming VR Mode for Resident Evil 4 Remake on PSVR 2 looks promising, but it wasn't available to try on the Gamescom show floor – disappointing given it was available to demo this past weekend at Tokyo Games Show.
This absence of big industry biggest players meant that many VR studios and developers were left to fend for themselves this year at Gamescom. A mixture of solo developers, mid-sized indie developers and established VR studios showcased plenty of in-development or soon-to-be-released experiences for PSVR 2, Quest and Pico headsets. It was, overall, an encouraging sign of the continuing passion of developers and creative direction of the industry, with a mix original concept games, remastered ports for next-gen headset and franchise-expanding titles that build on previous successful VR games or intellectual property. They showed up with bucketloads of passion and experiences that give VR gamers a lot to be excited about.
Here's what we saw at Gamescom and learned about the developers who are still building toward VR's biggest days:
Polyarc & Fast Travel Games
Established veteran VR studios like Fast Travel Games and Polyarc are positioning themselves well to be at the forefront of the next generation by applying their experience in VR-first design to in development projects.
Both studios showcased a respect and understanding for valuable VR experiences at Gamescom with upcoming projects that leverage existing game genres with all the necessary changes required to justify bringing them to VR.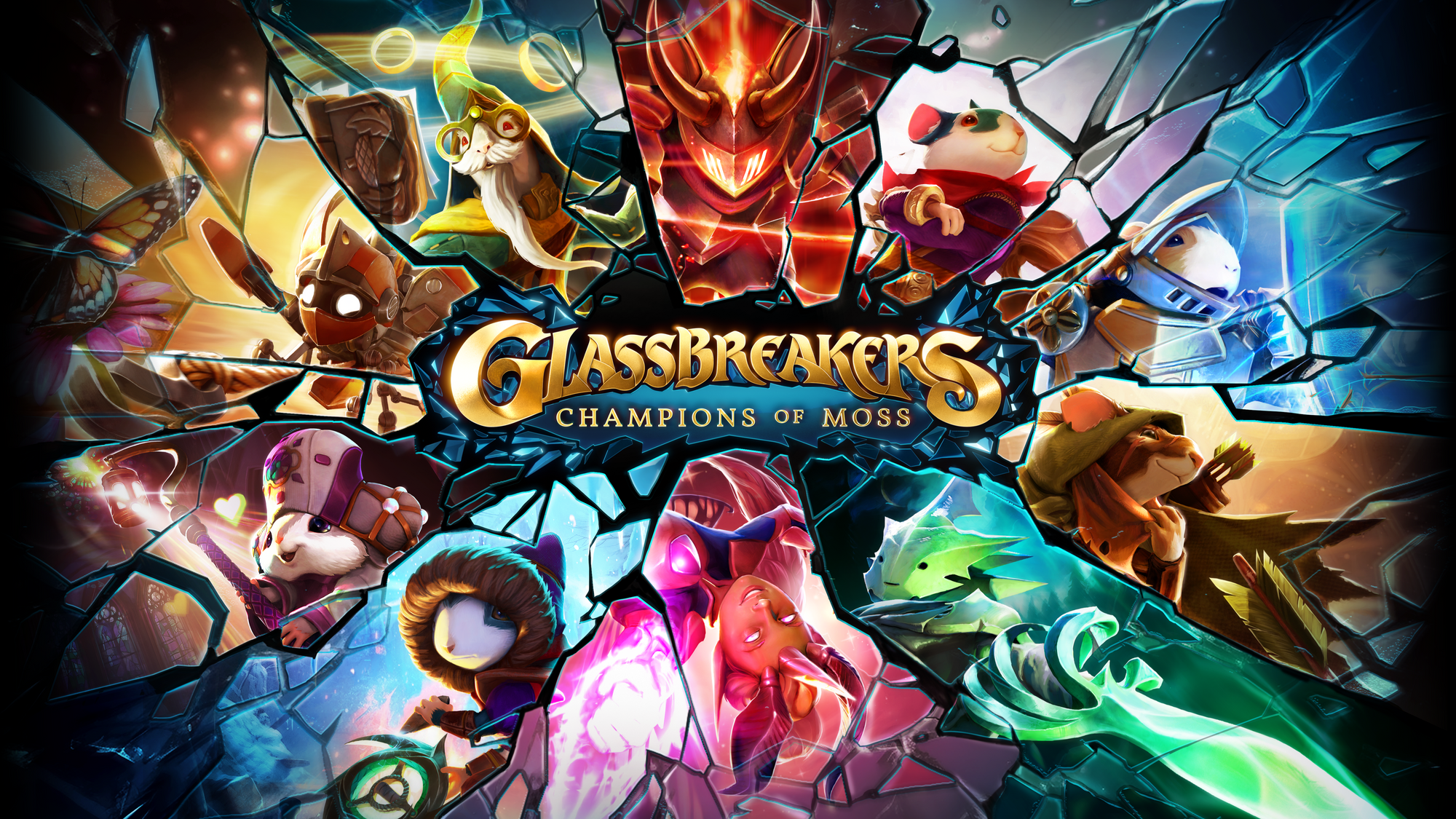 Glassbreakers is Polyarc's response to the success of Demeo, albeit in a very different genre. It takes the tabletop premise of Resolution's hit, wraps it in stunningly-gorgeous world of Moss and covers it all in a competitive MOBA-like sheen with a well-considered free-to-play battle pass model. It's polished off with intelligent interactions and gestures that make it feel right at home in VR, ensuring you'll never be stuck looking at a flat menu or pressing ray-casted buttons. It's available to try on App Lab, with a new Champion coming this week.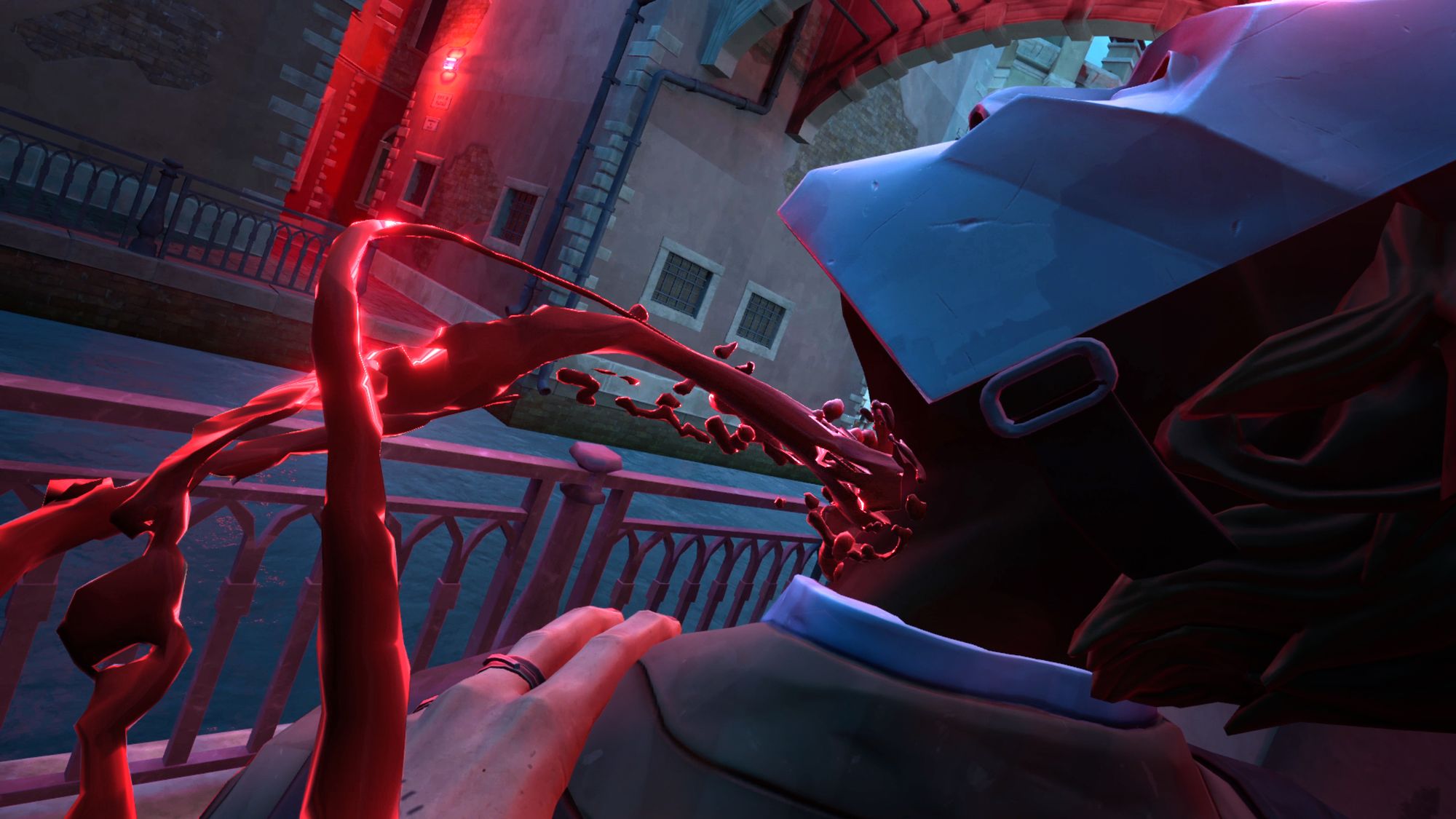 Fast Travel Games, meanwhile, showcased two ambitious experiences that see them shooting for new heights. Vampire: The Masquerade – Justice takes the best parts of Dishonored stealth-action and gives them a needed VR-first vampire bite, while Mannequin takes the concept of Prop Hunt and revolutionizes it with a physical motion controls-based system that will have you striking a pose in online 5-player multiplayer next year.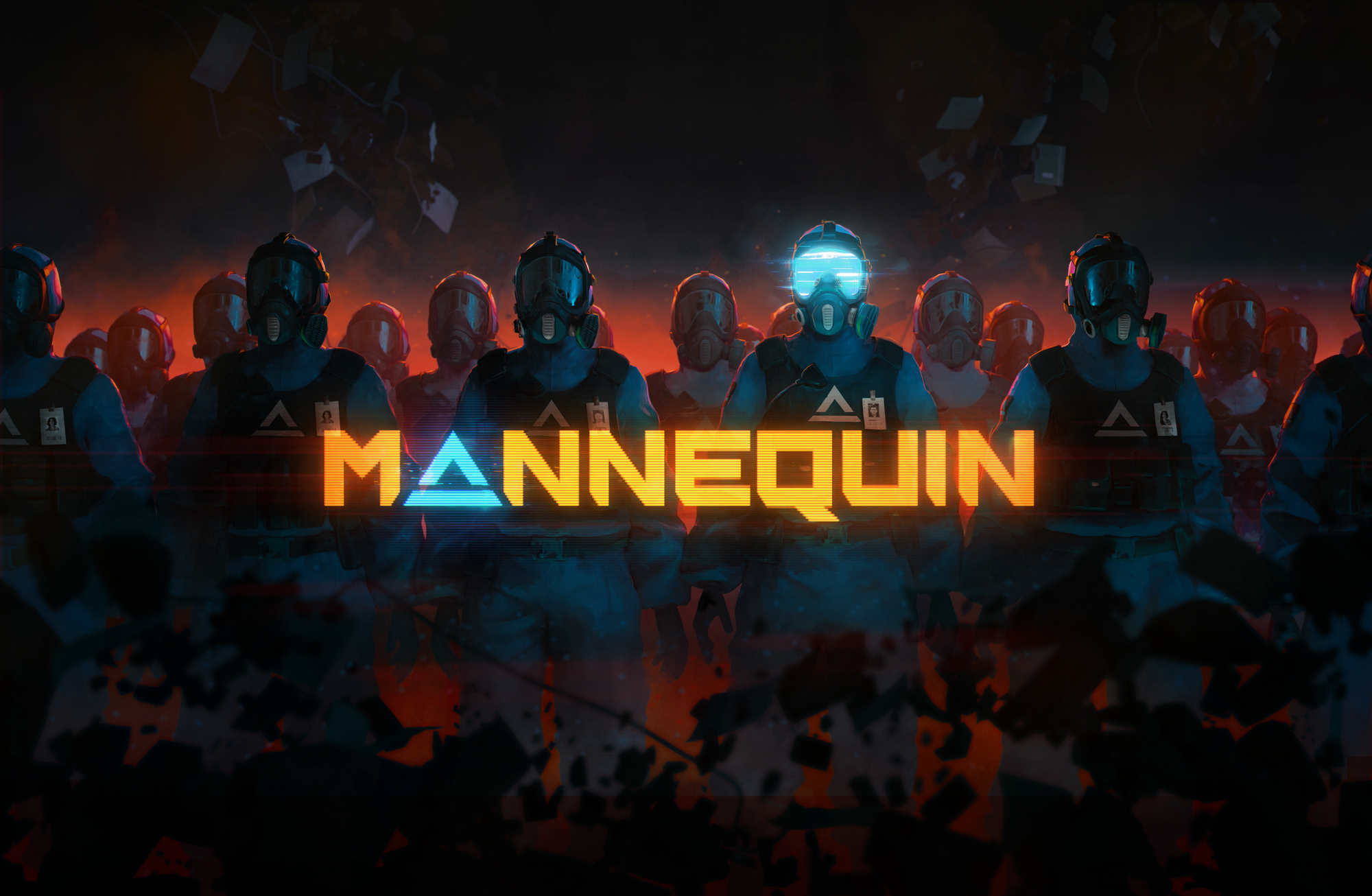 Skydance, nDreams, Soul Assembly & Toast Interactive
There were two demos from established VR developer nDreams – one for Power Wash Simulator VR on Quest, and another in partnership with Sony Pictures Virtual Reality for Ghostbusters: Rise of the Ghost Lord on Quest and PSVR 2.
Charlie Wacholz had already gone hands-on with Power Wash Sim and wrote up some thoughts prior to Gamescom for us. After trying the experience myself, I can see the calming, near-meditative value in VR power-washing either solo or with friends, but I have concerns about the somewhat shaky performance and jaggy-edged visuals.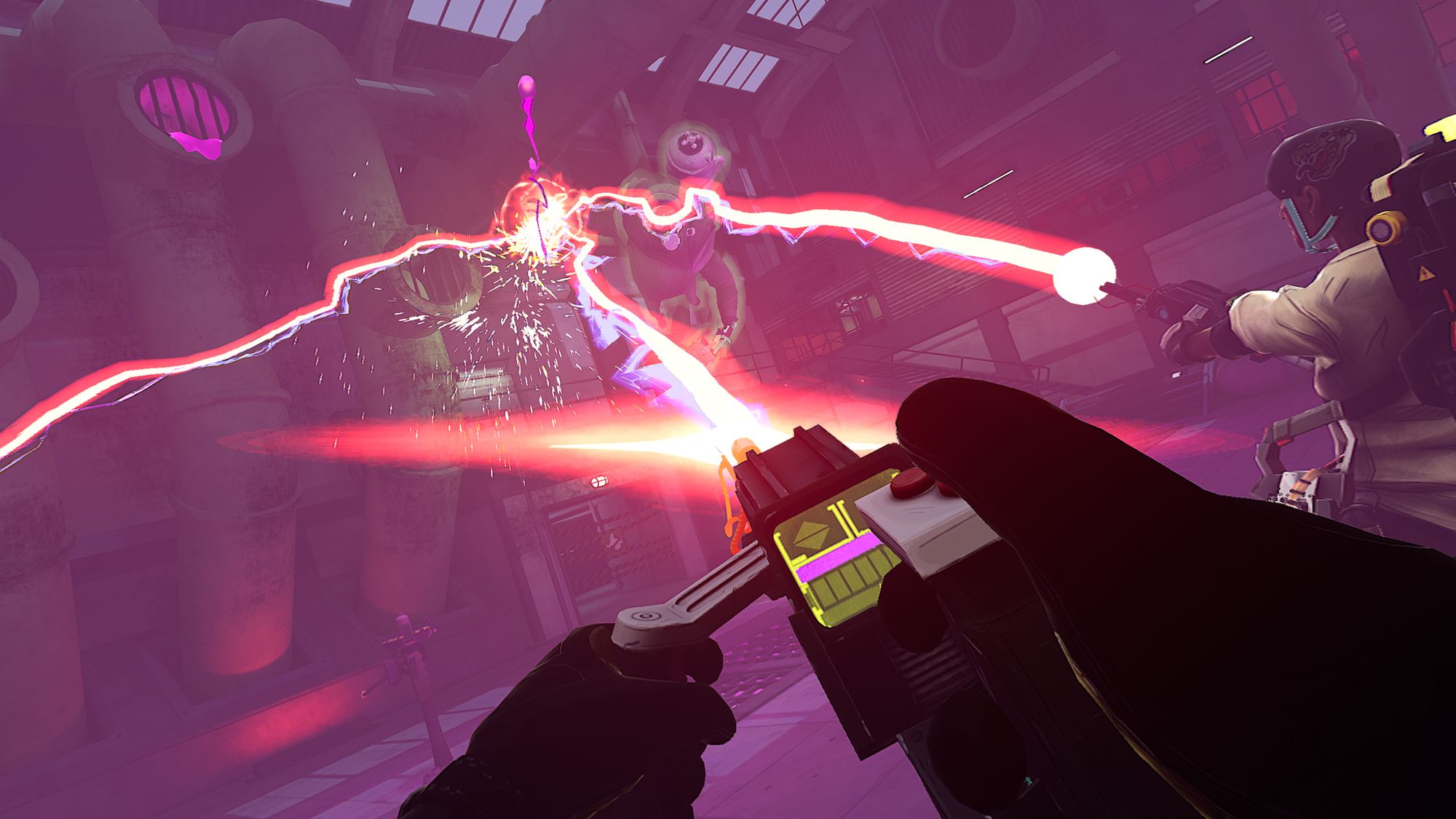 When it came to Ghostbusters: Rise of the Ghost Lord, I left the demo feeling that I'd got pretty much exactly what I expected. That's not necessarily a bad thing – SPVR's partnership with nDreams was a savvy move, and the positive impact of bringing in a team of such established developers was evident in the demo. There's a solid foundation of co-op multiplayer here. My doubts are more long-term – is there enough here to make this a game that people will want to come back to? And does the Ghostbusters franchise really have the enough pull with modern audiences to help and not hinder? We'll dive in more soon.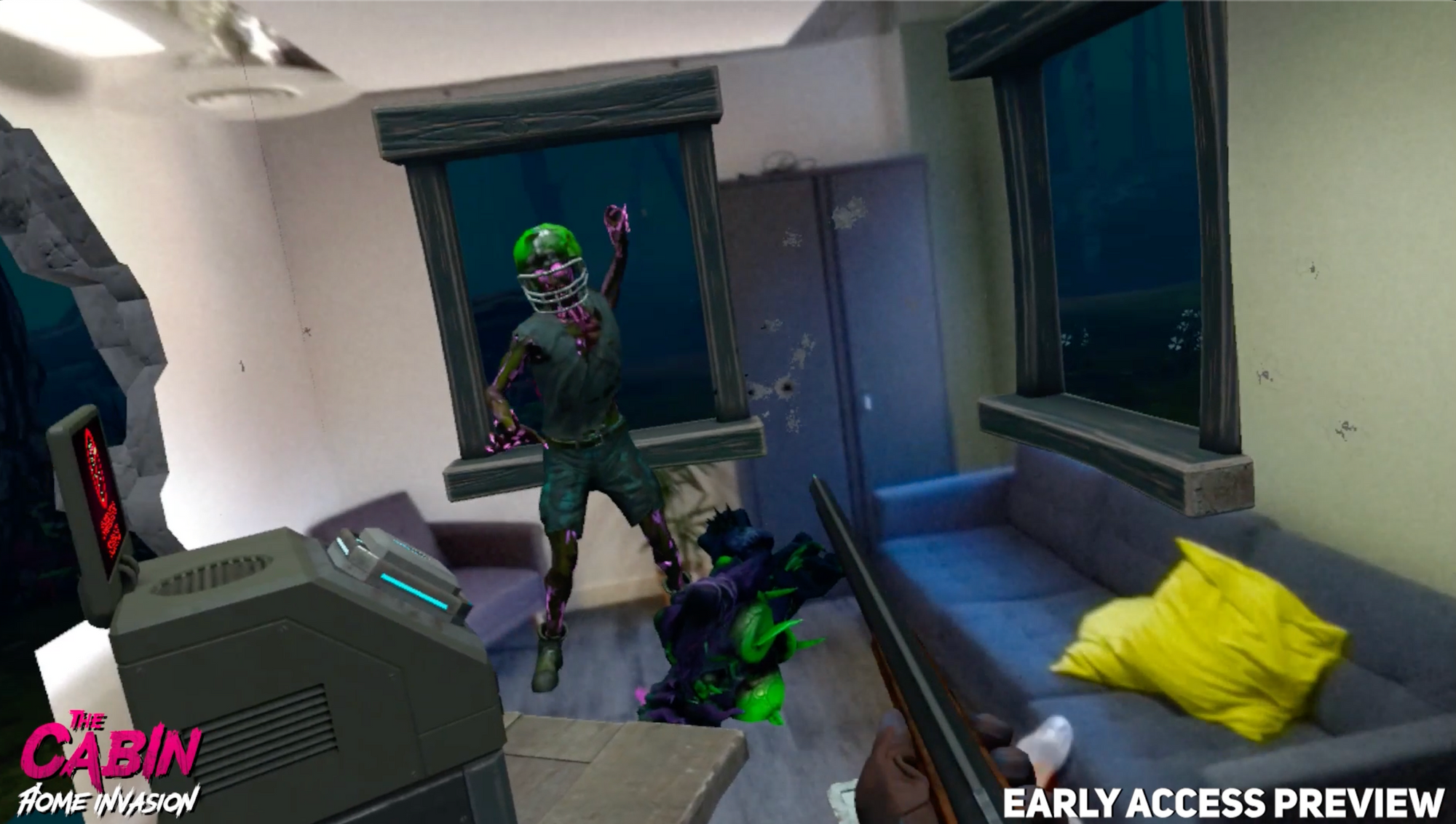 After demoing Drop Dead: The Cabin at Gamescom 2022, Soul Assembly were back at Gamescom offering press and trade members demos of the game's upcoming mixed reality game mode, The Cabin: Home Invasion. It's one of the few experiences we tried that is very clearly being made for Quest 3, offering enticing mixed reality functionality for the headset's launch and perhaps offering the wider game a second chance after a rocky launch.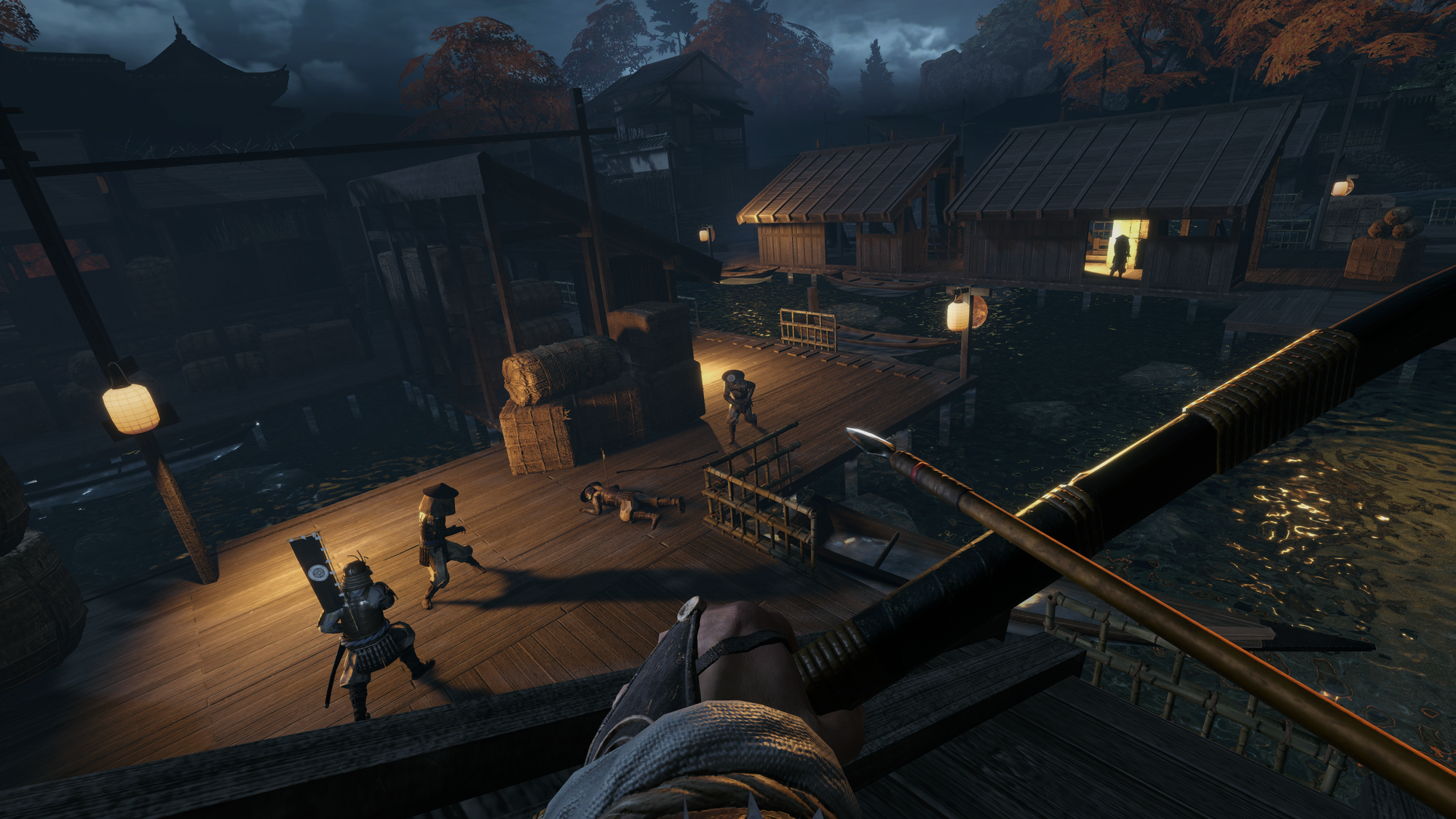 Speaking of second chances, Skydance Interactive are hoping that Arashi: Castles of Sin – Final Cut might help the formerly-PSVR exclusive title find a new audience with its upcoming release on Quest, PC VR and PSVR 2. It remains a compelling stealth-action experience and there have been some significant upgrades from the original – especially in terms of visuals – but there are a few last-gen hangovers that unfortunately left the demo feeling slightly stuck in the past at times.
Australia-based studio Toast Interactive are finally branching out from planks to platformers with Max Mustard, a Moss or Astro Bot-like experience melding third and first person gameplay together with a hefty squeeze of charm on top. It will be the studio's second VR release after its seminal first title, Richie's Plank Experience.
Owlchemy Labs & Niantic
The public halls weren't completely devoid of VR/AR – there were still some indie developers sprinkled about the less popular halls offering demos, as well as a small-but-decent booth from established and Google-owned VR studio Owlchemy Labs. Tucked away in a corner – far away and in a different hall from the biggest players like Microsoft and Nintendo – Owlchemy's booth offered those passing by a chance to try their prototype hand tracking proof-of-concept experience, which is more like an internal design manifesto made out of Job Simulator assets than any indicator on what their still-undetailed upcoming hand tracking multiplayer VR game will look like.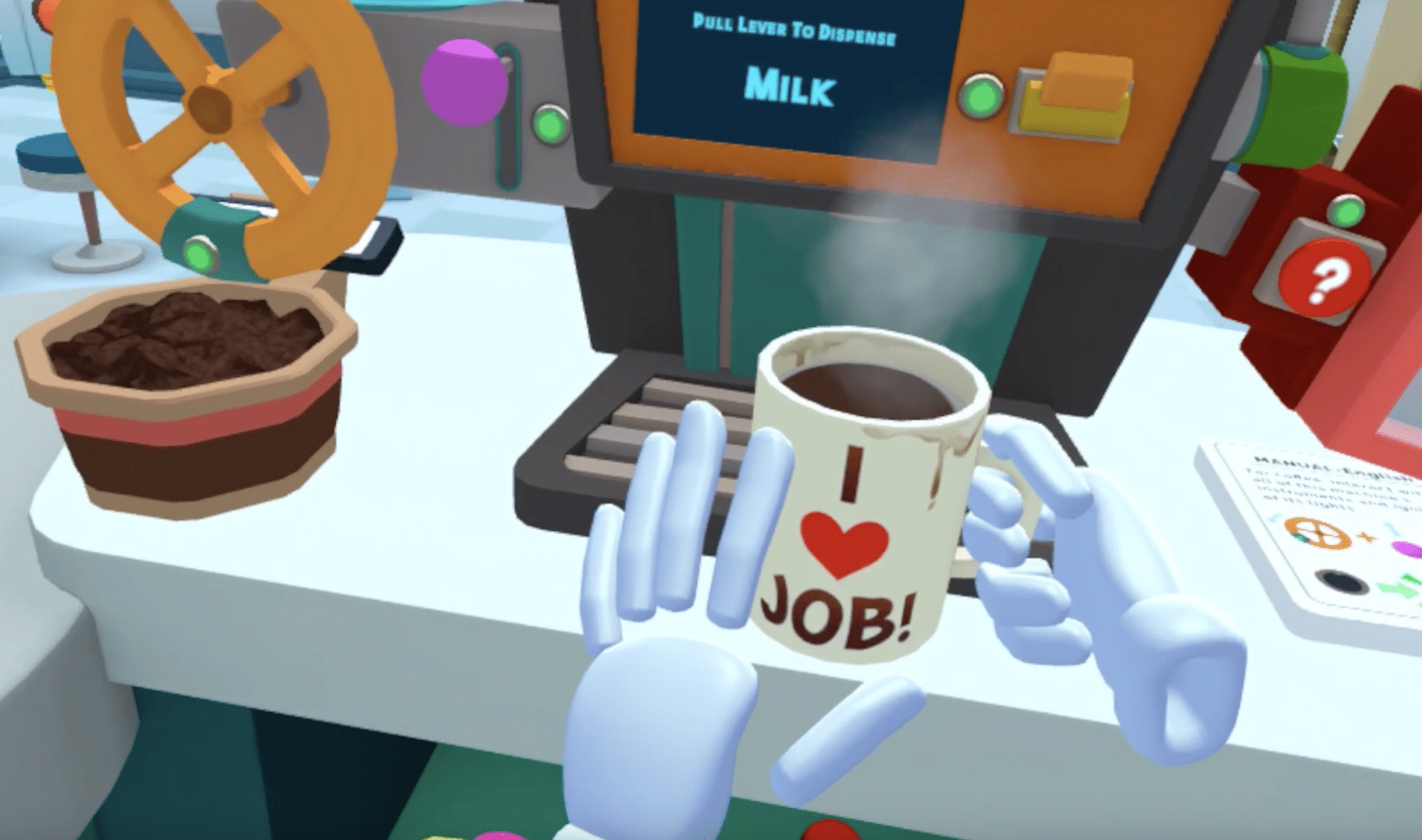 While nice to see the studio's presence on the show floor – and good for Henry and I to try the experience after our colleague Ian did earlier this year – it doesn't offer much to VR enthusiasts beyond a neat tech demo.
In terms of public-facing AR, I paid a visit to Niantic's booth, located outside one of the main public halls, next to food trucks and park benches. I hoped to try whatever AR functionality was available in Monster Hunter Now, the latest in the studio's never-ending string of titles that operate like near-clones of Pokemon Go with different IP-themed skins. Unfortunately, Niantic informed me that there was no AR functionality at all in the Gamescom demo on offer. The company did confirm that some level of AR would be in the game at launch, but would not comment any further. It was a strange position to find the company in, given its stated commitment to an "emerging class of MR devices and future AR glasses" in the wake of laying off 230 employees, studio closures and game cancellations.
And Everything Else
Brazen Blaze, a new 3v3 melee-focused multiplayer from MyDearest, was also available to try – keen an eye out for impressions soon. We also stopped by developers NoxNoctis to try Ovrdark, a promising Resident Evil-like horror game coming to PSVR 2 and PC VR, while Pixelity gave us a look at upcoming character-driven experience Teahouse of Souls.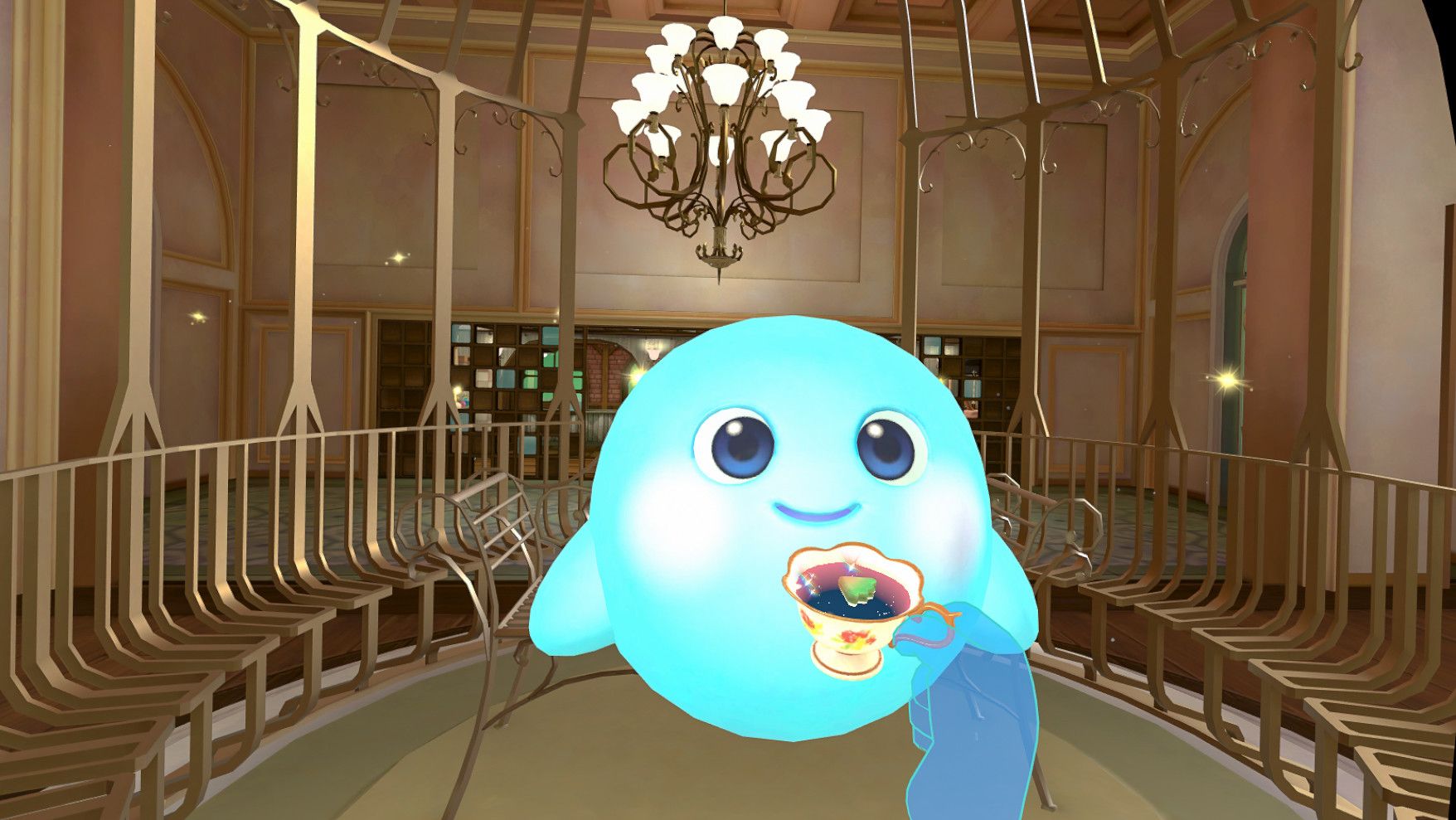 After developing the Return to Rapture mods for Half-Life: Alyx, Patient 8 Games is producing its own original experience in Memoreum. We discussed with the team how this horror experience is taking shape and what we can expect when it arrives next year.
UploadVR's Best VR Game of Gamescom 2023
We haven't traditionally named a 'Best VR Game' of Gamescom 2023, but after trying Outta Hand this year, it felt appropriate. Indie studio Capricia Games presented us with a hallway demo of Outta Hand, a fantastic first-person platformer that takes the Gorilla Tag movement system and evolves it once again with some added fresh mechanics.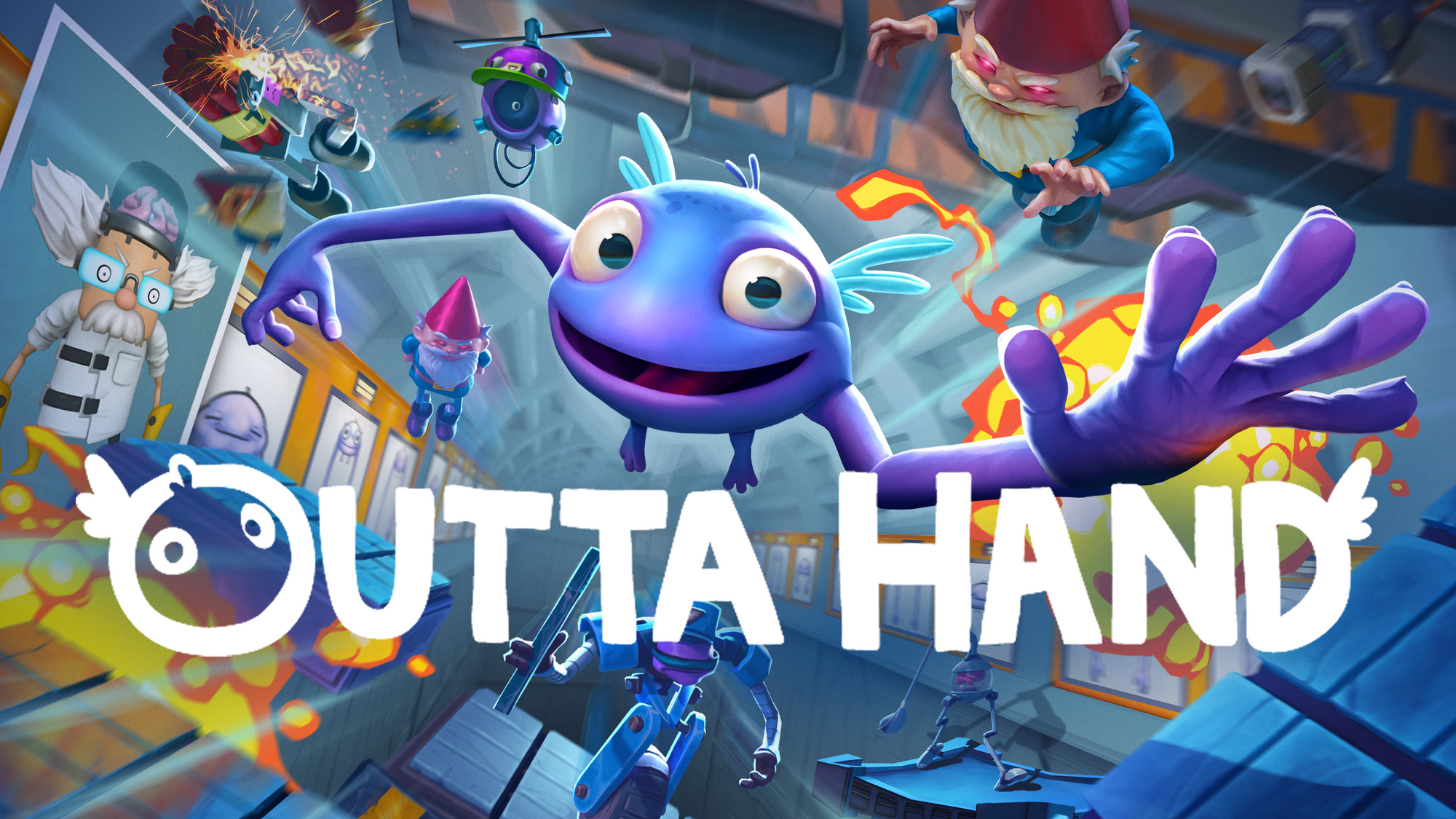 There's a lot to love about Outta Hand – you can read more about what made it so engaging in our hands-on above. The game releases next on September 28 –  keep an eye out for our full review soon.