After releasing Ricie's Plank Experience, one of early VR's most memorable and seminal experiences, Toast Interactive is stretching its virtual legs into new territory.
The Australia-based studio is moving away from roomscale plank walking into something different: a VR platformer. It makes Max Mustard, the studio's upcoming release that merges first and third-person platforming, feel like a surprising yet welcome heel-turn. We've known for quite some time that Toast had been working on something "much more ambitious," but I don't think anyone predicted it would be an experience like Max Mustard.
Perhaps that speaks to the passion that's evident in the game from the get-go. When I jumped into the world of Max Mustard at Gamescom, it was clear that this genre heel-turn hasn't been made lightly. The world is packed with attention to detail and beautiful visuals, with gameplay that is obviously inspired by similar VR platformers (think everything from Astro Bot to Moss to Lucky's Tale) while still attempting to make its own mark on the genre.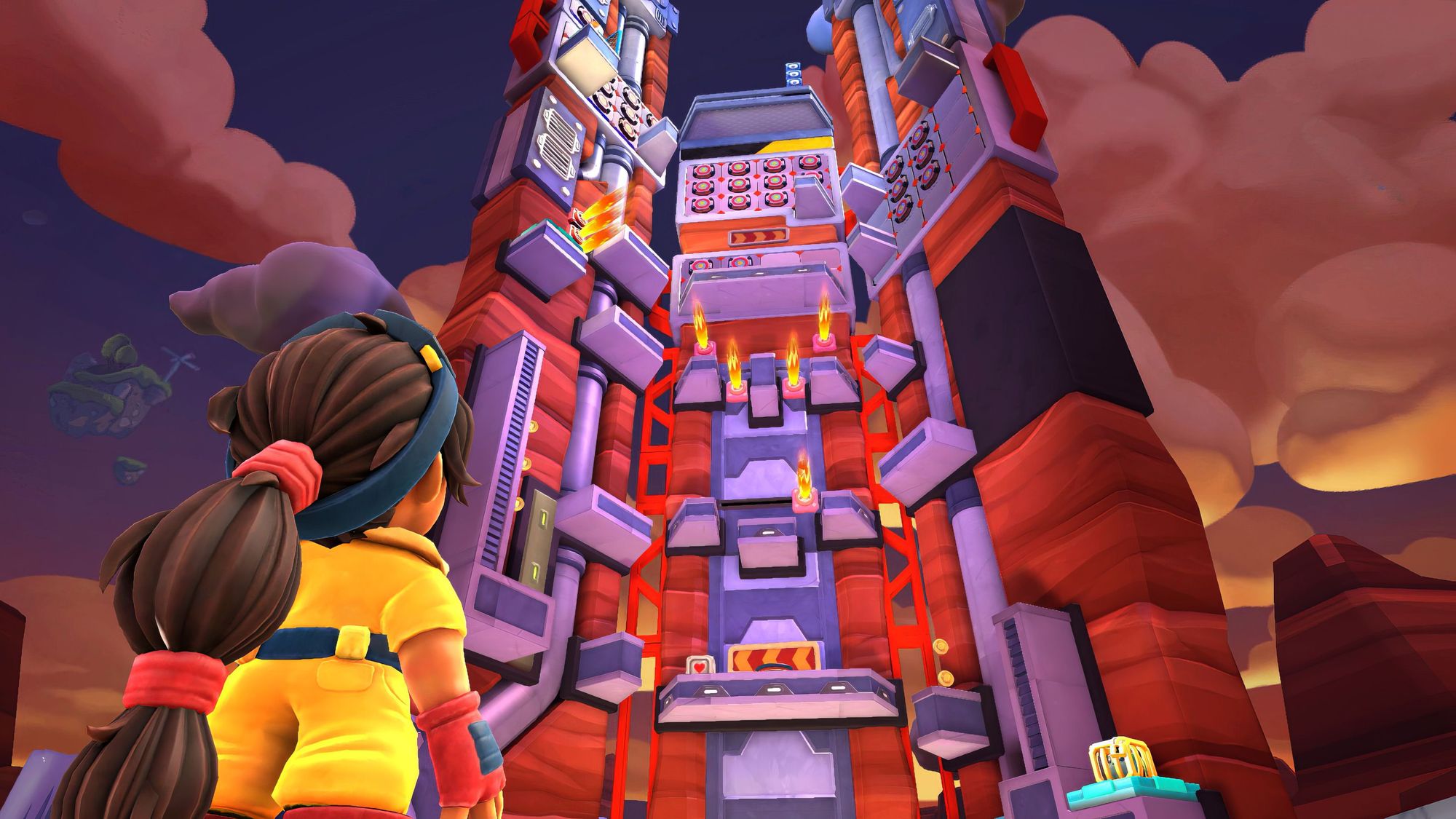 This isn't a concept that the studio is making to satisfy its existing fans from Richie's Plank Experience. On the contrary, Max Mustard seems like the game that the studio felt most passionate about making, regardless of the expectations of any existing fans. Who knows what level of crossover there will be between fans of Richie's Plank and Max Mustard. Either way, at least Toast is shooting for something of quality instead of something cheap that simply aims to capture the same plank-walking thrills for a second time.
More Than One Platform
The platforming genre in VR is at a bit of a turning point. With the advent of the viral multiplayer game Gorilla Tag, there's been a series of releases since that use similar movement to focus on first-person VR platforming, such as No More Rainbows and upcoming releases Toss! and Outta Hand.
On the other hand, games like Astro Bot and Lucky's Tale represent the 'old' approach that brings the existing flatscreen format into an immersive medium. These titles take the basics of flatscreen 2D and 3D third-person platforming and then try to integrate that format into VR while adding mechanics or interactions that leverage the immersiveness of virtual reality.
Max Mustard falls into the latter category, which isn't necessarily a bad thing – neither approach to VR platforming is innately better than the other. It mainly depends on the execution and, perhaps, what a title can do to set itself apart. In the case of Max Mustard, it has a few things going for it. The most prominent is the way it attempts to support the traditional third-person, stick-based platforming sequences with some simultaneous first-person elements that will affect the world around Max Mustard as you move her through levels.
As seen in the initial reveal trailer, you'll use VR motion controls to wield tools like the plunger gun in first-person, which can affect the environment and open up new platforming pathways.
Max Mustard also tries to re-think some of the assumptions from traditional platformers. Collectible coins, for example, aren't as worthless as they might be elsewhere – in Max Mustard, you'll spend them towards upgrades between levels, which unlock new abilities for Max and hopefully let you cater towards a unique style of play. The third-person camera also isn't static – it will slowly move across the environment as you move Max around, as opposed to the fade-in, fade-out camera positions in a game like Moss. There's also mid-level power-ups to discover and special minigame rounds between platforming levels to break things up.
All of the above forms a solid base that positions Toast's second major VR title well. The real test will be whether the experience holds interest – and does enough – across the 40-level campaign. The level I tried did feel a little easy to run through, but it's also an earlier level and a game that, by nature of its visuals, seems more aimed towards a general audience than a truly competitive one.
In any case, there's a level of passion on display in-headset that makes Max Mustard immediately compelling. The visuals are stunning and a huge step-up in style and art direction from the fairly-basic presentation of Richie's Plank Experience. If nothing else, the game promises to be incredibly pretty to look at and given you'll be looking down on the world from a third-person view, that's an important element to nail.
With Richie's Plank Experience, the studio captured the pure thrill and fear that comes from being immersed in a terrifying scenario in VR. With Max Mustard, the studio is instead pushing towards a different style that moves away from roomscale and instead designs a world with far more intricate and playful visuals. Following up with something similar to the former would have been expected. Instead, presenting something this different proves a restlessness that's rare to come by. It really feels as though Toast Interactive is trying to grow as a creative team and challenge itself to nail something new, which is commendable.
What we tried at Gamescom was a positive first look – we're excited to try more when Max Mustard releases on VR platforms early next year.