Much has been made of what VR can do for art, but its overall direction remains sprawling and unwieldy.
Some want to break new ground, utilizing Tilt Brush, Quill and other apps to produce stunning new works that were previously impossible to make. Others have set up virtual galleries that preserve and present classics and more in all-new ways, which is an especially important approach at this difficult time. We've also seen apps like Art Plunge expand on works in surprising ways, taking us behind the frame.
Gaëlle Mourre, Quentin Darras' (Hi)Story of a Painting is something else, though. This 20-minute experience, the first in a proposed series, is an ingenious history lesson that uses immersion and intelligent techniques to paint a history of Georges Seurat's A Sunday Afternoon on the Island of La Grande Jatte. It's also a powerful showcase of the importance of work like VR incubators like CreativeXR.
CreativeXR continues to be a vital source of support for the UK arts sector. Serving as a sort of VR arts incubator/support system and established by Digital Catapult and Arts Council England, in years past it's helped highlight experiences that put us in the shoes of journalists in dangerous situations, taken us to virtual theaters and even sent us back in time. You can see some of the past projects it's support in one of our early VR Culture Show episodes below.
The 2020 selection continues to branch out beyond VR but also doesn't forget its roots, showcasing some fantastic early work for projects like Blood Speaks: Maya, a sort of concept origin story for a taboo-breaking superhero that highlights the importance of representation in today's media landscape.
Equally impressive is SONG, a new take of 360 degree performances that feels fresh and vital amidst the backdrop of the global pandemic, and IAmMusic, which switches gears as a creative tool that imagines instruments not possible in the real world.
Many of these projects are, as usual, in their early stages and exist more as pitches for the next steps than full experiences in their own right. But it's (Hi)Story of Painting that really highlights why this support is so crucial; it's not something likely to move units on the game-focused Oculus Quest and PlayStation stores despite being arguably one of the most immersive and impressive experiences you can see in a headset today.
The piece builds a living history of Seurat's life as context for his most iconic creation. Brilliantly, as narration paints the picture, the story is realized around you in Seurat's own style. Scenes are built up and deconstructed as part of the tour, with La Grande Jatte always in clear view, as if each piece of information is a part of the meta-puzzle that contributed to its creation.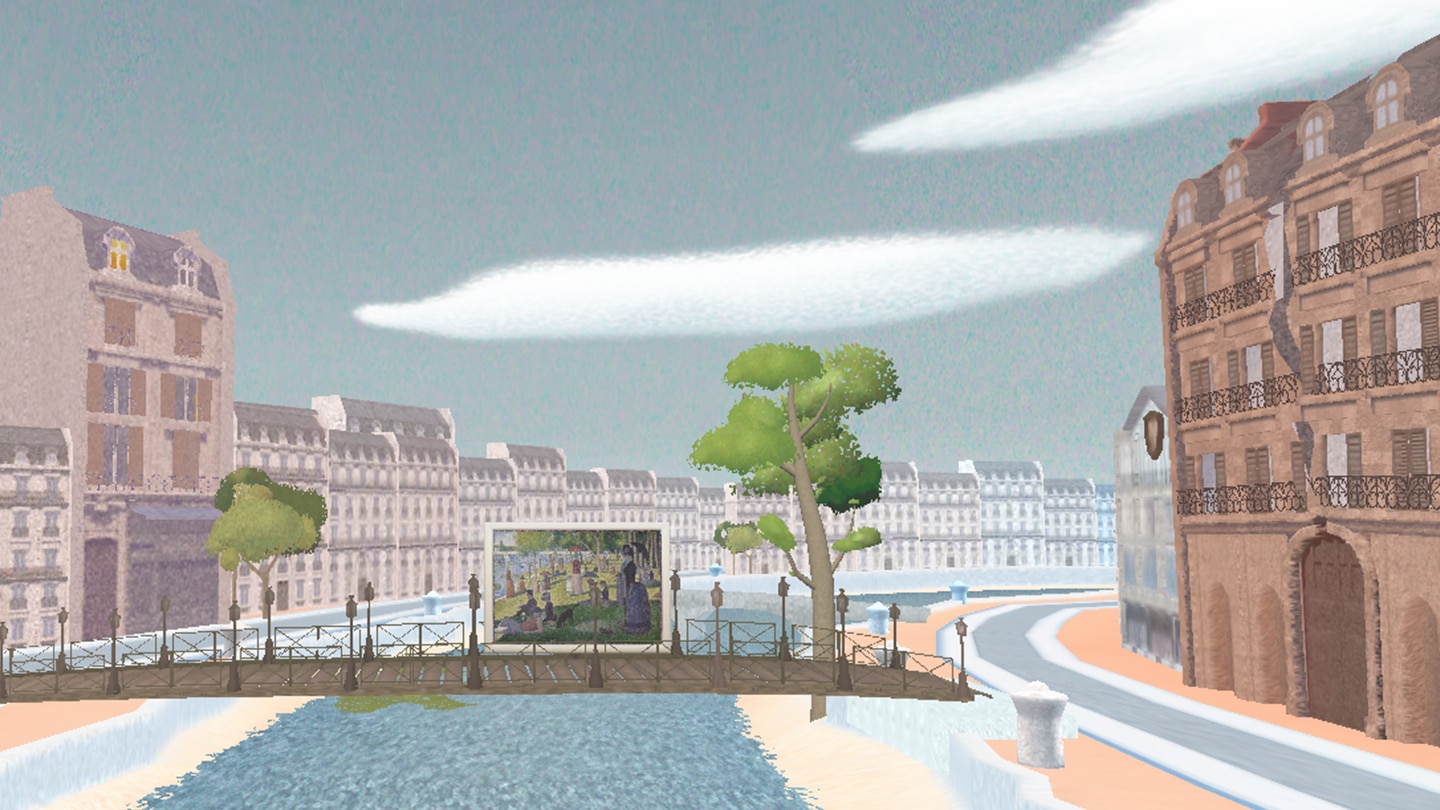 But it's not just a history lesson, the piece culminates in a fascinating deep dive into the individual elements of the painting, leaving its meaning open to interpretation whilst simultaneously guiding you through its various elements — some harder to spot than others — to help give you the context you might need to come to your own conclusions about its meaning.
Perhaps most tellingly though, given distance from watching the experience, I remember the story it told me. I'll confess that isn't something that's happened to me often watching art documentaries or researching pieces in a gallery. I could easily see an experience such as this helping thousands of people engage with and understand better the art the defines the world's culture.
Like other projects at the CreativeXR showcase, it's not clear when and if (Hi)Story of Painting might be viewable on home headsets – the consumer market still doesn't feel ready to wholly embrace these types of experiences. It's likely to do the usual (or in 2021, unusual) festival circuits, including a showing a SXSW next month, before it comes home. Until that time, though, I'm really glad we have groups like CreativeXR to keep VR creativity alive.