Meta's Reality Labs revenue rebounded in Q4 2022 but was still less than Q4 2021 due to "lower Quest 2 sales".
Reality Labs is the division of Meta behind Quest, smart glasses, Meta Avatars, the Horizon platform, and research & development toward future devices such as the neural wristband project and AR glasses.
The division brought in $727 million revenue in Q4 2022. While that's down 17% year-over-year, it's a lot less of a drop than Q3 2022, which was down roughly 50% year-over-year. Q3 2022 saw the lowest revenue since Meta started breaking out Reality Labs financials, while Q4 2022 was the second highest ever.
For both quarters, the year-over-year revenue drop has a singular explanation: in August, Meta raised the price of Quest 2 by $100. Just after the price hike was announced, CFO David Wehner warned investors to expect VR revenue to reduce in Q3. And today the new CFO Susan Li told investors that Q4 performance was also due to lower Quest 2 sales.
Quest 2 has now been on the market for more than two years and the pace of major game releases has significantly slowed. With Quest 3 coming later this year and Meta's focus last year on the high-end Quest Pro, Quest 2's sales probably would have declined even without the price hike – though obviously not as much.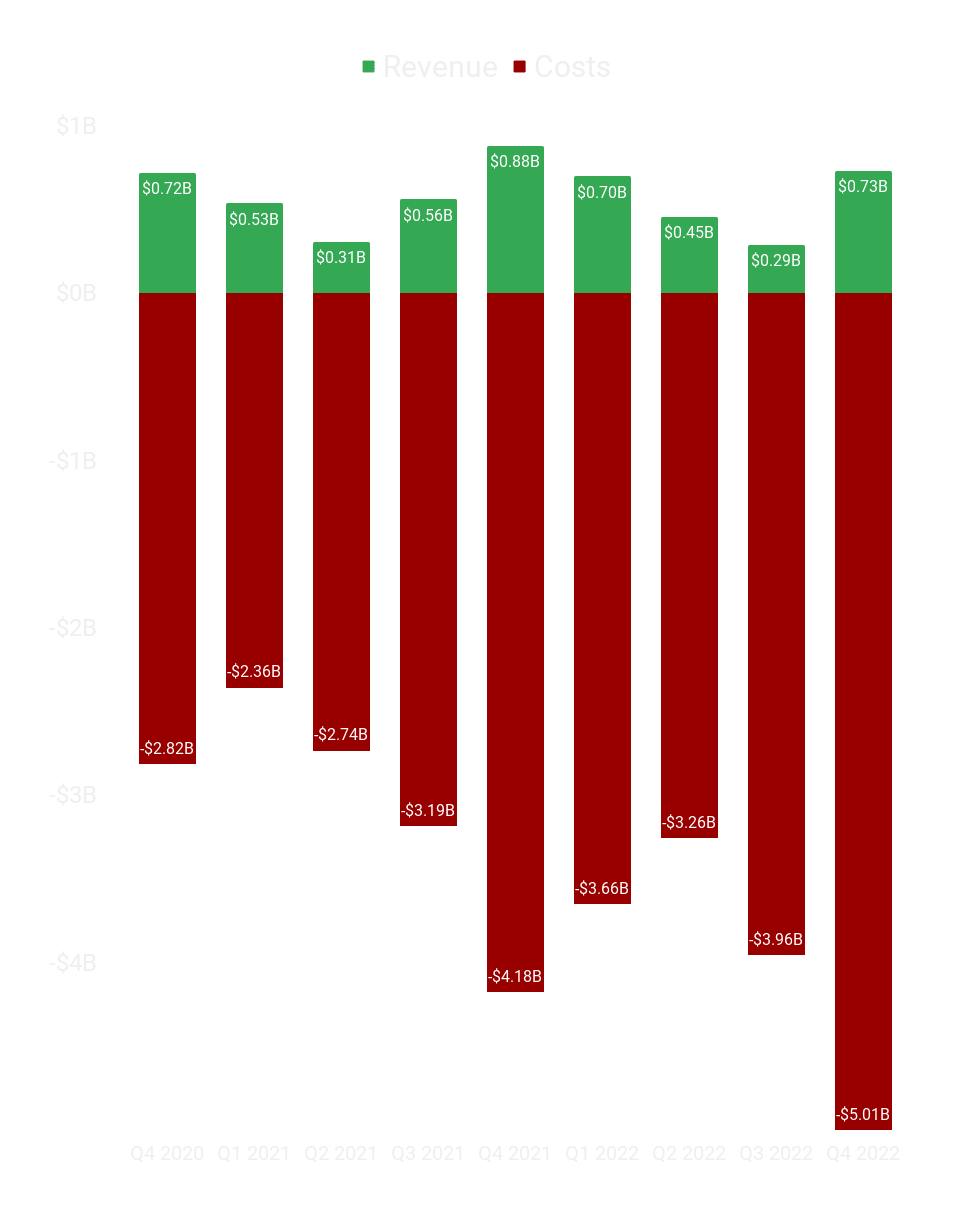 The cost of the $727 million revenue was a staggering $5 billion, the highest since Meta started breaking out Reality Labs financials. The CFO explained this was "due primarily to employee-related costs and restructuring expenses" – referring to the severance costs involved in the more than 11,000 layoffs Meta conducted across the company.
CEO Mark Zuckerberg described 2023 as the "year of efficiency" for Meta, saying the company will be "more proactive about cutting projects that aren't performing" and plans to eliminate layers of "middle management" to make decisions faster. The CFO told investors Meta will actually increase its investment in Reality Labs this year, while Zuckerberg declared "none of the signals I've seen so far suggest that we should shift the Reality Labs strategy long term".