Remember when you were a kid and would make shadow puppets, projecting a massive finger onto your ceiling that you'd pretend to prod yourself with? Or how about when you stare at a map of your country and imagine squashing yourself with your own fist? Fisherman's Tale lets you do that in VR, and it's one of the most mind-boggling experiences I've had inside a headset.
Announced last week, A Fisherman's Tale is the latest experience from Innerspace VR, a studio behind two of VR's most thoughtful apps, Firebird: La Peri and Firebird: The Unfinished. It's the closest to an actual game the team has gotten so far, with genuinely brain-churning puzzles and a high degree of interactivity. But, crucially, it also doesn't lose sight of what makes Innerspace's earlier work so memorable, fusing the two together for an experience that promises to make the absolute best of VR.
In A Fisherman's Tale you embody, well, a fisherman. But you're puppetized, made of wood and confided to controlling strings, like a Pinochio that never got to become a real boy. Withdrawn in a reclusive lighthouse, you have to venture out to reach the top of the tower and turn on the light in order to safely warn boats. The way you go about doing that is quite fasincating.
The first minutes of the game's first chapter is fairly straight-forward; clear a barred window and then open it with the use of objects around you. I'm told Fisherman's Tale didn't graduate from the LucasArts school of puzzle-solving, so I look around for logical ways to remove nails from boards and quickly discover a crowbar. When you do open the window, though, you see something you weren't expecting – yourself.
Or rather, a bigger version of yourself, peering out of the same window, imitating your every move to perfection. What?
Turn around and you'll see a scale model of the building you're in sitting on the table with, yes, the same window open. Peer in and you'll see mini-you. Lift the lid off of the set and big-you will be peering down from above. It's about as surreal as VR gets and a moment of ecstatic discovery.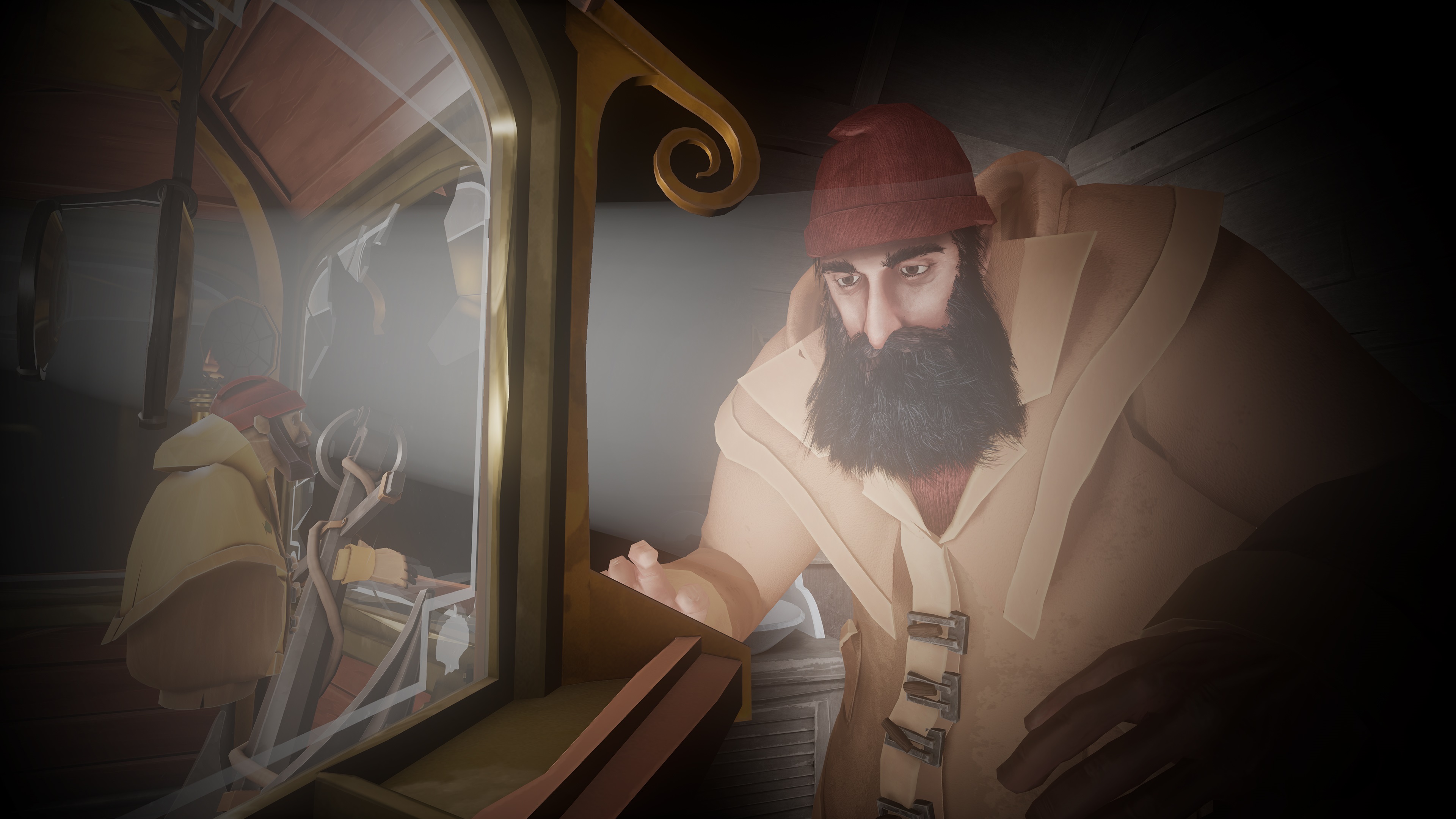 What to do with this new-found power? Well, what I said at the start of course. I completely lost any degree of professionalism as I proceeded to point down through the ceiling and witness my enlarged finger appear from above in VR. I stared up, slack-jawed as I attempted to poke myself in the face with my own wooden finger and cackled with laughter at the sight of mini-me trying to do the same down below. Trippy doesn't even being to describe it.
This mechanic has inventive uses within puzzles, too. A giant anchor blocks the door to your exit, for example, so you just reach into the model world and take it out. A tiny crustacean, meanwhile, desires a captain's hat. The one you find is obviously too big for him, but by throwing it out of the window, a smaller version of the same hat suddenly flies out of the same place in the miniature land, dropping onto the floor. You simply pick it up and hand it to the little guy.
A Fisherman's Tales puzzles seemed to strike a great balance between entertaining challenge without leaving me too frustrated, though I did have a developer guiding me through the first chapter. Still, Innerspace says that there will be a mode that provides plenty of hints for those who don't want to struggle with the puzzles, which is a great idea considering that this is shaping up to be a VR story everyone should get to experience. They also reassure that they're not going to overuse the game's novel core mechanic, and that later chapters will have other ideas.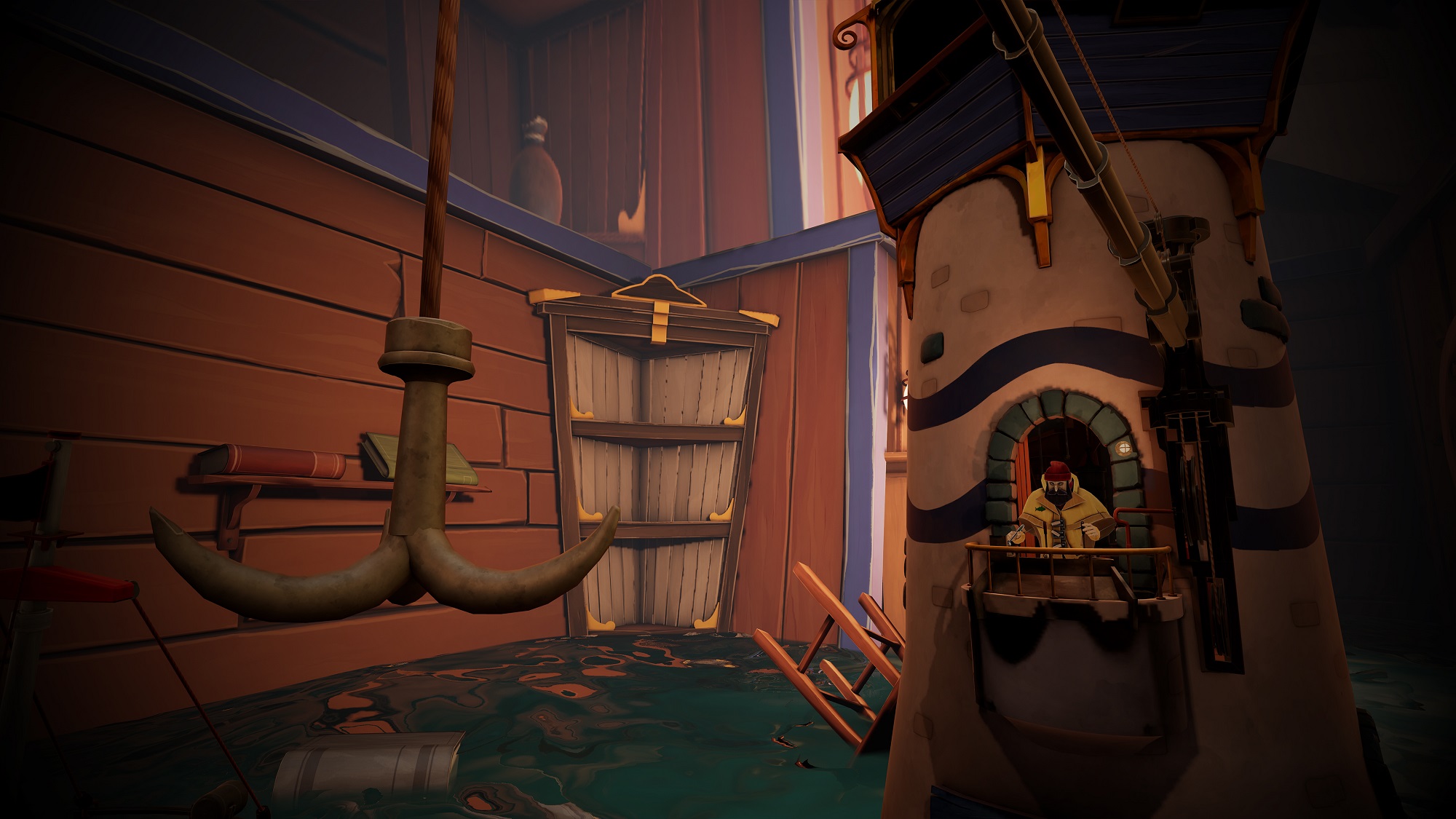 As expected with Innerspace, though, it's the story that really intrigues me with A Fisherman's Tale. I only get hints of it on the bustling show floor of Gamescom but, from what I can tell, the puppet figure is something of a recluse, and the journey to turn on the lighthouse will no doubt get more and more existential with every step. That's promise enough to draw me in.
Overall the team is developing four main chapters with a prologue and epilogue to boot, all of which it reckons will take at least two hours to see through. I feel like sharp-minded gamers will be able to run through it even faster than that, but the quality of the experience and its puzzles will more than make up for it. They say brevity is the soul of wit and, in the case of A Fisherman's Tale, I'm pretty confident that's going to be the case.
A Fisherman's Tale will be releasing on Oculus Rift, HTC Vive and PlayStation VR later this year.