Back in 2016, designer and filmmaker Keiichi Matsuda released Hyper-Reality, a concept film that imagined an augmented reality future where physical and virtual realities have merged, resulting in a "city saturated in media."
The 6-minute film presented an exploratory – and largely dystopic – vision of how our reality could soon be overloaded and overlaid with information. Though the film is the better part of a decade old, it remains relevant to modern discussions on how we conceptualize use cases for emerging virtual and augmented reality technologies.
The film was heavily circulated, covered extensively across media and news outlets when it released. Despite its confronting and intentionally provocative imagery, it has been a highly influential concept – or, perhaps more accurately, a hypothetical cautionary tale – to those working on the technologies that would enable it to become reality. Matsuda himself subsequently began working in AR following the film's release, leading design teams at both Leap Motion (now Ultraleap) and Microsoft.
Eight years on from Hyper-Reality, I found myself on a media tour in Japan with Psychic VR, a Tokyo-based VR/AR start-up presenting me its pitch for an in-development, large scale project called CityXR. It's a concept for augmented cities that, at times, perhaps veered toward the wrong side of the Hyper-Reality vision it seems to borrow from.
CityXR is just one of many bold visions that Psychic VR has for the future of virtual and augmented reality. Over the course of the three-day media tour in Tokyo, the company presented me with a litany of those ideas in an almost overwhelming fashion.
Air Race X was the project furthest along the bold vision to (virtual) reality pipeline, concluding with an in-person event in Tokyo's Shibuya district. Media, investors and many others gathered to see how Psychic's technology reimagined the competitive sport of air racing into a hybrid immersive format that saw digital planes race over the skies of Shibuya on VR and AR devices. While an admirable concept for how sports might undergo immersive reinvention, the technology demonstrated during the final race was ultimately let down by a lack of occlusion.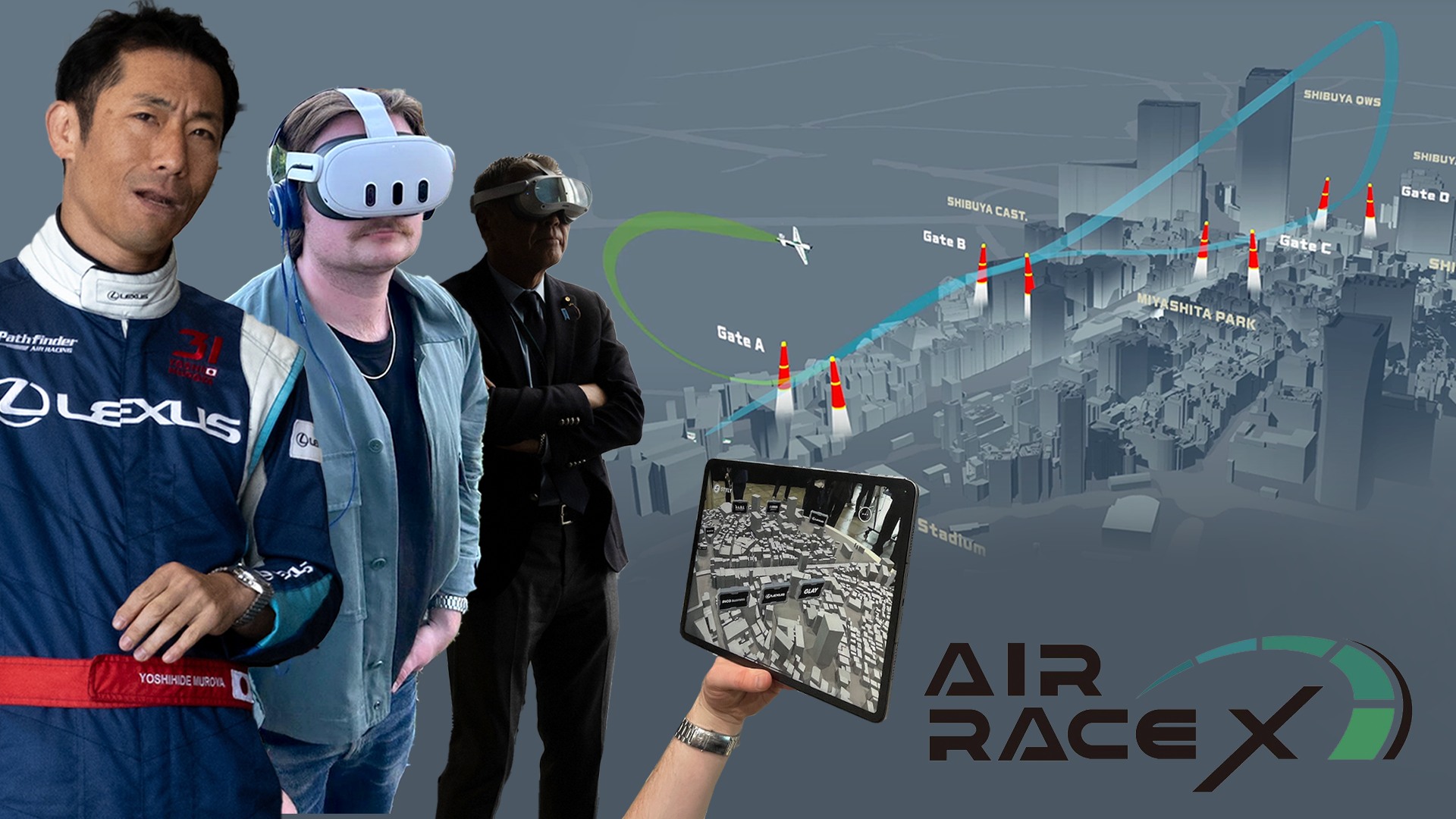 The core technology behind Air Race X ran on Styly, the foundational platform for all of Psychic VR's plans and in-development projects. As I spoke about in our piece on Air Race X, Styly is an all-in-one tool for creators and consumers alike and the bedrock behind the company's CityXR vision.
With CityXR, Psychic sees cities like Tokyo being transformed into augmented, immersive playgrounds featuring 'spatial entertainment'. By adding augmented content to physical spaces, Psychic proposes "a new form of entertainment that uses XR technology to extend the city space itself into an experiential media."
Real world spaces, such as Shibuya Crossing, will have augmented 'layers' – social, music, game and art layers, for example – that the user will be able to switch between like channels on a TV.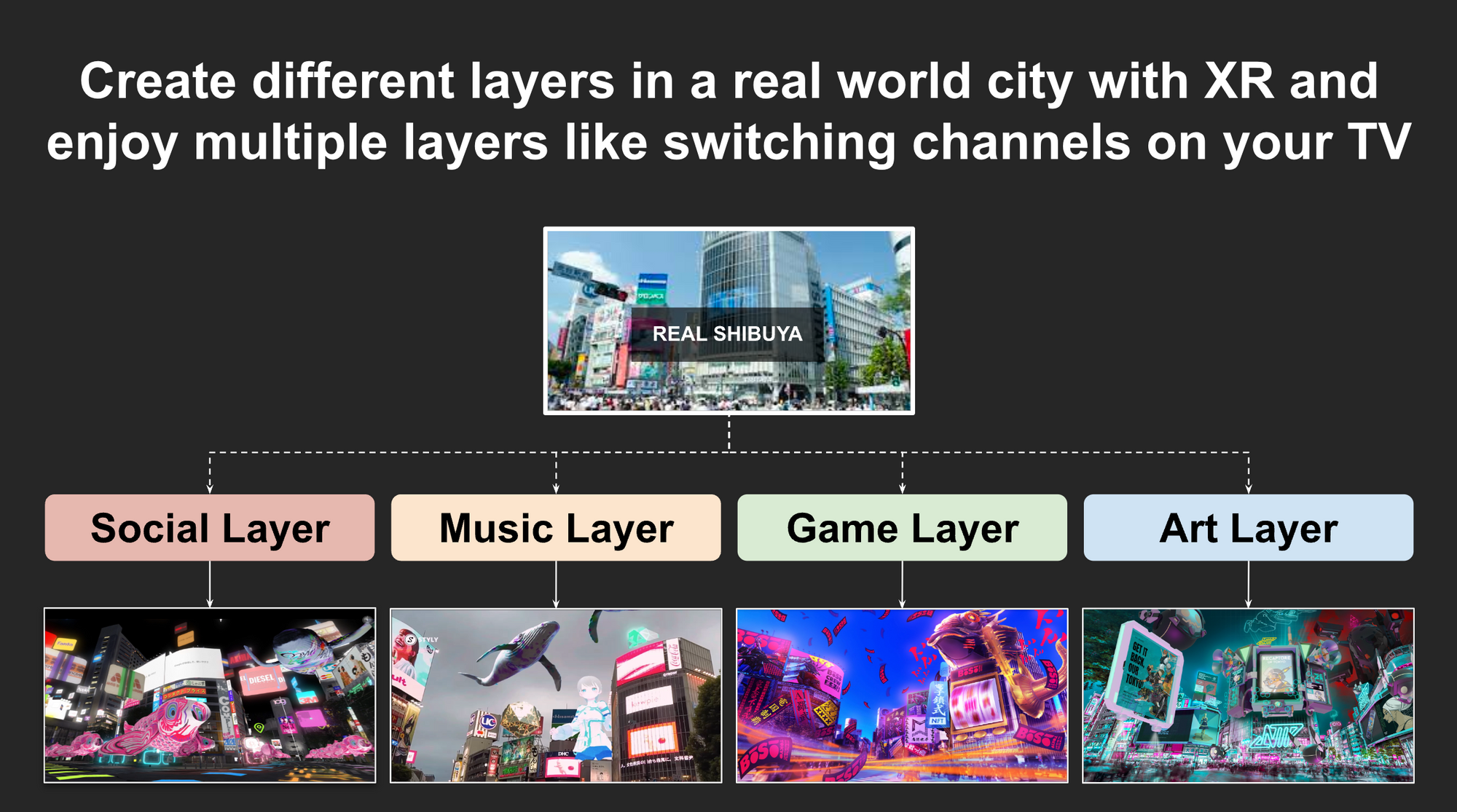 It's a hyper-futuristic outlook that also completely depends on VR/AR technology reaching a point where people are walking around with headsets, glasses or some form of augmented reality device in use at all times. It's notable that this vision of augmented reality layers is also very similar to one shared by the earlier days of Magic Leap, before the company laid off many of its workers.
With recent investments from media companies, telecom carriers and real estate companies, it's clear that Psychic has managed to convince those with funding that the technology is within reach of its vision.
For now, however, basic examples are already operational via mobile AR, created and viewable using the Styly platform. Across our media tour, Psychic showed us a variety of mobile AR experiences that tie into the larger CityXR vision – the hope is that one day those experiences will be more immersive and native, perhaps viewed on a pair of true AR glasses.
Outside the Psychic office in Shinjuku, we were shown an AR experience designed for the quiet backstreet that runs off the entryway. On a 12-inch unwieldy iPad held up in front us, we're guided along a blue-tinged underwater AR world overlaid onto the street with bubbles, fish and shimmering submerged plants. Arrows steer us off away from cars and along the narrow side path for pedestrians, before finishing in a nearby playground to the sight of a whale swimming up in front of us.
It's a basic experience – anyone who has participated in mobile AR before has likely seen something similar. The more impressive angle is the way the experience was mapped and designed specifically for the streets surrounding Psychic's offices.
This hyper-specific geographic content is the basis of CityXR – augmented reality made to fit in and on your real surroundings. For certain implementations, Psychic is using geographic data provided by the Japanese government for development uses cases like this. It's the same technology that facilitated the planes in Air Race X accurately flying around the buildings of Shibuya.
Psychic is not the only company working on a geography-based system for augmented reality content. Pokemon Go creator Niantic launched a visual positioning system for 'global scale' AR experiences in May 2022. Just over a year later in June 2022, Niantic laid off 230 employees, though the company says it remains committed to building "for the emerging class of MR devices and future AR glasses."
Back in the Psychic offices, I'm given the reins to create a Styly AR experience of my own, designed in the platform's web editor with a template that contains accurate buildings and geographic data for Shibuya Crossing. When loaded in Shibuya, my creation will appear accurately placed among the chaos of the world's busiest pedestrian crossing using mobile AR.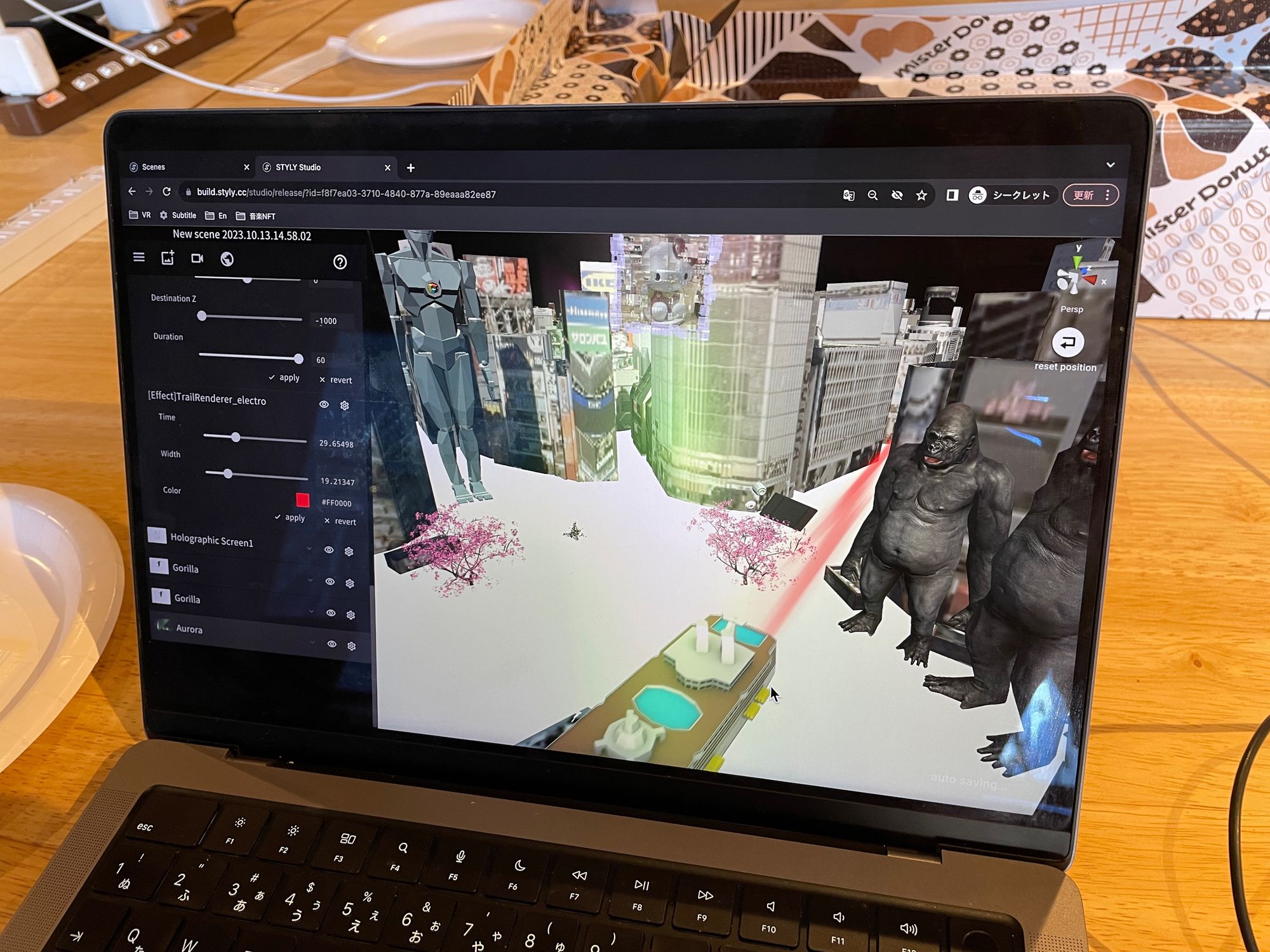 Bewildered by choices, I created a scene containing gigantic gorillas, a slow-moving cruise ship and a flickering holographic billboard displaying an image of Hello Kitty I took the day before. I also applied various effects and animations to the models, then saved the scene to be viewed in Shibuya two days later.
Psychic understands that as good as Styly might be as a creation tool, it is nothing without a library of content made by a wide range of creators. To encourage and educate creators, Styly have created the NEWVIEW project, which aims to bring together people working in fashion, music, film and more together to create new experiences using AR/VR technology, powered by Styly. One of the NEWVIEW project graudates, Keisuke Ito, went on to create Sen, a VR experience featured in the immersive selection of this year's Venice Film Festival. That said, though Sen was a collaborative effort between Ito, CinemaLeap and Psychic VR, it was ultimately created using Unity.
While user-made content is one aspect of Psychic's vision for augmented cities, another key aspect – and the one more likely to generate revenue – is content created alongside larger media companies and corporations. On a rainy Sunday morning, we viewed some proof-of-concept mobile AR experiences demonstrating a side to CityXR that caters more to those companies involved in Psychic's recent investment rounds – a mix of media, telecom, real estate and retail companies.
The first was #kzn – a virtual concert/music video featuring Kizuna AI, a popular "virtual YouTuber." The experience placed Kizuna in the middle of Shibuya Crossing, where she danced to the music as the world around her shifted from augmented to virtual while standing as tall as the buildings around her.
The second was described as an example of a "game layer" that could be applied to Shibuya Crossing, which overlaid buildings with skins and adorned the space around it with other virtual billboards, graphics and icons advertising NFTs. The 'game' element, though largely in Japanese, was essentially a building turned into a slot machine, which could be spun by pressing on the phone screen.
Most forms of gambling are illegal in Japan, so the experience's slot machine didn't deal in real money. Nonetheless, you could still 'hit the jackpot' and though the in-game reward was unclear, a litany of virtual coins spilt down onto the crossing in front of me.
I then viewed my own Styly-created world in situ at Shibuya, featuring over-sized gorillas, spinning palm trees and my holographic Hello Kitty billboard in all their chaotic glory.
As with Air Race X, the one consistent part of all three experiences was a complete lack of occlusion. Given we were at the world's busiest pedestrian crossing, there were plenty of people walking around. All of the Style AR content appeared overlaid on top on them, instead of properly occluding them for full immersion. It was another reminder that even before getting to the promise of a persistent, all-day glasses form factor, there remain other technological hurdles that even mobile AR has yet to solve.
Monetizing The City
Reflecting back on the promise of CityXR, it's hard to feel completely confident nor assured of its direction. On one hand, its admirable to see Psychic striving to establish a platform for easy creation and presentation of city-scale AR experiences. On the other, its dependent on the technology reaching a point of persistence that has been notoriously difficult to pin down. Companies have died trying.
And even though CityXR is a concept that caters to various ends of the spectrum – from the individual independent creator at home to the mega media corporation looking for a new content horizon – it's hard to see a route to monetization that doesn't end up leaning on the latter. At the end of the day, Psychic VR is a startup company pursuing CityXR off the back of heavy external investment and, eventually, the project will need to be monetized.
The path to monetizing user-created content – like my basic Shibuya experience or the underwater AR journey on the streets of Shinjuku – requires a lot of work and a very large pool of creators to be truly viable. Meanwhile, it's relatively easy to see how other aspects that cater more naturally toward monetization – virtual billboard ads, transaction-focused games and the commodification of attention and physical space – could become the focus point of CityXR.
Which brings us back to Hyper-Reality.
Hyper Augmented Reality
Psychic VR's vision for CityXR isn't innately heading in a Hyper-Reality direction – there is clearly genuine enthusiasm and encouragement from Psychic for what CityXR could bring in terms of user-created art and immersive experiences.
From a practical standpoint, though, it is also attempting to lay a technological foundation that would enable something closer to that overwhelming and dystopic imagery. And, of course, the companies investing in Psychic and CityXR are the ones who stand to benefit most from an outcome that looks something like Hyper-Reality.
What that film showed us was that if you aren't careful or creative, the utility of augmented reality could simply become advertising space everywhere. What Styly – and CityXR – lacks is a compelling alternative, especially given the absence of robust occlusion.
Earlier this year, UploadVR writer Henry Stockdale spoke to Keiichi Matsuda and asked him about the lasting impact of Hyper-Reality.
"You know, that film came out in 2016," he said. "I started making it in 2013. So it's really been a long time – ten years since I started working on it myself – and it's kind of incredible how people still ask me about that."
"Going to conferences or industry events, it sometimes gets included in the last slide of some speaker's talk, like 'Don't forget, this is what I'm not supposed to do.' And that's great. That's more than I could ever imagine, really – to be able to influence the industry in that way, to be able to have that kind of cautionary tale about what could happen if we don't take care."
"It's interesting though – often things that are critical or satirical in some way often don't end up having much of an [actual] effect in the end, because I think people are motivated by whatever motivates their corporation."
In light of CityXR, Matsuda's comments feel eerily pertinent – even, perhaps, another cautionary tale at risk of being ignored.
---
Disclosure: Flights, accommodation and food were paid by Psychic VR for the three-day media tour.