OpenXR Toolkit added eye-tracked foveated rendering support for Meta Quest Pro.
As the name suggests, OpenXR Toolkit improves and adds features to PC VR titles that use the OpenXR open standard API. That includes Microsoft Flight Simulator, iRacing, the open beta branch of DCS World, War Thunder (though not with EAC), the Steam version of Bonelab, Hubris, Everslaught, Contractors, The Light Brigade, and A Township Tale.
Additionally, you can use OpenComposite to translate SteamVR games to OpenXR, enabling support for titles like American Truck Simulator, Assetto Corsa Competizione, Dirt Rally 2, Elite Dangerous, F1 2022, Pavlov, and Subnautica.
It should even work with praydog's Unreal Engine VR injector, the upcoming tool that adds basic VR support to certain non-VR Unreal Engine titles, including in Returnal, Atomic Heart, and STAR WARS Jedi: Fallen Order.
Eye-tracked foveated rendering is a technique where only the small region of the display your eyes are currently looking at is rendered in full resolution, thus freeing up performance since the rest is lower resolution. Freed up GPU resources can be used for better performance, to increase rendering resolution, or to increase graphics settings. It leverages the fact that our eyes only see in high resolution in the very center of the fovea.
OpenXR Toolkit has supported eye-tracked foveated rendering for Varjo Aero and Pimax's eye-tracking add-on since last year. Now the latest update supports this feature on Quest Pro too. You'll need to use the official Link, Air Link or Air Bridge, because Virtual Desktop doesn't yet pass through eye tracking.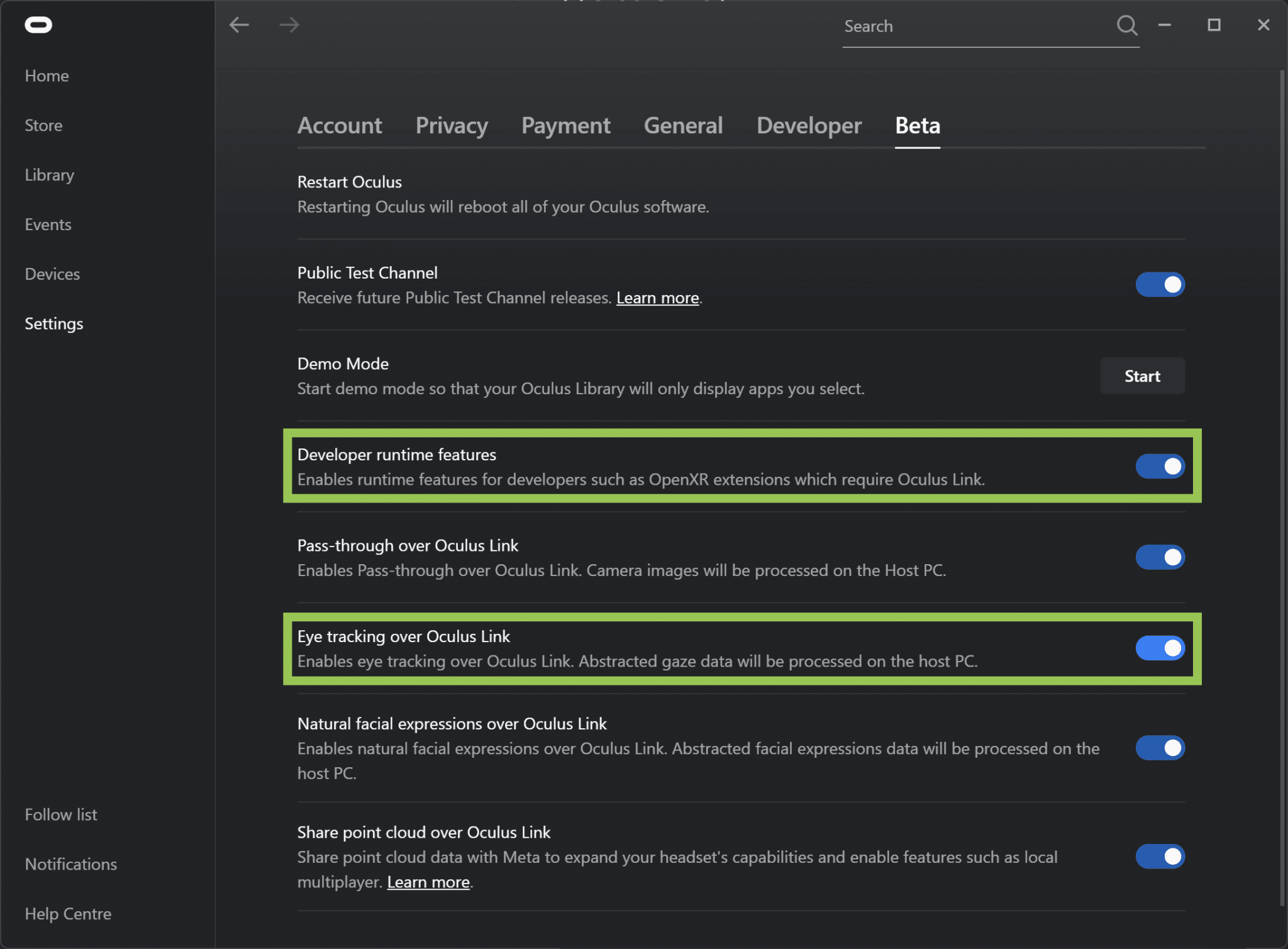 To ensure eye tracking data is passed over Link, enable the setting in the Beta tab of the Oculus PC app.
The toolkit's developer Matthieu Bucchianeri notes there is a bug in the Oculus software preventing eye tracking from passing through for some users. If you're experiencing this, you should see a "xrCreateEyeTrackerFB() failed with XR_ERROR_RUNTIME_FAILURE" error in the OpenXR Toolkit log file. As this is an Oculus bug, if you experience it you should report it to Meta.
You can download OpenXR Toolkit and find installation instructions on its website.