Walkabout Mini Golf development studio Mighty Coconut is getting into VR hardware in the form of an official putter accessory.
The Grip-to-Putter from HelloReal is compatible with Walkabout's grip-to-putt setting and features an adjustable hardware trigger, with Mighty Coconut saying it is planning custom cosmetics for the accessory in game. A Touch controller for Quest 1, Quest 3, or Quest Pro should be able to slot into the handle for a more realistic putting experience, with a colorful Walkabout Mini Golf wrapping for the controller's handle.
Here's an exclusive look at an early render of the accessory:
Walkabout Mini Golf just launched the Journey To The Center Of The Earth paid add-on course from the Jules Verne series following 20,000 Leagues Under The Sea late last year. The development studio launched the PSVR 2 edition of the game as well, and there's an iOS edition scheduled to launch soon with a Meow Wolf collaboration as well as a slate of additional add-ons planned deep into next year.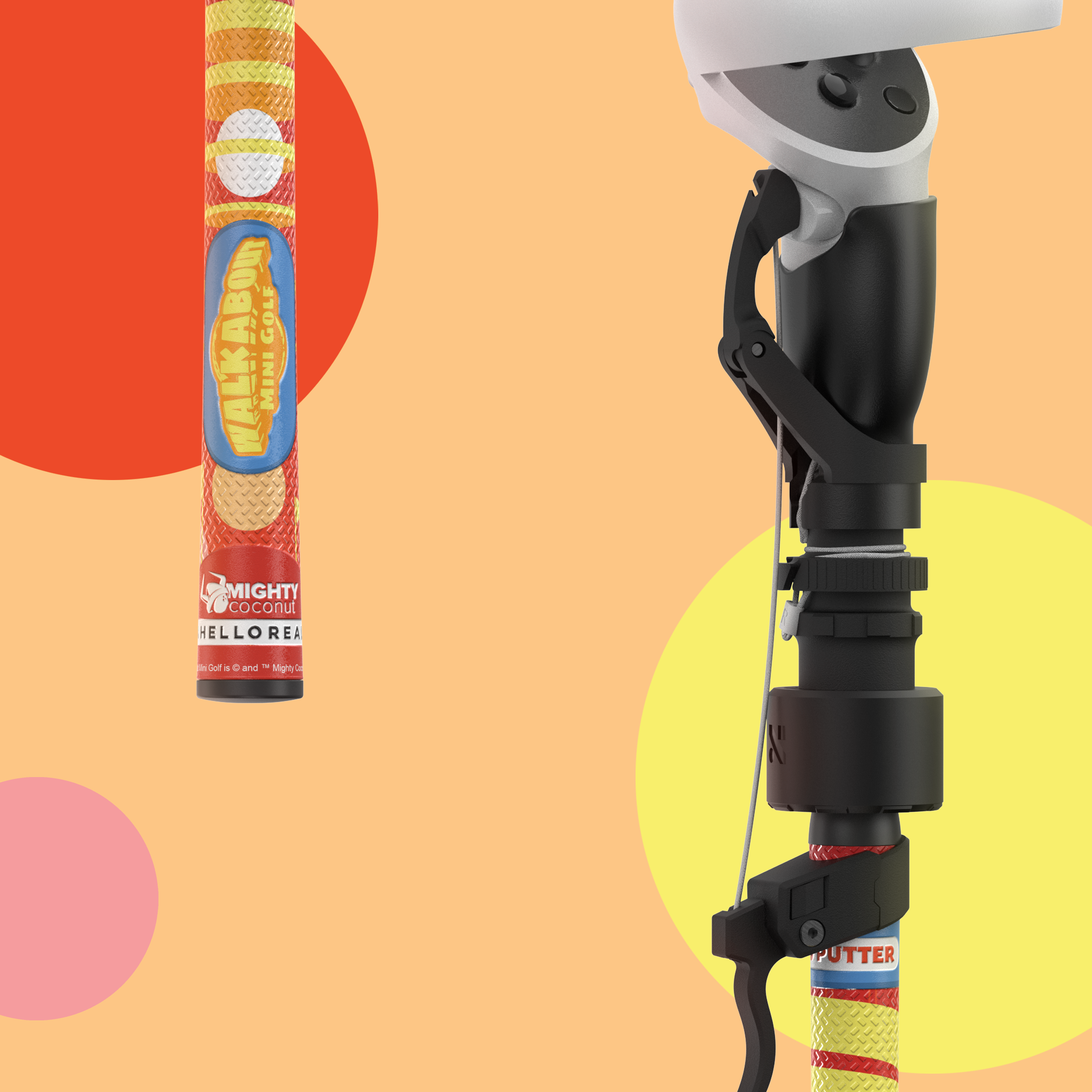 Evil Lairs, Exploding Kittens & Pico
A trailer in the UploadVR Showcase confirmed the studio's expanding list of all of the game's innovative add-on courses will be coming to Pico headsets as well.
The video from Mighty Coconut also teased the upcoming Evil Lairs series, which launches first with the Laser Lair course in July. The course will include a treasure hunt that will see players collecting Exploding Kittens to unlock a prize, in addition to the standard fox hunt.
Walkabout's players are poised to meet up and explore mini golf courses together this holiday season with cross-play and guest passes across Quest 2, Quest 3, iPhone, Pico, and PSVR 2.
Check out our ongoing course tours charting the design of one of VR's best games in the playlist below:
Walkabout Mini Golf is available on the Quest Store, Steam Store, and PlayStation Store with add-on courses prices $2.99 and $3.99.
Correction: Article updated after publication to include additional information about the fox hunt.