For newcomers to VR, there are two headsets that you're most likely to have heard about — Meta Quest 2 and PSVR.
There's no doubt that Quest 2 and PSVR are the most mainstream and recognizable headsets for those with just a passing interest or limited knowledge of VR. However, it can be hard to figure out which would be best for you and what the differences are between the two.
Here's our breakdown of how these headsets differ and why you would pick one over the other.
PSVR vs Quest 2: Which headset is best?
Meta Quest 2: Overview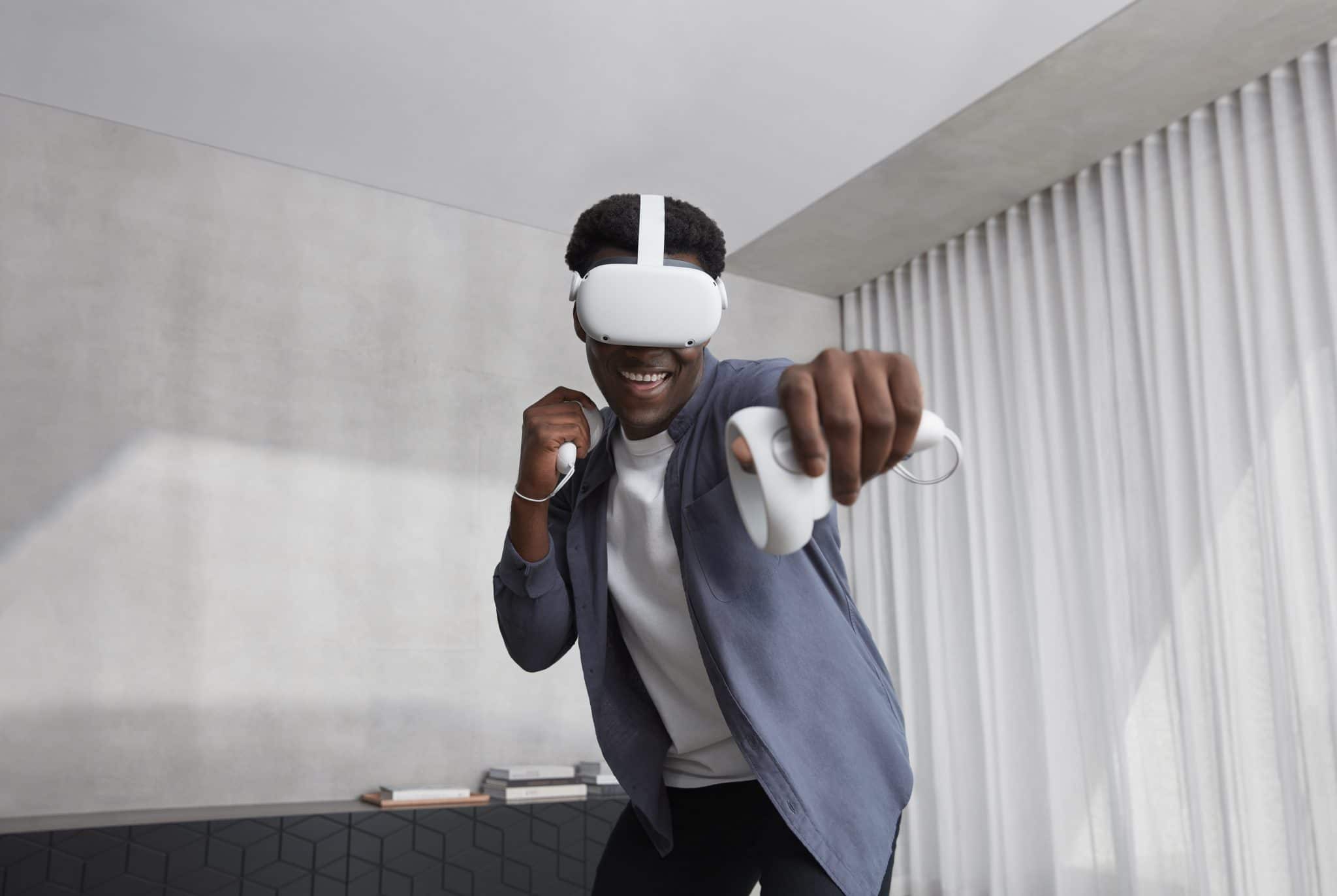 The Meta Quest 2 (formerly known as Oculus Quest 2) is one of the most versatile headsets available on the market. It's Meta's (formerly Facebook) most recent headset, released in late 2020, and features hardware that is modern, up-to-date, and (for the most part) industry-leading.
The real benefit of the Quest 2 is that for $299 you get a full standalone headset that works straight out of the box — no other equipment is required — making it fully wireless and self-contained. It also has a selection of some of the best experiences and games on any platform. However, the big trade-off is that you need to log in to a Facebook account to use the headset — for now, at least.
The headset was introduced in 2020 with a mandatory Facebook login policy. However, at Connect 2021, Meta (formerly Facebook) announced changes to the mandatory Facebook requirement — from sometime in 2022, you will be able to login to your Quest headset with an account other than your personal Facebook account. Users will even be able to unlink their Facebook account from their headset and keep all their purchases.
For now though, any Quest 2 headset still requires connection and login via Facebook — while Meta says it is still working on the login changes, there's still no set date for their arrival.
If you're OK with that though, then the Quest 2 has some huge benefits. You can take it anywhere, use it anywhere, and let anyone else try the headset in a matter of seconds. The Quest 2 provides the least friction of any headset available at the moment.
Provided you're not bothered by the required Facebook login, then the Quest 2 is our recommended headset for any newcomer to VR. One $299 purchase and you have everything you need to get into wireless, state-of-the-art VR. There are even some amazing free Quest games to try immediately.
The Quest 2 is available on Amazon, frequently going in and out of stock. When in stock, the 128GB model is available for $299 and the 256GB model for $399. There's also the refurbished Quest 2 in limited quantities, available for $249 either direct from Meta or, stock levels depending, from Amazon.
It's also worth mentioning that if you have a gaming PC that is powerful enough to support a VR headset, you can also plug the Quest 2 into your PC to experience even more VR games. Many of the best VR games are exclusive to PC VR and can't run on Quest 2's standalone hardware natively, so using Quest as a PC VR headset is a great way to expand your selection. We've got a guide on how to play PC VR games on Quest right here.
PlayStation VR: Overview
The PlayStation VR headset is an accessory for recent PlayStation consoles. Without a console, the headset cannot play anything or do anything. This means that you need to separately purchase (or already own) a PS4 or PS5 to use the headset. PSVR uses a wired connection to a processor box that then plugs into the console, so it needs to be plugged in the entire time you're using it. It also requires the PS Camera to function.
The PSVR system has one of the best VR libraries available, with some fantastic exclusives. However, it also has some technological limitations. The headset originally released in 2016, so it's hardware is now over six years old, and it shows. The tracking isn't up to par with more modern systems, and the headset's screen is woefully old in VR years. The system as a whole won't offer the same graphic fidelity in games as other systems. Plus, almost all of PSVR's non-exclusive games are available on Quest 2, on which they'll likely also perform better. 
That being said, the PSVR headset is quite comfortable, using a then-innovative halo strap design, and has a nice field of view.
Many PlayStation VR bundles only come with the headset and the PSVR camera that connects to your console. Some PSVR games also require (or improve with) PlayStation Move controllers or the PS Aim controller, which are usually sold separately but occasionally are included with the headset in a bundle. This means that you'll need a PlayStation console, the headset and the controllers, all of which you might have to buy separately.
Sony confirmed that a next-generation VR headset for PS5 is on the way. It's not a matter of if, but when. UploadVR even exclusively revealed the specs of the new headset in May 2021, confirming an increase in resolution, inside-out tracking and much more.
So while we don't have a release date for Sony's next headset, we do know it exists and will release sometime in the near future.
In 2022, the only reason to buy a PSVR headset over a Quest 2 would be if you already own a PS4 or PS5 console and you're vehemently opposed to logging in with Facebook. The PSVR exclusive games are excellent though, so if those experiences look appealing then there is some great value here. When you factor in the price of the console, controllers and headset for PSVR, the Quest 2 does comes out as much cheaper overall.
Given its at the end of its life cycle, it's also increasingly hard to find available PSVR bundles for sale. You can check on Amazon, but stock and price is now highly variable.
In Summary
Meta Quest 2 is wireless and requires nothing except what comes in the box. PlayStation VR is tethered by a wired connection at all times, and requires multiple pieces of hardware that are hard to find and now technologically outdated.
Quest 2 is a current, near top-of-the-line piece of hardware, whereas PSVR is already out of date in almost every aspect, and will soon be superseded by PSVR 2.
Quest 2 has a great library of VR games, including many games also available on PSVR, but is missing some of the exclusives available in the PSVR ecosystem. When you factor in the cost of the headset, controllers, and console needed for PSVR, the Quest 2 remains a significantly cheaper and future-proofed option — it's what we'd recommend for almost everyone.
That being said, logging in and connecting your Facebook account is still required for Quest 2, and will be until sometime later this year. If that's a deal-breaker, then PSVR (or waiting for PSVR 2) might be a more appealing option.
Other Options
Oculus Quest 2 and PSVR are not the only options for someone looking to get into VR — to learn more about PC VR and other options available, read our beginner's guide to VR and check out our guide to the best headsets available as of 2022.
---
Looking for more guides like this one? Check out the New to VR? section of our site.
When you purchase items through links on our site, we may earn an affiliate commission from those sales.
This article was first published in January 2021, updated and republished in October 2021 and May 2022.