Rejoice! Slaughtering mindless minions in Gorn no longer has to be a solo experience; you can now slaughter your friends too.
Gorn got a big update today, turning many of the features seen in the game's experimental build into permanent fixtures, and adding in some new ideas on top. It's called the Badgermancer update, largely because the game's utterly terrifying honey badgers are now properly integrated. They give themselves a vicious introduction the below trailer.
Just in case you missed that, here's a GIF to give you nightmares.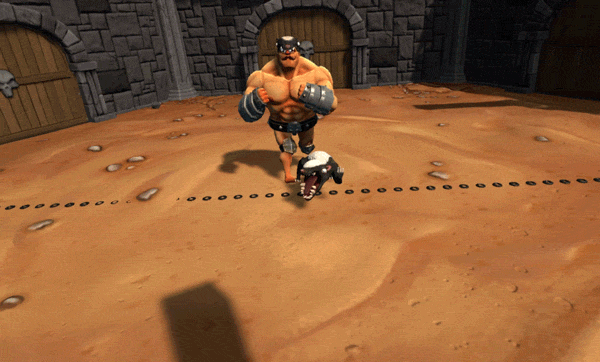 Perhaps the bigger deal, though, is the introduction of local multiplayer, which allows friends to pick up a gamepad and assume control of one of the game's minions. They can then either team up with the VR player or try and take them down for themselves.
If you're running out of things to do then you'll also be pleased to see the implementation of Trials, new score attack objectives that are unique to each of the game's weapons. As with many elements of the game, Free Lives is taking feedback on these trials to perfect in later builds.
Elsewhere the update comes with a tune up on the presentation and physics side and two new champions to fight. The custom mode that we previously looked at is now officially a part of the game too.
Gorn remains in Early Access for now. Free Lives says its next update will focus on adding more weapons to the game. We eagerly await more bloodshed.