A new Demeo update, dubbed the Mixed Reality 2.0 update, brings support for hand tracking and colocation.
The update comes ahead of the launch of Quest 3 later this year, which is pitched as featuring improved mixed reality functionality. Resolution also confirmed today that Demeo is in development for Apple Vision Pro.
In our video above, you can check out some footage of Demeo running in mixed reality with hand tracking. And yes, hand tracking support means you can now pat your dog in mixed reality while playing Demeo.
Resolution also confirmed that Demeo Battles, its upcoming standalone PvP spin-off, will include mixed reality support at launch later this year.
Demeo first added support for passthrough mixed reality on Quest almost a year ago, allowing players to snap the game board to a physical space and play Demeo in mixed reality on Quest 2 and Quest Pro.
However, players still had to use controllers – while Resolution Games previously announced hand tracking support for Demeo, it had yet to ship. Today, that changes – not only does Demeo now support hand tracking, but it also supports colocation as well.
Colocation is the ability to have multiple headsets share the same physical play space with the same virtual coordinate space. Essentially, it enables seamless local multiplayer. Now when users play Demeo in the same physical room with each other, everything will be synced up properly. In-game avatars will match the real world position of each headset/player, while game elements – such as the Demeo game board and other new optional decorations – are synced to the same identical position in virtual and physical space across all headsets.
This is an essential new feature for Demeo, which makes it akin to playing a board game together around a table or in a living room.
We tried out hand tracking in Demeo on Quest Pro earlier this week and can confirm the integration is absolutely seamless. The game's interactions all work almost exactly as they would with controllers. It's completely intuitive and will require little-to-no explanation for those who are already familiar with Demeo (and even for those who aren't).
When starting Demeo after the new update, players will receive a system-level prompt asking if they want to share point cloud data with Meta, pictured below.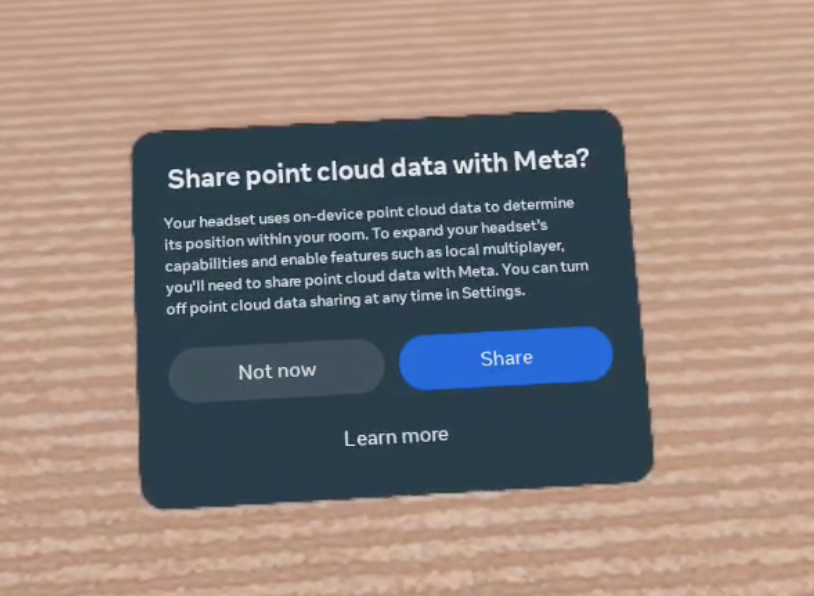 While these new features will be available on Quest 2 and Quest Pro, Resolution's increased commitment to improving Demeo's mixed reality experience bodes well for the game's future on upcoming headsets. Both Quest 3 from Meta and Vision Pro from Apple will strongly focus on mixed reality experiences.
Meta's big marketing focus for Quest 3 is on the headset's mixed reality features, thanks to its improved color passthrough and depth sensor. With the addition of hand tracking and colocation, Quest 3 players should be able to seamlessly boot up Demeo in the same physical space and experience it together in mixed reality.
Today, Resolution Games also confirmed Demeo is in active development for Apple Vision Pro. The addition of hand tracking support on Quest headsets and the wider mixed reality support lays the groundwork for the experience to be ported over to Apple's headset. Vision Pro supports a pinch-and-gaze input method that combines hand and eye tracking while also focusing on mixed reality functionality. It should make Demeo a perfect fit for the headset.
Resolution Games also announced it is dropping support for the original Quest headset today, receiving a final end-of-life update instead of the new mixed reality features. Demeo will no longer support cross-play with other platforms, but will continue to support playing multiplayer with other Quest 1 headsets running Demeo.
The hand tracking colocation update is available for Demeo on Quest now.