C-Smash VRS reimagines an obscure Sega classic for PSVR 2, and we went hands-on to preview its upcoming demo.
We're facing tough times in the VR community with multiplayer. Games like Gorilla Tag continue thriving, but Echo VR's upcoming closure still stings for many, while smaller games like Nerf Ultimate Championship barely got off the ground before announcing closure. As a mix of Squash and Breakout, C-Smash VRS isn't emulating those games, but on PSVR 2, I believe it could fill a crucial multiplayer gap.
Developed alongside The Last Worker by Jörg Tittel and Wolf & Wood, C-Smash VRS is a passion project 22 years in the making, and 2001's Cosmic Smash is arguably one of Sega's most obscure games. Developed by Sega Rosso, the Dreamcast edition became a Japan-only title following the console's discontinuation, relegating the Western release to arcades only. I recently attended a C-Smash VRS preview event and tried the arcade edition.
C-Smash VRS requires a sizable play area as you'll move left and right across a wide distance, and this preview was based on the upcoming demo with solo training and 1v1 online multiplayer. Solo or not, your goal involves hitting colored pads across this room. Call the ball forward through a pulling motion with your Sense controller, use the other controller as a racket, and start hitting away. Some require multiple hits, others move position, and a few are blocked by indestructible grey tiles.
Similar to Squash, the ball bounces back toward you and play doesn't stop until each tile has been hit; there's no penalty for missing shots. It's a simple arrangement that feels easy to jump into, backed up by a retro-futuristic soundtrack and I quickly got into the rhythm. Annoyingly, a couple of shots didn't track correctly and hit behind me when serving, but I'm hopeful this will be fixed before launch. I was also cautious of my surroundings in may playthrough because there was another player not far behind me on a separate demo unit.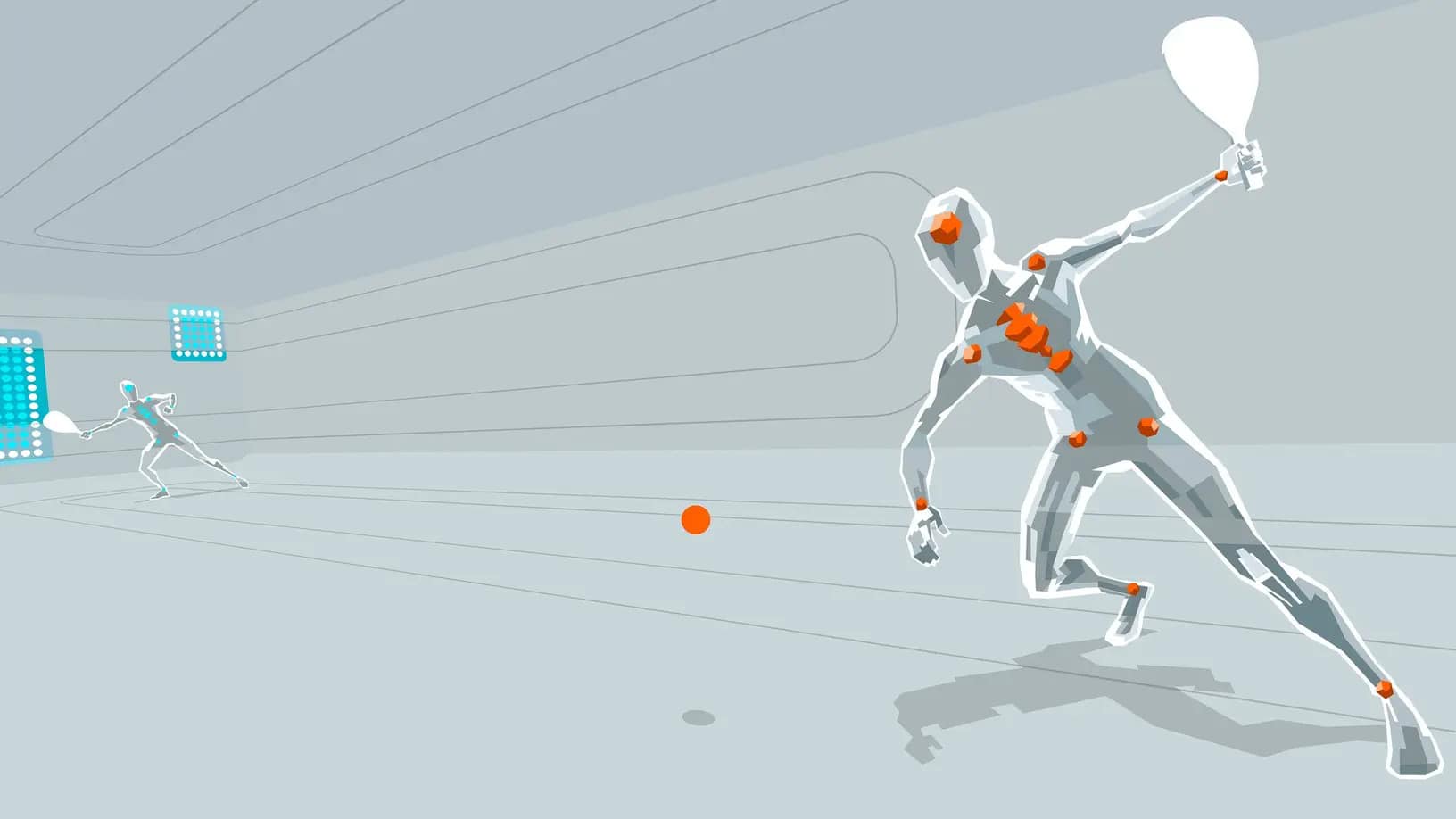 After a few practice rounds, I moved onto 1v1 online multiplayer. Gameplay doesn't drastically differ but this time, you're clearing a set group of tiles from behind your opponent, which comes in several groups, and the first to clear them all wins. I didn't win but I enjoyed the competitive gameplay this adds, and I could feel myself working up a sweat. There's other modes coming, like two-player co-op against an AI, but these weren't available to try.
Understanding the fundamentals didn't take long, and the vibrant blue and orange visuals against this grey space station contrasts well. It's immediately clear how much care C-Smash puts into recreating the original game and Tittel highlighted his staff's efforts in development. Calling this his "dream team," that includes game director Ryan Bousfield from Wolf & Wood (The Last Worker), designers Cory Schmitz (Tetris Effect) and Arkotype (Polytron), alongside musicians Ken Ishii (Rez Infinite) and Danalogue (The Comet is Coming), many of whom also attended this preview.
Tittel told me in an interview after the demo that development began last year after he approached Sega in 2019. He said he's wanted to do this since 2001 and I asked how he went from an anti-capitalist adventure like The Last Worker to racket sports.
"This is anti-capitalist too, in the sense that we're adapting a game that didn't make bucks. It's almost an anti-product but to me, the Dreamcast was also that," he said.
He said he holds a lot of love for Sega's last major console and worked for the Official Dreamcast Magazine at one point:
It was the purest console because it dared to be original and fostered independent game development. That invented indie game development as far as I'm concerned, because United Game Artists and Sega Rosso, these teams were autonomous creatively, all founded by people that had earned their place within Sega. The team size was akin to indies today. The ambition is perfect for an indie since it's not confined by commercial norms.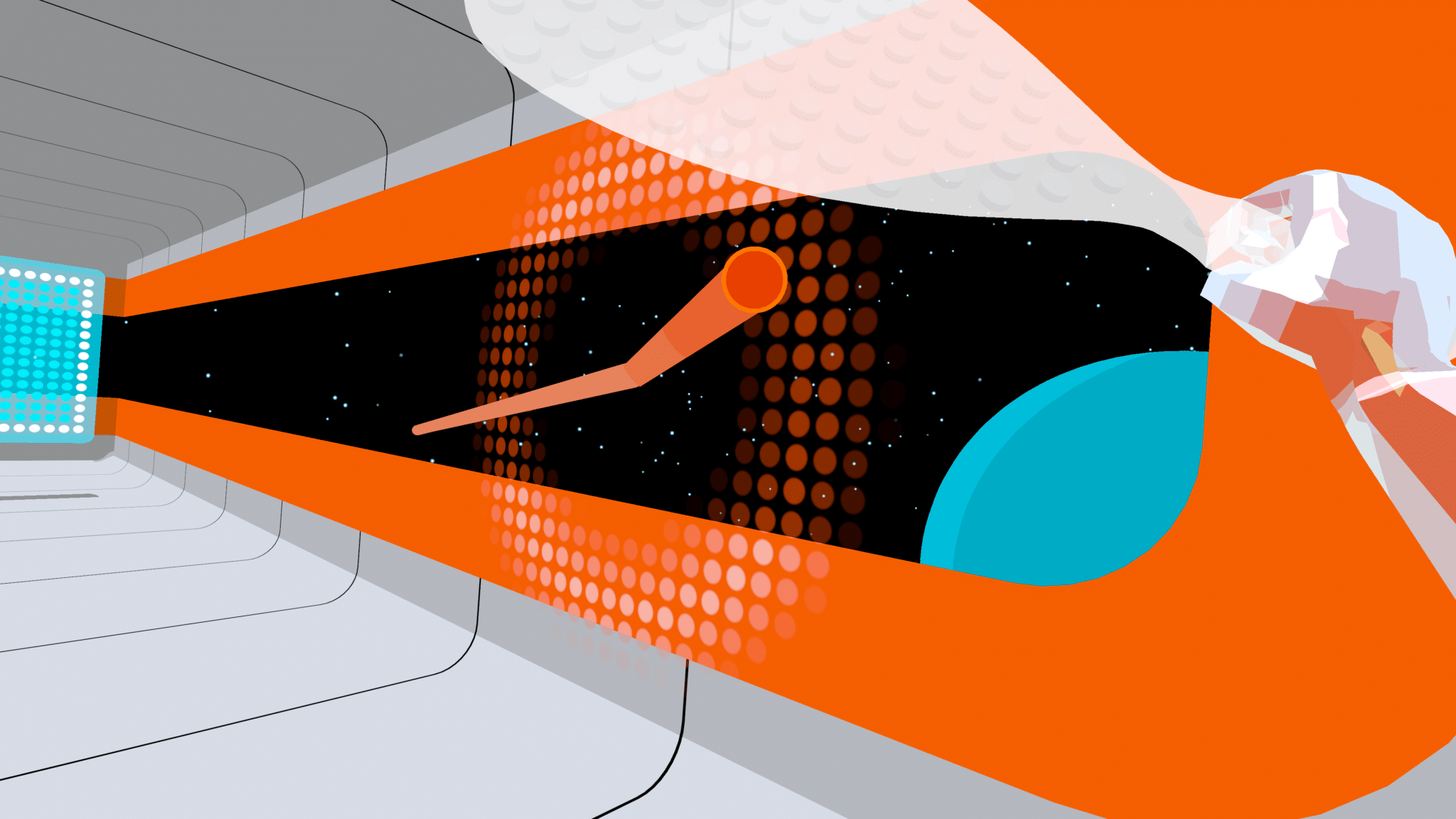 Asked whether it was challenging adapting Cosmic Smash for VR, he tells me that C-Smash VRS "felt natural from the beginning." Working with Arkotype and Schmitz, he then approached Bousfield during development on The Last Worker. "I was quite shy at first about convincing him to do another game at the same time, which is kind of mad. The fact that we did it is completely insane."
It's easy to draw parallels with Rez, which was originally  developed by United Game Artists for arcades and Dreamcast before Enhance Games brought it to VR, and Tittel confirms it was an influence for C-Smash. He said it was the first PSVR 2 game he bought and that the influence historically goes both ways:
Cosmic Smash was also an influence on Rez because of Kenji Sasaki, he was the executive producer at Sega Rosso and director of Sega Rally. Sega Rally was produced by [Tetsuya Mizuguchi], who then founded United Game Artists and Sasaki-san founded Sega Rosso. Cosmic Smash and Rez started development at the same time. Rez came out in the arcades a year before Dreamcast, so it had an influence visually, aesthetically and philosophically.
He expresses strong admiration for "Mizuguchi-san", who's since developed Tetris Effect and Humanity, and praises him for sticking to his vision across his entire career. "Synesthesia…becoming one with feeling, reducing things to the gameplay essence, he's a fucking incredible game-maker."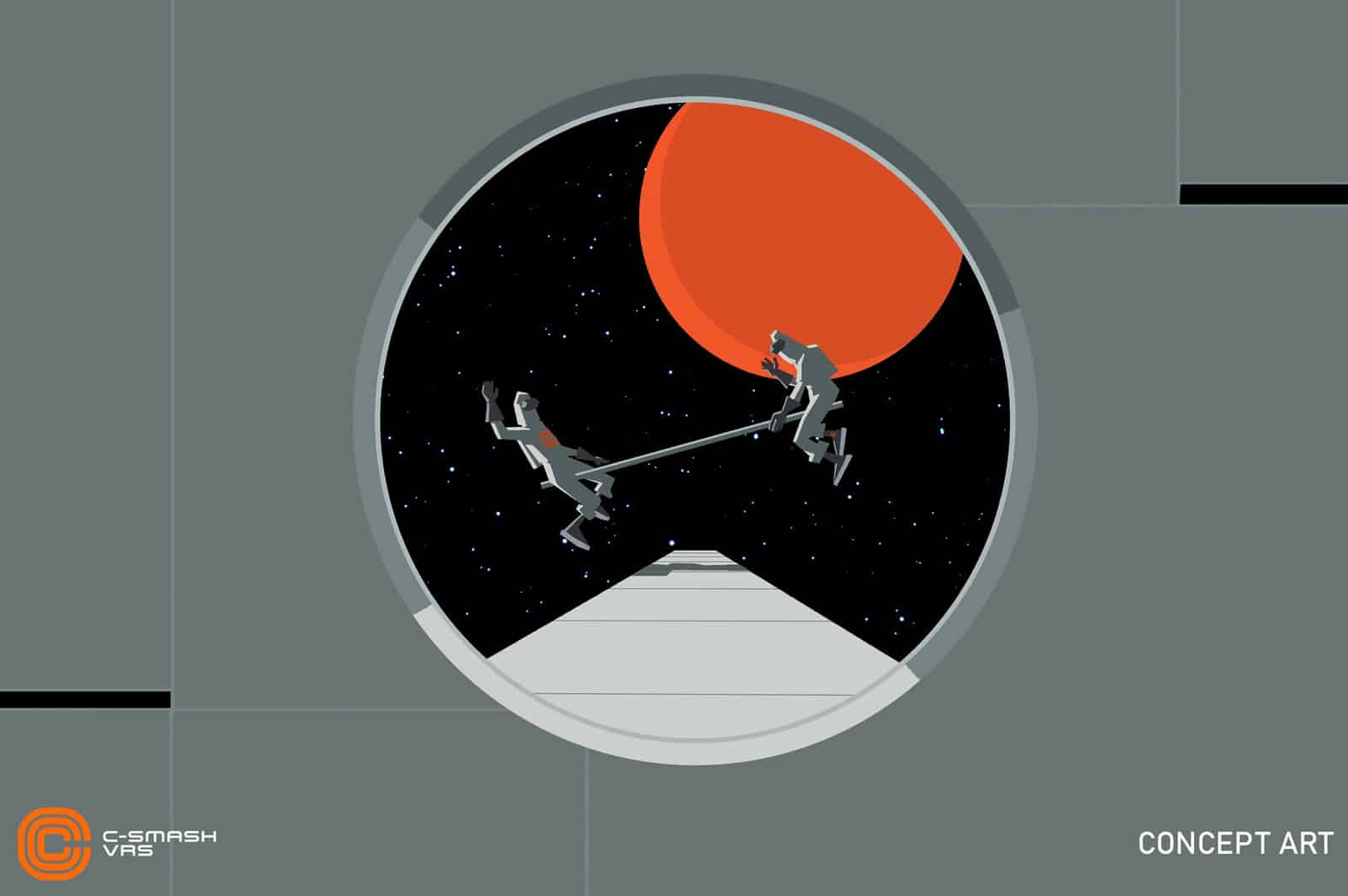 I suggest this naturally leans into VR's immersive nature well and Tittel agrees:
Video games started with arcades as a social thing, they weren't a nerd thing in basements…Games are theatrical, physical, social; that's what I love about them. You can also have a solo game experience that other people watch. That's social and we do that with books; we read a book and talk about it. When we watch theater, we enjoy it alone, you don't fucking babble during it. I want to be part of this new game development movement that makes games you want to talk about.
C-Smash VRS arrives later this year on PSVR 2, with a demo launching on March 23. As for post-launch plans, Tittel doesn't confirm any specifics, though I'm told C-Smash VRS doesn't end with its full release.
"There's a whole sort of roadmap ahead and there's a journey in the game for a reason. The universe is a large place."