In the latest evidence that people don't mind how silly they look as long as they can make VR more immersive, ZephVR has passed its Kickstarter crowd-funding campaign.
You might have heard of ZephVR before. Created by Weasel Labs, the kit adds wind to your VR experiences with two fans that attach to the bottom of your headset and blow air onto your face at certain points in an experience, be it when flying, moving quickly or, y'know, standing in front of a giant fan. We could see it working quite well with recent releases like Megaton Rainfall and upcoming games like Sprint Vector. The gif below shows it working with Psytec Games' Windlands.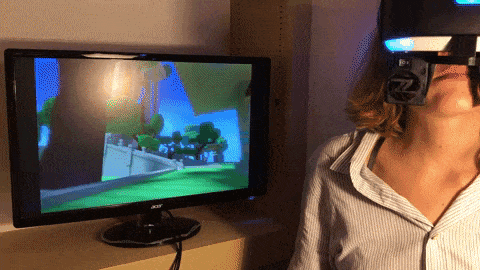 Launching on Kickstarter a few days back, ZephVR has already passed its $30,000 goal and is around the $40,000 mark at the time of writing. No stretch goals have been announced at the time of writing, but the campaign has just under a month until its December 4th closing date, so we could well see some soon.
ZephVR's two fans can be connected to the HTC Vive, Oculus Rift, while a separate model is also available for PlayStation VR (PSVR). Both models weigh 0.31lbs and are apparently quiet when in operation. Crucially, its creators say it uses machine learning to activate when it hears the sound of wind rushing in a game, meaning developers don't need to implement an SDK to get it to work; it should be compatible with all VR experiences out of the box.
We of course have a lot of questions about the kit, but we haven't gone hands-on with it ourselves just yet.
If you're interested in getting ZephVR for yourself, you can currently pledge $75 to get an Early Bird unit for Rift and Vive arriving in May 2018. Early Bird PSVR units start at $79.