For nearly 50 years now, Greenpeace has been campaigning for the good of the planet. You've no doubt heard about this world renowned charity's work in raising awareness of climate change and deforestation as well as other issues. When you're living in parts of the world far off from the affected areas, though, it can be hard generate an immediate concern in the general public. But now Greenpeace has a simple solution to this problem; it can take you there.
Greenpeace launched its own VR app last month. Now, I know what you're thinking, it's probably just another collection of 360 videos, right? Well, yes, that's what's on offer here. But this isn't a random collection of videos of varying topics that the charity hopes will catch your eye. Instead, Greenpeace's app is a well-structured piece that tells thoughtful, planned stories that encourage you to take action.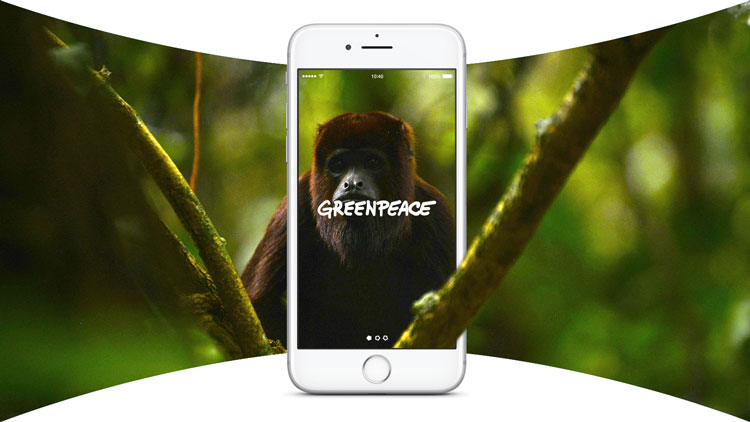 When you first boot up, the app, for example, you can follow the Journey to the Amazon thread, which consists of a series of facts about the Amazon rainforest, and why action is needed to save it. Dotted along a timeline of these info drops are several 360 (and some traditional) videos that don't just tell you about the devastation this beautiful part of the world is suffering from, they put you in it.
One video, Munduruku: The Fight To Defend The Heart Of The Amazon, follows the titular tribe that live along the Tapajos river. It tells the story of their struggles to protect their territory. It's a fascinating watch, unlike anything else we've seen in 360 video, and surrounding yourself in the leafy jungle with its brilliant array of strange noises is wonderfully atmospheric. But this isn't a simple case of preaching; the app actually lets you help.
Once you've finished watching a video you'll find links to show you what you can do to help. You can sign petitions to help save the Amazon, for example. It's a smart combination of the emotional content that VR can produce mixed with the functions of an app that will then actually push you to do something other than just feel sympathy. This could be a powerful tool for the future of charities.
There are just two stories right now, the other using content Greenpeace shot to raise awareness of climate change's effects on the Arctic last year, but you can see this growing out to become a much more accomplished piece.
More than any other medium before it, VR makes us feel. For the past few years, though, we've struggled with how to channel those feelings into something useful. Greenpeace's VR app might not be the final solution, but it's the next step in utilizing the empathy VR can generate.