HTC announced a brand new component for its Vive family of virtual reality products.
The new addition revealed at CES 2017 is known as the "Vive Tracker" and its purpose is to give developers the opportunity to more easily turn ordinary objects into objects that can be tracked in VR using the Vive's "lighthouse" tracking system. The Vive Tracker is said to begin shipping commercially in Q2 this year. A price will be announced, "as we move closer to the shipping date," according to HTC's general manager for Vive, Daniel O'Brien.
O'Brien announced the Vive Tracker during a press conference and during his remarks he explained "[the Vive tracker was] built from the ground up just like the [Vive] VR headset we use today, built to work with SteamVR tracking."
As far as official specs go, the Vive Tracker measures 10 cm in length across its face, which is just shy of a standard Vive controller's head. It is said to boast six hours of battery life in constant use and has a screw hole for easy installation onto the object of your choice.
The Vive Tracker gives developers a two pronged approach for playing inside the lines of the Vive's tracking system. According to O'Brien, "Now we have two solutions. Developers can learn how to build for our system through our ongoing Synapse training online, and now they also have the ability to work with us by building with a Vive Tracker."
After the press conference O'Brien discussed the design of the Vive Tracker with UploadVR, stating that its unique shape was designed "so that it could be spotted from the most angles possible," and that internally the Vive Tracker is "essentially what's packed into the standard controller."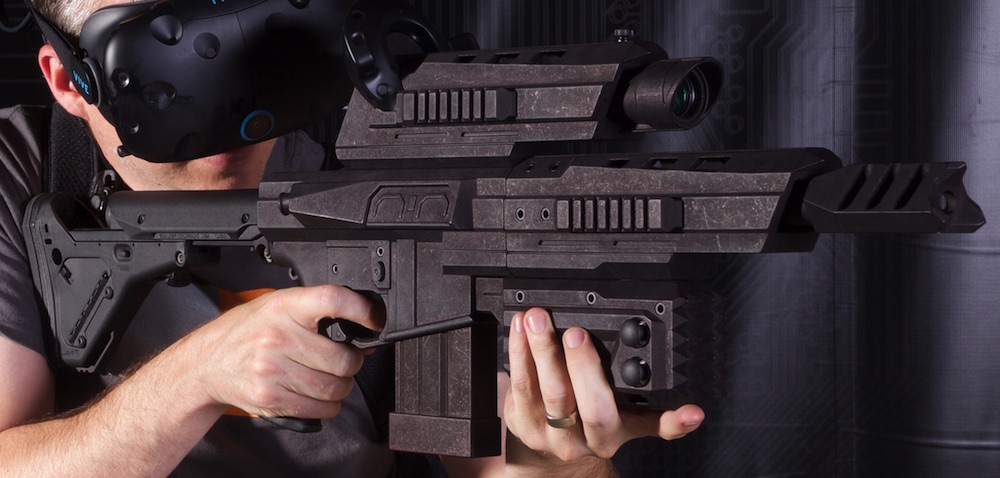 The HTC press room also had a myriad of booths set up where developers could showcase their Vive creations, many of which were utilizing their shiny new Vive Trackers. Just at this session alone we saw a baseball bat, machine gun, and wireless controller gloves that were all working on Vive thanks to this new tracker. We will have more detailed updates on those experiences as the week goes on but for now the news is that Vive is ready to expand: one hockey puck at a time.