Virtual Desktop now has a built-in optional alternative to SteamVR for OpenXR apps with superior performance, and support for 500 Mbit H.264+ bitrate support on Quest 3.
Since 2021 Quest headsets have had a built-in feature called Air Link which lets them act as wireless PC VR headsets, but Guy Godin's Virtual Desktop has offered this since the launch of the original Oculus Quest in 2019, and Godin frequently updates his app with new improvements that make it the preferred choice for many PC VR users.
VDXR Runtime
The latest update adds VDXR, a fully functional OpenXR runtime that can be used instead of SteamVR. It works any VR application on Steam that uses the industry-standard OpenXR API. Since 2020 Valve has recommended developers use OpenXR rather than its own "OpenVR" API for SteamVR.
Virtual Desktop's developer Guy Godin claims VDXR gives roughly 10% improved performance over using SteamVR, and beta testers have reported this to be true. The tradeoff is that you'll lose access to SteamVR's features, like the ability to access your desktop in-game or interact with Steam notifications and friends.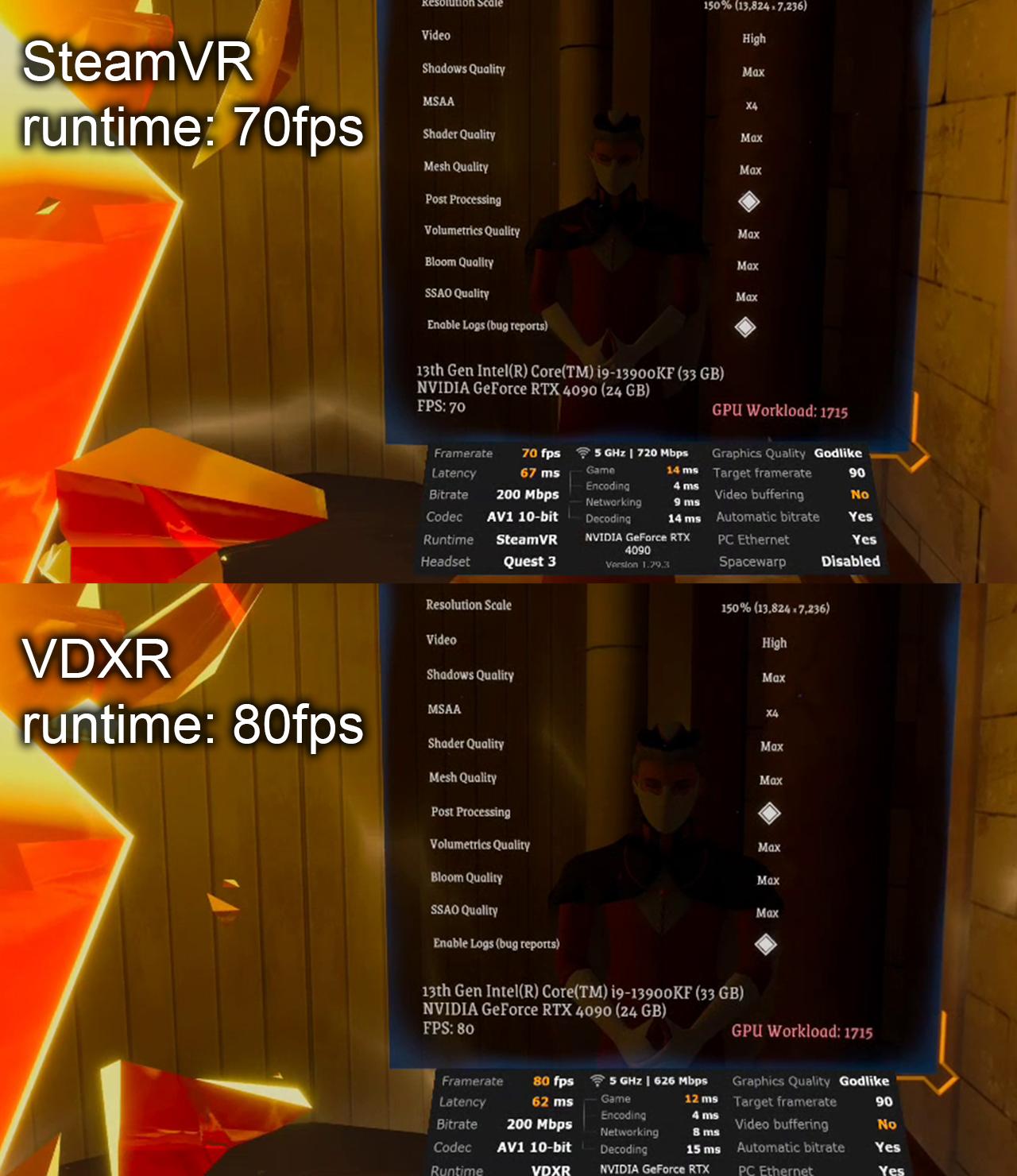 Interestingly, VDXR wasn't actually developed by Godin. It was developed by Microsoft software engineer Matthieu Bucchianeri (who has worked for SpaceX and PlayStation in the past) in his spare time. Godin integrated VDXR into the Virtual Desktop beta last month, and has now graduated it to the stable build.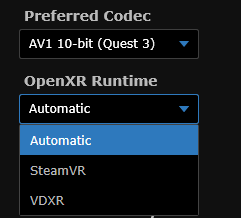 Virtual Desktop lets you choose which runtime you want to use, but also includes an Automatic option. Automatic will use SteamVR for all but a select few games confirmed to work better with VDXR, currently Microsoft Flight Simulator, Digital Combat Simulator, and Vail. That whitelist should increase over time.
500 Mbps On Quest 3
The update also brings improvements to the PC VR streaming tech itself.
Quest 3 can now support up to 500 Mbps bitrate when using the H.264+ codec, up from 400 Mbps on other headsets.
The previous update last month added initial support for enhanced functionality on Quest 3, including for the first time supporting the AV1 video codec (up to 200 Mbps) and increasing the HEVC codec maximum bitrate of 200 Mbps.
| | | | |
| --- | --- | --- | --- |
| | Quest 2 | Quest Pro | Quest 3 |
| H.264+ | 400 Mbps | 400 Mbps | 500 Mbps |
| HEVC | 150 Mbps | 150 Mbps | 200 Mbps |
| AV1 | ❌ | ❌ | 200 Mbps |
Whether you should choose 500 Mbps H.264+ or 200 Mbps AV1 will depend on the kind of game you're playing. Godin suggests using H.264+ for fast-paced titles with lots of motion like racing games, and AV1 for mostly everything else.
The new update also increases the maximum non-VR desktop streaming resolution on Quest 3 to 3840x2160, and the "optimal" to 2560x1440.
Finally, the update improves AV1 codec performance for AMD GPUs, and increases Synchronous Spacewarp quality for Quest 2, Pro, and 3.