A new social VR story called Tinker premiered at the Sundance Film Festival running natively on Oculus Quest.
The experimental piece features a live performer embodying a grandfather with a participant invited to play along as their grandchild. Others can watch the story play out as silent observers free to move around the room. Its execution is similar to The Tempest from The Under Presents, which invites players to be part of the show run by a single performer.
The story plays with scale as only VR allows, shrinking the player down to the size of a baby as grandpa brings them toys and endeavors to make memories with them. The child grows over a series of vignettes — first flying a plane grandpa handed over in the crib, and then as a larger child drawing a picture on a whiteboard, and operating a remote-controlled car. Eventually, as an adult, you help grandpa find his medicine in the room.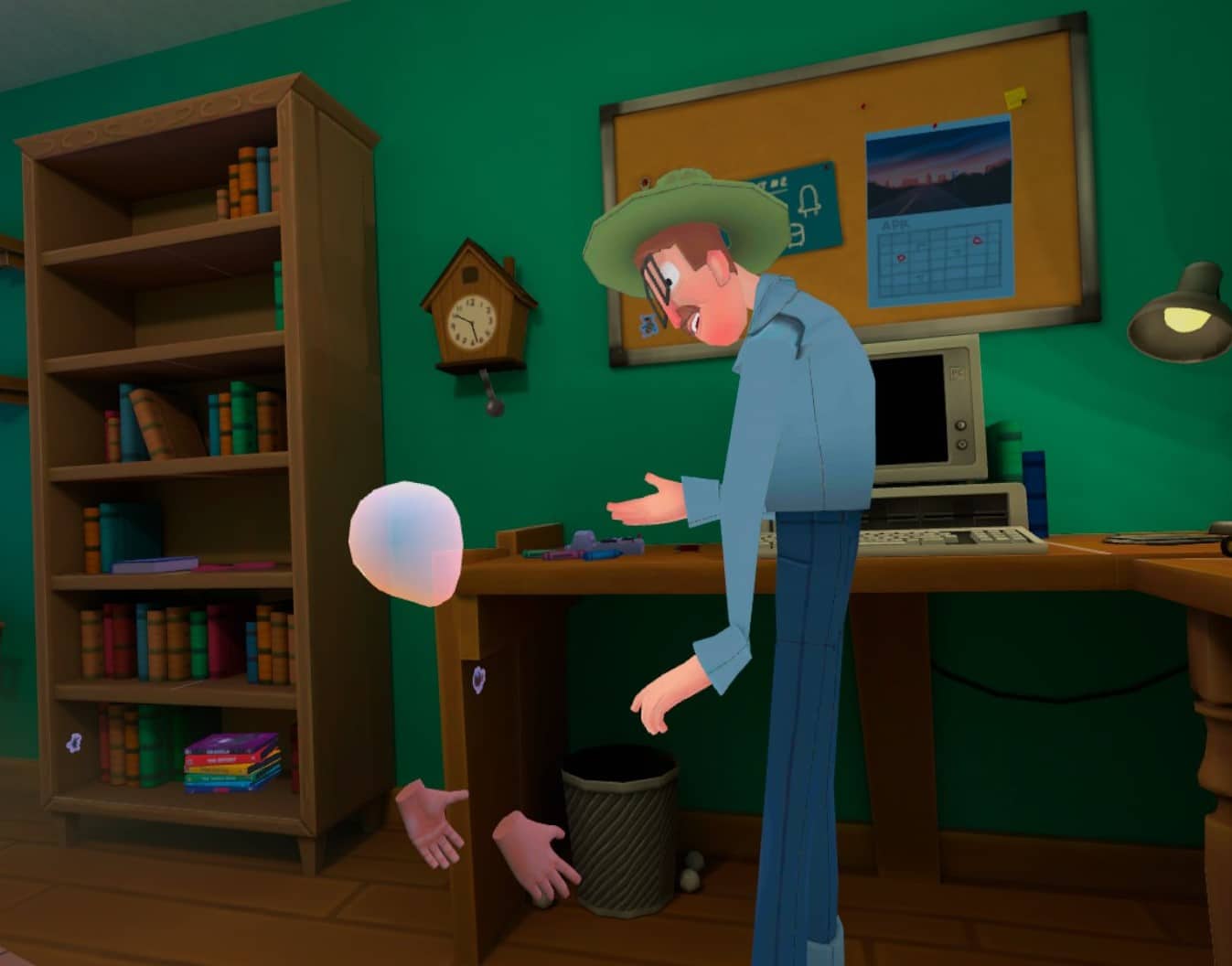 Grandpa becomes forgetful, you see, unable to recall some of the road trips the two of you went on together, and by the end of the story he's unable even to interact with the simple answering machine he has in his workshop. Yet still, he cares about the memories you made together and wants you to know that.
This is a surprisingly upbeat and even therapeutic take on a very painful subject for many, with the performer conveying through their dialogue a sense of importance to each memory-making moment. You draw on the whiteboard, for example, and then grandpa makes the effort to document it by taking a Polaroid and explains that he is writing down the date on the back of the picture so the memory can be more easily recalled. Dear Angelica took a more abstract approach to tell a pained story of a child and parent, whereas in Tinker you're in an actual room with objects to pick up in the area. So the activities you and grandpa do together, combined with the personal touch of a live actor guiding a child, makes it easy to roleplay as a little one while reflecting on your own upbringing and the bittersweet sting of revisiting those moments.
The pace of the piece was thrown off by some bugs you would expect from an in-development piece of software. Dropping objects on the floor, for example, that should be easily handed from one person to another is a pretty quick way to distract from a narrative. Tinker is a very interesting piece, though, with an interactive live structure and scheduled performances distributed as a preview directly to headsets at home on Facebook's evolving VR platform. That's both an extraordinary challenge and something we want to see become more commonplace. You shouldn't have to drive to Salt Lake City Utah to see something like this in a VR headset, and it is quite the relief to be able to do so from the comfort (and safety) of your own home. So we hope to see Tinker polished and released more broadly in some form, and that others see this type of work, and its home preview, as the model for future VR project premieres.
Tinker premiered as part of the Sundance Film Festival's New Frontier program. While most of New Frontier is presented in a WebXR-enabled social platform, Tinker is distributed separately through Facebook's Oculus and carries a hefty download size. Tickets are also hard to come by with limited spots available for the performances.