An Oculus patent application revealed a detailed look at what is likely Oculus Quest's cooling system.
Standalone VR headsets generate significantly more heat than PC-based headsets because the CPU and GPU are within the headset, not inside in a PC. At Oculus Connect 5, Oculus confirmed that Quest uses "active cooling with a fan inside".
At the launch of Oculus Go, the company's lower end 3DoF standalone offering, founder Palmer Luckey posted a teardown image of the headset. It revealed that it had a heatpipe cooling system which uses the frontplate of the headset as a heatsink, taking heat away from the user's face and spreading it over a large area.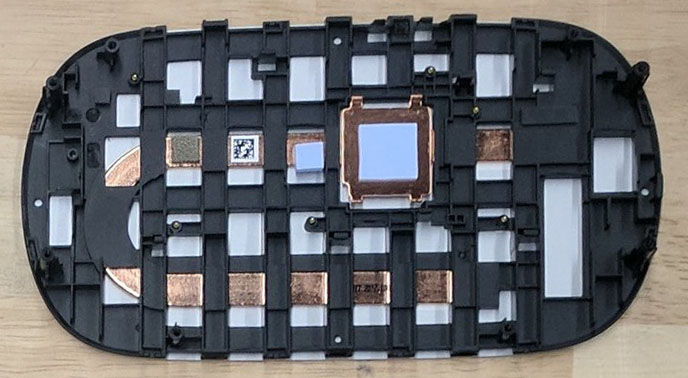 Cooling is an often ignored aspect of a computing device that directly relates to performance more than one might assume. Go's cooling system allows it to dissipate heat far better than a smartphone. This means that while it uses the same Snapdragon 821 SoC as a Galaxy S7, it actually has "significantly more performance", because the S7 would reach its maximum temperature and have to reduce CPU & CPU speed (called "thermal throttling"), whereas the Go can sustain its speeds for as long as needed. Given that even passive cooling allowed the Go to be "significantly" faster, active cooling could elevate the Snapdragon 835 in the Quest and Focus further.
Oculus sees the primary purpose of Quest as gaming and expects it to compete with the Nintendo Switch, and active cooling may help make this possible.