Meta Quest 3 ships October 10, starting at $500 for a 128GB base model and $650 for a higher storage 512GB model.
First revealed by Meta CEO Mark Zuckerberg in June, Meta revealed more Quest 3 details during today's opening keynote at its annual Connect conference and announced that pre-orders for the headset are now live.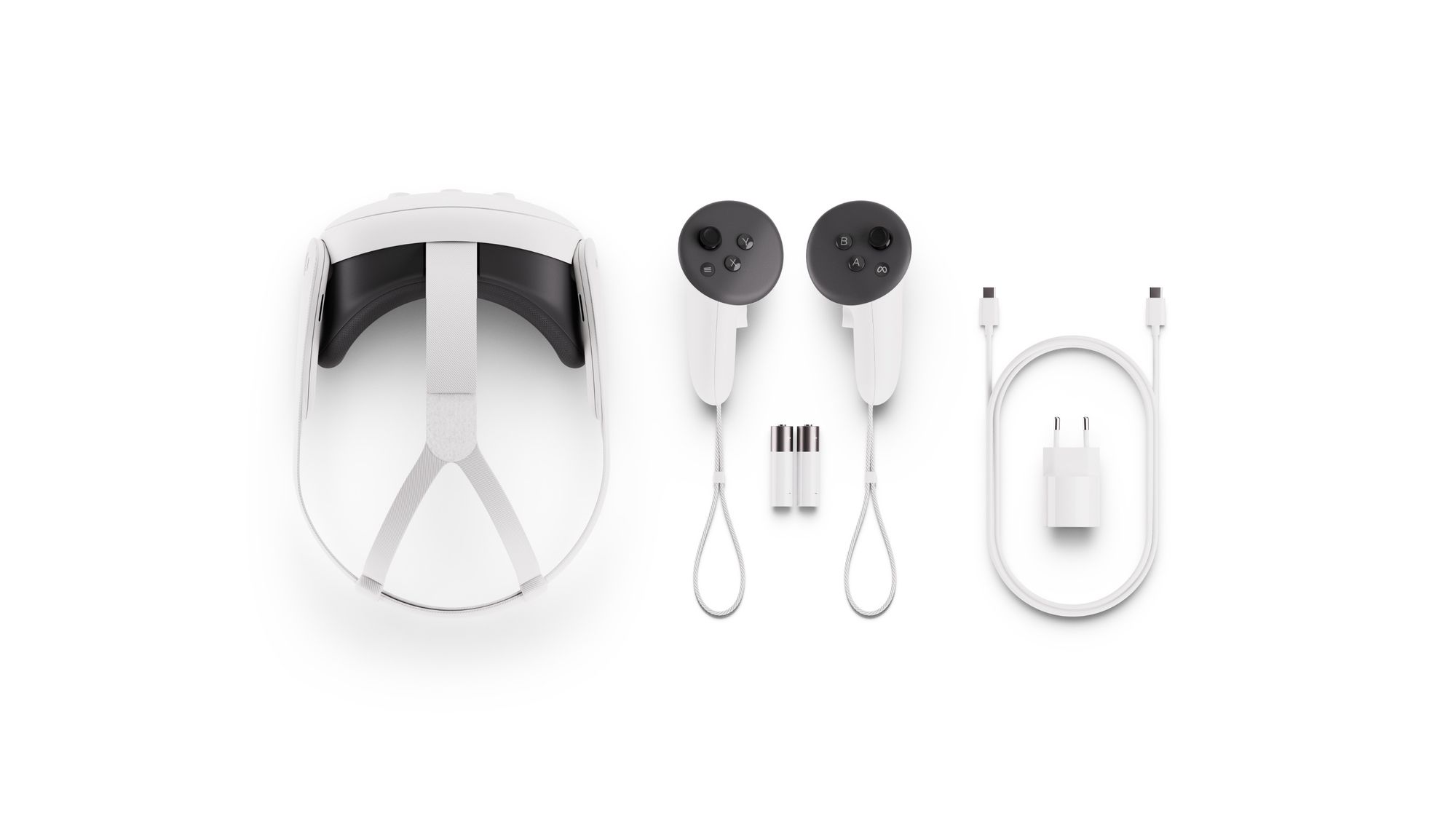 Quest 3 will be available for purchase on the Meta Store in 23 countries. It will also be available via Amazon and through select retailers in the US, Canada, UK, Germany, Japan and France.
Anyone who purchases a Quest 3 between now and January 27, 2024 will receive a free copy of Asgard's Wrath 2 on release, Meta's upcoming AAA VR game with a promise of '60 hours of exploration'. Those who purchase the 512GB model will also receive a six month Quest+ subscription trial, offering two free games each month.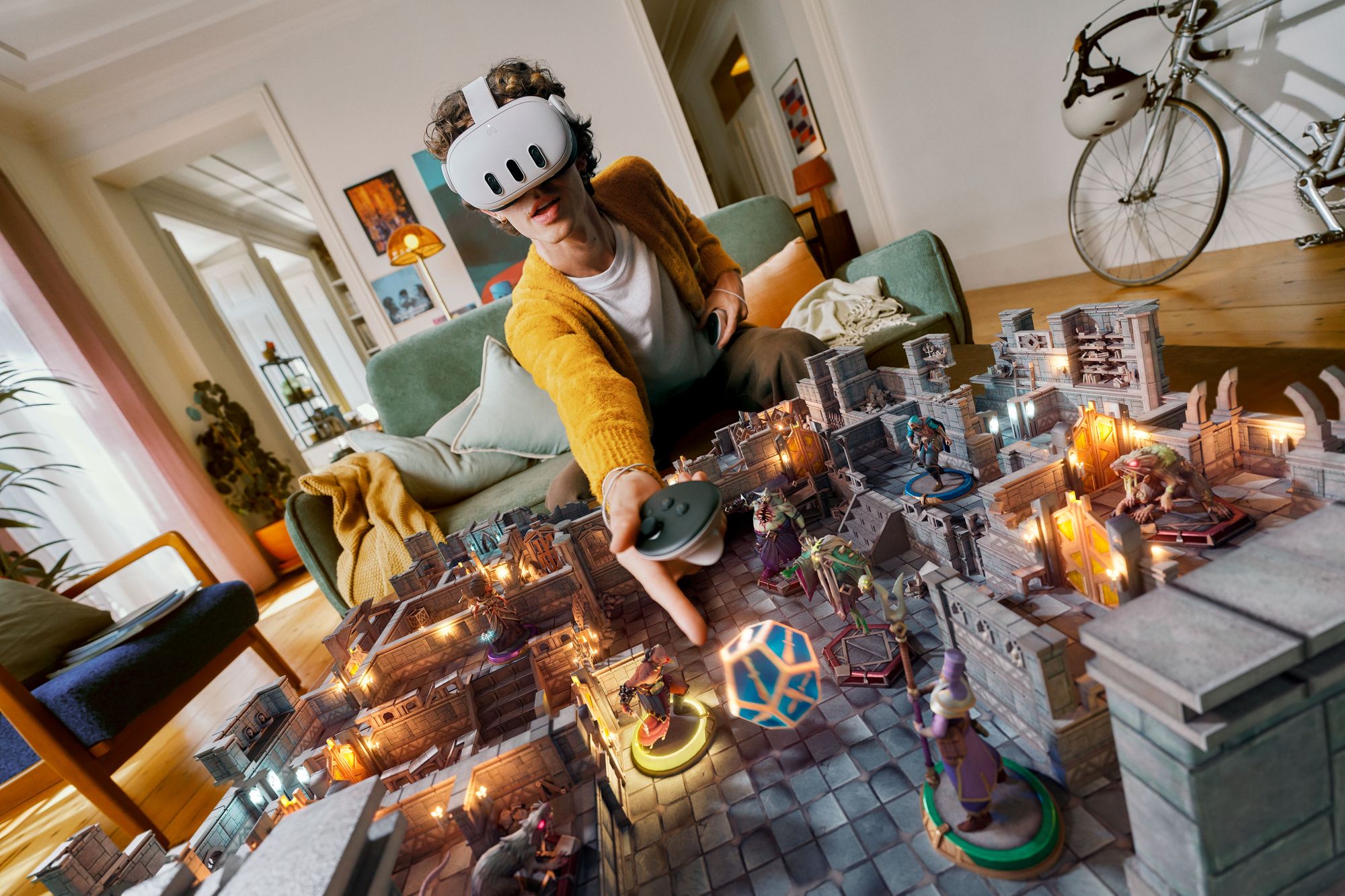 Meta describes Quest 3 as a mixed reality headset, featuring a high-fidelity, full-color Passthrough view that lets users blend the real and virtual worlds together. It features full backward compatibility with the Quest 2 library, but Meta says that over 50 brand new titles will release for Quest 3 through end of the year, alongside Quest 3 upgrades and mixed reality features for 50 existing titles.
Quest 2 will continue to be sold alongside Quest 3, however, the latter will boast some significant upgrades. Quest 3 will be the first headset to feature Qualcomm's next generation Snapdragon XR2 Gen 2 chip, which Meta says offers "more than double the graphics processing power of Quest 2." It also features pancake lenses, as previously seen in Quest Pro, which offer superior visual clarity and result in an overall slimmer profile, allowing the headset to sit closer to the user's face for increased comfort and clarity.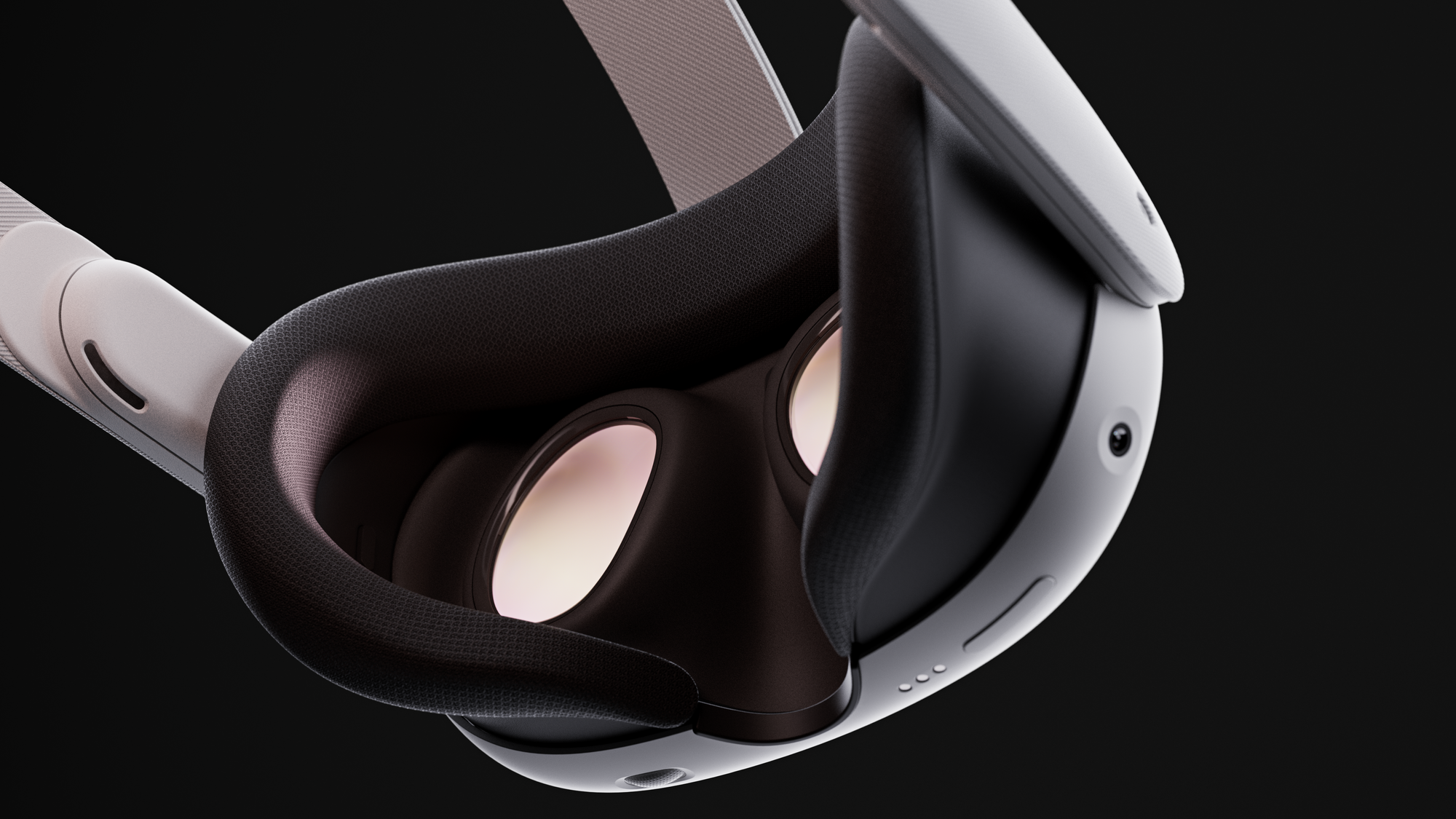 There's two separate displays, boasting 2064x2208 resolution per eye (a near 30% increase on Quest) and a larger field of view of 110 degrees horizontal and 96 degrees vertical – even wider than Quest Pro. There's also a lens adjustment wheel to support IPD between 53-75mm and a new built-in mechanism to adjust the distance of the lens to your eyes – those who wear glasses won't need to use a separate spacer as they did on Quest 2.
In terms of mixed reality features, Quest 3's color passthrough features "10x more pixels compared to Quest 2 and 3x more pixels compared to Quest Pro." It also features a depth sensor and Meta says that Quest 3 is capable of "understanding where walls, floors, furniture and other surfaces are located, so that virtual experiences can seamlessly interact with the physical space around you."
That said, the guardian system will remain largely the same as before, except that Quest 3 will now be able to automatically draw a guardian outline for users during setup, based on their surroundings.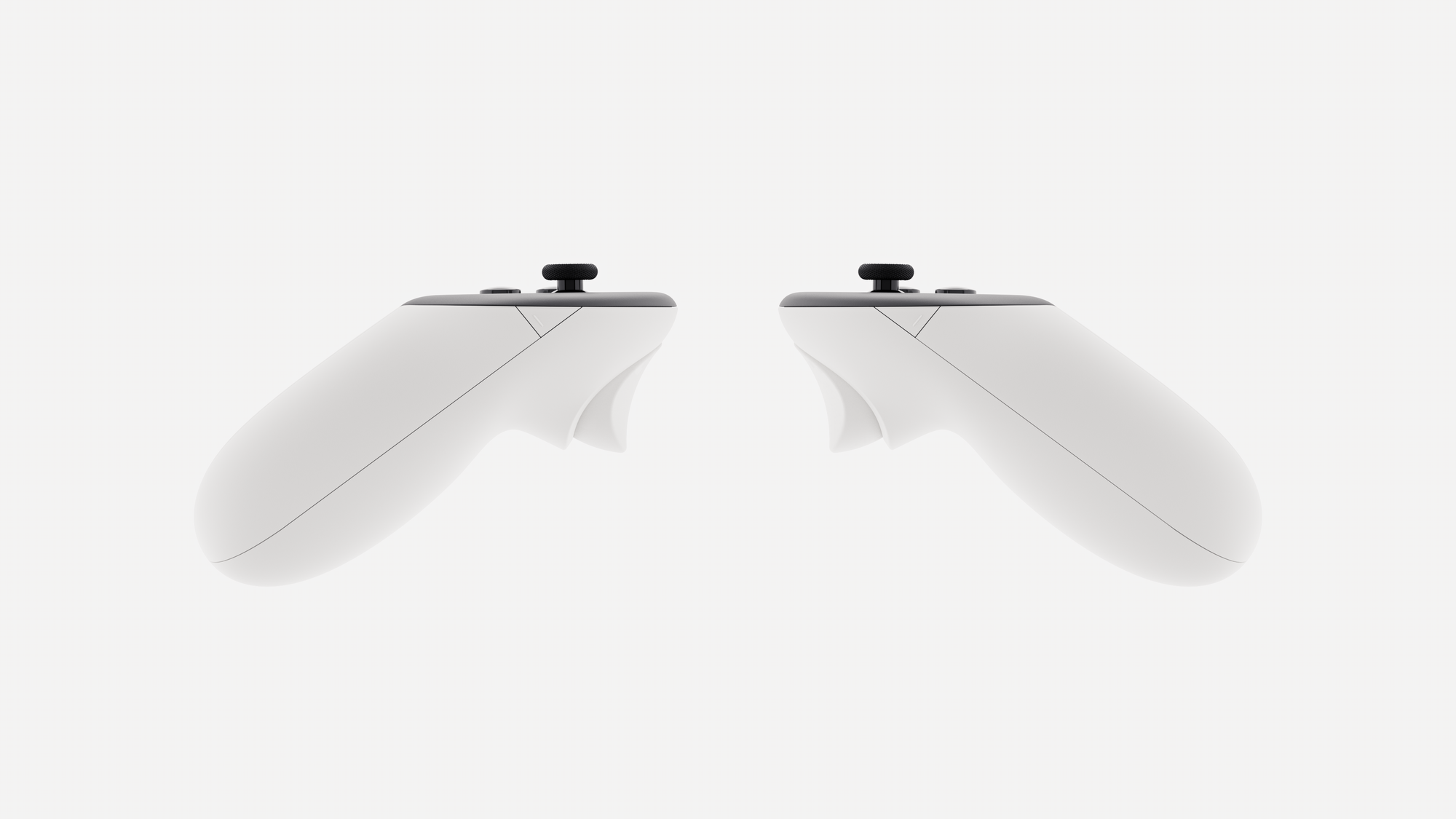 Quest 3 will continue to support controller-free hand tracking as an input option, but the headset will also ship with new Touch Plus controllers as well. These controllers ditch the tracking ring from Quest 2, instead using a combination of infrared LEDs on the face of the controller and continuous controller-free hand tracking, fused together with other accelerometer and gyroscopic data.
Meta claims the Quest 3 battery life will be "about the same" as Quest 2 – roughly 2.2 hours average use (1.5 for 'productivity', 2.9 for media, 2.4 for gaming). Meta also says it's introduced battery saving options in settings, which will offer "more flexibility on how you want to extend your playtime or other optimized performance."
Quest 3 will also support PC VR content when connected to a VR-ready PC via Link and AirLink, just like Quest 2.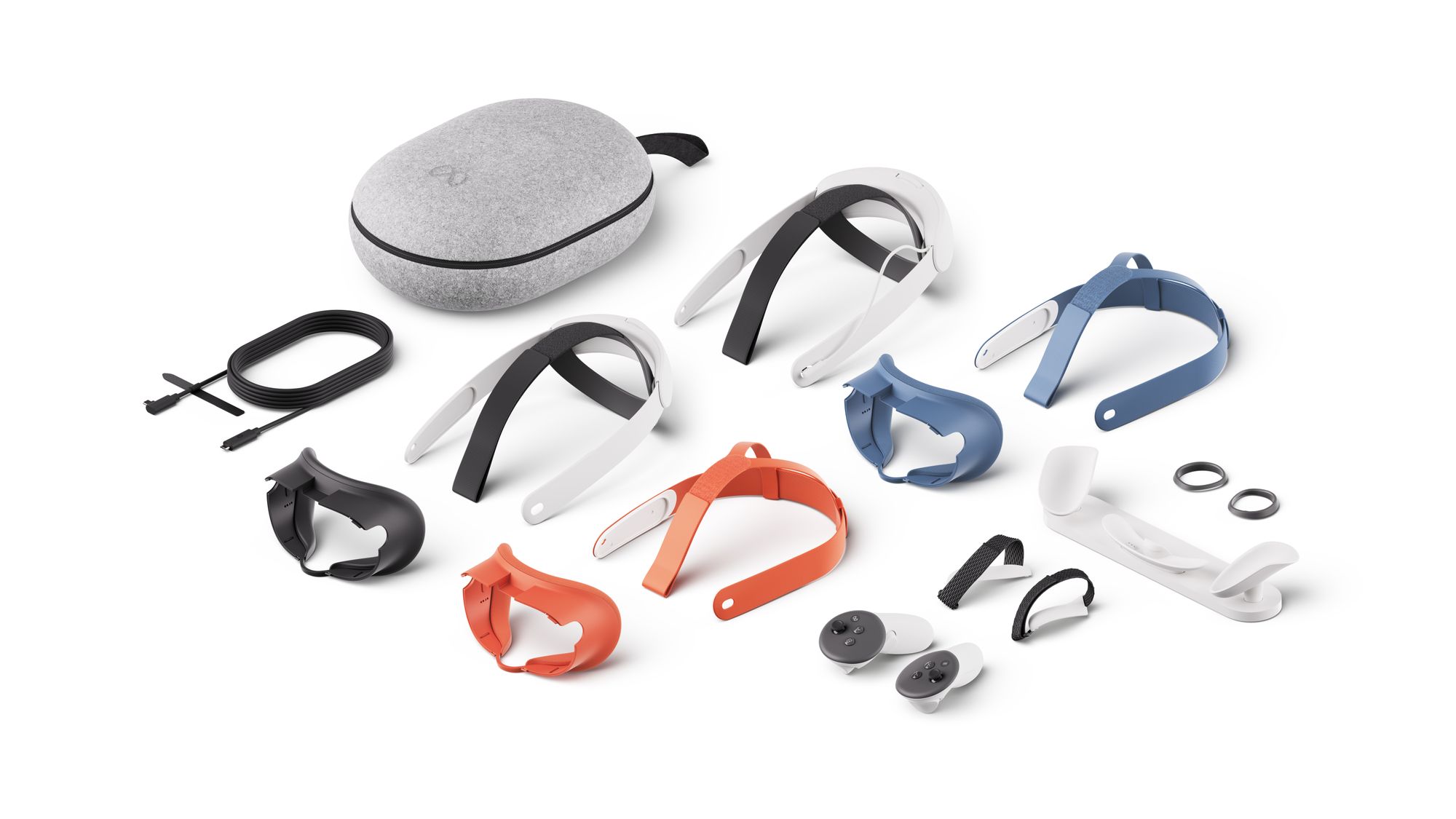 A range of accessories will be sold alongside Quest 3, including a version of the Elite Strap, available once again with or without a battery pack. There's also color variants of the standard straps and facial interfaces, alongside a carrying case and optional charging dock for the headset and controllers.