Today in Los Angeles, IMAX unveiled the first of many planned VR installations intended to create "location-based VR of the future."
According to IMAX: "IMAX VR is a mind-shattering VR experience in a location-based, state-of-the-art Experience Centre. The IMAX VR Experience features a unique combination of premium technology and world-class content that lets users see, feel, move and play in new worlds in a powerfully immersive and realistic way, much like IMAX® theatres offer moviegoers a differentiated and best-in-class film experience. With groundbreaking VR headset technology, 360-degree sound and sophisticated room tracking, players will be instantly transported into new virtual worlds that are more realistic than anything imaginable."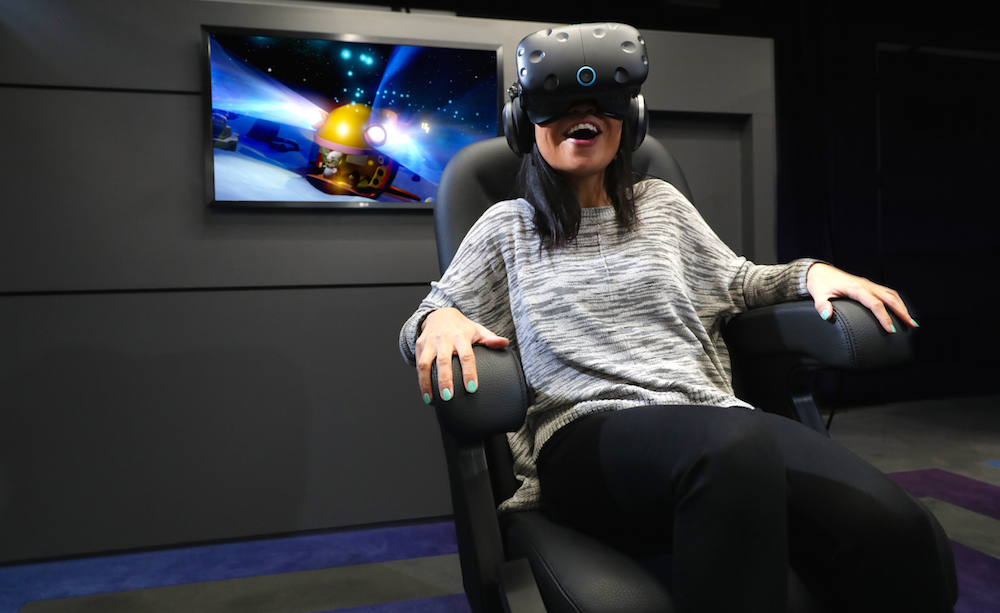 The LA space is comprised of 14 "futuristic pods" that are equipped with the latest and greatest in VR technology. According to our reporter at the event, most of these pods were fitted with an HTC Vive VR headset, but others had the more experimental Star VR headset from Starbreeze.
IMAX and Acer are partners on the Star VR so its presence in this facility makes sense. When it comes to the Vive, however, IMAX explained in an official statement that the two companies have "a new technology and content partnership to incorporate HTC VIVE headset technology and highly engaging, location-based specific VR content into IMAX VR centers."
In addition to the hardware, Vive is also reportedly working on "exclusive VR content experiences" for these IMAX VR centers, and is establishing "an approach to incorporate future HTC Vive technology into IMAX VR centers."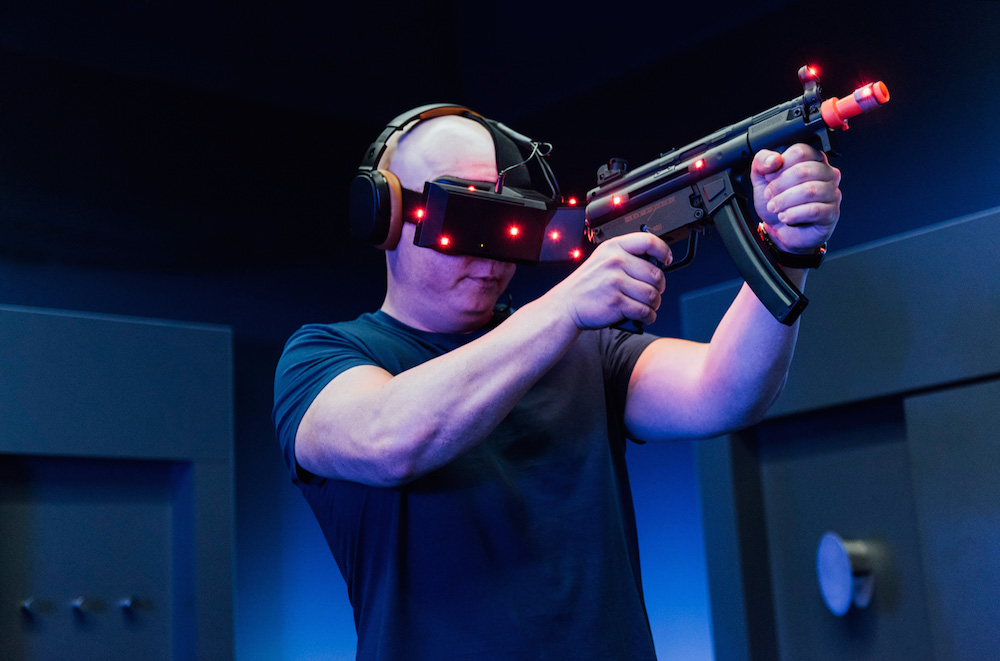 In addition to a Vive or StarVR headset, the IMAX VR pods are equipped with Dbox cinema chairs, Subpacs and a "variety of control devices, adding a deeper layer of realism" such as the gun controller shown above.
These pods will come pre-loaded with VR content that interested customers can purchase a ticket to enjoy in advance online. Tickets will cost between $7 and $10. According to IMAX, the content includes "experiences from leading content developers such as ILMxLABs, Sony, Lionsgate, Starbreeze, Survios, and Ubisoft. The full content list includes John Wick Chronicles, Star Wars: Trials On Tatooine and Knockout League." Other notable experiences available at these demos include The Lab, Universe Sandbox, Quivr, Tilt Brush, Job Simulator and others.
This is how the IMAX VR process will work for customers:
"To get started, players can select the experiences and show times of their choice on the IMAX VR site or at the Centre – just like they would to order tickets to their favorite IMAX movie. Upon arriving, users will check in and then proceed to the Players' Lounge for a quick briefing about the particulars of the play experience by one of IMAX's VR guides. The players are then led to the uniquely designed pods, where they will be helped into the IMAX VR gear and prepare for the experience they've chosen."
The LA IMAX VR location is described as a "pilot" program for the company. At the unveiling it was announced that IMAX has "signed papers" to create four more installations across the US and China. These locations will be: Shanghai, at JinYi's prominent Shanghai Hongkou Plaza multiplex, a "high" profile AMC location in New York City, two undetermined Regal Cinemas locations in New York and California. These locations are slated to open "in the coming months."
Finally, IMAX will also be investing in Dreamscape Immersive — a joint venture between IMAX, Warner Brothers, Twentieth Century Fox, Metro-Goldwyn Mayer (MGM), Westfield Corporation, Bold Capital Partners, and Steven Spielberg. Dreamscape Immersive is a Los Angeles based startup working to build location-based VR installations. IMAX has also previously announced the establishment of a $50 million fund for VR projects.
The LA IMAX VR location is open now. Tickets are available online.