HTC's line-up of VR headsets is steadily growing. What's the difference between the Vive and Vive Focus? What's the Vive Cosmos? Which should you buy? Read on for our rundown of the current Vive line-up.
HTC Vive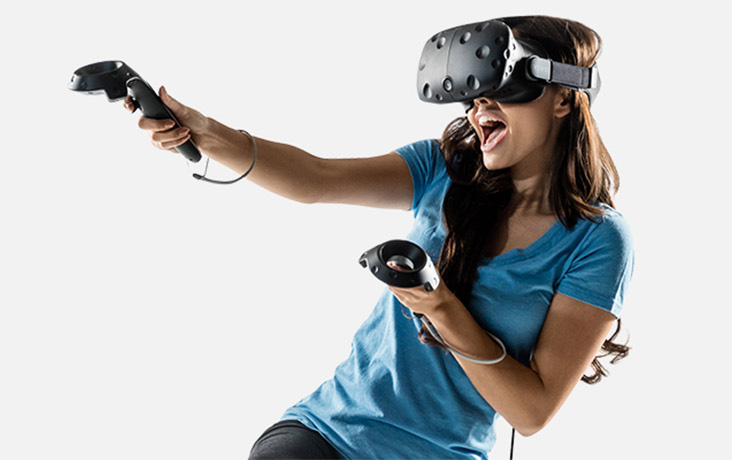 Vive is a room scale VR headset powered by your gaming PC. At $499 it's the most affordable headset in HTC's lineup. It comes with two fully tracked controllers.
The Vive cannot operate without a gaming PC, and won't work on most laptops. It comes with two SteamVR "Lighthouse" base stations which must be set up in your room for positional tracking.
Originally released in 2016 for $799, the OG Vive remains today as HTC's entry level PC VR option.
HTC Vive Pro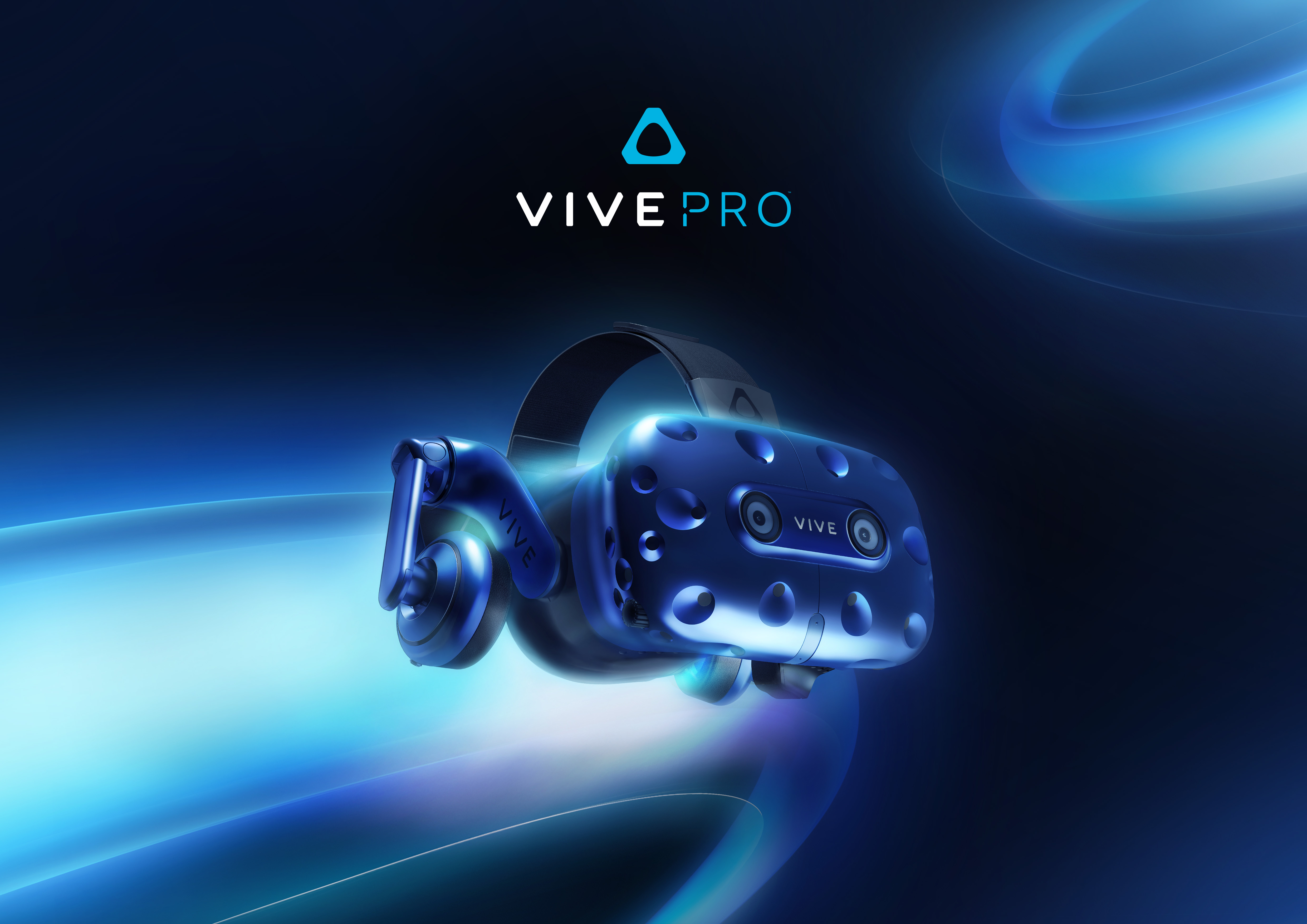 Vive Pro is a premium model of the Vive, released in 2018. It has higher resolution panels for a sharper image with less "screen door effect". It also features improved comfort and integrated audio.
Pro supports the new SteamVR Tracking 2.0. This allows for more than two base stations to be used at once for even larger playspaces.
It's currently priced at $1399 with SteamVR 2.0 tracking hardware or $1098 with 1.0. The headset alone can be bought for $799 so owners of the standard Vive can upgrade.
HTC Vive Pro Eye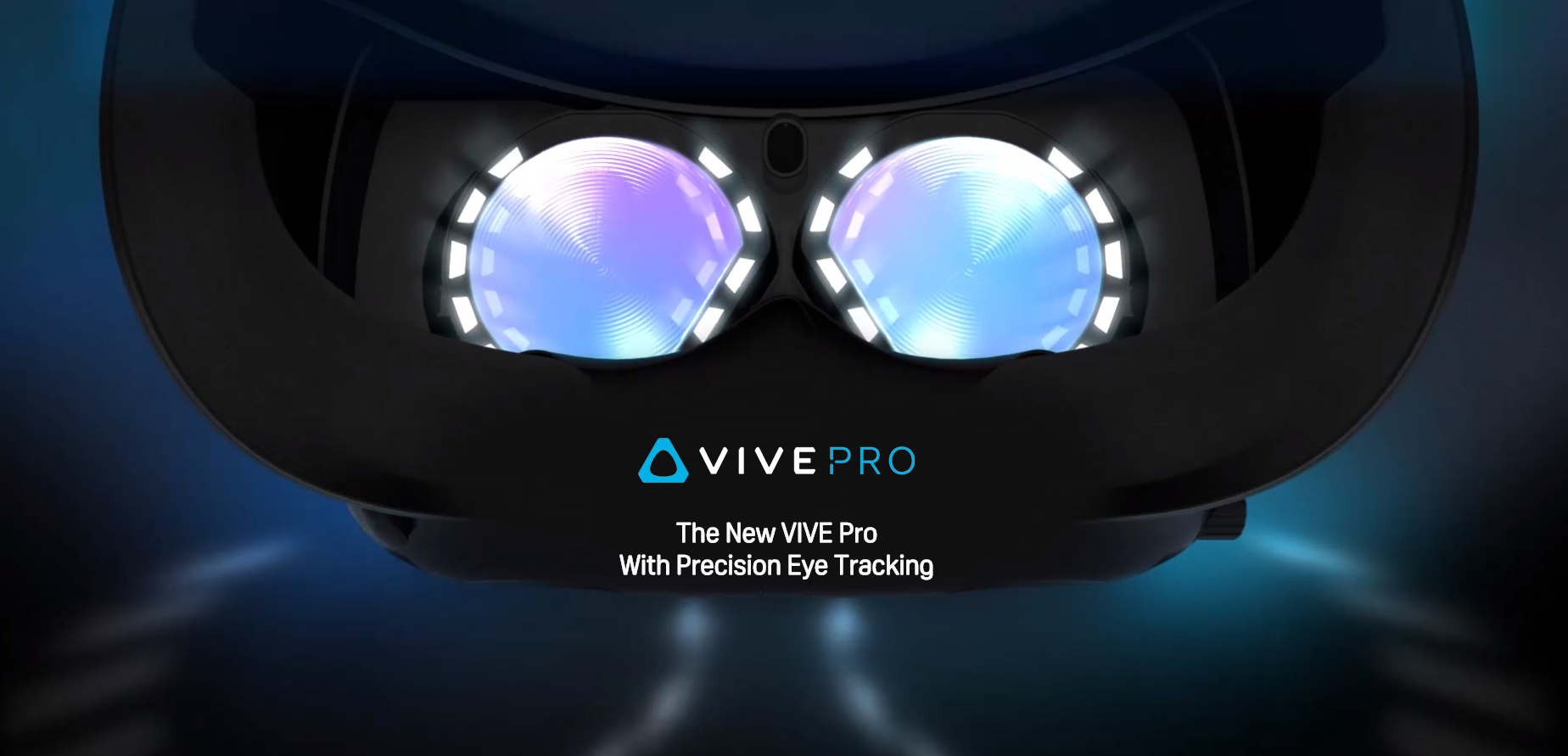 At CES 2019 HTC announced Vive Pro Eye– a 2019 refresh of the Vive Pro adding eye tracking. This allows for better social VR and gazed based UIs, but more importantly it enables foveated rendering.
Foveated rendering renders most of the view of a VR headset at lower resolution except for the exact area where the user's eye is looking (detected with eye tracking). This allows for improved visual quality and/or performance.
HTC didn't reveal the price, but told us it will be launching in Q2 of this year.
HTC Vive Focus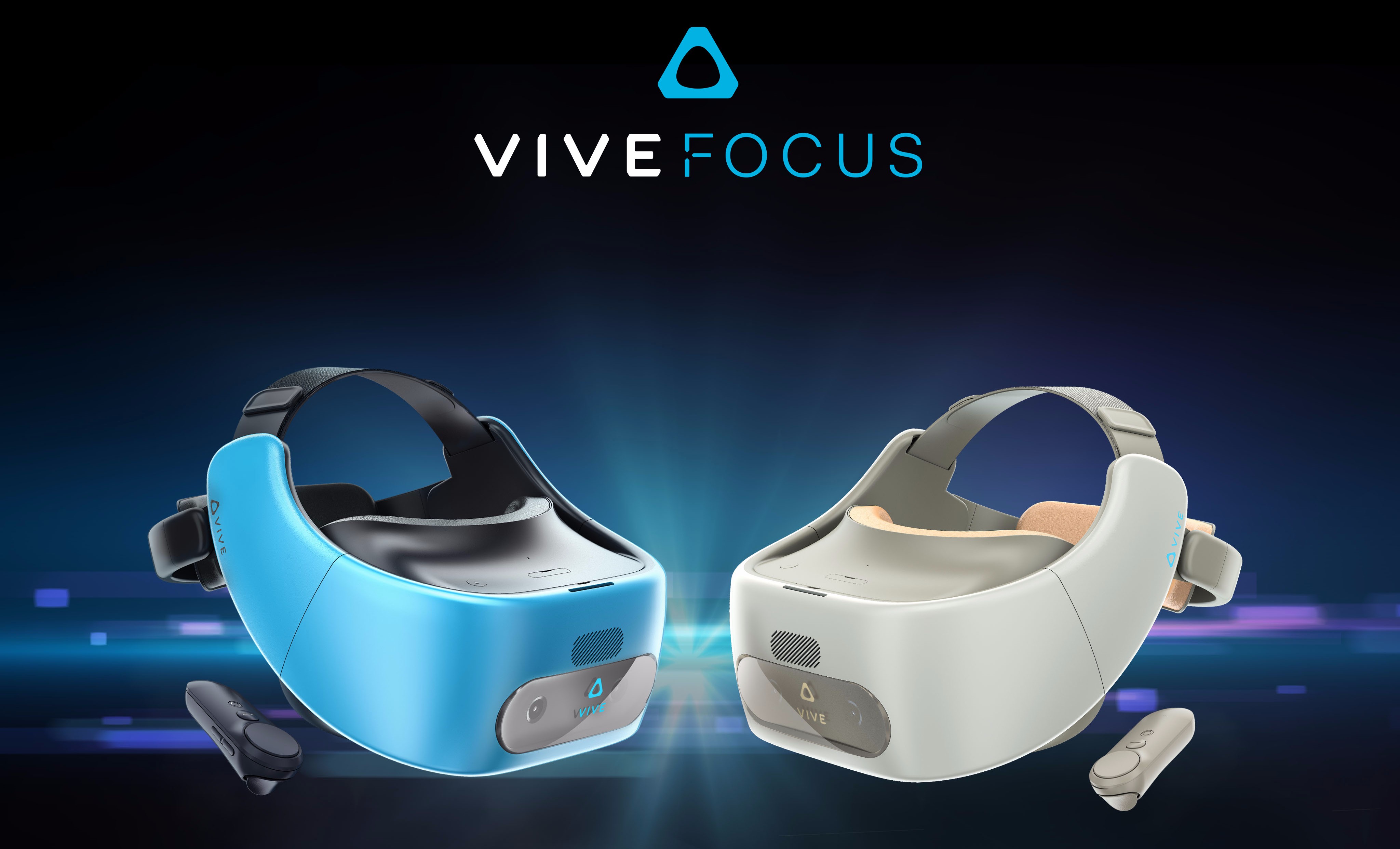 Vive Focus is unlike any of the rest of the Vive lineup in that it is a standalone headset. It's priced at $599, and for now mainly intended for enterprise.
Standalone means that the computing hardware and storage are all built inside the headset. Focus doesn't connect to your PC, other than for basic USB file transfers.
It has two cameras on the front which perform inside-out tracking, so there are no base stations to set up or wires.
The controller (there's only one) is essentially just a rotational laser pointer. This severely limits the games available on the Focus compared to PC. However, HTC is working on 6DoF Focus controllers which may release in future.
HTC Vive Cosmos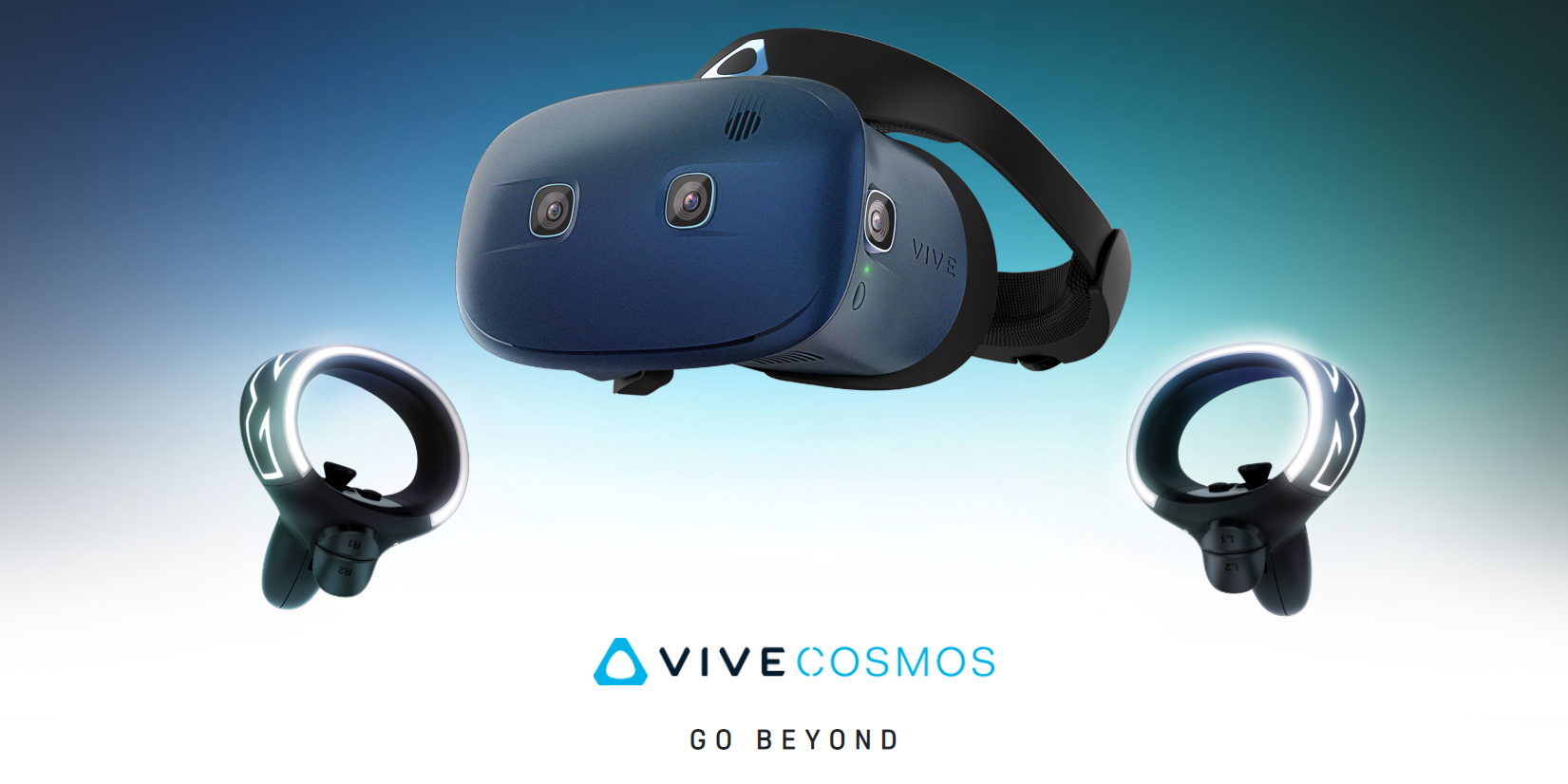 Vive Cosmos is a PC VR headset launching later this year. Unlike the original Vive line it uses inside-out tracking, not SteamVR. In fact, the headset's native platform isn't SteamVR either- it's the new Vive Reality System.
Interestingly, HTC also suggested the headset could work with devices other than a PC, showing an image of a smartphone in the reveal video. The company will reveal more details "later this year", but we expect this means it could be powered by a HTC smartphone.
Which To Get? Wait For Cosmos?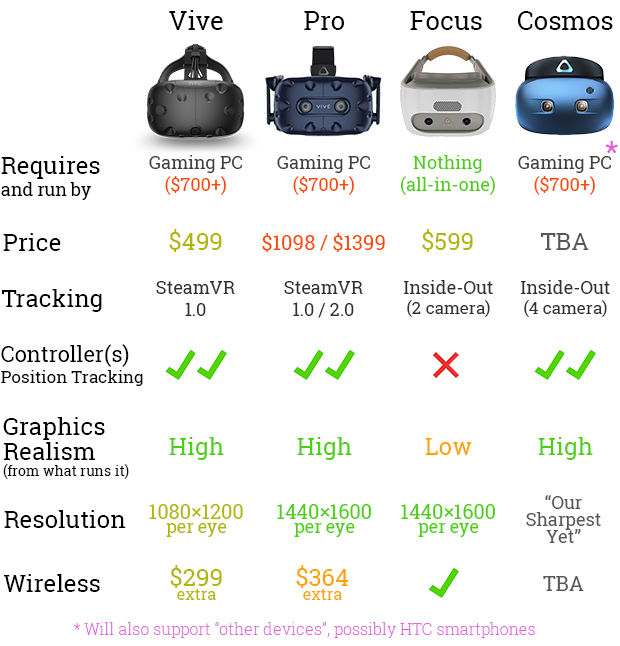 Since the Vive Focus controller is 3DoF-only and the product is intended for enterprise, we don't recommend buying it yet. When HTC announces 6DoF controllers for Focus this recommendation may change.
The Vive Pro is a great headset, but the steep price and same basic controllers from 2016 make it difficult to recommend- even with the upcoming addition of eye tracking.
So should you get the standard Vive, or wait for Cosmos? Very little is known about Cosmos at this stage. HTC hasn't given pricing, resolution, or explained how it works with "other devices". That makes it difficult to make an informed decision.
But from what we do know, it won't be an entirely new generation of VR. If you're willing to wait until later this year, it should provide a welcome increase in resolution and enhanced controllers. But unless the idea of setting up tracking base stations puts you off you won't be missing out on anything major by getting the standard Vive at $499.