One of the first things people think of when they see virtual reality for the first time is, understandably, Tron. More specifically, the disk throwing game is a popular topic among sci-fi fans. While CCP is working on Project Arena, a game that appears to riff on that concept very directly, games like HoloBall are already available and providing people with ball-bouncing thrills right away.
Developed by TreeFortrress Games, HoloBall tasks players with battle against a demented rogue A.I system. Each Vive controller becomes a paddle as you move around the room, physically lunging and stretching to send the ball flying back towards your opponent. In some ways, it also resembles a futuristic VR-version of Pong, albeit with more neon and intensity.
The physics of the gameplay feel spot-on and you have a lot of freedom in terms of how hard you hit the ball. As you continuously beat the A.I., the game's speed slowly increases as things get more and more difficult. According to the Steam page, the entire game world was inspired by the cover art for Far Cry: Blood Dragon and it shows. Over email, I chatted with coder and project manager, Shawn Blais:
The idea came from my love of ping pong! When we switched offices in 2014, we weren't able to bring our ping-pong table to the new location. I've always been a bit sad about this, so when the Vive arrived, my first thought was to create some sort of ping pong game I could play at lunch. At first it began as a simple tech demo, to learn the technology, but before long we realized that we were on to something really fun and we decided to try and get something out for the April 5th launch. Our artistic director Mike Gaboury had the idea of setting it in a Tron world, with an evil A.I., and a chrome car…the rest is history! We didn't end up making launch, but came out a few weeks later. Total development time for the title at launch was just 5 weeks for 2 people.
Naturally, as one of the first games out for the Vive, people were hungrily awaiting games to try. But just as with any new platform launch, the number of people that have access to the platform is far less than other established markets. Making this game for just a standard PC screen would have reached a wider audience, but it wouldn't have been anywhere near as immersive or appropriate. But, despite those risks, HoloBall actually did quite well in terms of sales. Like, really well.
"We knew it was a fun game," Blais told me. "But we still had very cautious expectations for sales on the VIVE, expecting that maybe 1000 units would be a good total for the first month of sales. Instead we made that in one day…Currently we estimate that about 20% of the userbase has installed our game, which is quite good, but also means that there's a lot of headroom left, even in the existing market."
With an upcoming update, HoloBall will gain a lot more depth and replay value with the introduction of a Custom Match Mode. Just as it sounds, Customer Matches will allow you to set up games with whatever rules you want. Everything from the size of the room, the speed of the A.I., the A.I.'s shot power, how long rounds last, and more. You can even make levels that are more difficult than HoloBall's existing Expert mode, or even "hi-aerobic matches with extremely long rounds, for users who use the game as exercise," according to Blais.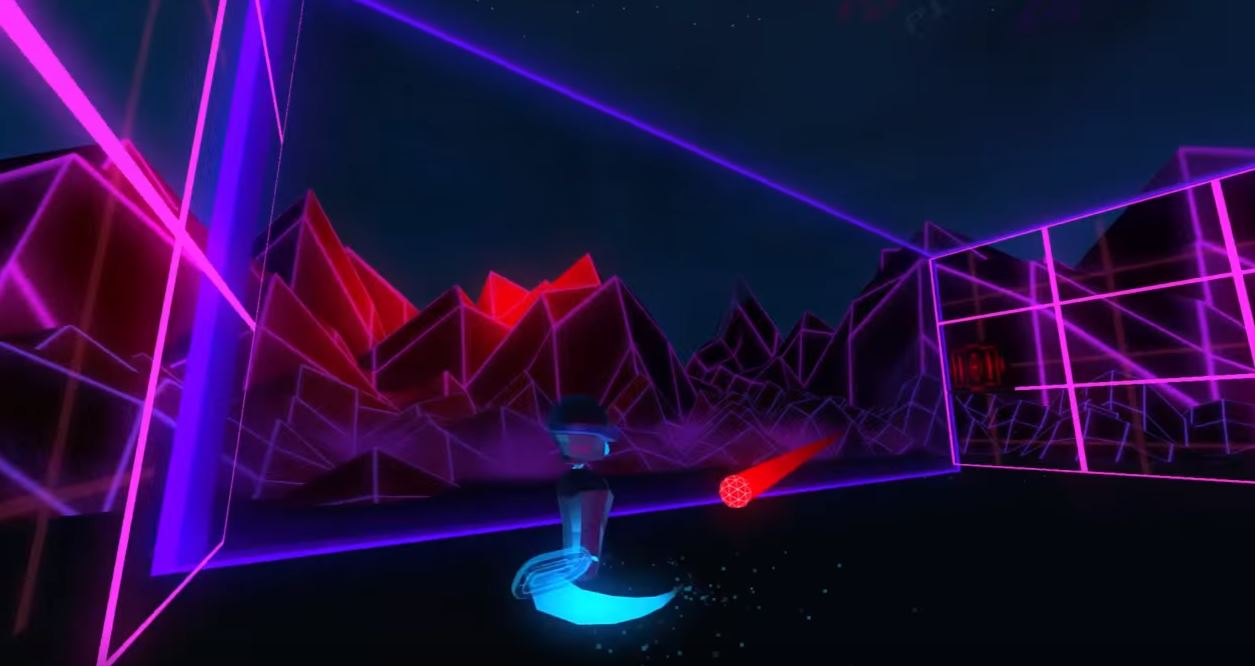 But the really big update that will dramatically improve the game overall, is the introduction of proper online multiplayer. Currently, there is a local multiplayer mode in which someone can sit at the PC and physically control the single A.I. paddle using the keyboard, which can make things quite a bit more interesting, but it's not the same as facing off with another dual-paddle wielding opponent like yourself. Blais told me that online multiplayer should go live, "sometime near the end of June." Although online multiplayer won't support custom matches, at least not at first, it will still have different match types available.
And finally, the last big announcement coming later this year for HoloBall fans, is a fall launch for the PSVR version of the game. They're expecting to release the full, complete game, during the PSVR's launch window. That means online multiplayer support and all other updates released so far on PC/Vive.
—
Are you playing HoloBall on Vive? How do you think it stacks up to the rest of the titles available for Valve and HTC's flagship VR headset? If you have a Vive and are looking for some intense ping-pong-esque action, you can download HoloBall on Steam for $9.99.