Ever since Facebook purchased Oculus in 2014, Mark Zuckerberg has been speaking to promise of virtual reality as the next communications platform. Yesterday at the Mobile World Congress in Barcelona he punctuated those thoughts with a big announcement – the creation of an internal team dedicated to Social VR.
Led by Daniel James and Mike Booth, the team will work closely with Oculus as well as other divisions within Facebook to explore and build the future of social interaction in VR, the company says.
Facebook describes their work in VR as "still early" but Oculus has been working to lay the groundwork themselves with experiences like Toybox and an upcoming social SDK that will allow developers to easily implement key multiplayer and networking features into their experiences. In fact, Oculus' dedication to Social VR is "the reason why [they're] part of Facebook," Oculus founder Palmer Luckey told us earlier this year.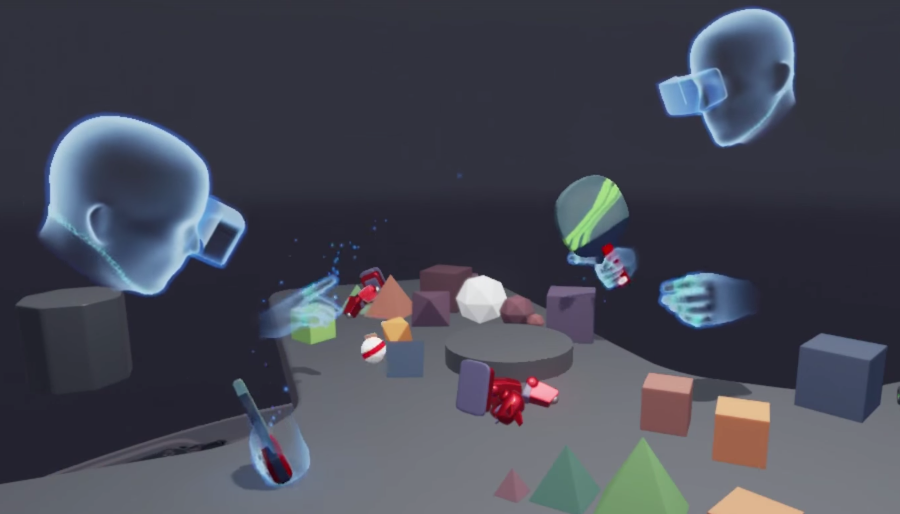 Still the idea of a metaverse – a giant interconnected world like the ones in Snow Crash or Ready Player One – is something far off.
"It's not happening in the immediate future," Luckey said, "we'd much rather work and get this right over a longer period of time than rush into it at the start and be constrained by the design decisions that we make." He says that it will take VR reaching a "critical mass" for there to be enough data to know how best to design how the future of social interaction will look.
While it may take a while for VR to reach that critical mass Samsung's announcement that they plan to bundle a GearVR with every Galaxy S7 or S7 Edge preorder could potentially accelerate the process. Last year Samsung reportedly received over 20 million preorders for the Galaxy S6 and S6 Edge and while Samsung says the GearVR giveaway is "while supplies last" if they give away even a tenth of that it would significantly accelerate the growth of VR's user base, which in turn could accelerate the growth and need for social VR.
Read More: How VR Is Going to Humanize Social Media
The Social VR team isn't thinking small either – and one doesn't need to look further than whom they pegged to run it to see that.
Prior to being hired by Facebook, Daniel James had a strong background in creating web-based massive multiplayer online worlds. James' previous company, Three Rings, focused on creating accessible massive online worlds for people to play and interact in, such as their founding title Puzzle Pirates. In addition to games, James and Three Rings also developed a web platform called Whirled which was similar to PlayStation Home in that it was a persistent online universe where people could hang out and chat, but most of the assets in it were user created. After Three Rings was acquired by SEGA in November 2011, James went on to serve as SEGA's VP of content focusing on mobile title development.
Michael Booth, who previously worked at both Valve and Blizzard, was the lead on the popular Left 4 Dead game series. According to Michael Booth's LinkedIn profile he is looking to explore "how Virtual Reality can empower the 1.5+ billion people on Facebook to share their experiences and connect with each other in amazing and powerful new ways," calling for veteran game developers to apply to be a part of the team.
While Booth and James look to rapidly expand the Social VR team to explore how the future of the communication platform will look, Facebook will continue to focus on enabling users to teleport into memories with 360º video.
"I think about my baby daughter and the way I want to remember when she takes her first steps." Zuckerberg said. "When I took my first steps, my parents just took a pen and wrote the date down in a baby book…when my cousin, when her son took his first steps, she took a photo with a camera. My sister, when her son took his first steps, she took a video on her phone. But I want to capture the whole scene. So, I hope we can take a 360 video. So that way, even if my parents and my family aren't there to experience it in person, they can feel like they're right there with us. VR is the next platform, where anyone can create and experience anything they want."
According to Zuckerberg over a million people are watching 360 video on Facebook a day with over 20,000 videos uploaded by its users. Those numbers still pale in comparison to the standard video metrics on Facebook but that is only because 360 content creation is still in a nascent format, and recent announcements like the Samsung and LG's 360 cameras could help to change that soon.
"We've already helped people connect in a wide variety of ways on mobile devices," Facebook said in a blog post, "now we want to apply that same approach to the new medium of VR."