It looks like everyone heading to Facebook's F8 developer conference later today will be leaving with a nice surprise: a free Oculus Go standalone headset.
An image, supposedly taken from this year's show, popped up on a public VR group on Facebook a few hours ago. The picture includes a sign informing attendees that they can pick up their own Oculus Go unit at the registration desk later today. That seems to confirm that either Mark Zuckerberg or another Facebook executive will announce that every F8 attendee will be getting a free Go during the keynote speech set to take place at 10am PST today.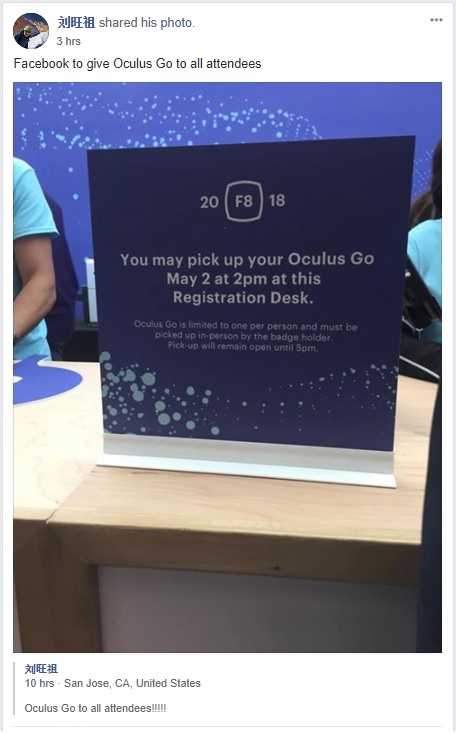 Go is the first standalone VR device from Facebook. It's almost identical to Oculus and Samsung's Gear VR, playing many of the same apps and games, though Go doesn't need a smartphone to power it; everything runs on internal hardware. The device is set to cost just $199 and Facebook is expected to announce the release date later today.
In truth, we were sort of expecting Facebook to make this move. It's far from the first time the company has done something like this, also giving out Gear VR headsets to Oculus Connect attendees in previous years. Go is designed to push VR to as many people as possible and, if that means getting the ball rolling with some free units, so be it.
The rest of us will have to keep waiting for Go's official release date, though hopefully that won't be far away.