The best way to describe EVEREST VR is to simply call the roughly 30-minute long experience nothing short of breathtaking. From start to finish, my mind was racing as I alternated between my jaw dragging the floor and my breath quickening its pace as the gravity of my situation started to sink in. Sólfar Studios' incredibly detailed experience feels so realistic at times, I feared that I may join the ranks of the nearly 300 people that have lost their lives in their attempt to climb the mountain that sits as the highest point on the planet.
EVEREST VR has made its rounds at the various trade shows and industry events over the past year or so, resulting in some journalists rejecting the headset altogether, sent clamoring for their sanity, as they're unable to even complete the demo. Despite that though, it's not intended as a necessarily frightening experience, it just so happens that it tends to nail the adrenaline-rushing intensity that very likely accompanies the journey up Mt. Everest in real life. Stitching together over 300,000 real photos to digitally recreate one of the most perilous locations in the world tends to do that to you.
Since the entire experience is only a mere half hour in length, I recorded it from start to finish to give you an idea of what to expect. You can see the full gameplay video at the top of this article.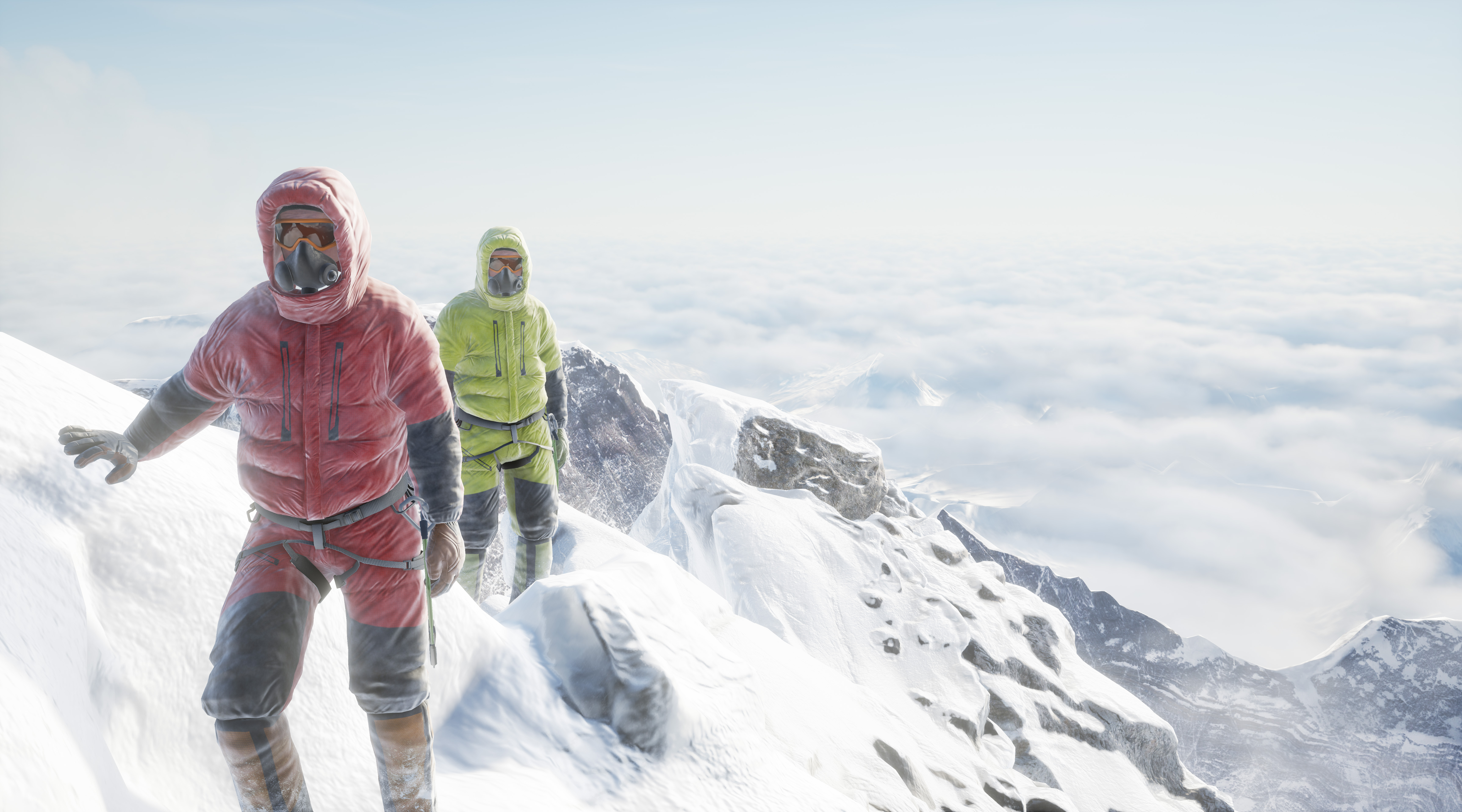 You won't be hopping from ledge to ledge like a mountain climbing machine, such as you may in The Climb, as you'll instead spend more time simply taking in the sights and sounds around you. This isn't a game.
As we outlined in a previous story about EVEREST VR, the experience is split into a handful of scenes. Each scene puts you in the shoes of someone on an actual expedition up the mountain. Unlike your everyday hike, getting to the top and back from Mt. Everest is a multi-week affair and requires extreme conditioning and strength to even stand a chance.
Since portraying the entire experience would involve a lot more resting in tents and slowly walking along ledges, Solfar has instead opted for a highlight approach, letting you get a first-person view of many of the mountain's most treacherous and iconic moments. You'll pay tribute to the Mountain Gods at the Base Camp, ascend ladders and ropes, and even plant a flag once you reach the top of the summit itself.
While EVEREST VR is, generally speaking, one of the most beautiful VR experiences I've seen thus far, the limitations of current hardware are apparent. For starters, the noted screendoor effect of relatively low resolution 1st generation headsets is even more apparent with the bright and prevalent snow-white environments. Furthermore, the abundance of white makes the curvature of the Vive's fresnel lenses stick out like a sore thumb from time to time.
Again, it's worth noting that this is an incredibly short experience. While you may personally only get through it once, it feels like something that would serve as an excellent introduction to virtual reality for newcomers. The payoff with the gorgeous view at the very end is well-worth the journey, but it may be a bit too brief for some. I also recommend turning down the air conditioner in your home and pointing a fan at your play space – that will really help add to the level of immersion.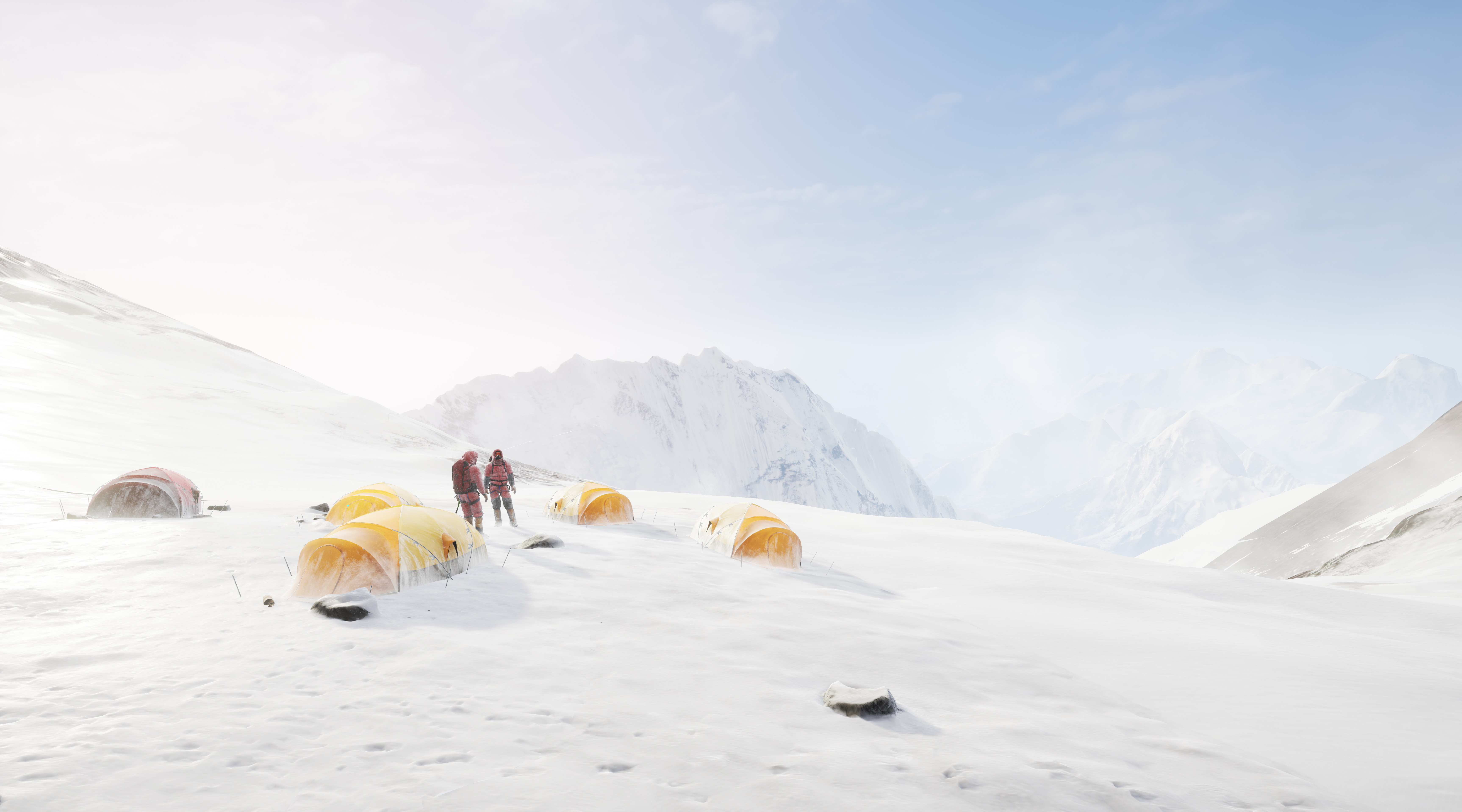 After you make your way through the five main scenes: Base Camp, the Khumbu Icefall, Camp Four, Hillary Step and the Summit, you'll unlock God Mode. This allows you to walk around and inspect the mountain as if you were a skyscraping giant. I enjoyed being able to gaze down at areas that previously frightened me and lean in for a really close look at how detailed everything is.
I've never climbed a real mountain and I am perfectly content with admitting that I have no desire whatsoever to actually climb the actual Mt. Everest. That's not to say I don't find it impressive – I really, truly do – but it's not something I'd dedicate my life to doing personally. There are too many VR experiences to write about that take up my time, after all.
Luckily, the release of realistic and downright jarring experiences like EVEREST VR means I don't have to.
EVEREST VR is available on Steam for $19.99.