Dreamscape's The Blu: Deep Rescue took me back to 1996. When I was a kid I made it a point to tell anyone I knew that I wanted to be a marine biologist. I was super obsessed with ocean life – specifically whales – growing up. Couldn't tell you how many times I watched the Free Willy movies, because I've honestly lost count. That being said, growing up in the San Francisco Bay Area and wanting to constantly be around ocean life wasn't exactly easy.
Sure, my family would take me to Marine World (now known as Discovery Kingdom) to see the dolphins and orcas, but they wouldn't let me sit close up. When I was twelve, we went to Hawaii and went on a whale watching tour… Except not a single whale showed up. Eventually, I gave up on my hopes of being a marine biologist. My obsession with ocean life still shows, though every so often. When Ian gave me background on The Blu and its history, I only had one question. Am I going to get emotional?
Walking into Dreamscape
Dreamscape currently only has one location: the Century City Westfield Mall near West Los Angeles. When you walk in, a Dreamscape employee greets you, and helps you check in. The check in process is simple if you printed your ticket at home: Scan the QR code, fill out basic information, and sign a waiver. After signing, you get to choose an avatar for your experience. Both experiences offered male, female, and gender non-binary avatars from which to choose.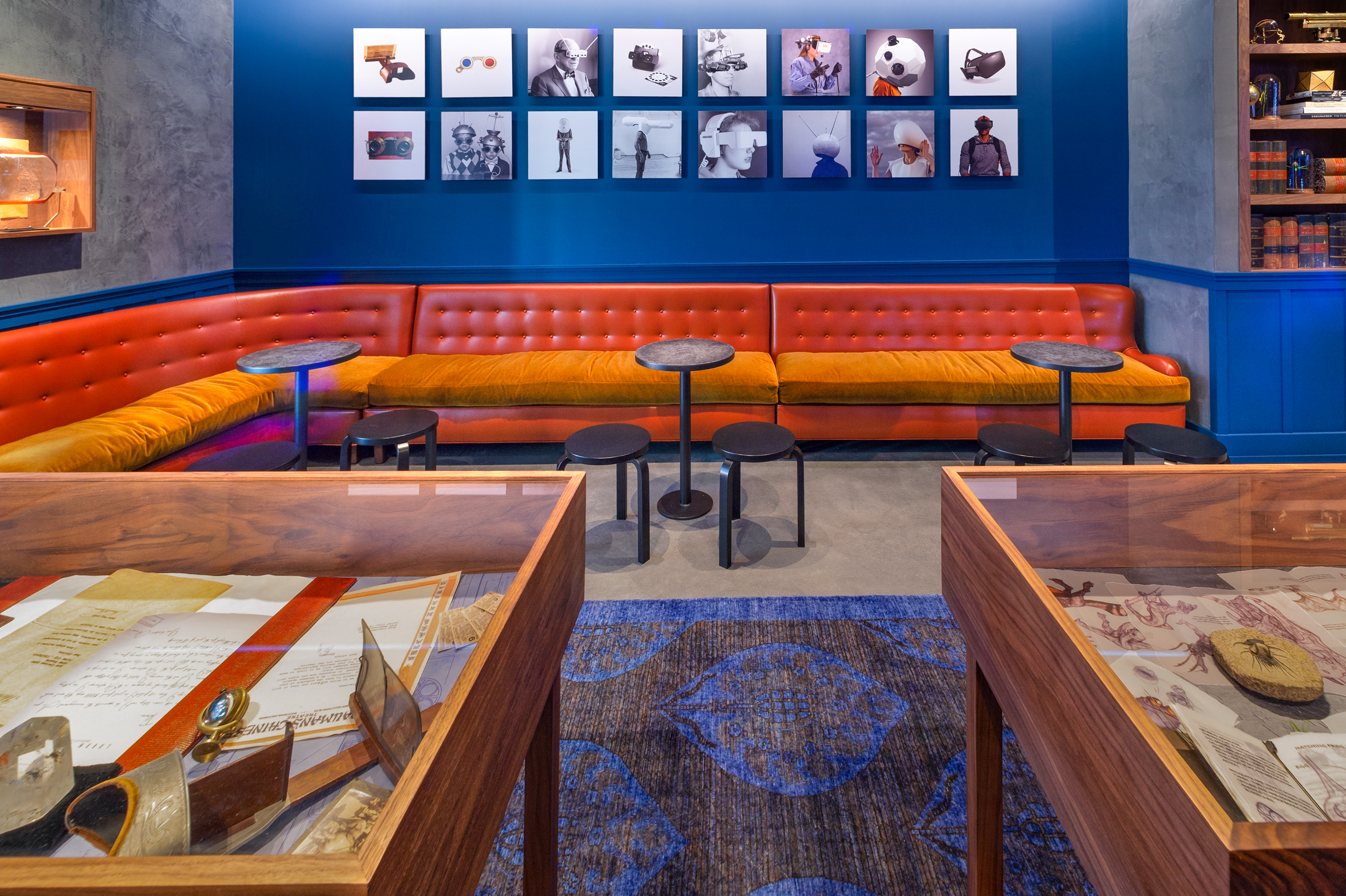 After you check in and hang a left, you enter a large, comfortable lounge to relax in prior to your adventure. If you arrive early for your booked slot, or are even waiting for an additional adventure, you could purchase a variety of beverages, snacks, and souvenirs. Merchandise includes from t-shirts and jackets as well as coffee table books about whales and endangered animals. If you don't want to sit and enjoy a beverage before going in, you could walk around and look at the Alien Zoo exhibit they had set up (and cool photos of various VR headsets from over the years on the wall).
The departure lounge and boarding area reminded me of Disneyland's Soarin' Around the World. Using dark blue and copper tones, I got a retro steampunk vibe from the place. The overall space is very comfortable for individuals and families alike. I wouldn't mind having to wait a while, as it's a nice escape from the loud, busy mall.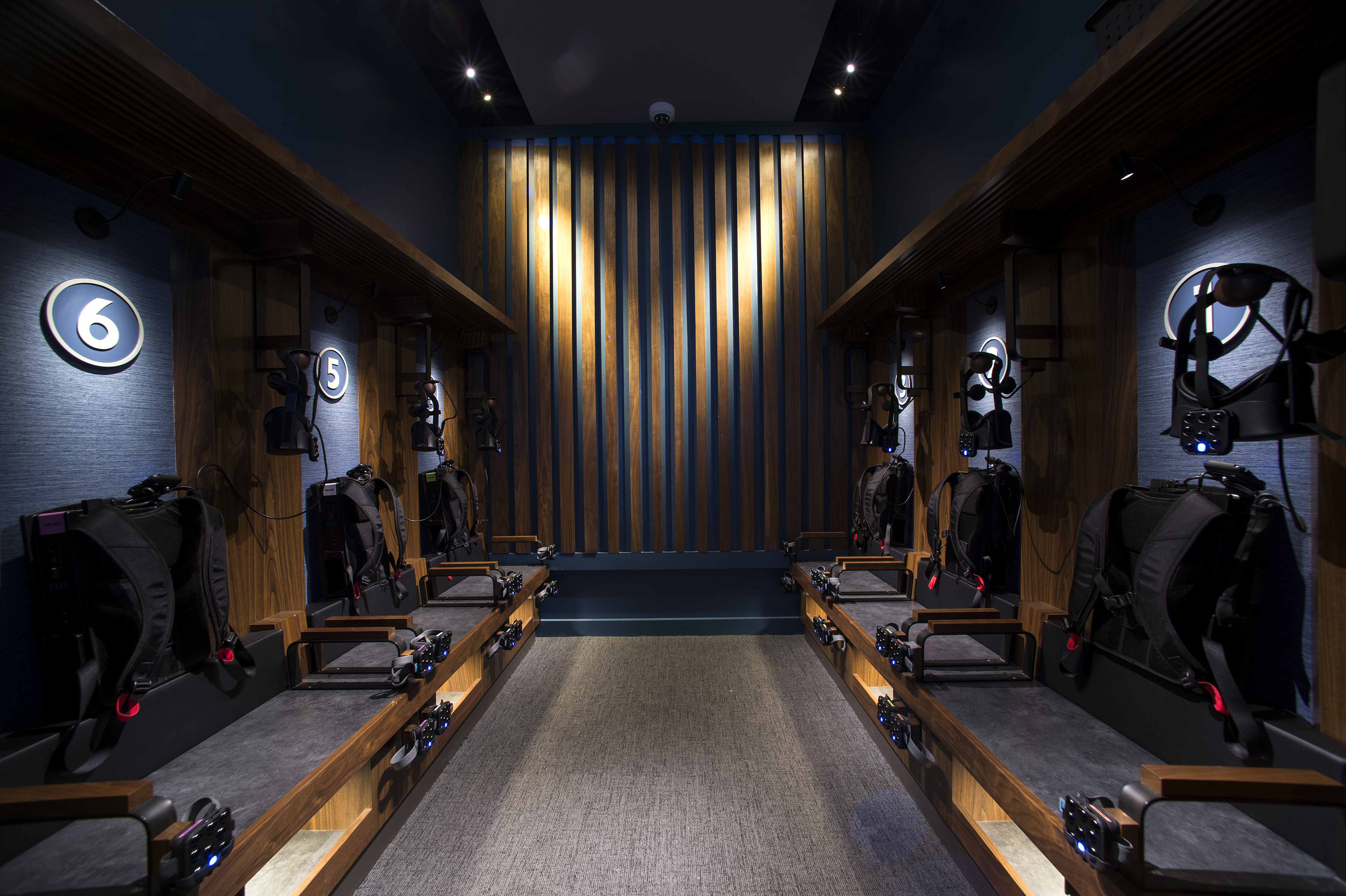 Gearing up for the adventure
Roughly ten to fifteen minutes prior to your booked time slot, an adventure guide (the employee who assists you with gear and remains in the room during the experience) comes and gets everyone. You walk into a room with six seats, three on each side. One seat is assigned to each guest.
The employee told us to put on our equipment in a specific order. First were the foot trackers, which slide on and tighten around the center of your feet. Next was the backpack, which seemed significantly lighter than the one worn for VOID experiences. Then there's a hand tracker for each hand, and finally, the Oculus Rift.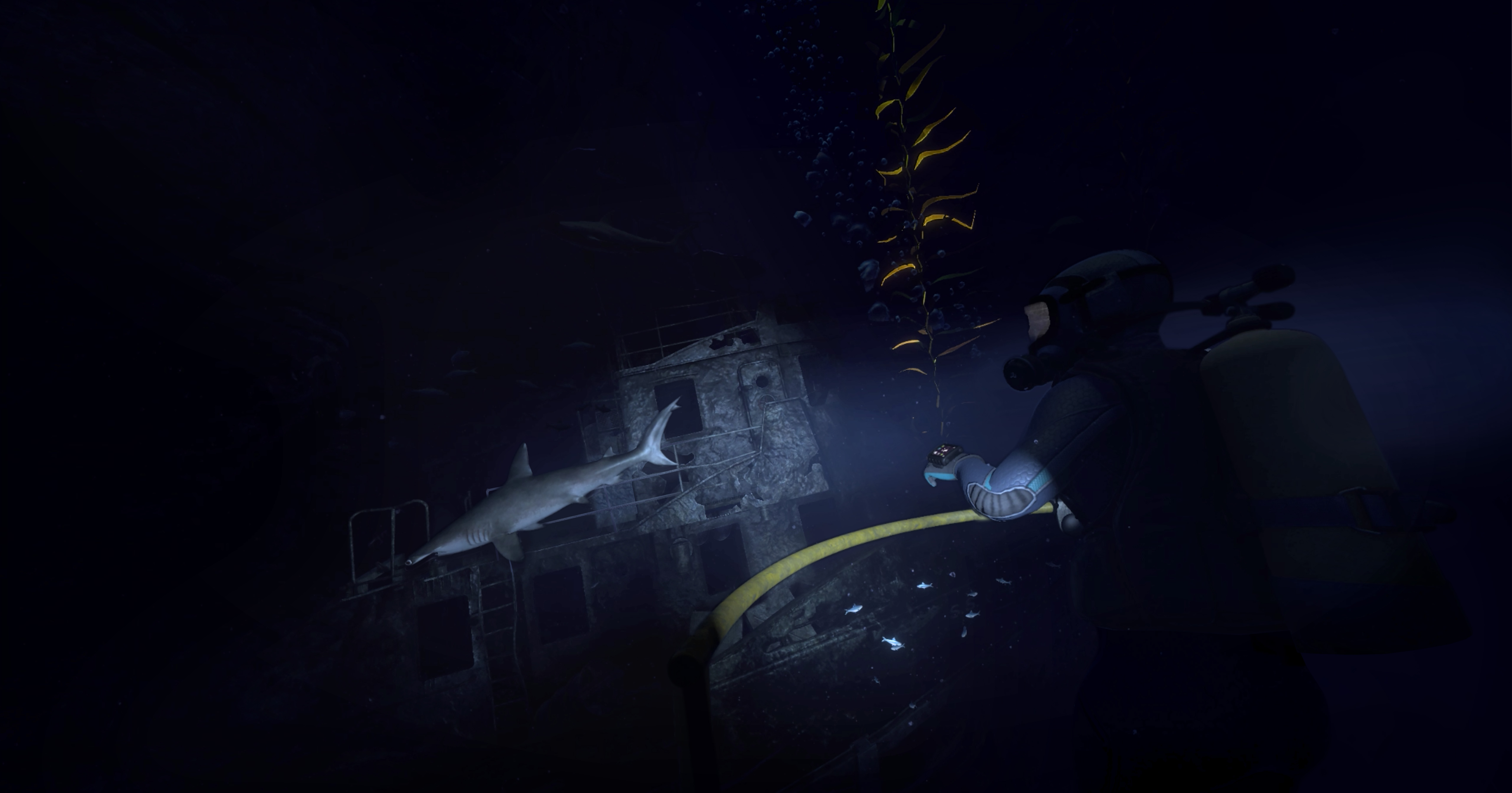 The adventure begins
You then enter the room where the experience takes place. For The Blu, it was just Ian and myself. The employee instructed us to put on and secure our headsets, and step on a set of footprints on the ground. With our hands at our sides, the system then calibrated avatars for our bodies. Our avatars popped up in front of us, in a kind of mirror, and once we confirmed we could see them, the screen went black momentarily. Then we transported somewhere else.
Ian and I started our journey looking at a giant projected globe. We could step into the globe, put our hands through it, walk, and look around. The narrator asked us if one singular form of life was ever important enough to make risks for, and ultimately save. We then transported to a state-of-the-art underwater laboratory. The narrator briefed us on our mission. We were going to dive deep into the ocean and look for a whale in need of help.
The room's layout as we saw it in the real world was matched inside VR. There were rails around the space, and a center platform area. After looking around the laboratory for a bit, the narrator instructed us to stand on the center platform, and hold on for the descent into the deep blue ocean.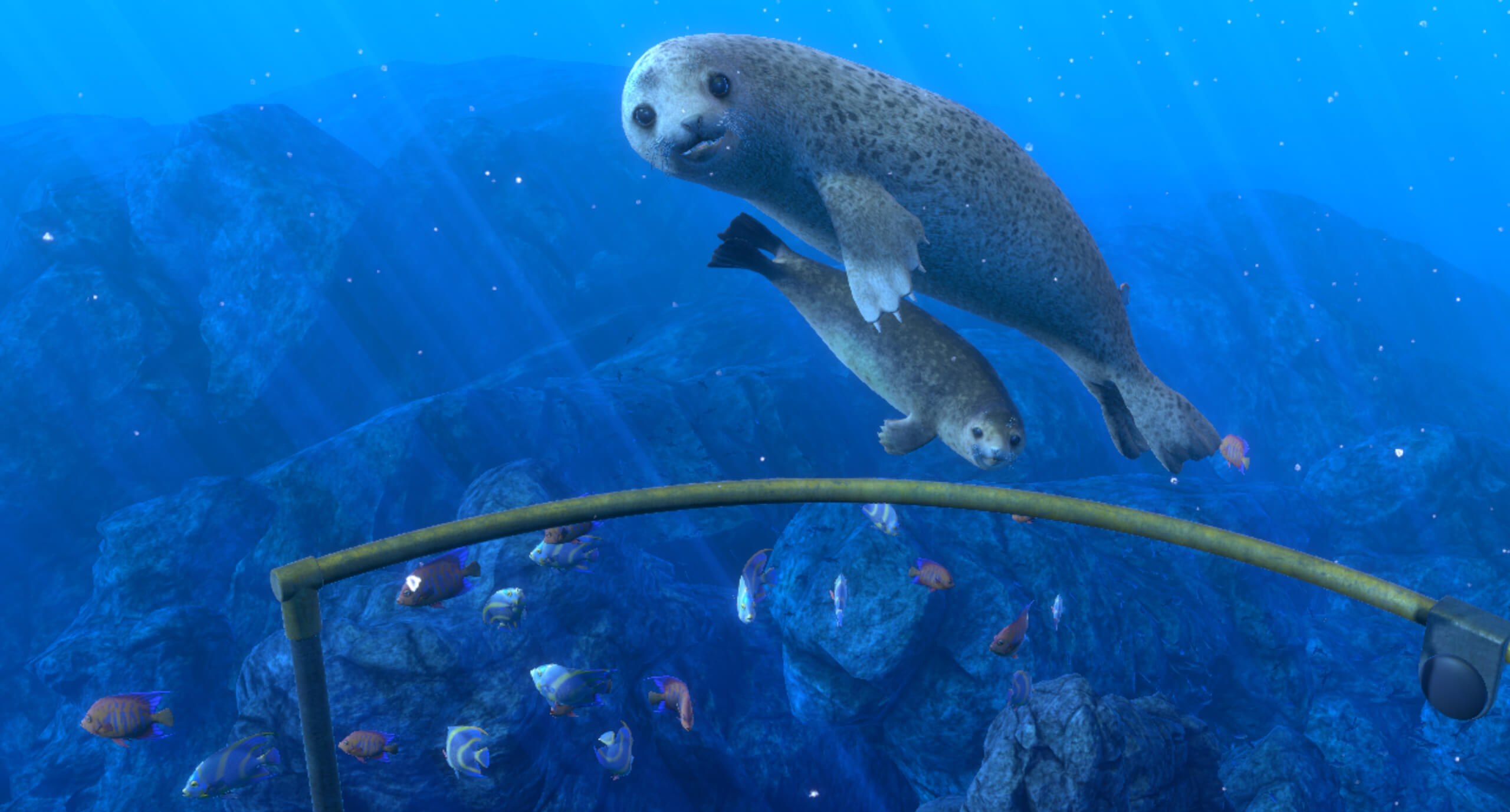 I could have done this for hours
Yeah, I got a bit emotional. I teared up a bit. As the platform "lowered" into the ocean, it really felt like we were moving, just without all the pressure building up in our ears. Loads of beautiful sea life surrounded us, including adorable seals! They were very animated, playfully swimming around us. Ian tapped me on the shoulder and pointed down, and there was another seal, looking up at us from below with curiosity. It made me feel warm and fuzzy inside, reminding me of when I first touched a seal in the real world at Discovery Kingdom. I forgot about the world outside of Dreamscape.
We got off the platform to restore power to a shipwreck, and some sea scooters. While searching for a power button I leaned in close to examine some of the sea anemones. They varied in color – vibrant pinks, oranges, and greens – and mimicked the movement of real sea anemones. For whatever reason, I decided I wanted to reach out and "touch" one. When my hand got close, the anemone closed up. I thought surely it was just a coincidence, so I did it to a few others, which reacted the same. I called Ian over and we both started poking sea anemones.
Once we powered up the underwater scooters, we hopped on. These scooters were visible around the outer edge of the platform when we first arrived. Hesitating to reach forward and grab the handlebars, I honestly expected them to truly not be there. Much to my surprise, the handlebars were exactly where I expected them to be.
From there, our scooters took off. I could still hear Ian next to me, of course, but we had freedom to move around on our scooters. Ian sped up in front of me, and at one point, I was in front of him. We could turn around and wave at each other. Each scooter takes a different path, so at one point we were truly separated. I think we were both low-key terrified of some sea monster attacking us while we lost sight of one another. There are no sea monsters here though. And because we saw completely different things I want to go back and try other scooter paths.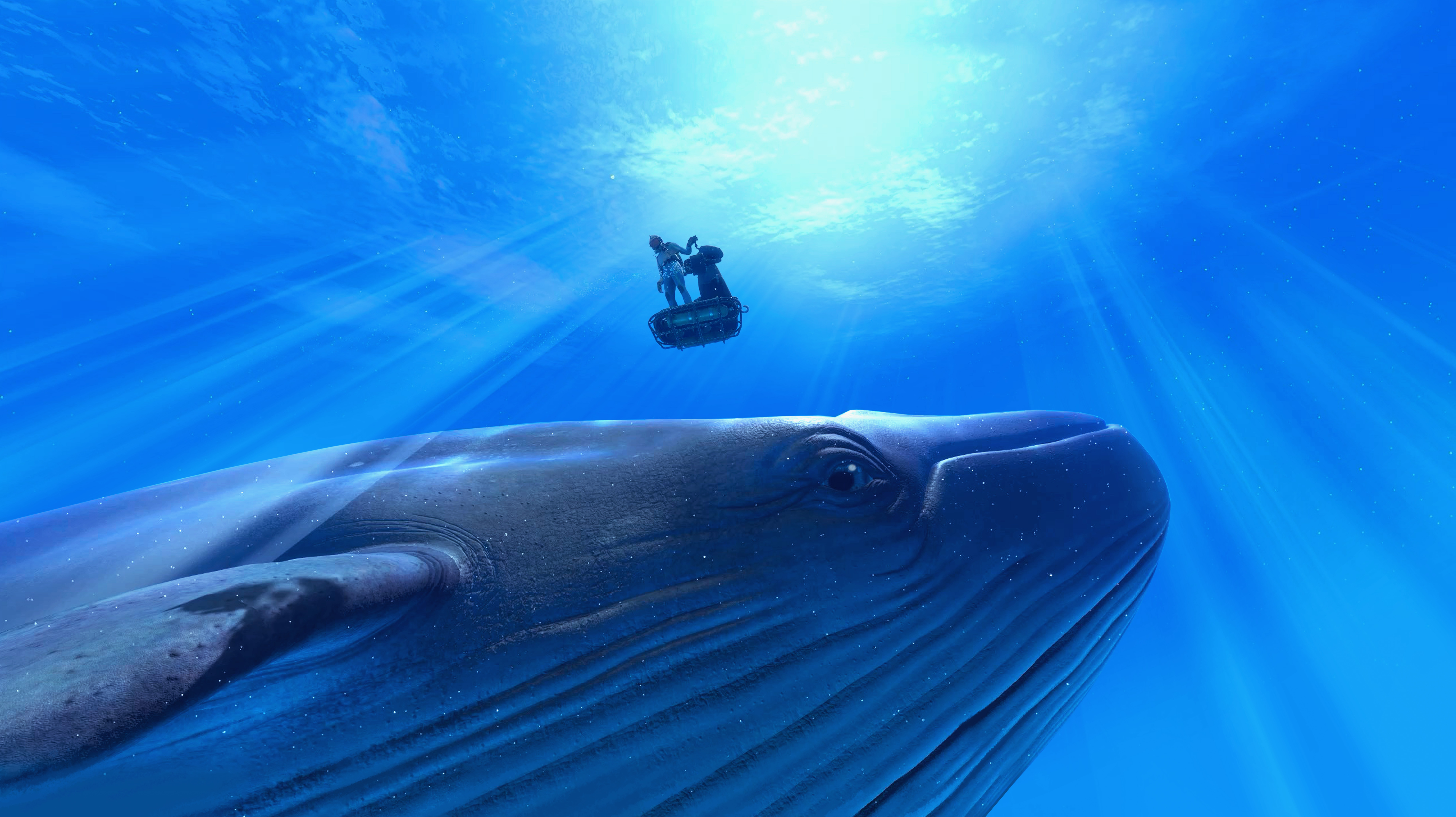 Toward the end of the trip as you're raising back to the surface, multiple whales are swimming all around you. This, for me, was the most emotional part of the whole adventure. Accelerating on the underwater scooter and looking down to see a giant whale eye peer deep into my soul took me back to being the kindergartner who dreamed of having that moment in real life. I definitely wasn't underwater in scuba gear and the whales that surrounded me singing their beautiful songs weren't real either. But it felt real.
Dreamscape's The Blu: Deep Rescue is an amazing experience. For $20, I dove into something that left me refreshed, relaxed, and rejuvenated. As someone who is constantly busy and generally high-anxiety, I can absolutely see myself returning to Dreamscape to unplug from the world for a bit. I highly recommend The Blu for those who are looking to do immersive virtual reality for the first time, as it isn't intense. If you're just getting into VR, I don't recommend starting with Lavan's Magic Projector: The Lost Pearl.
Employees at Dreamscape said there would be new adventures coming to Century City "very soon." I for one, am very excited to see what the company has in store.
You can also check out Ian's hands-on feature of Dreamscape's Alien Zoo from last year by clicking here.