When I was a kid I remember being a member of Ms. Frizzle's classroom. We went on adventures under the ocean, into the rainforest, out to the stars, and even to the center of the Earth and it was amazing.
Of course I am talking about my time on the Magic School Bus.
A relic of the nineties, the Magic School Bus starred Lily Tomlin as Ms. Frizzle, an eccentric teacher who owned a magic school bus that she used to take her students on fantastical journeys. The show and subsequent video games were a big part of my, and thousands of other children of the nineties', formative years as it presented educational topics in an engaging way that made you curious to learn more.
Twenty years later (god I'm getting older), a new generation of children and teachers are looking for that next great inspirational spark and all eyes are beginning to turn to virtual and augmented reality to fill that gap. VR and AR have the potential to revolutionize the way we educate our children and ourselves, and while it is still the early days companies like Curiscope are helping to lead the way with projects like their latest one, a T-shirt that lets you peer inside the human body.
Launching on Kickstarter, Curiscope's newest app utilizes both AR and VR to not only project the open cavity of the human body on your friend wearing the special coded T-shirt, but also hop inside certain parts of the body and learn more from a cellular perspective. For example, looking at a certain organ and tapping with take you to a 360º CG video of the bloodstream where a narrator will tell you more about what you are seeing. It's like being able to hop on the bus with Ms. Fizzle all over again.
The app will work both with GearVR (using a camera passthrough mode for the AR application) and on all major smartphones and tablets making it broadly accessible, which is important given the nascent state of the industry.
This isn't Curiscope's first effort in the VR/AR educational space. Earlier this year the company received an award from PETA for their piece on Great White Sharks, which has been viewed over 800,000 times so far on YouTube.
"VR is a massively powerful idea of putting one idea from a human brain and into another," says Curiscope's co-founder Ed Barton, "[it] is the most literal medium we have had so far."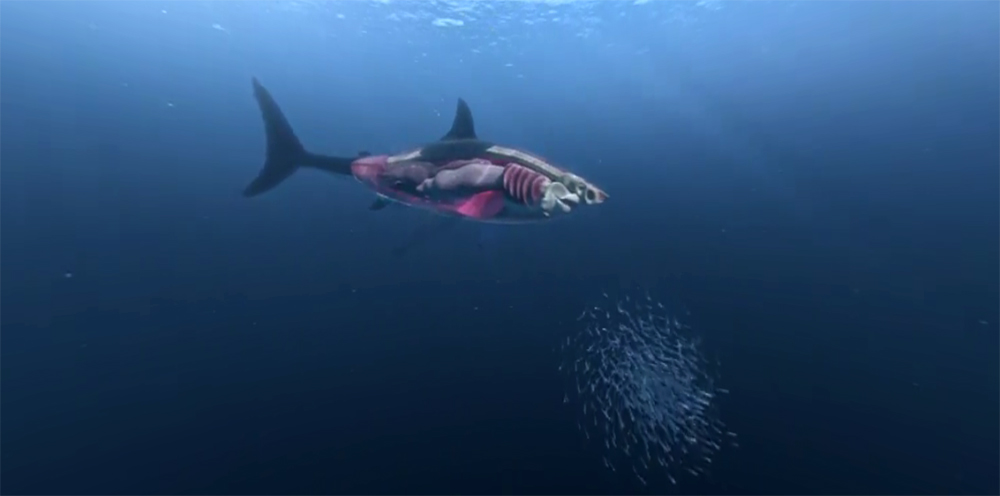 Educational experiences like these, especially when made accessible have the power to impact a whole generation of students in the same way that The Magic School Bus and Bill Nye The Science Guy did for the children of the nineties. When faced with a world of infinite distraction, it will take some amazing things to get a kid's attention – and a field trip inside your friend's body might just do the trick.
Curiscope is planning to set the goal for this Kickstarter project at $100,000, the project launches March 1st.