Yesterday, YouTube VR was released for Oculus Go. In his tweet about the release, Oculus CTO John Carmack stated that it was one of the two apps people always ask him about, and that there "is also some progress on the other one" – the other one almost certainly being Minecraft.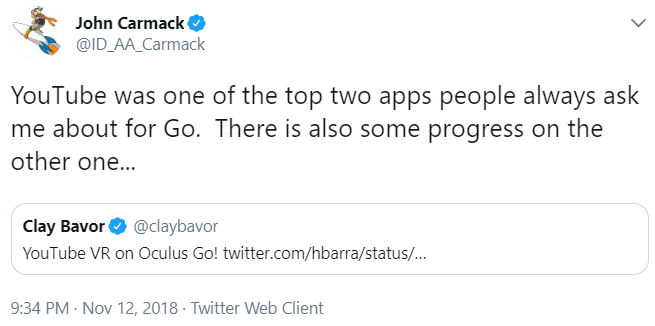 No upcoming Oculus Go game is anywhere near as anticipated as Minecraft. Minecraft is the highest selling 3D game ever, with over 150 million copies sold. It is available on almost all gaming platforms, with cross platform multiplayer between most of them.
The game is anticipated for Go not just due to its significance outside VR, but because it has been available on the Samsung Gear VR headset for over 2 years now. Gear VR runs the same Oculus mobile store as Go, so in theory porting should be easy. In fact, some YouTubers have even managed to sideload the game into the Go headset, though reportedly only singleplayer works.
Minecraft's absence was noted at Go's launch back in May. No statement was given at the time (by either Oculus or Microsoft) about the reason for the absence, a release date, or even if it was coming at all.
Minecraft Was Carmack's "Quest"
Oculus CTO John Carmack was heavily involved in porting Minecraft to Gear VR back in 2016. Carmack worked directly with Mojang to provide both code and guidance. Facebook's lawyers warned him that his work would become Microsoft's property, but Carmack didn't care – getting Minecraft on Gear VR had become his "quest". In fact, Carmack went as far as to say that he "would have cried" if the deal hadn't worked out.
Shortly before Minecraft's release on Gear VR, Carmack called it "the best thing to come out on Oculus", even going as far as to say all of Oculus, not just Gear VR.
First Hints Of A Go Port
Carmack first hinted that the game could be coming to Go in June, when he stated that it was "a high priority for sure", but added the disclaimer that few Go owners would have a gamepad paired. This is relevant because the Go's included controller does not have enough inputs for Minecraft.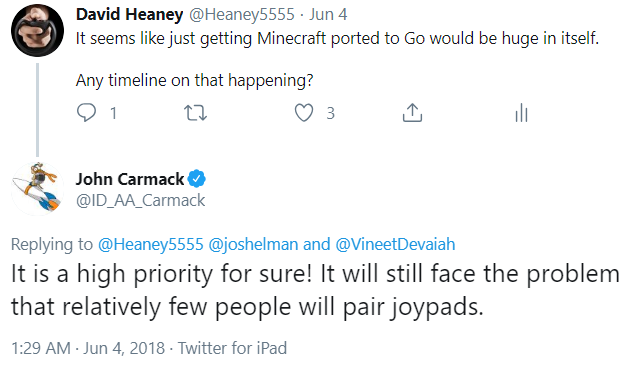 The following month, Carmack hinted that progress was being made, and noted that he cared a lot about getting it: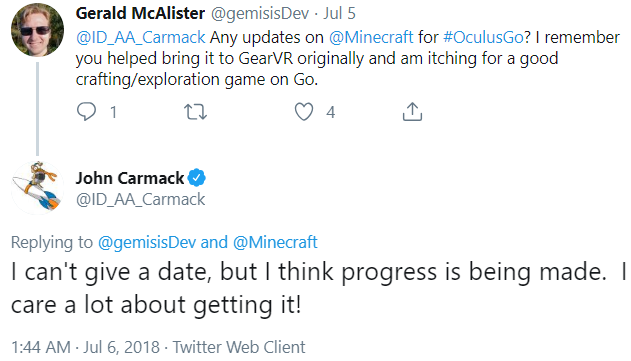 From 'If' To 'When'
When asked to list his favorite Go apps in September, Carmack ended his response with "When we get Minecraft running on Go it will be back in the list."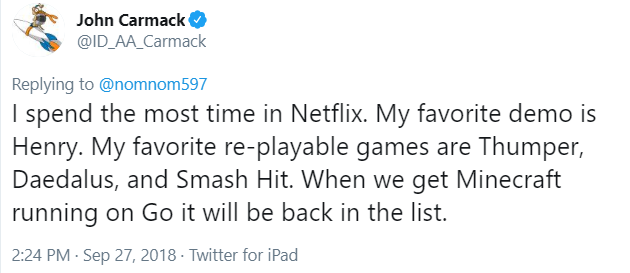 This brings us back to yesterday's tweet, where Carmack suggested "some progress" has been made.
What's The Delay?
The Minecraft team have had a very busy year. While the Nintendo Switch version of the game was intended to ship last year, delays meant that it didn't ship until June of this year. Additionally, the team have had to make fundamental changes to the graphics engine in preparation for the 'Super Duper graphics pack', a DLC which will add modern graphical features to the game. This too was intended to be released in 2017, but has been pushed back all the way to 2019.
The delays of these projects mean that a lower priority task such porting to Go may have been heavily deprioritised. With the Nintendo Switch version of the game shipped however and the graphics DLC hopefully shipping soon, Minecraft for Go may be next on the agenda, and this may be what Carmack was referring to in his latest Tweet.
We'll keep you updated on any further news about Minecraft coming to Oculus Go.