Have you ever had trouble cancelling a physical gym membership? How much did it cost you and how many times did you use it before attempting to cut off that financial siphon?
Please, take a moment to think about the math.
Now, what if you could pay $350 up front for a year at the world's most accessible gyms? You can walk away any time you want and keep or sell any of the equipment you've been sent. Would such an offer solve a problem for you, or solve a problem for someone you know? I bet you're curious if the exercises, top tier music or coaching programs are an added expense here, because they're not.
So what exactly is the catch here?
It's here in my mock sales pitch I pull the sheet off a television that's been sitting next to me on stage the whole time. As I continue my spiel, a video starts playing of a man repeatedly talking about smoking meats.
If that sounds like a deal that's too good to be true, well, yes there is a catch...
If this investment in your future changes your life for the better, you'll need to admit the man in this video, Mark Zuckerberg, was actually right all along about the ultimate potential of virtual reality.
Why Is A Dead Technology Saving Lives?
VR is a dead technology, according to regular reports from Business Insider and Forbes.
As recently as a few days ago, though, Leanne Pedante was told she and the other coaches she works with at Supernatural have saved people's lives using VR. As the head of fitness at Meta's new fitness service, she says she's got dozens of examples of people expressing the same overall sentiment.
VR saved them.
Supernatural members are telling the coaches that Meta's fitness program saved their lives because of how this virtual reality home gym works. What makes VR fitness special, explains Pedante, is that it comes without mirrors or gaze.
"There's a few workouts in particular that I get that are a couple years old now that I weekly get messages from people saying 'there were these few things that you said at the right moment that just kind of unleashed something'. And I, 100 percent, have had those moments in headset too," Pedante told UploadVR. "It's one of the reasons why I've accumulated even more faith that this is going to continue to just gain mass appeal because I can count the number of times during a real life workout that I've had that kind of emotional release on one hand. I'm well beyond that in Supernatural workouts, and I think part of the reason is that you feel so safe to be in the present moment. You're not in a room surrounded by people or surrounded by mirrors. You're super tuned in to what you're physically feeling, what you're emotionally feeling, and you feel secure because you have this voice of a coach who hopefully you feel like you have a relationship with, who's acknowledging your humanity, and I think that that's a really important safe place for people to have."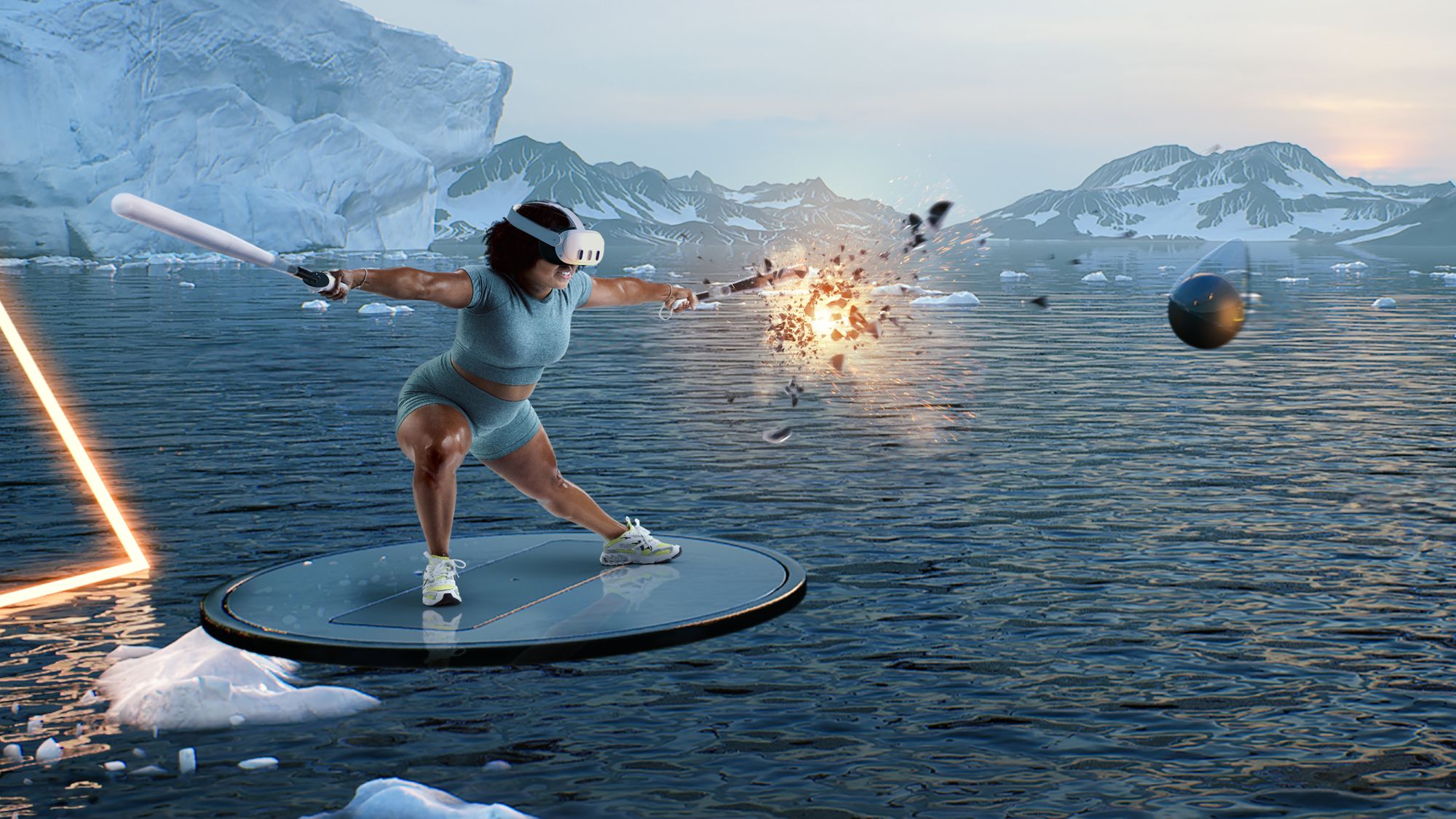 If the hardest step in any fitness journey is the first one out the front door, virtual reality headsets make it even easier than that. A VR headset takes up less permanent room space for fitness compared with a stationary bike or treadmill, and at least in the case of the stationary bike, other services like VZFit are available if you want to train in VR in multiple ways without leaving the house.
Apple has yet to reveal the extent of its fitness offerings for the forthcoming Apple Vision Pro, but the Fitness+ service is a natural fit for the $3500 system and there's been suggestions face and eye tracking information could be used for a range of health-related purposes. With Apple Card and pay later, Apple will likely be ready to help you get into substantial debt making this investment in yourself. That journey starts in 2024 for Apple and its customers.
Right now, Meta-owned Supernatural is listing the Quest 2 we just recommended people shouldn't buy bundled with a year of this fitness service starting at just $32 per month for 12 months with Affirm.
The brand new Meta Quest 3 with 512GB storage is quite the impressive home gym offering. It features the impressive pancake lens technology Meta has invested so much research in and the next generation XR2 Gen 2 processor with that much storage can take you to a lot of jaw-dropping places in virtual reality over the next few years. The base model Quest 3 starts at $550 for 128 GB storage with the year of Supernatural, and the higher storage model is around $700.
The price of the 512GB model Quest 3 rounds out to nearly $760 after interest paying almost $60 per month through Affirm for the headset and year with Supernatural. You have to click "notify me when available" if you want to find out when this particular offer is back in stock on getsupernatural.com.
If you invest in a charging dock as well, Quest 3 will be ready to go to the gym as soon as you are.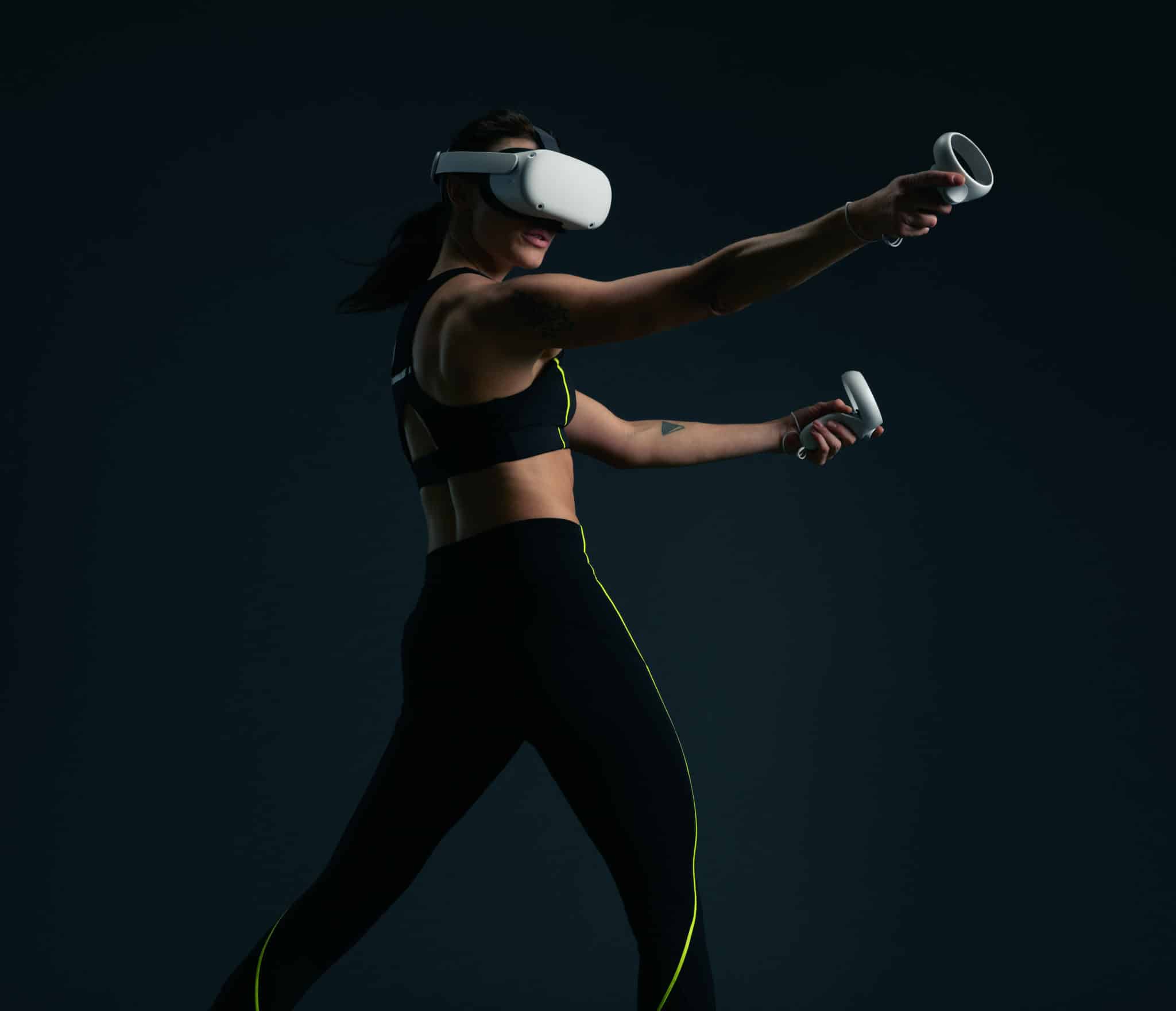 We last spoke with Leanne Pedante in July 2021. That was just months before Meta announced its plan to acquire the service in October of that year. Pedante had not been spotted in the wild by Supernatural members and, at the time, I mentioned there were 13,000 people in the official Supernatural group on Facebook. There are now nearly 90,000 in that group. And being spotted in the wild? Pedante has been noted in public for her role as VR fitness coach exactly one time in the more than two years since we spoke last.
So while Pedante is not quite a fitness celebrity in the physical world just yet, she knows she is making an impact and is starting to see Supernatural merchandise on others. Pedante works for Meta now and that means that, yes, she has a vested interested in the success of VR fitness, and we spoke recently with that context in mind.
"It was a shock because I think in a lot of ways, in my mind, I, as an individual outside of the product, like I still feel like this kind of fumbling, like small town woman who's like trying to figure it out, and just the idea that this thing that I'm involved in was going to kind of jump scale felt very surreal," Pedante said.
Below is a chart from statista.com showing its estimate of 2021 revenue in millions of the 10 largest health clubs in the United States. Where might Supernatural stack up on this chart in the coming years?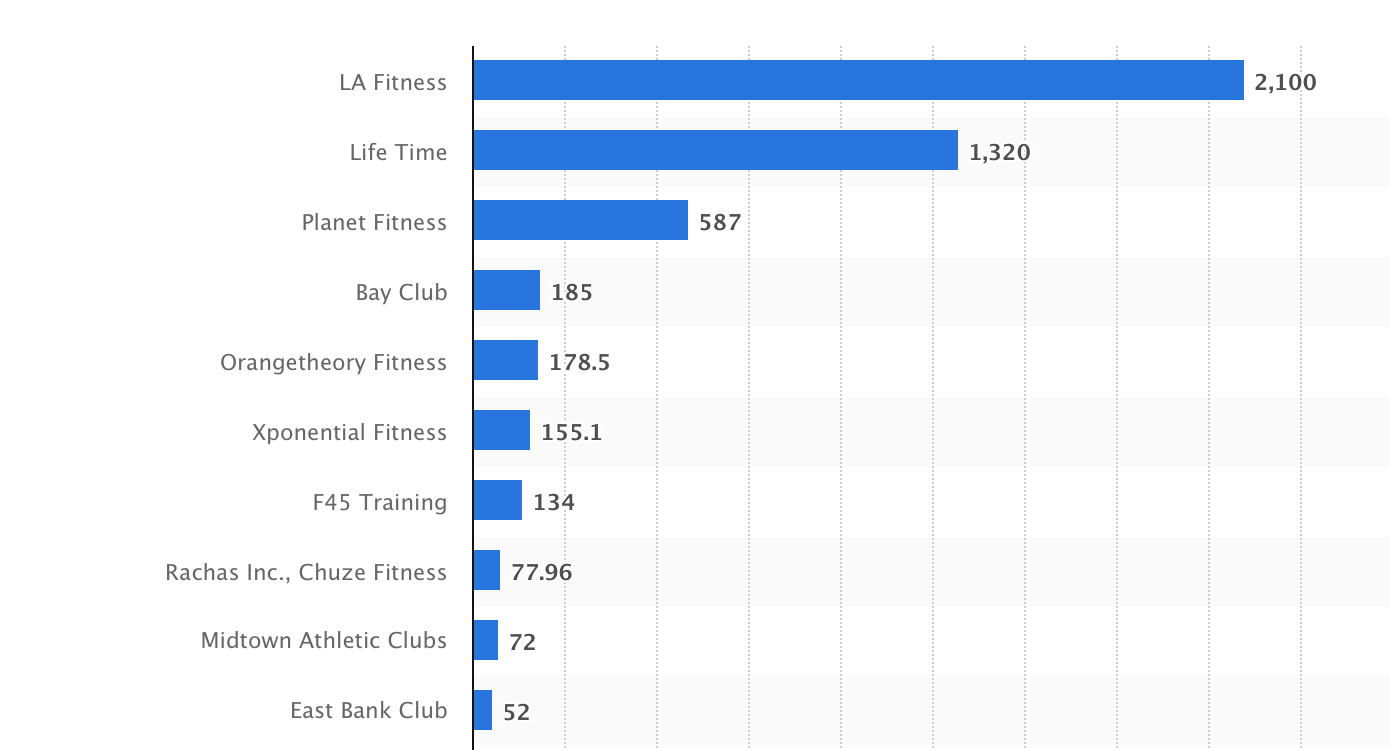 Keep in mind that it seems likely people who tried spending dollars at these physical clubs at any time in the last decade may not be the first ones in the next decade to put their dollars into virtual reality fitness programs like Supernatural.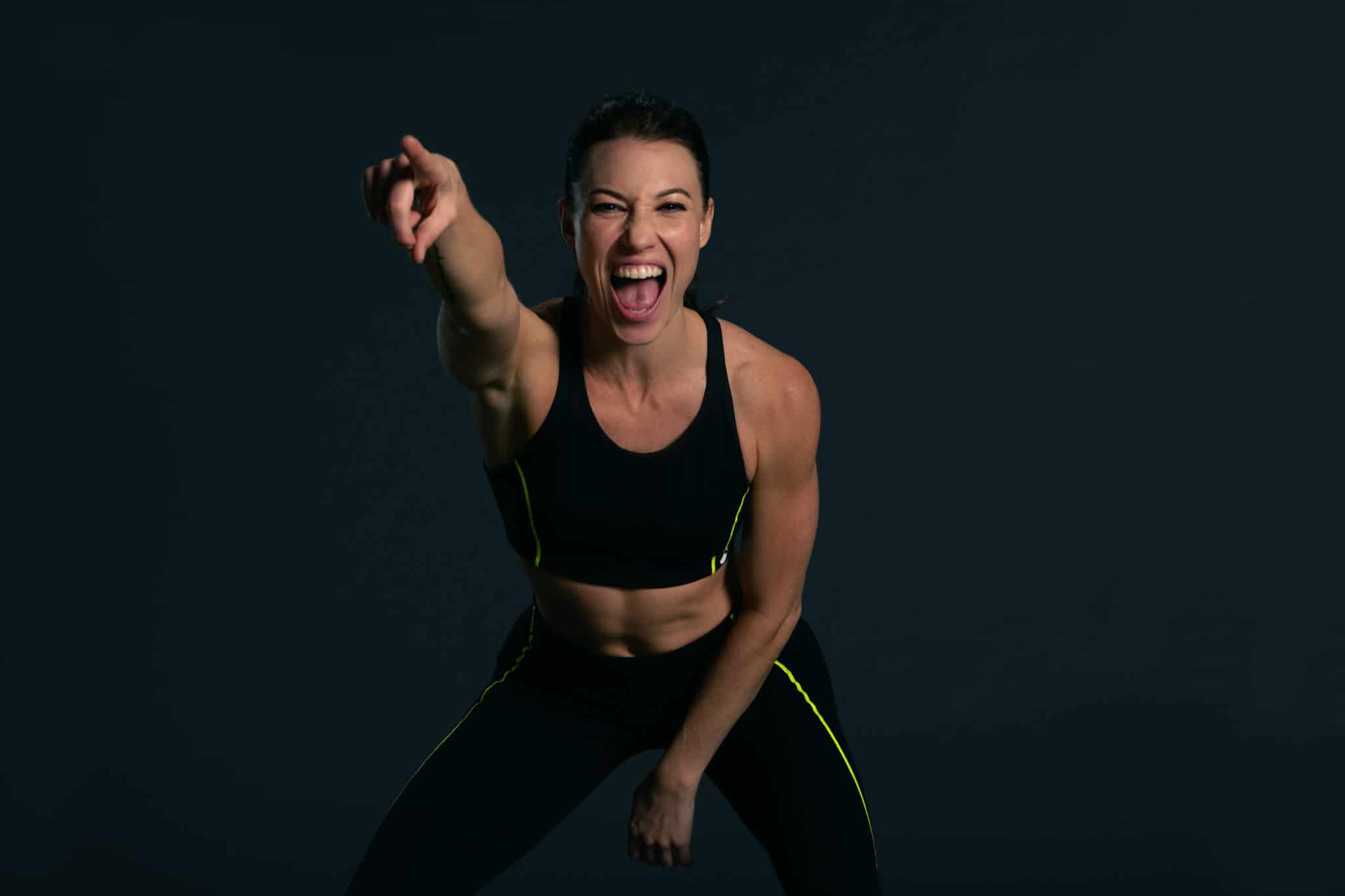 So here's Pedante reflecting on two more years of VR fitness coaching, its effects on her and the members she connects with through VR, and the potential ahead for a new generation of home VR fitness programs in general.
"I think it's going to have massive adoption. I'm really grateful that I was able to become part of Supernatural and part of VR content creation when I did, because what I've seen is very different than what I expected to see, and I think that's what proves to me that it's going to be as big as I think it's going to be. Meaning, the people who have flocked to Supernatural and to VR fitness, like solving a problem for them, aren't the kind of classic early tech adopters," Pedante said. "I am not an actor...being an actor, being on camera was never a part of my plan in life and the only way that I'm able to do this job and to have this role is because I'm showing up as myself. And the only way I can feel good about it is that the more I show up as my real self, the more it seems to resonate with people. And the coaches and I talk about that all the time...our very early workouts when we didn't know who our members would be, I think...we were kind of holding back a little bit of ourselves because we didn't have relationships with our community. You build trust over time. This many years in, we've built a tremendous amount of trust that like the human fallible, messy sides of us as coaches, are part of the reasons why people can find solace and companionship in us is because we're reflecting back the whole thing and not just a sliver of a person."
Article updated Nov. 2, 2023 to add pricing details for the base model Quest 3.