Quest 3's charging dock promises to make Meta's latest headset as convenient as possible - but is it really worth $130?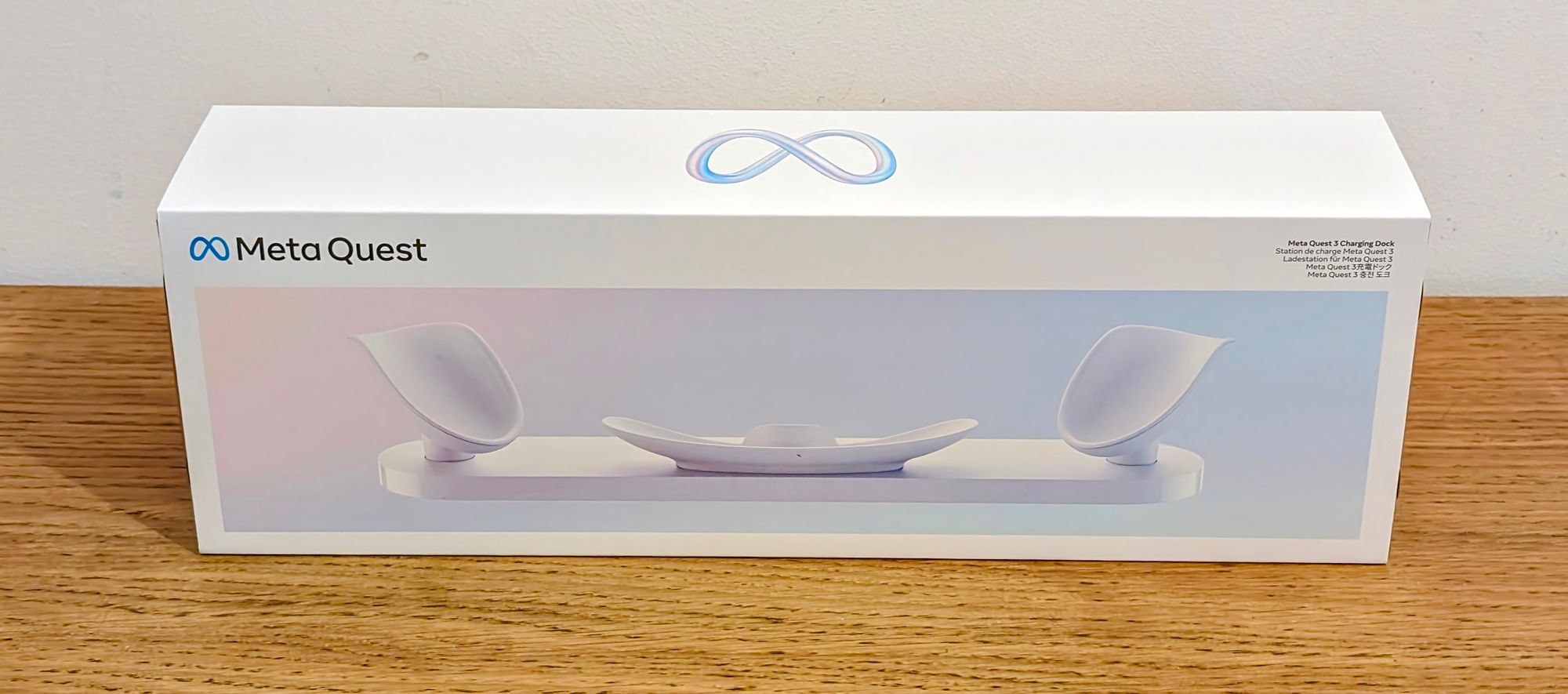 The included charging dock was one of our favorite aspects of last year's Quest Pro. In our review, we said it "becomes an essential part of the hardware in the same sense charging cases did for wireless earpods".
Having your headset on a dock means you can jump into virtual or mixed reality as soon as you want. You no longer have to worry that your headset might not be charged and updated, or that your controllers might need new batteries. It eliminates many of the friction points of standalone VR.
But what about Meta's specific first-party dock for Quest 3?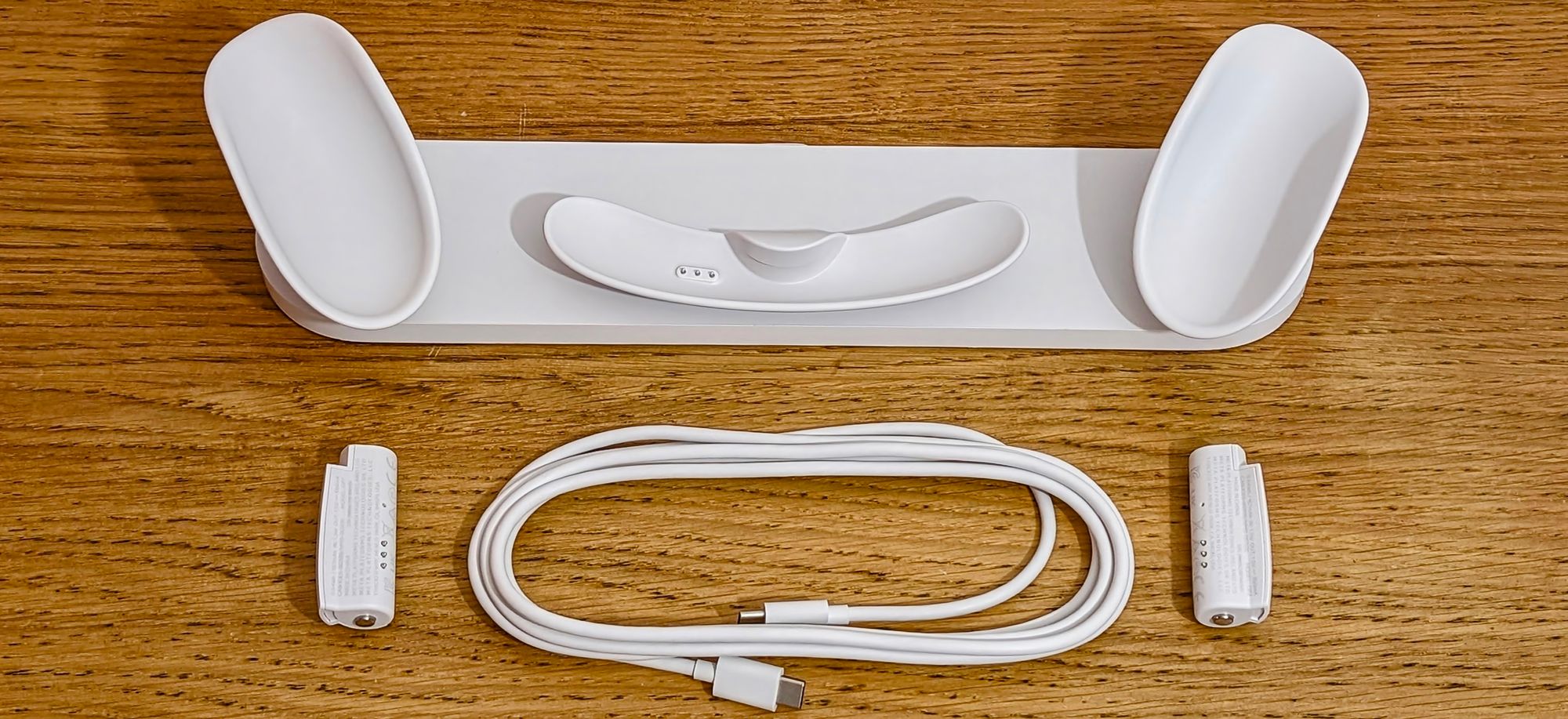 In the box you'll find the dock itself, a 2 meter USB-C cable, and wirelessly rechargeable batteries for your left and right Touch Plus controllers.
The USB-C cable connects to the rear of the base. There's no power adapter included, and for full charging speed of the headset and both controllers you'll want to connect it a 45W one (such as this Anker one). The charger included with Quest 3 is only 18W, so it won't provide the full rate. And if you try to use a <18W charger it won't work at all.
Interestingly, the dock actually uses two completely different charging technologies for the headset and controllers.
It charges the Quest 3 headset via the three golden charging pins on the bottom of the visor (you may have already noticed these and wondered what they were for).
For the controllers, it uses electromagnetic inductive charging of the same kind you might use for your smartphone on your bedside table. You replace the regular AA batteries with the included Meta batteries which wirelessly recharge through the plastic cover.
The controllers easily fit into position on the dock with no effort thanks to the curved design, and you'll hear an audible beep and see an LED for each controller to indicate charging, which turns from orange to green when it's full. And unlike with Quest Pro's dock where the controllers were buried in the middle of the headset and facing away from you, Quest 3's dock has them on each side facing you, ready to be easily picked up at any time.
The headset also attaches to the dock with minimal effort, as the cradle for it actually tilts to accommodate it at almost any angle.
I say almost because there is a notable limitation here. L ike Quest 2, Quest 3 allows you to tilt the visor relative to the strap for your comfort. But if you're using the Elite Strap or third-party straps, there are a few tilt angles where the rear of the strap will prop the headset up so that it won't charge when you set it down. This is a minor issue, though, as you can just rotate it slightly or forcefully push it into place, and you'll clearly hear and see the indication that charging has begun.
The other minor problem with the dock is one that developers will face. The right controller is positioned very close to the headset's USB port. That means if you're using a regular USB-C cable to run builds on your headset or testing gameplay via Link, you'll knock around the controller a lot. A partial solution is to use a cable with a right-angled connector.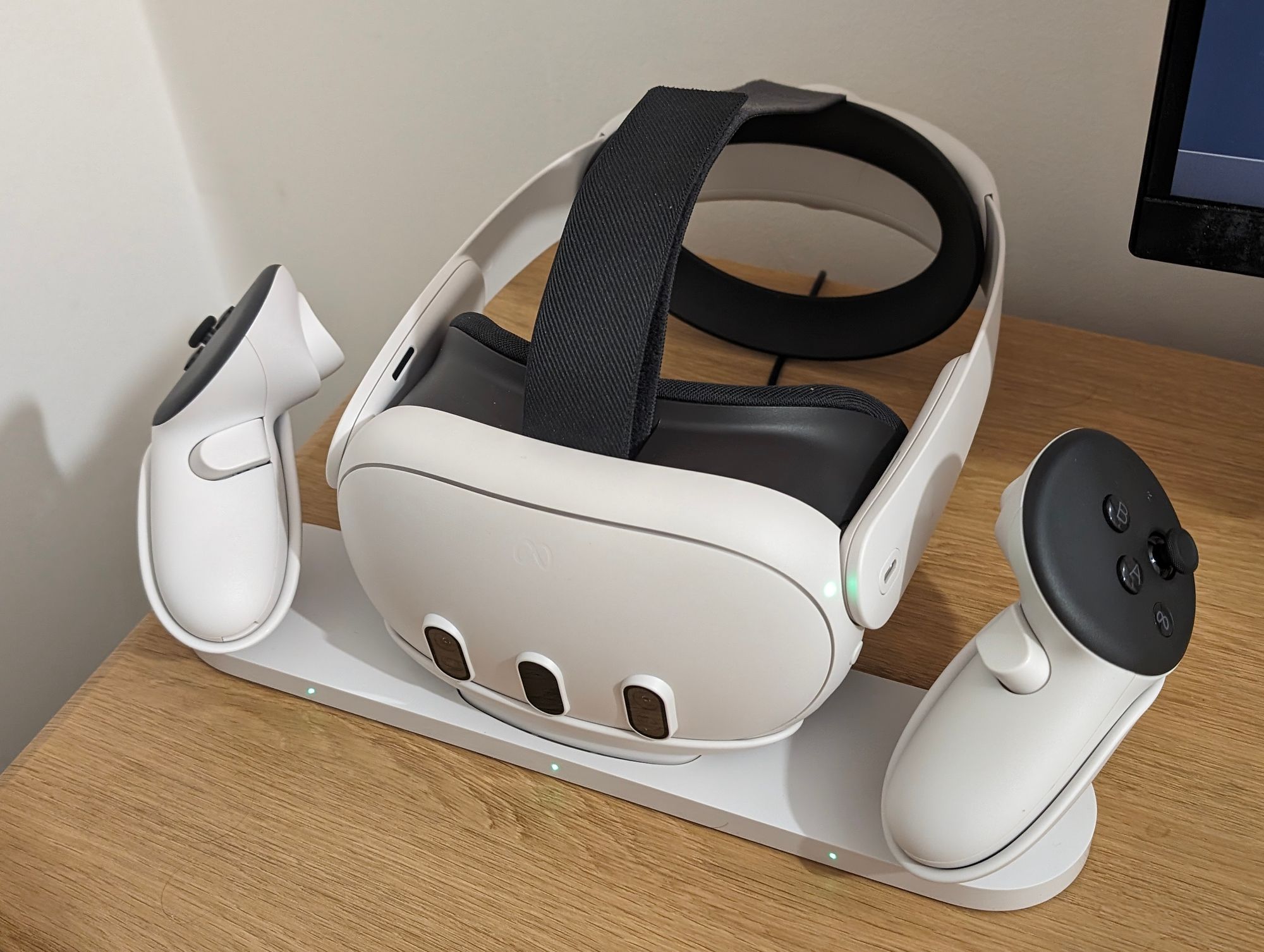 Still, those minor issues aside, the Quest 3 Charging Dock is a beautiful piece of industrial design, with a minimalist yet fully functional aesthetic that feels like it could have come from Apple.
Just as with Quest Pro I find the charging dock absolutely essential, and my headset and controllers never leave it when not in use. Having to no longer think about charging is incredibly refreshing and makes me want to use my Quest 3 more than before I had the dock.
But despite its impressive design and convenience, it's hard to justify such a product at the staggering price of $130. Meta's other Quest 3 accessories also command a surprisingly high price, but unlike the others there are no third party alternatives yet. In fact, we don't even know if Meta makes the charging standards available to other companies to build for. We've reached out to ask that though, and will update this article if we get a response.
If you use VR regularly and want an elegant place to dock your headset and never worry about charging or updates again, $130 may truly be worth it for the years of constant use you'll get out of it. But if that sounds like an absurd amount of money for this and you don't use VR often, perhaps wait and see if third-party alternatives emerge in the coming months.