If you wanted to see one of the most complete VR experiences available last year you would have paid for a ticket to Madame Tussauds in New York for around $50 and included the extra Ghostbusters: Dimension VR experience. You would enjoy catching ghosts with three other players moving freely around the virtual world alongside you.
What makes the experience so immersive is that it is a completely untethered multiplayer walk-around experience complemented by real-world effects, like heat or wind. So you aren't tethered to a computer, you aren't alone and when you walk up to a flame you can actually feel it. The experience is a product of The Void, a Utah-based startup.
If you try out the same experience in the next few months you're going to see a much improved experience, according to co-founder James Jensen. That is because the Ghostbusters experience last year was, according to hands-on reports, initially put together using a modified Rift development kit 2 (DK2) combined with expensive Optitrack tracking. This allowed the system to be deployed in a large area. While the approach allowed The Void to deploy the Ghostbusters: Dimension experience relatively early, it came online as Oculus and HTC started shipping improved consumer hardware. As consumers started receiving headsets that displayed 90 frames per second using the highest resolution displays possible, The Void was using a headset with an older display that only showed 75 frames per second.
This meant that despite wearing a backpack that feels just like a Ghostbusters proton pack, and catching ghosts with three other players in a virtual world enhanced by impressive environmental effects, you could still get an experience at home that was superior in some respects. But 2017 is shaping up to be a big year for The Void as the startup looks to provide the ultimate "hyper-reality" experience. The startup's newest "Rapture" unit features more pixels in front of your eyes and more frames each second smoothing out the experience. They have more than 100 people working at The Void now, though Jensen declined to discuss financial backing.
"We spent a good part of 2016 getting all of our equipment on manufacturing lines so that we could just pump this stuff out and install in locations worldwide," said Jensen. "Each of our 'stages' can have an experience on it, so locations could have two or three stages at them. We're hoping to install 20 stages this year."
Jensen said they wanted to get their first location up and running quickly, which is why they launched using the hardware they did. They also needed to build a VR helmet for safety reasons that would let them get people in and out of a headset very quickly, according to Jensen.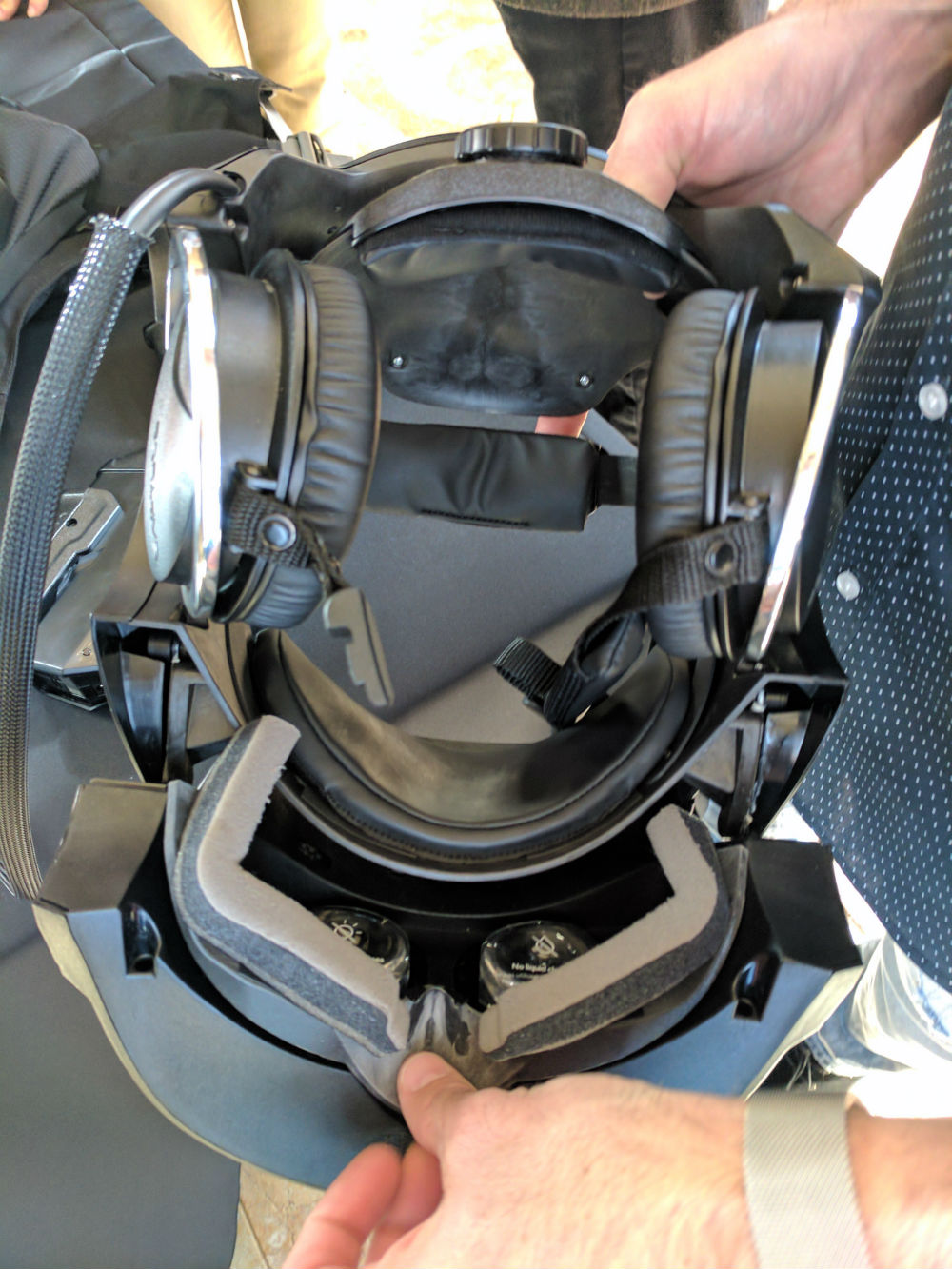 "Our HMD is actually a helmet because you're walking around untethered in a space with multiple people…if you take a hit on the front of it then it acts like a bicycle helmet. It bounces off your forehead, there's padding in here," said Jensen. "If you look at those [business] models where people are just taking an at-home system and deploying it in a mall, if you really break it down on the mechanics of how long people are in the experience, how long it takes them to get out of the experience… then those businesses kind of fall apart. It's all in the details of getting that equipment on, getting it off and providing an amazing experience for the end user."
The unit notably also includes a detachable facial interface so you aren't sniffing a previous wearer's sweat when you put it on. Jensen also said their backpack computer should be around 1.5 pounds lighter and the headset should be half a pound lighter. Lights are embedded along the surface of the gun accessory and headset so they can be spotted by the Optitrack cameras for tracking. The Void showed the newest gear for the first time at an event in Los Angeles earlier this week where we tried on the vest and took the photos embedded throughout this article. The photo at right shows the facial interface being inserted, and you can see stickers over the lenses which look exactly like those included with the consumer Rift. I asked The Void if it is a consumer Rift buried under their modifications but they declined to comment.
With this upgraded hardware rolling out and more locations planned, it is looking more and more like The Void will be bringing the ultimate VR experience to a number of cities around the world this year. We can't wait to check out what they have in store.