Update: An HTC representative has described the leaked price as a "mistake" and issued the following statement:
"We're aware a price was listed by mistake on a retail partner website. We look forward to sharing more details with you about Cosmos soon, but have no further comment at this time."
Original: A popular UK retailer may have just leaked the HTC Vive Cosmos price.
Argos lists the upcoming VR headset for £699.99. It is, of course, entirely possible that this price is a placeholder. That said HTC already confirmed Cosmos would cost less than $900 and this price works out to around $850. We've reached out to HTC to see if it will confirm the pricing for the kit.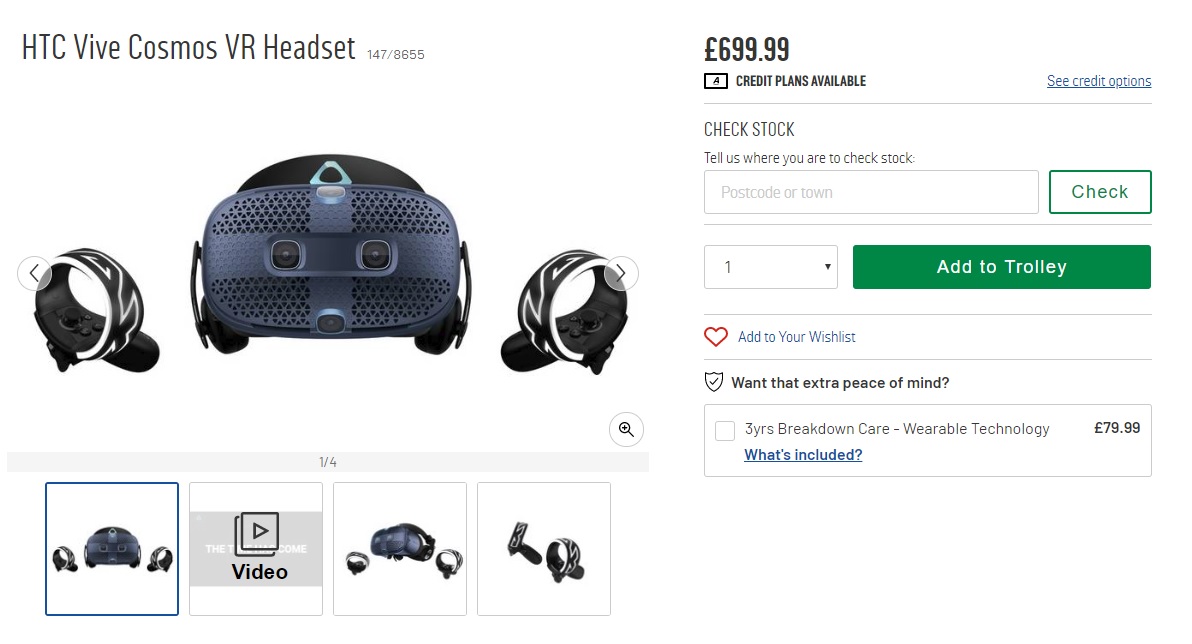 At that price, Cosmos would be $50 more expensive than the original Vive when it launched in 2016. This is pure speculation on our part, but it's also possible the company decides to launch the kit for $799 in the US. Or it could be a straight conversion to $699.99. That is, at least, much cheaper than the Vive Pro enterprise-level headsets that HTC put out over the past two years.
Either way it's inarguably steep, but it does sit between the $399 Oculus Rift S and $999 Valve Index. With its high specs and inside-out tracking solution, Cosmos itself is expected to do the same. The headset will have a combined resolution of 2880×1700 and launch with six inside-out tracking cameras. It will also come with two newly-designed controllers that look quite similar to the Rift S controllers.
Cosmos will be HTC's second consumer-focused VR headset in the west. While it will definitely run on a PC, HTC also hints that it will be compatible with other platforms like smartphones. Speaking to Upload earlier this year, the company said the device will have 'scalability'.
Earlier this week we got our latest look at the headset, focused on comfort. Cosmos sports a halo ring and the headset even flips up to give you quick access to the real world. For now, we're expecting the device to launch in Q3 of this year.
So, do you think this is really the HTC Vive Cosmos price? Let us know in the comments below!