Update: More information added about the controller prototype being shown at Steam Dev Days.
Valve apparently didn't want to make its Steam Dev Days conference a PR event, but that isn't stopping it from making some exciting new announcements, like revealing a new prototype Steam VR controller.
The company debuted a few images of new controllers (above) at a keynote speech today, and a prototype will be available at the show. One of the prototypes allows for a more realistic grasping sensation.
If you check out the prototype at right in the image it seems to be an extremely tiny gadget that wraps around the back of the hand, obscured in the photo by the controller itself. With this in place, you can completely open your hand — letting you easily drop virtual objects the same way you would in the real world. We're also told the controller senses finger positions.
Valve's new VR controller will be showcased at #SteamDevDays with a special demo of Call of the Starseed!

— Cloudhead Games @SDD (@CloudheadGames) October 12, 2016
We reached out to Cloudhead Games, one of only two companies we've confirmed to have sold more than $1 million worth of VR software, to find out more about this demo and the controllers. Here's what we heard back:
We were one of few developers who employed hands on the Vive, and our code just happened to work with Valve's new controllers right out of the gate. They basically told us we have pretty hands–it was very flattering. So we made a new sandbox on the beach with a bunch of the pick up items from Call of the Starseed in one spot. Didn't have to change much at all.
Right now gripping virtual objects with the HTC Vive controllers is awkward, with grip buttons on the side that are hard to reach and don't make much sense since you are already grasping the controller. Letting developers try out this unnamed hardware prototype likely provides Valve valuable feedback they can use to hone in on even more immersive controllers that are better adapted to grasping and gripping objects.
Aside from that, it's hard to tell what's new from the pictures, though the thumbnail second from right certainly looks like a sleeker pair of Vive wands. You can also see a Steam controller on the far left that appears to feature lighthouse tracking.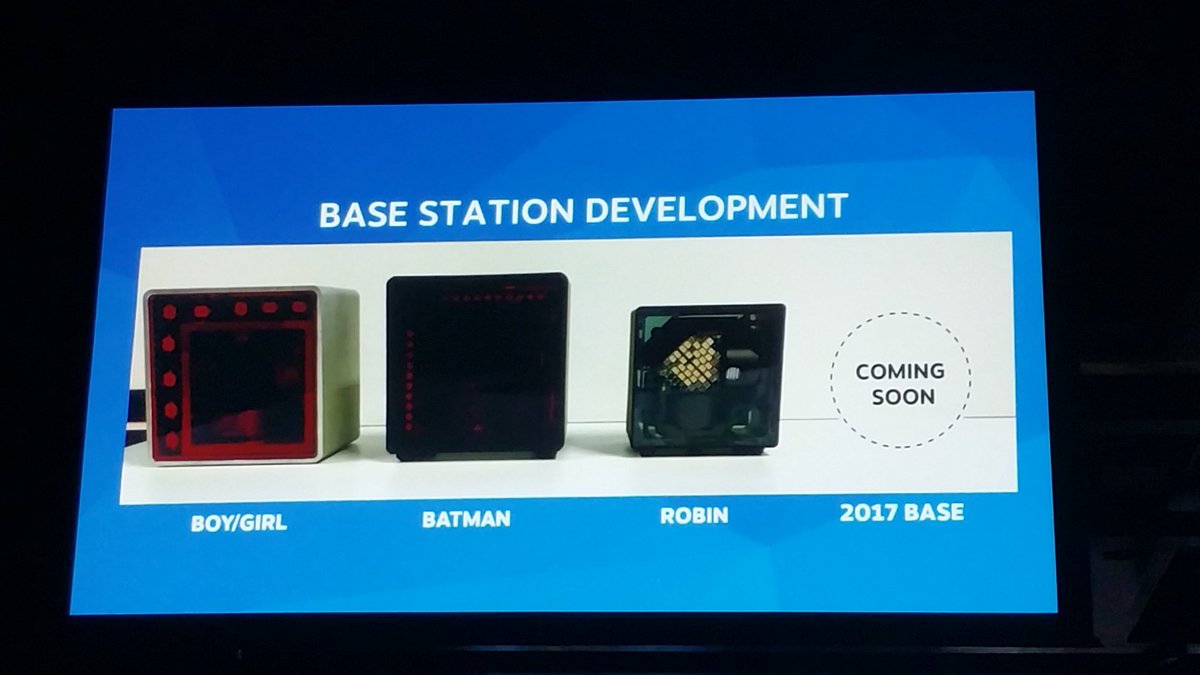 It also looks like a new version of the lighthouse base station is on the way next year, as seen in the above slide taken by Shawn Whiting.
More on this story as it develops…