I think Ian said it best in his pre-Oculus Connect 5 predictions piece last week: a low-cost standalone VR headset that could run both Beat Saber and Superhot could dominate the VR market in the years to come. Well, we know Oculus Quest has Superhot, we know it's a reasonable $399 and there are plenty of hints that Beat Saber is on the way. But what about a game that could go even further than that? Something with wider appeal that could really convince naysayers that this was a worthwhile gaming console? At first, I thought it could be Star Wars: Vader Immortal.
Then it hit me; it might actually be The Elder Scrolls: Blades.
Despite its stunning visuals and breadth of content, Bethesda's big new mobile game wasn't met with an explosion of hype when it was revealed at E3 last June, largely due to the resistance to mobile gaming from those that prefer to play on consoles. Our ears pricked up, though, when we heard that the game was also coming to VR headsets. Specific devices weren't confirmed, but Bethesda's Todd Howard did show an image of an HTC Vive, promising cross-platform multiplayer, and explaining that he wants to release it on as many platforms as possible.
Now, again, Blades on PC VR sounds great though we're not sure it'll live up to the excellent port of Skyrim that just about anyone with a headset has already bought and it still comes with all the complications that have stalled the market from growing at this early stage. That said, the idea of exploring an all-new Elder Scrolls adventure on Quest with six degrees of freedom (6DOF) inside-out tracking providing realistic sword and shield combat as well as truly satisfying spell-casting is an exciting one. The chance to face off with your friends running the game on mobile nearby only sweetens the deal. We went hands-on with the mobile version at E3 to take a look at how the core game plays.
This is a series that's so feverishly popular that Bethesda announced the sixth mainline installment before its even properly shown the game that's coming before it. All signs point to Skyrim VR having sold well, and Elder Scrolls is the ultimate fantasy adventure, so Quest may represent the easiest way to virtually visit the sprawling universe yet. It's got to be a no-brainer, right?
Except there's one problem.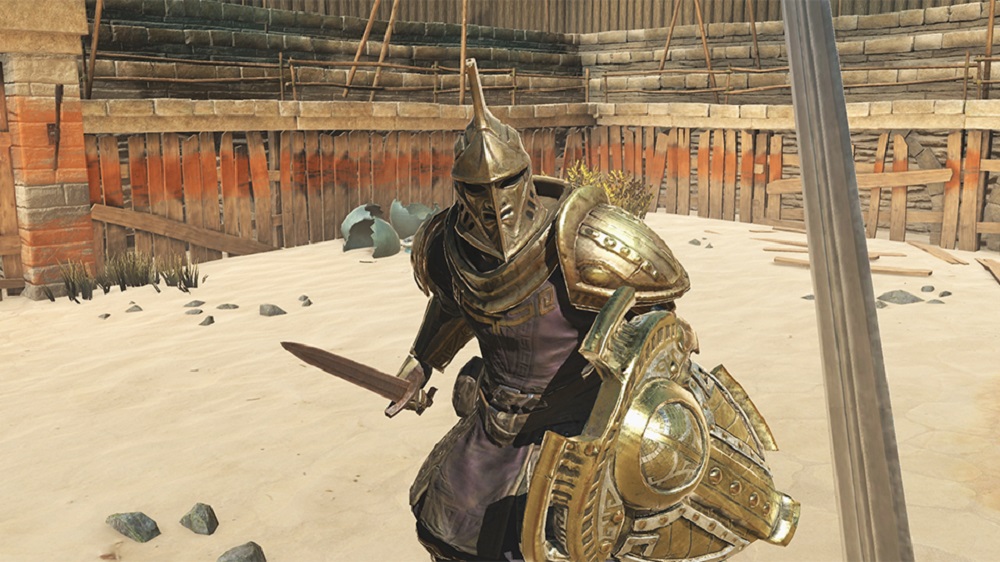 Earlier today, we asked Bethesda if there are any plans for the game on Quest. As expected, the company declined to comment past reconfirming the previously-announced mobile versions launching this fall. Perhaps Bethesda is playing its cards close to its chest, but it's also a very real possibility that we never see Blades on Quest due to a larger struggle between Oculus and Bethesda's parent company, ZeniMax Media.
As you may or may not know, Oculus and ZeniMax are currently enthralled in a lengthy legal battle. The latter accused Oculus of stealing technology when John Carmack, formerly of the Bethesda-owned id Software, moved over to the VR company in 2013. It resulted in a heated courtroom battle at the start of 2017 that ended with Oculus being ordered to pay ZeniMax $500 million. Fast forward about 20 months, though, and the conflict is still developing, with Oculus recently halving its payout and vowing to remove the rest, too.
Btw here is a quick little video fron #E3 showing how combat and inventory management work in The Elder Scrolls: Blades on mobile portrait mode pic.twitter.com/7HyMfT5dCg

— David Jagolanterns ? (@David_Jagneaux) June 15, 2018
Whilst Bethesda once said that the legal dispute wouldn't keep its games from coming to Oculus headsets, none of its three PC VR games have yet launched on Oculus Home. In fact its first two releases, Doom VFR and Fallout 4 VR, don't even feature native Oculus Rift support on SteamVR. It was only this year's launch of the PC version of Skyrim VR that finally acknowledged Rift compatibility via the third-party platform. Granted, none of this can be explicitly linked to the lawsuit, but it does seem telling.
If Quest were to somehow support SteamVR (which is entirely unlikely), then it might be that Blades came to the headset that way, but we're not so sure Bethesda is ready to officially release its first product on an Oculus platform. We've got our fingers crossed that that might change, though, because the more we think about it, the more Blades seems like it could be a genuinely important piece of making Quest VR's first mainstream device, and its absence on the platform might prove to be Oculus' biggest penalty yet.