Oculus saved their biggest news for the end. Going into the show the biggest question on everyone's mind was what the heck is Oculus' input solution going to be. We had previously heard that "input is hard," from Oculus' founder Palmer Luckey – who had also committed to making it his pet project. A project that it appears may have paid of in spades – with an input solution that Oculus is calling "Oculus Touch" (or if you prefer its codename – "Halfmoon") but more on that in a second.
Prior to announcing their own input, however, Oculus set the Internet (and especially the /r/oculus subreddit) aflame by announcing the Xbox One controller as the input that would be bundled with the Oculus Rift consumer version. The bundle is a result of a rather extensive partnership with the team at Microsoft, and marks a decision to help usher the gamers of today into the platform of tomorrow.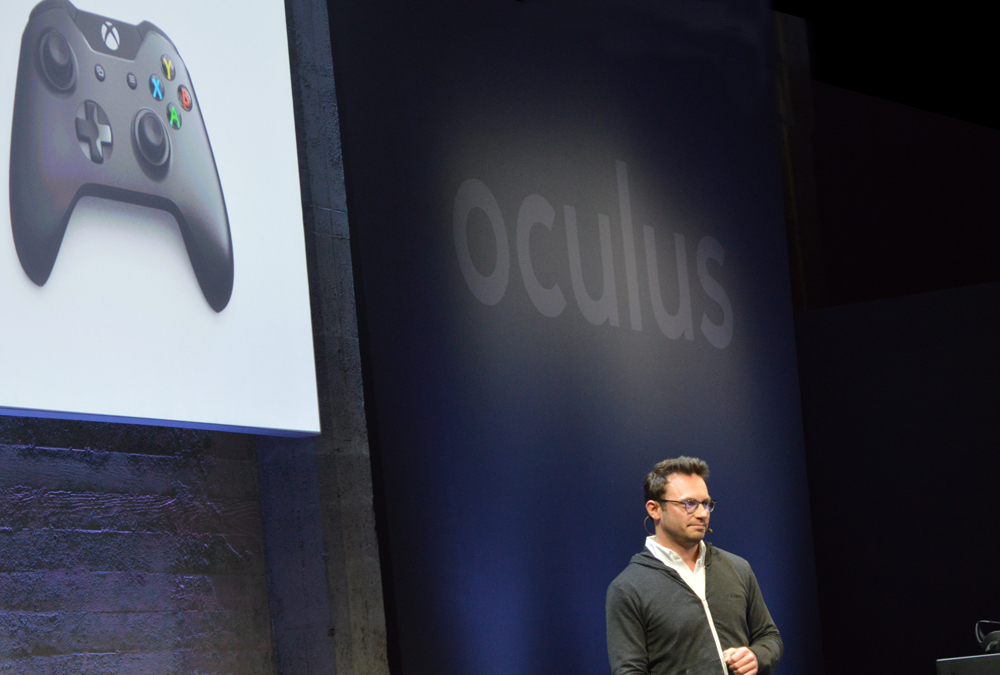 Brendan Iribe argued that, "including a gamepad in this generation of the Rift is the right move for game developers and gamers around the world" and I would have to agree. As he said on stage, we have all grown up as gamers using that form of input. It is something that is natively comfortable for a lot of people, which is important especially when you can't see the controller in your hands.
Furthermore, Palmer Luckey – the creator of the Oculus Rift and the company's co-founder – opined that "many games and experiences are simply better with a gamepad right now," citing EVE: Valkyrie and Luckey's Tale as examples. But it was obvious which input device Palmer was most excited about.
See over 70 VR enthusiasts react in Convrge (a Social VR program) to the input announcements 
There was an air of excitement that washed over the room the minute that Iribe announced – Apple Keynote style, they had "one more thing" to share. Brendan then introduced Palmer Luckey – who burst onto stage with the air of excitement and confidence befitting the magnitude of the announcement he was about to make.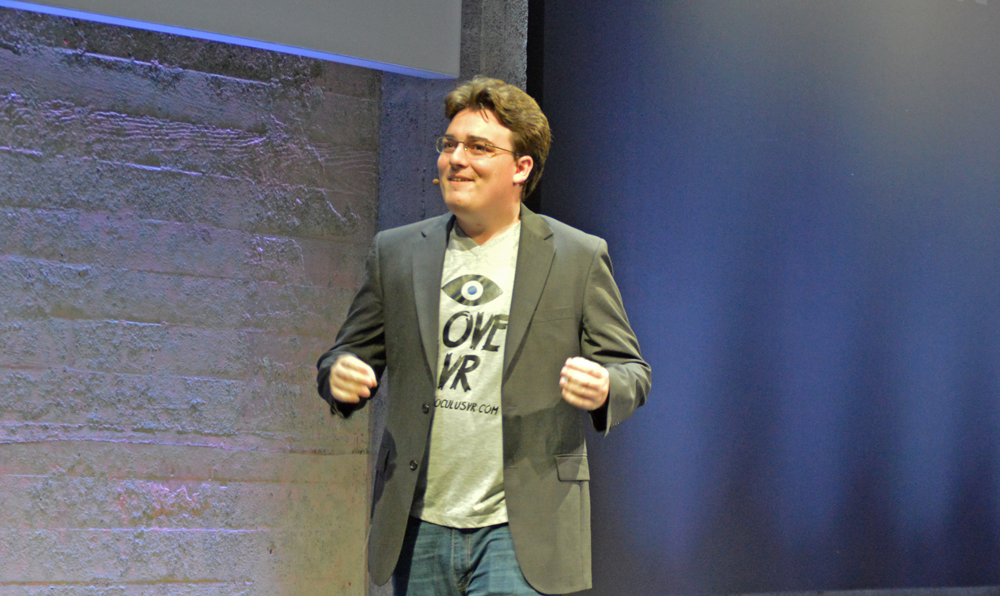 "I've seen thousands of people inside the Rift," says Luckey, "and one of the first things that people do is they reach out into this virtual world… it is a natural reaction… we wanted to create a device that would let people reach out into the virtual world." And so they did just that.
Oculus' own input device, Oculus Touch, began with a number of goals. First and foremost was bringing hand presence to VR, the sense that your virtual hands are actually your real hands within the game. "This is critical," says Luckey, "to nailing the sense of overall presence."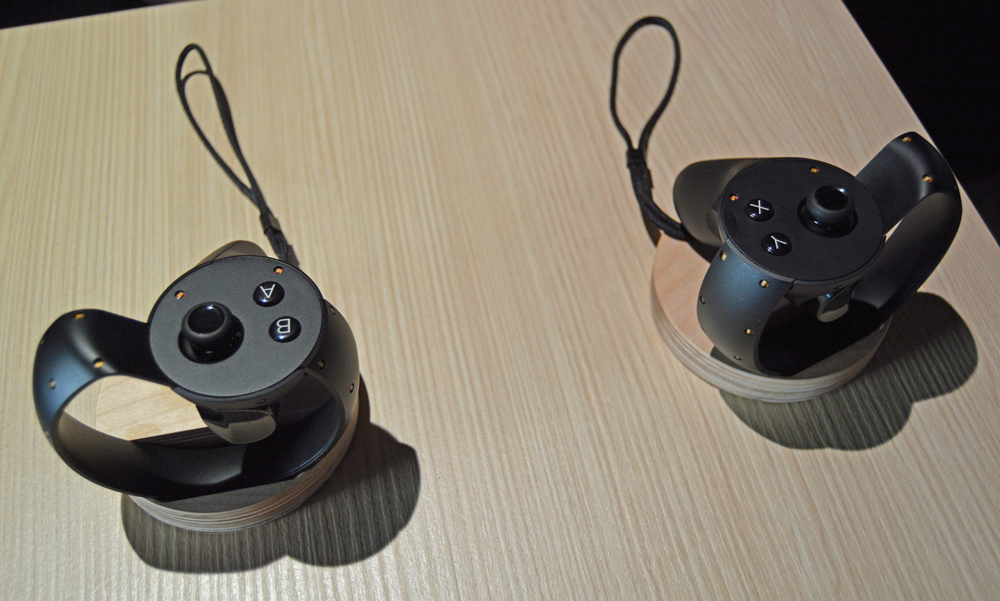 The Oculus touch controllers accomplish this using a six degrees of freedom solution that combines an internally embedded IMU that detects changes in things like velocity, orientation, and even gravitational forces with a series of infrared LED's which can be seen on the controller's cross guard. Right now it is unclear how the controllers will solve any issues with occlusion (when the controllers are hidden from the Constellation tracking camera) but we should hear more about that at E3.
The controllers are lightweight and ergonomic – fitting nicely in the hand and, as Palmer pointed out on stage they can rest nicely on your leg when you are sitting down on the couch. In addition to being comfortably designed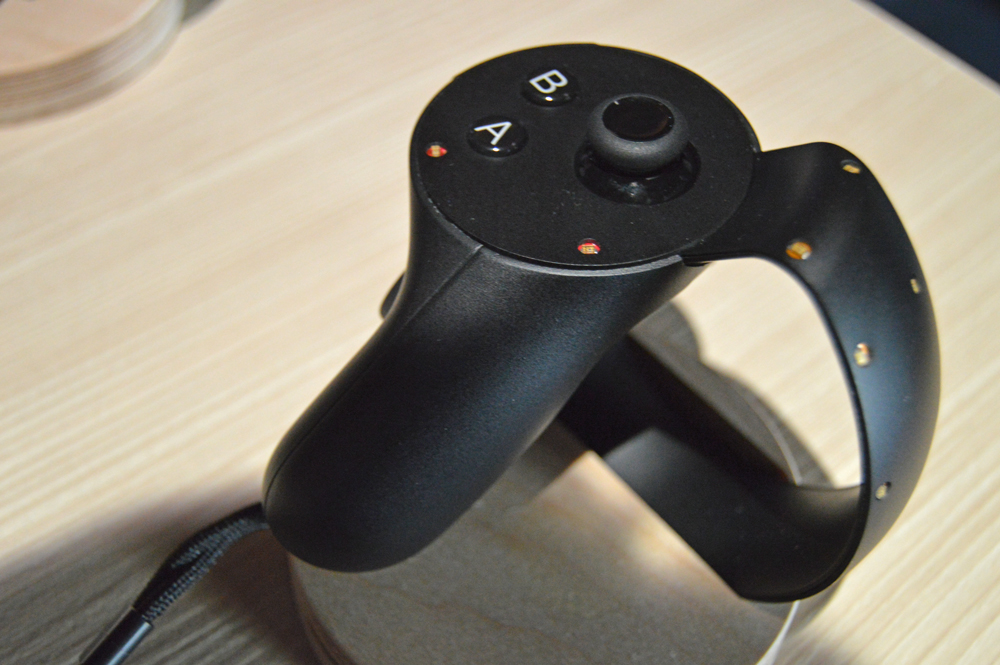 The controllers, which are mirrors of each other, each have two buttons and a joystick on the top, and two different types of triggers on the bottom – a standard trigger and what Oculus is calling a "hand-trigger" which Palmer believes will bring a number of new uses to VR, "imagine using this to pick up a virtual gun, and then using your index finger to pull the trigger," he suggests. The controllers will also have some form of haptics in them as well – but whether this goes beyond the standard rumble in many controllers already on the market (include the Xbox One controller) still remains to be seen felt. Although Palmer did mention on stage that "you can actually feel the things that you are touching."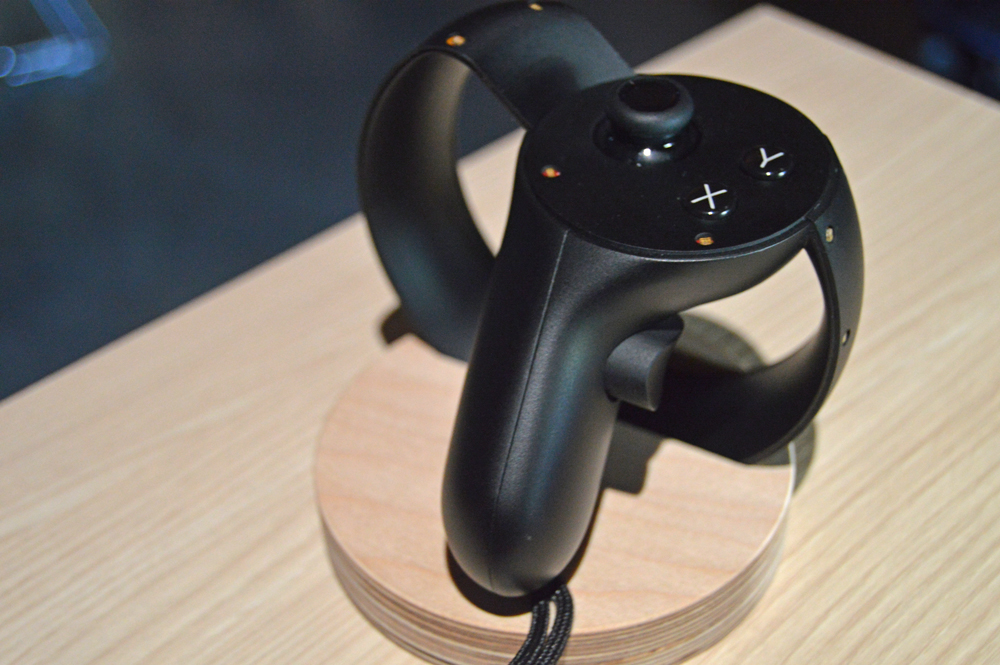 It is not just button and motion based input – the Oculus Touch can also detect "a number of finger poses" using a series of sensors which are mounted within the inside of the device. These sensors are able to recognize "natural hand poses like pointing, waving, or giving a thumbs up" all things that are going to be crucial for social VR applications. It remains to be seen how complex the gestures it can detect are, but we should get a chance to experiment with it at E3 using a demo that Oculus has called Toybox.
Toybox, according to Luckey, is the demo that Oculus has been using internally to test and design the Oculus Touch controllers. It is a sandbox style experience that allows you to "light explosives, dual wield laser guns, pull robots limb from limb, punch garden gnomes, play tetherball" and tons more. The experience also has a multiplayer component meaning that two players who don't share the same physical space can actually play in the same virtual space seamlessly.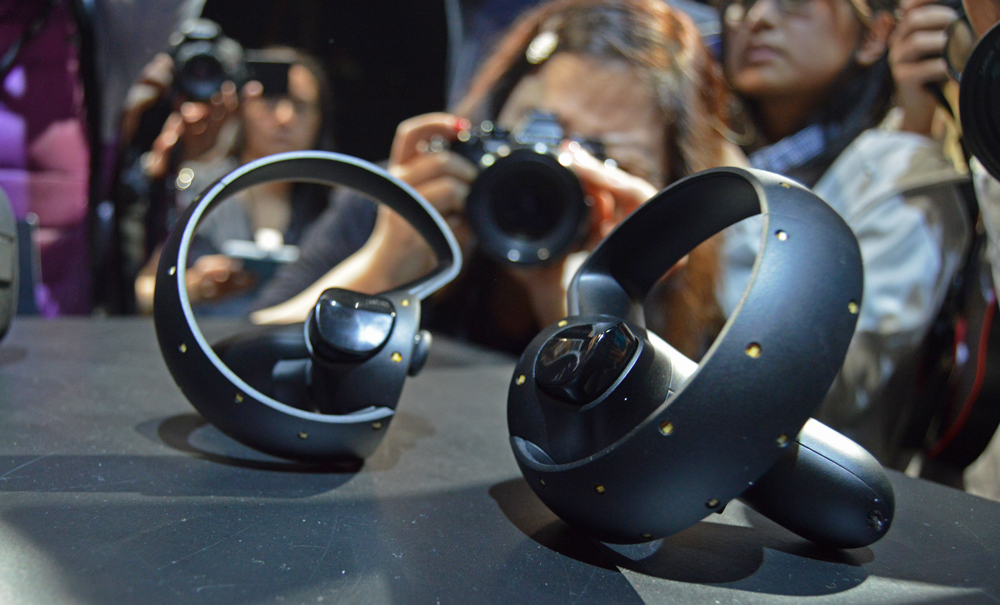 It also looks like there will be a little bit of a delay between the release of the Oculus Touch controllers and the headset itself. According to Luckey, the controllers will ship in the "first half of 2016," but not with the Rift itself. They will, however, be available for preorder at the same time as the Rift – which is still yet to be determined.
Also absent from the press conference was any inclination as to what the price of these controllers will be. But it is possible that we may learn more at E3 – or at least by Oculus Connect 2.
It is interesting to note that this new form of input does help to standardize some input for VR across the headset landscape. Both the HTC Vive and the Sony Morpheus use hand controllers for their experiences – by making the Oculus input device something similar, Oculus makes it much easier for developers to offer cross platform support.
We will get our hands on with the controllers next week at E3 and will make sure to report back with our impressions.