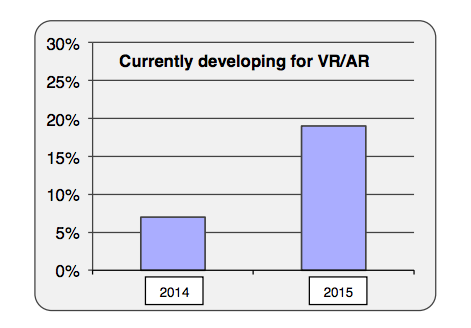 A new survey released by the Game Developers Conference (GDC) reveals some interesting stats regarding interest in VR development. Polling of more than 2,000 game developers who attended the conference in recent years, this year's survey reveals 16 percent are working on VR titles compared to 7 percent in last year's survey. 15 percent said the next game they make will come to VR while 7 percent said the same last year.
Another section of the survey more narrowly focused on mixed reality showed higher results, with 19 percent of developers saying they're currently making a game for the Oculus Rift, 8 percent working on Samsung's Gear VR and 7 percent on Google Cardboard. PlayStation VR and HTC Vive are being targeted by about 6 percent of the respondents.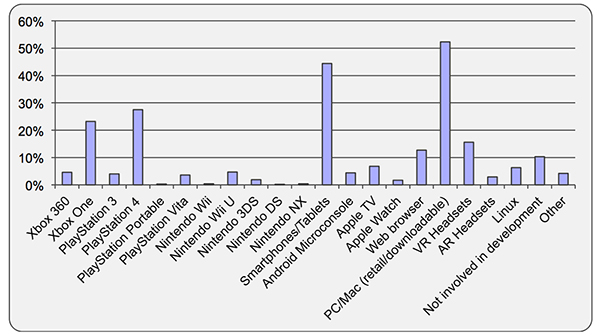 On the flip side, 44 percent of those surveyed said they weren't involved in VR development while another 25 percent said they aren't currently interested in developing for VR/AR headsets. Only 17 percent of developers hadn't tried any VR platforms. Of those who had tried mixed reality platforms, this was the breakdown of what they've experienced:
Oculus Rift (77%)
Google Cardboard (46%)
Gear VR (31%)
PlayStation VR (21%)
HTC Vive (19%)
Microsoft Hololens (8%)
castAR (3%)
Perhaps one of the most interesting questions asked was whether the developers believed VR/AR was a long-term sustainable business, with 75 percent agreeing and 25 percent disagreeing. In another question, 38 percent of those surveyed predicted VR/AR hardware would be in 10 percent of U.S. households by 2020. The vast majority, 86 percent, think it will happen by 2030. Just 9 percent think it will never happen.
GDC will be held this year alongside the Virtual Reality Developers Conference (VRDC) from March 14-18 at the Moscone Convention Center in San Francisco. The 2016 "State of the Industry Survey" is the fourth year GDC surveyed developers.