Recently, we reported that Disney's CEO Bob Iger has stated that he would rather focus on augmented reality over virtual reality for his company's fleet of worldwide amusement parks. Today, we're getting our best look yet at what Disney's vision of an AR device might look like in the form of a new patent application.
The patent was filed by the Mouse House today and  is titled: Augmented Reality Controls for User Interactions with a Virtual World. From the patent's description:
"An augmented reality control for interacting with a virtual world comprising a projector, a display surface for displaying the virtual world, a physical object, a memory storing, and a processor to: project, using the projector, a user control onto the physical object including a visual representation correlated with a virtual element in the virtual world, determine a user input for controlling the virtual element based on a user manipulation of the physical object, and update, using the projector, the user control projected onto the physical object based on the user manipulation of the physical object to maintain the visual representation correlated with the virtual element in the virtual world."
Exploring the patent further reveals a series of rough sketches and diagrams. According to the flow chart, the entire system begins with this augmented reality projector.
From the looks of the images, it seems that these AR projections will be placed onto commonplace 2D surfaces such as dining tables. This makes sense considering that Disney's most recent box office smash, Beauty and The Beast, is a film featuring talking dinnerware. It also just so happens to sound similar to Lightform, a startup that just revealed itself with millions in funding.
The Disney AR system seems to be attempting to create AR experiences that don't require park visitors to wear anything on their faces. This could be a smart move in terms of wider accessibility, but does limit the experience to 2D planes with basic interactivity.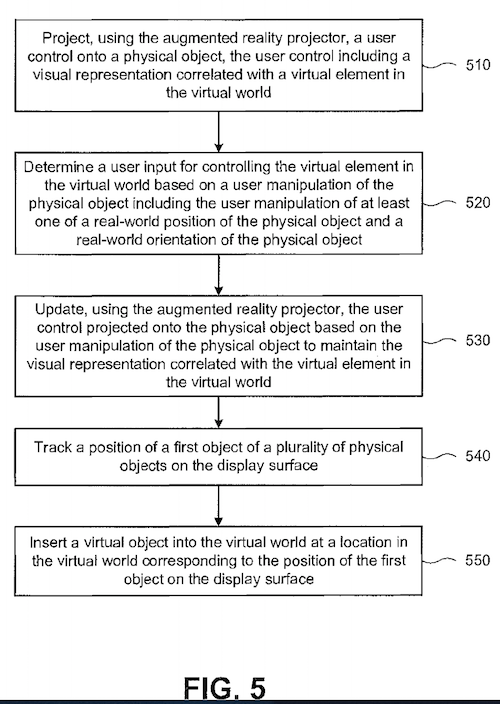 Like all patents, the ideas put forth here may never come to fruition, or may only serve as a precursor to a more advanced final design. What we can say definitively, however, is that Disney is clearly serious about including more AR in its theme parks and is actively working toward that end.