CES is here! If you've been following UploadVR over the past few weeks, then you know we're as excited as everyone else for what's expected to be the global coming out party for reasonably priced consumer virtual reality. One of the primary headliners expected at the event is more information (and hopefully a date for pre-orders) of the first Rift consumer version, a.k.a. CV1.
In the spirit of CES and Sin City, how about we embrace the occasion with a little wager? For a chance to get your hands on one of the Oculus Rift CV1 headsets register to play in Casino VR and UploadVR's Virtual Reality Poker Tournament.
The Virtual Reality Poker Tournament is Thursday, Jan. 7 at 8:15 p.m. PST during the Upload VR Party at CES. While the party is happening onsite in Las Vegas, this VR poker tournament is open for card sharks around the world to register and participate as well – as long as you've got an Oculus DK2. Get started with the Casino VR Beta download here and make sure you submit your email address on that page as well.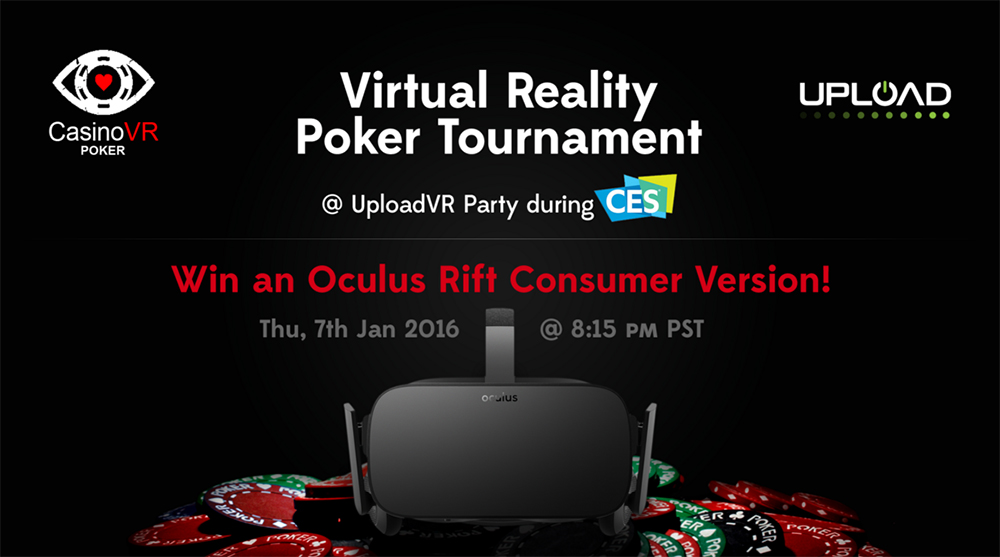 The game itself is still in beta, but has grown in popularity through regularly scheduled poker tournaments.
Casino VR's website says:
Casino VR is going to change the gaming industry by creating a Virtual Reality experience that simulates playing in a real casino.
The poker tournament is an ambitious vision — people physically in Vegas playing against others around the globe — and an opportunity to get your hands on one of the hottest products in the world.
If you'll be at CES and are interested in attending the UploadVR Party in person, general admission is sold out but you may still be able to get a VIP ticket here. Good luck and may the luck of the cards be with you!