Samsung is revealing its anticipated new smartphone tomorrow and, yes, you'll be able to watch the entire event within VR.
The electronics giant will take to the stage at 11:00 am EDT in New York tomorrow, August 2nd, to announce the next entry in its enlarged series of phablets, the Galaxy Note 7. To watch the event in VR, you can download the Unpacked 360 View app from the Oculus Store in Gear VR, and open it up when the livestream begins to get access. Weirdly, it appears that the app won't be streamed within the Oculus Rift, despite Oculus partnering with Samsung to actually power the Gear VR itself. You'd think it would be available on both but apparently not.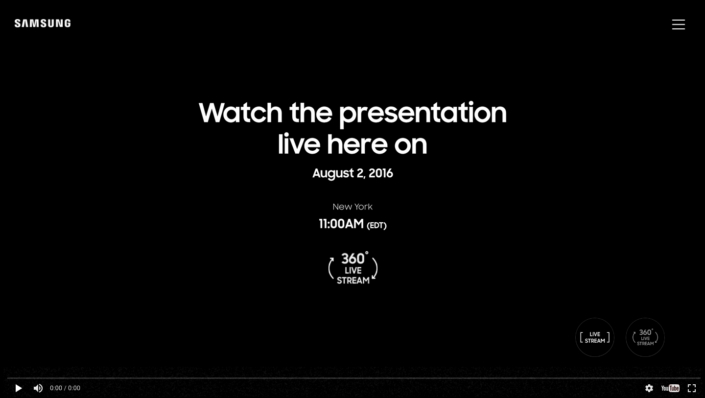 What you should be able to do, however, is watch the event with a Google Cardboard headset too. The 360 livestream will be posted on YouTube tomorrow, meaning you should theoretically be able to access it via the platform's mobile app (although not on iOS, strangely) and select the Google Cardboard icon. Samsung itself hasn't mentioned if this will be possible, but it is a fairly standard feature for 360 YouTube videos. You can of course also watch it in 360 degrees on your PC or your mobile phone without a Google Cardboard unit.
It's not the first Samsung conference that's been streamed in 360, and it almost certainly won't be the last. That said, this should still prove to be a big show for VR fans; the Galaxy Note 7 is heavily rumored to feature a brand new version of the Gear VR that accommodates its as-of-yet unconfirmed new type of USB port. Rumors as recent as the past few days have suggested that the device might not represent a huge leap over the previous iterations of the Gear VR, though the upgrades to the Note 7 itself could still provide a superior experience.
It certainly looks like all with be revealed tomorrow. We'll be tuning in for sure and deliver the latest right to you.