We're recovering today from the mad dash that was CES 2018 in Las Vegas. We weren't able to see everything running back and forth between the Las Vegas Convention Center, The Venetian, and elsewhere in the city, but we nonetheless saw some incredibly interesting VR demos in our three days there.
Not everything we tried was consumer ready or perfect just yet, but we were very impressed by each of the five technologies we outlined below. There's still a long road ahead for progress with immersion in VR and these five demos showed major potential to improve the state-of-the-art.
HTC Vive Pro and Vive Wireless Adapter
It was wonderful to see Vive Pro's resolution upgrade. The 2880 x 1600 combined display (1440 x 1600 per eye) showed a great amount of detail and the headset overall seemed to offer a better weight balance. The company says the headset will have the same minimum specifications as the current generation and Vive Pro will work with the current base stations installed in VR dens around the world as well as upcoming 2.0 systems that can be used in 4-station tracking configurations offering the freedom to move around much larger areas.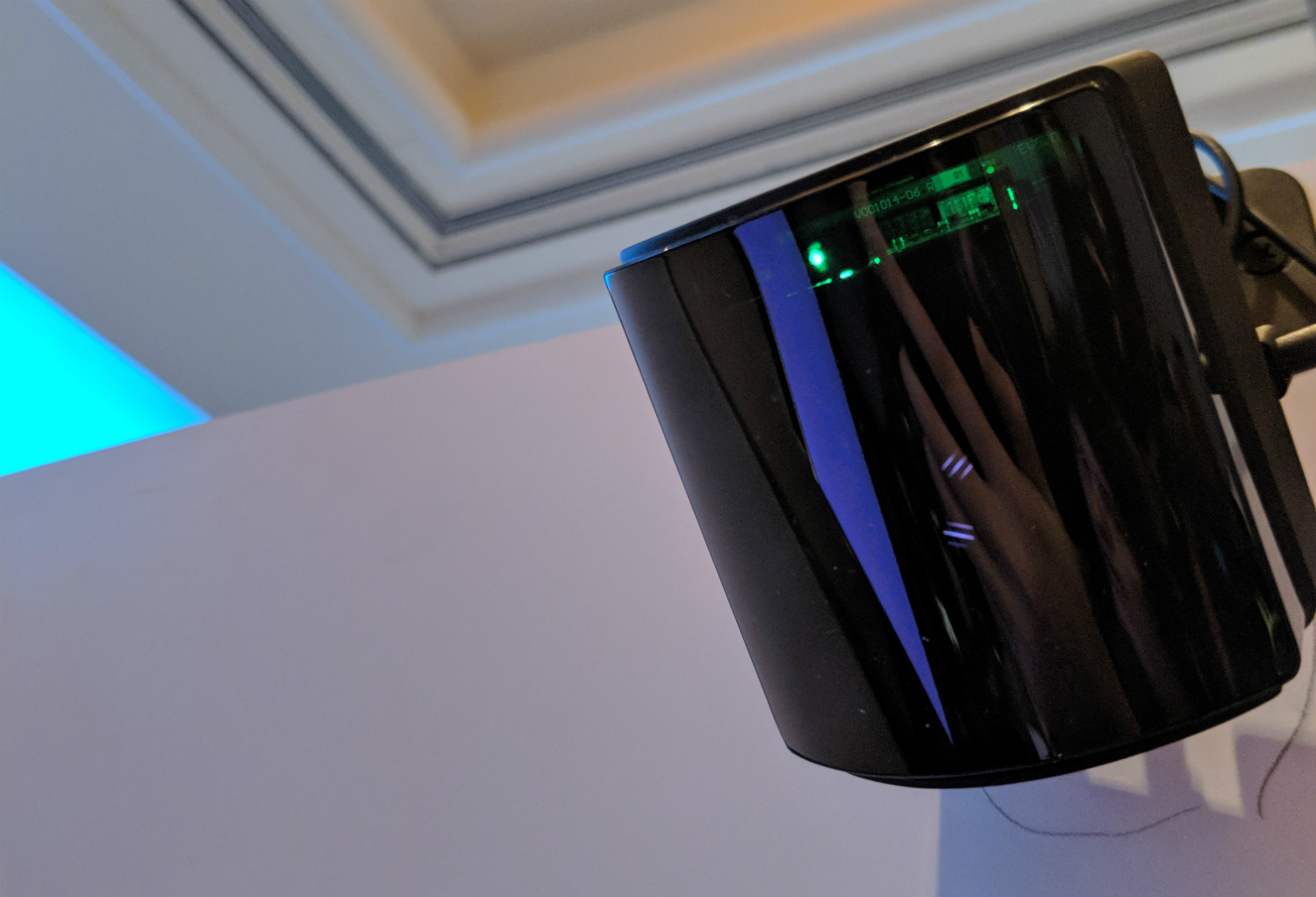 The headset featured loud over-the-ear integrated audio with a nice snug fit from the headset's strap.
We didn't get to see Pro combined with the Vive Wireless Adapter, but we did try wireless with the regular Vive and it worked great!
Tobii Eye Tracking
Google, Apple and Facebook are among the tech giants that have purchased eye-tracking companies over the last few years in anticipation of what they can do if they can make future gadgets that know where you are pointing your eyes. Tobii hasn't been purchased yet and still sells modified Vives with eye-tracking added.
I was so impressed by my demo I think it makes a lot of sense for developers to invest in an eye-tracking developer kit in anticipation of how the technology will enable new ways of interacting with virtual people and things. In one demo embedded above, objects in a home theater environment are selected just by pointing eyeballs at them, and a trigger pull or finger swipe is used to adjust the setting.
NextVR Resolution Upgrade
Newport Beach-based NextVR showed a significant upgrade to the resolution of its VR broadcasts. The company has been a leader in livestreaming sports and events to VR, delivering a 3D scene that looks great in current VR headsets like Gear VR or Playstation VR. At CES though, the company showed reality captures tuned for higher resolution headsets like Samsung Odyssey.
In a hands-on demo we found the increased detail to offer an incredible upgrade over existing NextVR content, and it produced a stronger sense of in-person viewing in VR of an event from the real world. At one point a dust cloud kicked up from a dirt track and I could see millions of tiny dirt particles floating through the air in intricate and fast moving patterns.
NextVR is working to combine the resolution increase with 6dof freedom, which was shown in a separate (but also impressive) demo at CES.
Contact CI Haptic Glove
The most impressive thing David Jagneaux tried all week was Contact CI's latest haptic glove prototype.
To simulate touching objects in a virtual world the team at Contact CI mechanically recreated the way your muscles move your fingers. It wasn't polished or finished and tracking wasn't perfect, but David nonetheless felt like he was touching parts of a virtual world with his fingers for the first time.
The glove allows the company to combine the sensation with visual cues and provide an experience that is "super, super close to the real thing, my mind is telling my finger, 'You just pressed a button so stop pushing your hand forward," and that's exactly what happens."
Kopin Elf Reference Design
The "Elf' is a super slim reference VR headset (seen at the top of this post) featuring a 2k by 2k per eye microdisplay from Kopin. For comparison, the Samsung Odyssey and upcoming Vive Pro feature 1.4k by 1.6k pixels per eye OLED panels from Samsung (Vive and Rift offer roughly 1.1k by 1.2k for each eye).
The Kopin demo was said to run at 60 frames per second and in my hands-on demo I noted two subtle but distracting horizontal lines in the display. Kopin was unsure the cause, but I otherwise found it to offer a super high resolution picture with a screen door effect I couldn't notice. The company says its display can run up to 120 frames per second, and the resolution bump might require eye tracking to do foveated rendering to provide the greatest detail right in front of your eyeballs. We'd love to see a demo with active content and six degrees of freedom tracking too, but the promise shown in the Elf reference design is a VR headset that would be far slimmer and more stylish than those of today with a picture that is far more crisp.
If Kopin's display tech could perform under the same kind of rigor that Samsung OLEDs are subjected to then it could offer a pathway to far more immersive virtual worlds. A representative from the company mentioned the potential of jumps to 3k or 4k per eye solutions.

And for a more robust rundown of everything we saw, along with a live Q&A, you can watch our livestream from CES yesterday above.