What are the best PSVR games you can play today? Here's our full list!
Nearly seven years on, Sony's PSVR headset has reached the end of its life now that the PS5 successor, PlayStation VR2, is here. But we shouldn't forget PSVR was something of a white knight for VR in the industry's early years. Despite being technically inferior to the Oculus Rift S, Valve Index and older headsets on almost every level, Sony leveraged 20+ years of industry experience to create an awesome line-up for its PS4-based headset. In 2023, PSVR is home to many of VR's best games and remains one of the most accessible mainstream headsets available.
It's important to get a list of the best PSVR games right, then. There's plenty of obvious choices, but PSVR also houses many hidden gems from indie developers. We wanted to make a list that reflected that. You'll be able to get all of these titles from the PlayStation Store on PS4 and PS4 Pro, but also don't forget you'll be able to use PSVR with the PS5 if you have the camera adapter. Watch our breakdown of loading time comparisons here.
Meanwhile, if you're looking for our other best VR game lists, make sure to check these out:
So, if you're looking for a definitive list of the 25 best PSVR games, here's our full recommendations.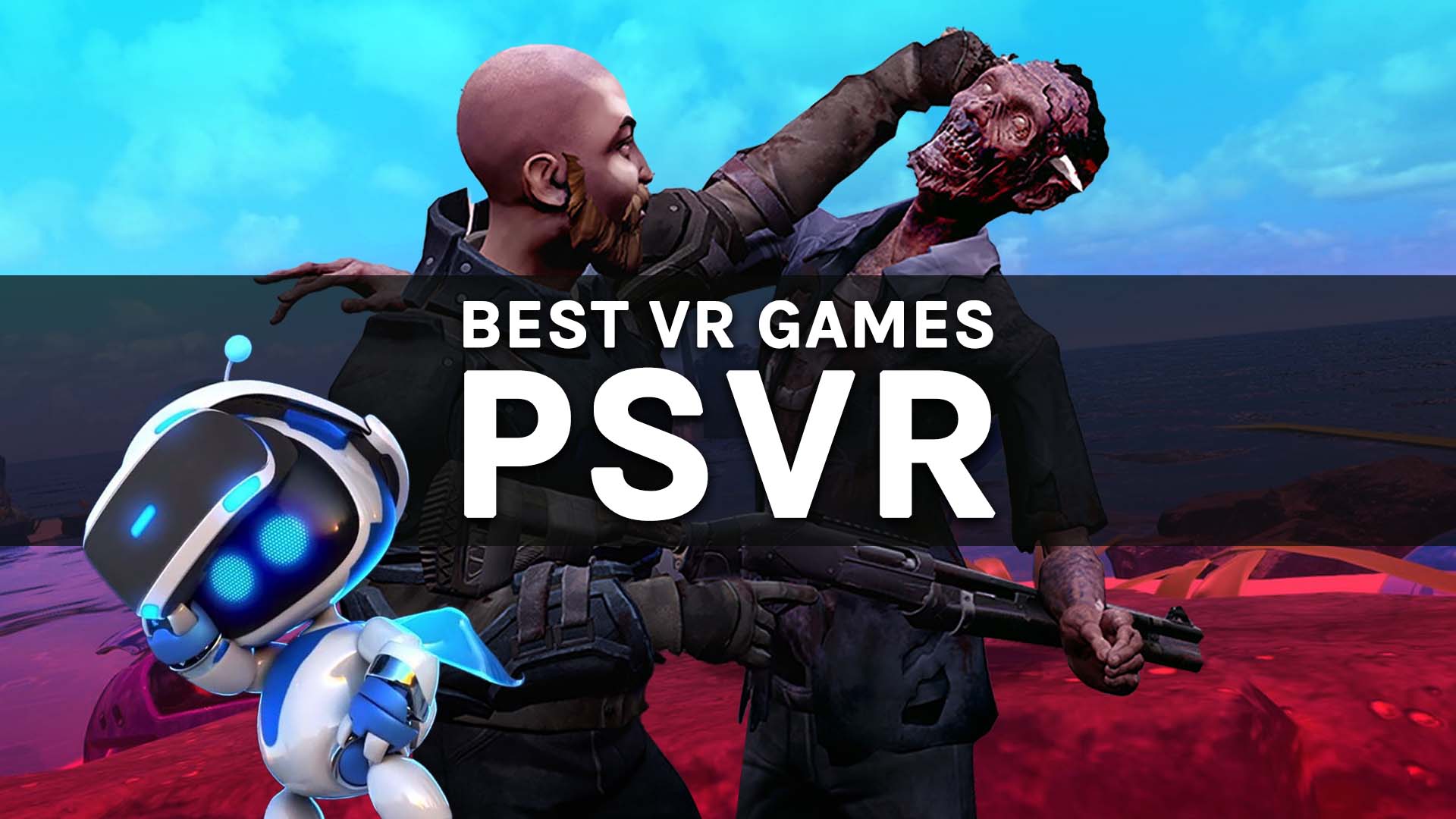 What Are The Best PSVR Games?
25. Statik
Years on from its release and we still find ourselves staring out of the window, mentally picking away at Statik's mysterious story. This is easily one of PSVR's most inventive games, imagining the player's DualShock 4 as a pair of puzzle-laden handcuffs. You need to experiment with what the various levers and buttons of each contraption do and then gradually solve your way out of your current predicament.
But it speaks legions about Statik that its fantastic puzzle design is outdone by the game's sheer oddness. Supervised by the curious and world-weary Dr. Ingen,  you're left to piece together his seemingly random mumblings and musings into a cohesive narrative. It's still got people picking it apart today, so much so that we'd love another game to help us fill in a few more blanks. Are you listening, Tarsier?
Read More: Statik Review
---
24. Gorn
There's definitely an argument to be made for keeping VR games from getting too violent but Gorn basically rips any such debate's jaw off and then beats it to death with its own arms. Before we step into the murky ground of 'realism', Free Lives has jumped all the way over to the other side of the canyon and spilled a frankly hilarious amount of blood in the process. Gorn is all about being the last man standing in a gladiator arena, and the game has little in the way of rules to stop you from doing that.
Want to pull a guy's head off? Bash him in with a rock? Swing a mace into a face and knock some eyeballs out? Gorn lets you do all that and it feels wonderful. Not because we have psychotic tendencies but because it's all so stupidly over the top that you can't help but laugh. Beyond the stupidity, though, there is actually a great structure in place here that will keep you coming back to unlock new content and make battles surprisingly tense affairs, too. It's as stupid as it gets but Gorn's a game you should take seriously.
Read More: Gorn Review
---
23. The Persistence
Firesprite's VR debut is a tantalizing horror treat. It uses procedural generation to create a spaceship riddled with horrific enemies then asks you not sneak past them or, failing that, bring them down. Think Dead Space in VR. If the very thought of that doesn't send you running for the hills then this could be for you.
The game's randomized element helps provide a fresh experience time and time again. Plus, compatibility with traditional game controllers over VR motion controllers does give The Persistence a mechanical, refined edge compared to a lot of its contemporaries. If you're looking for a genuinely deep, calculated VR game, this is worth enduring the scares for.
Read More: The Persistence
---
22. The Room VR: A Dark Matter
Puzzle masters Fireproof Games knock it out of the park again with a typically excellent rendition of The Room series, this time for VR headsets. This short, sweet adventure is set in The British Institute of Archaeology, where you'll solve challenging puzzles in search of a missing archaeologist.
What makes The Room VR work is its commitment to the platform it's appearing on. This isn't just a bunch of puzzles that would work on a traditional screen; each and every one has been thoughtfully designed with VR at their core.  Not a single mechanic feels over-used and there's constant invention happening right before your eyes. That makes it easily one of the best PSVR games, especially if you're into puzzles.
Read More: The Room VR: A Dark Matter Review
---
21. Firewall: Zero Hour
Virtual paintball in your living room. That's the pitch behind a lot of VR shooters these days, but none of them realize it quite as well as Firewall: Zero Hour. It has a few hiccups, but First Contact's multiplayer shooter is one of the purest expressions of leaving your own body and stepping into the role of someone else entirely that you'll find in VR. This is the intense S.W.A.T. simulator you've always dreamed of experiencing.
It's PSVR's excellent Aim controller that makes Firewall a real standout. The unmatched sensation of holding an assault rifle in your hand makes you feel incredibly powerful and draws you back in time and again to recapture the rush. Plus multiple seasons of new content have added more maps and perks to the game even years after release. It might not have seen some of the more significant quality-of-life improvements we were hoping for, but Firewall is still one of the best games you can currently get on PSVR.
Read More: Firewall: Zero Hour Review
---
20. Hitman Trilogy
You might consider this one cheating but since you can access the entire Hitman trilogy inside Hitman 3 if you own the first two games, we think this one's fair game. IO Interactive did a tremendous job fitting the rebooted Hitman trilogy into VR and implementing at least some form of motion controls with DualShock 4 tracking. Hitman takes on new life in VR, becoming a much more personal and physical affair, and the series' stealth elements really shine when inside a headset.
No, the transition isn't entirely smooth; the motion controls can be tricky and we long for proper Move integration, but you simply can't ignore the sheer breadth and quality of content on offer here. Fingers crossed this is just the start of IO's VR journey, as the Hitman trilogy really makes for one of the best PSVR games to date.
Read More: Hitman 3 VR Review
---
19. Farpoint
It may be the wonderful rifle-shaped Aim controller that elevates Farpoint from a relatively simplistic first-person shooter to a wholly immersive experience, but that experience is powerful enough to earn it a place on this list. In Farpoint you crash land on an alien planet and must find a way home, shooting your way through hordes of spider enemies as you go.
Yes, spider enemies. It's a little Starship Troopers, but there's a genuine thrill to the Colonial Marines-style panic-fire battles. Surprisingly, though, there's a hugely engaging story at the center of Farpoint that manages to strike a chord despite focusing on characters other than the player's speechless shell. This was a promising start for developer Impulse Gear, but we're hoping to see more from them in the future.
Read More: Farpoint Review
---
18. Song In The Smoke
Plenty of developers have taken a crack at the survival genre in VR, but often with middling results. The Forest was good, but integration wasn't especially deep, for example. Song In The Smoke, meanwhile, completely surprises with its fully immersive and in-depth set of mechanics that are based entirely around the platform. Can you survive against mythical beasts in an unforgiving environment?
From firing a bow to crafting using your hands, everything in the game really feels in-step with the platform. It also helps that there is a lot of content in Song in the Smoke, with a well-structured campaign that will pull you through even if you're not usually a fan of the genre. Song in the Smoke was comfortably the best PSVR game released in 2021 and one of the overall best PSVR games, too.
Read More: Song in the Smoke Review
---
17. Until You Fall
A stylish and effortlessly-cool VR roguelike that has you tackling runs of a randomized dungeon and starting fresh every time you die. A fast-moving progression system keeps the game rewarding and addictive, while the lively arcade action is easy to pick up and difficult to master. If you're looking for a VR game you'll revisit time and time again, look no further than Until You Fall. It's one of the best PSVR games.
Read More: Until You Fall Review
---
16. Moss
Moss is one of a handful of 2018 games that proved that third-person VR experiences don't just work but can make for some of the absolute best content out on the platform right now. You guide an adorable little mouse named Quill through diorama-sized levels, solving puzzles and taking on fearsome critters in sword-based combat.
While it's mechanically refined, the game's real claim to fame is the bond you build with Quill over the course of the adventure. Playing as a larger companion to the tiny protagonist, you really start to connect with her as you work together to overcome obstacles. It feels very much like a team effort, which is quite a remarkable feeling in itself and that only gets better in Moss: Book 2.
Read More: Moss Review
---
15. Iron Man VR
Tony Stark finally took flight in VR in 2020 and the wait was worth it. This PSVR exclusive offers a full campaign with surprisingly deep combat, an interesting story and plenty of cinematic moments designed specifically with VR in mind. There were technical problems and a Quest 2 version has improved upon these since then, but the pros were enough to outweigh the cons.
Published by Sony and developed by Republique studio Camouflaj, Iron Man VR circumvented PSVR's tracking limitations with clever techniques that allowed players to spin around on the spot and shoot or fly in any direction.  Combined with the considered combat mechanics, you have something that balanced the pure joy of being Iron Man with the kind of demanding gameplay we'd expect from traditional games. This is easily one of the best PSVR games from 2020 – bravo.
Read More: Iron Man VR Review
---
14. Ghost Giant
Upon first glance, Ghost Giant appears to be a charming little puzzler that makes the most of its diorama-sized worlds. And that's very much the case; in this adorable papercraft world you help your young companion out with different chores and tasks. That includes tickling clams and making intentive art in wonderfully tranquil locations. It's whimsy, delightful and amazing in VR. But that's only half the story.
Ghost Giant also hides a thoughtful take on depression, smartly communicated through this new medium. The game uses intimacy, scale and connection in engaging ways that bring you closer to the world and characters around you. It's surprising and responsible, delivering some incredibly powerful moments. All told, it's one of the most striking and unforgettable examples of VR storytelling yet seen and one of the best PSVR games.
Read More: Ghost Giant Review
---
13. A Fisherman's Tale
As great as VR is, its initial novelty is bound to wear off after your first few weeks or so. If you want to recapture the magic of putting on the headset for the first time, one destination is bound to deliver: A Fisherman's Tale. This is a mind-bending puzzle game unlike anything you'll see elsewhere. That alone makes it one of the best PSVR games.
In A Fisherman's Tale, you solve intricate, scale-based puzzles in which you work… with yourself. Its best puzzles utilize a miniature model of the lighthouse the game's set in. Lift the model's roof and you'll see a mini-you, imitating your every move. Just try and keep your brain from breaking as you hand yourself giant objects, or reach down to poke your own head. It's a trip to say the least. Throw in a poignant story about self-acceptance and you have a short, sharp VR game that will stay with you much longer than most multi-hour epics.
Read More: A Fisherman's Tale Review
---
12. Beat Saber
Who would have guessed that, with everything developers could do, the closest VR has yet gotten to a 'killer app' is a rhythm action game with knock-off lightsabers? It seems ridiculous but just one go on Beat Saber and you'll understand why it's such a hit; it's an utterly entrancing experience that makes you feel like a groovy Jedi master. That's all you need VR to be.
You slash notes that arrive on time with a beat. It sounds simple but, in practice, there are few things more satisfying to do in VR. It won't be long until you're throwing your motion controllers around like a ninja. Plus you'll be working up a sweat and instinctively dancing to the given track. Many people will tell you Beat Saber is one of the best PSVR games, and they're absolutely right.
Read More: Beat Saber Review
---
11. No Man's Sky VR
No Man's Sky promised to bring its entire universe of billions of procedurally generated planets connected by unending oceans of space that can be explored by yourself or with friends all into VR. It's had a few technical hiccups, but you can't deny it delivered on that hugely ambitious premise. You can lose endless hours here journeying to the top of mountains, scouting below the oceans and duking it out in spaceship battles.
Better yet, Hello Games put incredible effort into this VR update, making it feel native to the game instead of tacked on. Still, remember this is No Man's Sky; there are plenty of beautiful sights and sounds, but also a fairly punishing survival loop and resource-gathering grind to fight back against. If that sounds up your street, No Man's Sky will probably be one of your most beloved VR games. The console version is slightly toned down from the PC and PSVR 2 release, but it's still one of the best PSVR games.
Read More: No Man's Sky Review
---
10. Dreams
Dreams is a tricky one to rank in a list like this. Depending on what you want to do with Media Molecule's game creation platform (which is essentially its own development engine at this point), you'll have different experiences. We wish the tutorial content was more VR-native, and there's a lot of shovelware to sift through, just like in the main game. But these caveats are well worth getting past.
At the core of Dreams is a set of genuinely accessible and incredible tools that empower a vibrant community to make incredible creations. Whether it's fun tributes to beloved franchises or the handful of fantastic original ideas, Dreams proves itself to be a powerful, if messy VR playground.
Read More: Dreams Review
---
9. Blood & Truth
The London Heist minigame in PlayStation VR Worlds remains one of the most polished and engaging pieces of story-driven VR content out there. Lucky for us, developer Sony London decided to take its short tale of crime capers and turn it into a full game. The result is Blood & Truth, one of the most polished and immersive shooters yet seen on any VR headset, let alone PSVR.
What makes Blood & Truth great is that it isn't 'just' a shooter. Every level has new types of interactions and mechanics to explore, fleshing the virtual world out and bringing it closer to the real one. Its story might be on the cheesy side, but its character models are unmatched and the stunning setpiece moments are often Uncharted-worthy. Don't let the Guy Ritchie accents fool you; Blood & Truth is one to take seriously.
Read More: Blood & Truth Review
---
8. Resident Evil 7: Biohazard
Capcom's 2017 soft-reboot of its beloved horror franchise hit hard in the scare department. Switching to first-person put the horror right in front of you, daring players to fight their way through the Baker mansion. But on PS4 it went a step further with full PSVR support. To this day it remains probably the scariest thing you can see in VR.
This is very likely still the most high-profile VR game out there. It's a huge AAA production with some of the best visuals you'll find inside a headset and a full campaign with heaps of variety. It's well-paced and incredibly tense, harking back to the series' roots with a focus on limited resources and genuine scares. If you're looking for a top tier PS4 game with full PSVR support, Resident Evil 7 is as close as it gets, making it one of the best PSVR games.
Read More: Resident Evil 7 VR Review
---
7. Star Wars: Squadrons
Who says VR can't make your dreams come true? Well, whoever they are, they haven't sampled Star Wars: Squadrons' stunning VR support, which puts players in the cockpit of X-Wings, TIE Fighters and other iconic ships and lets them duke it out in either multiplayer battles or a full single-player campaign.
Squadrons is fun to play on a flat-screen but, in VR, it quickly morphs into one of the most exciting and immersive experiences you can have today. Detailed cockpits and authentic Star Wars polish bring out the child in you as you zoom around arenas, blowing enemies out of the sky. There are a lot of Star Wars VR experiences out there but, for our money, Squadrons is the best, and also one of the best PSVR games.
Read More: Star Wars: Squadrons Review
---
6. The Elder Scrolls V: Skyrim VR
It turns out that the Skyrim of VR is, well, Skyrim in VR. There are definitely some awkward quirks to Bethesda's port of its ever-popular fantasy RPG, but we were more than willing to put them to the back of our minds as we explored Tamriel like never before. With hundreds of hours' worth of content, full autonomy to make the kind of character you want and an enormous world to explore, Skyrim VR is the closest we've come to fulfilling every adventurer's dreams (outside of taking an arrow to the knee).
Not to mention that this has some of the best Move integration we've yet seen in a PSVR game, getting us as close to natural locomotion as possible without those much-requested thumbsticks. The fact that it fits inside the headset at all is simply astonishing. Skyrim VR is going to be hard to top for some time, and remains one of the best PSVR games to this day.
Read More: Skyrim VR Review
---
5. Pistol Whip
Pistol Whip may be the new kid on the block but, for our money, its sharpshooting beat-based gameplay proves to be even more hypnotic than Beat Saber. In this neon-lit shooter, you stream down corridors, blasting bad guys to grizzly tunes, avoiding incoming fire and trying to rack up the best scores to the beat.
Pistol Whip's key is to take influence not just from the VR sales king but also Superhot and, most prominently, John Wick. Whereas Beat Saber wants to make you a dancing Jedi master, Pistol Whip aims to teach you gun-fu with style, elegantly fusing the rhythmic and cinematic together into a pulsating, vibrant monster of its own. Pistol Whip is definitely one of the best PSVR games.
Read More: Pistol Whip Review
---
4. Superhot VR
Superhot is, without a doubt, the most instantly rewarding game to play in VR. The flatscreen original was great but, by bringing your whole body into this groundbreaking shooter, the developer completely flips the game on its head. In Superhot (stop me if you've heard this before), time moves only when you do. That means that when you're still, the world around you is too. Every time you raise your arm or duck your head, the world crawls into life. You're essentially a human video playback device.
Superhot gives you a stark realization of the physicality of VR and what that means for gaming. It's an experience in which you are aware of every inch of your body. It also makes it effortlessly easy to feel cool in VR; every catch of a handgun or toss of a ninja star comes with an incredible strand of slick satisfaction you won't find anywhere else. Superhot VR is currently the gold standard for VR shooters and, in our opinion, one of the very best PSVR games.
Read More: Superhot VR Review
---
3. Wipeout: The Omega Collection
Since the day PSVR was announced, Wipeout seemed like an obvious fit for the platform. This would be the chance to realize the dreams we've all been had since the sci-fi racing series began on the original PlayStation. But even then we didn't quite expect Wipeout: The Omega Collection to be quite the tour de force for PSVR it ended up being. It's easily one of the best PSVR games.
Sony expertly tweaked several of its older games to fit inside the headset here. The result is a package with heaps of content, all of which you'll want to see because the game is a flat-out thrill to experience. Shooting around circuits, air-braking across corners and letting machine gun fire rattle out in front of you is unbelievably exhilarating. Pair the extensive career modes with online play and you have one of PSVR's meatiest and most polished games.
Read More: Wipeout: The Omega Collection Review
---
2. The Walking Dead: Saints & Sinners
We would have never pegged a game based upon The Walking Dead to carry some of the best design and user-interaction you'll find in VR, but Saints & Sinners delivers all that and then some. This sets the bar for VR zombie games with Boneworks-style, physics-based combat that has you wrestling with hordes of undead, throwing every ounce of effort you can muster into every swing and stab.
But this isn't just a silly sandbox or wave-based survival game (though it now has that too). Saints & Sinners packs its action into a full, meaty VR campaign that sees you trekking through the remains of New Orleans. Add in human enemies, side-missions and the ability to kill zombies with a spoon, and you have one of the deepest native VR games on the market. Saints & Sinners will be one of the best PSVR games for some time to come.
Read More: The Walking Dead: Saints & Sinners Review
---
1. Astro Bot Rescue Mission
Sony Japan's Playroom VR compilation held a lot of delights when it launched on PSVR in 2016, but everyone agreed that the third-person platforming minigame, in which a small robot saved his friends with help from the player, deserved its own title. Astro Bot is the result of those requests, and it's even better than many had imagined it would be. 26 levels of Mario-quality platforming await you here.
It sounds like hyperbole but it's true; each one of Astro Bot's levels packs new ideas that range from endearingly novel to groundbreaking. It's an absolute joy to play from start to finish that never ceases to amaze you. Plus there's power to the bond you'll form with Astro on this adventure, breaking down the barrier between players and characters in ways not yet seen in gaming. Therefore, we're crowning it as the best game on PSVR.
Read More: Astro Bot Rescue Mission Review
—
Update 02/05/23: Revised included information about PSVR following PSVR 2's release.
Update 12/05/21: Sniper Elite VR was removed from the list. Song in the Smoke was added and A Fisherman's Tale was moved up.
Update 07/28/21: Five Nights At Freddy's and Paper Beast were removed from the list. Hitman Trilogy and Sniper Elite VR were added.
Update 01/08/21: Red Matter and Accounting+ were removed from the list. Until You Fall and Star Wars: Squadrons were added.
Update 08/12/20: The Exorcist, Virtual Virtual Reality, Vacation Simulator, Transpose, Bow To Blood and Rec Room were removed from the list. Iron Man VR, Five Nights At Freddy's VR, Pistol Whip, Gorn, The Walking Dead: Saints & sinners and Dreams were all added.
Update 04/08/20: Borderlands 2, Groundhog Day, Dirt Rally, Downward Spiral and Tetris Effect were taken off the list. They were replaced with Vacation Simulator, Virtual Virtual Reality, Red Matter, The Room VR and Paper Beast.
Update 12/04/19: Deracine, Thumper, Creed: Rise to Glory and Rez Infinite were removed from the list. Borderlands 2, Groundhog Day, No Man's Sky VR and Accounting+ replaced them.
Update 08/01/19: Borderlands 2 VR and Arizona Sunshine were taken off the list and replaced with Blood & Truth and Ghost Giant. Astro Bot and Firewall traded places.