We've been updating you regularly on the status of MSI's global VR jam for some time and now we're happy to finally be able to tell you the winners! According to a release sent out by MSI, the votes have been counted and the winners are set.
1st place – "Block Rocking Beats" is an interesting social music VR game with extraordinary interactive rhythm game application from Sander Sneek and Jochem de Klerkthe.

2nd place – "Mass Exodus" is a multiplayer VR Game which in the "Hide and Seek" style and delivered the stimulating adventure movie scene in the same time. The Game is from the team of Dan Knight, Ben Barton, and Jack Skinner.

3rd place – "Derail Valley" is a next-gen train simulator made for VR. For the first time in a train simulator players can interact with a train cab using their hands directly, and experience what it feels like to operate a train – or even derail it off a cliff. Made by Serbia winners Slobodan Stevic, Nenad Ognjanovic, and Ivan Notaros.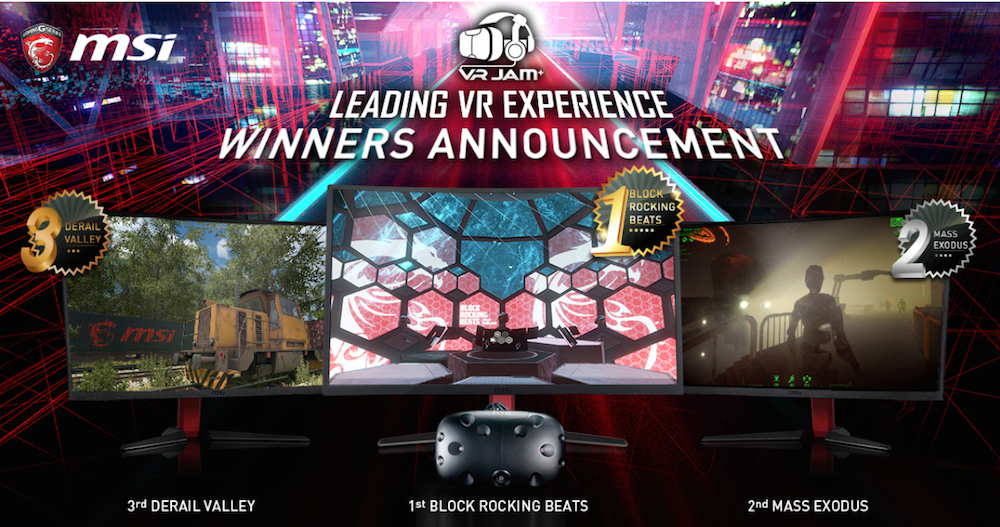 According to MSI, this competition was comprised of "Over 600 teams from 72 countries" who were "evaluated by professionals from a variety of fields and MSI's  own experts." 
The winners shared an $80,000 prize pool that allocated a $30,000 lion's share for Block Rocking Beats, $25,000 for Mass Exodus and $15,000 for Derail Valley. In addition to that, the winners also received "MSI high-end hardware products, the newest MSI GP62M VR gaming laptop, Aegis X gaming desktop, Intel X99 A GAMING PRO CARBON motherboard, GeForce GTX 1070 ARMOR 8G OC graphics card and so on."
The purpose of this event, according to MSI was "to offer motivators to encourage VR game developers to create magnificent VR games."
About MSI VR (Virtual Reality)
In the beginning of 2015, MSI set up a VR lab and started a program assigning a whole team researching and developing on this technology. As a market leader, MSI has set up a VR development platform where VR application innovators and developers can receive MSI's assistance in improving and optimizing the VR utilization. For more information, please go to vr.msi.com. 
The company considers itself a leader in the VR development scene and is also the creator of the Trident, which it claims is the "the world's smallest VR-Ready gaming desktop."